The Braille lifestyle magazine White Print celebrates its third year anniversary this month. It is a magazine that not only affirms my faith in the power of an ingenious idea executed with incredible simplicity, but also in professionalism. The entire credit for that goes to the face and the soul of White Print, Upasana Makati.
I first met Upasana in September 2015 when I was working on a feature for Paper Planes about how White Print was actually created. We had a great conversation which has carried on ever since, albeit in different mediums. The next time I was "officially" in touch with her was when I needed her inputs for another story I was working on. She told me that since she was getting married in two days, an email response would be difficult but I can call her. I told her to forget about the story and have the time of her life. The next day, she gave me exactly what I needed over a phone call at a mutually agreed upon time.
On both these occasions and others, I was struck by her politeness, focus and most importantly, her utter professionalism. There seems to be this inherent simplicity and depth about how she approaches life. And all this flows directly into how White Print has evolved over the last three years.
The journey of the magazine is of course intertwined with Upasana's own journey as a person. "There are a lot of ways in which the magazine has helped me evolve as a person. I have started valuing everything more, things that I would earlier take for granted. It's also been a great learning to see the kind of importance a community is giving to something as simple as a magazine," she says. At an even more personal level, the magazine has helped Upasana break out of her cocoon of shyness and fear of public speaking. She in turn has borrowed her qualities of being a highly sensitive and emotional person for the betterment of the magazine. "These qualities have actually helped me sensitize people and talk to a particular community in a unique way."
The results have been phenomenal. Upasana has been on the prestigious lists, radar and platforms of many media brands ever since she started the magazine. Among many other accolades she has scooped, she was on the cover of Forbes India this year. After some of the leading brands in the country, she managed to rope in a big budget Hindi film 'Fan' as an advertiser for the magazine.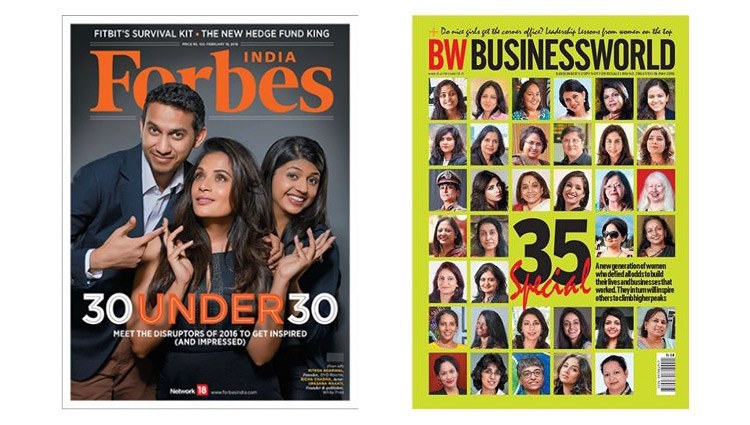 However, getting advertisers on board still remains her biggest challenge. "The other thing that's important to us right now is to increase the subscription of the magazine. Get colleges, schools and offices onboard, even if they have only a couple of visually impaired people. We have spoken to people at various IIMs and IITs, and have been successful in getting two subscriptions - from IIM Kolkata and IIT Rourkela," she says.
Early this year, the magazine also donned a fresh look with a new stunning logo. Also, apart from having a couple of freelance writers who volunteer and a content tie-up with Caravan magazine, she recently roped in two interns who have taken a lot of functional load from her hands. "This has now given me time to think more about the strategic aspects of the magazine and balance things much better," she says. In a recent passionate social media post, she generously credited and thanked many people who have been a part of her journey in some way or the other.
Upasana is now ready to launch an extension to White Print in the form of a series of Braille books. "My larger goal has always been to see Braille magazines and books in bookstores. We want to come up with a series of books which would range from something as simple as alphabets to something as diverse as a collection of short stories," she says. About 3-4 of these books will be launched this year. She also wants to start selling these books and the subscriptions of the magazine online soon.
"It's time we let the baby grow," she says.
Cover image| Starting Monday Design + Branding Company (SMD+B)