At Paper Planes, we're passionate about good living and clean design. We believe that it is the little things in our daily lives that can make everyday extraordinary. Our shop showcases a curated clan of such wondrous objects.
It's only fitting then, that our first product collaboration leans strongly towards better living. We partnered with Bombay Perfumery, an independent fragrance house in India, to produce our very own fine fragrance reminiscent of cool and breezy tropical mornings. With this exquisitely crafted candle, there's good karma too – we're supporting The We Exist Foundation, a Delhi-based not-for-profit that works towards bettering the lives of street dogs in India through impact-driven initiatives. Funds raised from the sale of the candles contribute to a sterilisation drive, conducted by the foundation.
Update: A big, big thank you to everyone who contributed to our #ALineForAStray campaign by purchasing the fine fragrance candle. We're happy to report that the funds raised are now being used to neuter and spay 40 street dogs in and around Delhi with the help of the hard-working team at The We Exist Foundation. Thank you once again for your love and support. 
Special Thanks: We're grateful to our friends at Niana for producing the candle; Kushal Mamoowala for editorial and art contributions; and Anurag Banerjee for the photographs of the street dogs.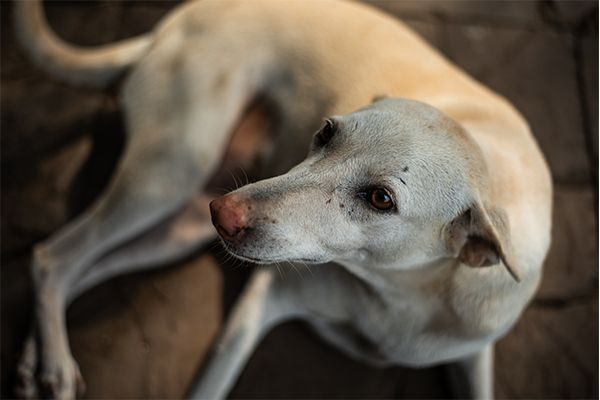 KNOW MORE
30 million. India is home to about 30 million stray dogs, which amounts to one stray per 42 people in the country. This dog population is largely driven by the lack of sanitation practices, which means strays survive and multiply by scavenging on exposed garbage. A day in the life of a stray is full of threats and fears — they're constantly navigating many welfare problems such as malnutrition, disease, injury through traffic accidents, injury through dog fights and abusive treatment.
67,000 dogs. Over the span of just six years, one female and her offspring can produce up to 67,000 dogs. Born on the streets, these dogs rarely get the right amount of care, nutrition or even love. While there are shelters and good Samaritans who do their bit for these dogs, these are too few and far between.
36 per cent. An increase in the population of dogs also increases the risk of rabies. The World Health Organization estimates that rabies kills about 20,000 people per year in India. That's 36 per cent of rabies deaths worldwide.
ABC. The Animal Birth Control Rules 2001, under the Prevention of Cruelty to Animals Act, aimed to revise the government's stray dog program. Back in 1993, the government admitted that its stray dog program had failed, since both rabies deaths and the stray dog population had increased. With the new rules, the government wouldn't cull the stray dogs but instead sterilise, vaccinate against rabies and then release them back into their original territories.
Unfortunately, about 17 years later, sterilisation has not worked well either. This is largely due to the sheer number of dogs and the lack of resources. Mumbai's municipality, for example, reckons it will take 13 years to neuter the more than 1,00,000 unsterilised strays in the city.
In supporting the sterilisation drive to be conducted by The We Exist Foundation, we can prevent thousands of pups from being born on the streets in the future.