Presenting — the second edition of Oddly Enough, a series by Paper Planes.With Oddly Enough, we're gathering to celebrate design in our everyday lives. This is design that's all around us — often invisible, but always influential. We're delving into the ways it shapes our daily interactions.Take, for instance, our cities. These are our spaces. Stepping out of our homes, it's where we navigate roads, saunter in parks, take cover under trees, and rush in and out of buildings. As historical hotspots as well as modern-day machines, our cities are also full of secret treasures. Sometimes, these can be found by paying attention to the details around us. Other times, it's stepping in to see what you can do — whether that's participating in local initiatives, making the most of your neighbourhood or even just spending time out in the open.With Oddly Enough Nº2, in association with G5A Foundation for Contemporary Culture, we're observing our cities. How can we make our cities not only more efficient but also more engaging? How do public spaces affect us subconsciously? How does design make our cities friendlier? Join us as we examine our lives in the city and look at how design can enrich our experiences.Oddly Enough Nº2: Out in the City will take place at 11am on June 8, 2019 at G5A, Mahalaxmi in Mumbai. Tickets here.Our panel comprises experts who've worked towards constructing contextual spaces, producing maps that encourage interaction with one's city, and documenting the evolution of a city like Mumbai. We have architect Sameep Padora, designer Ruchita Madhok, and photographer Chirodeep Chaudhuri on the panel, which will be moderated by designer Ayaz Basrai.The panel discussion will be followed by a mixer, co-hosted with Moonshine Meadery.Scroll down to read more about the panellists.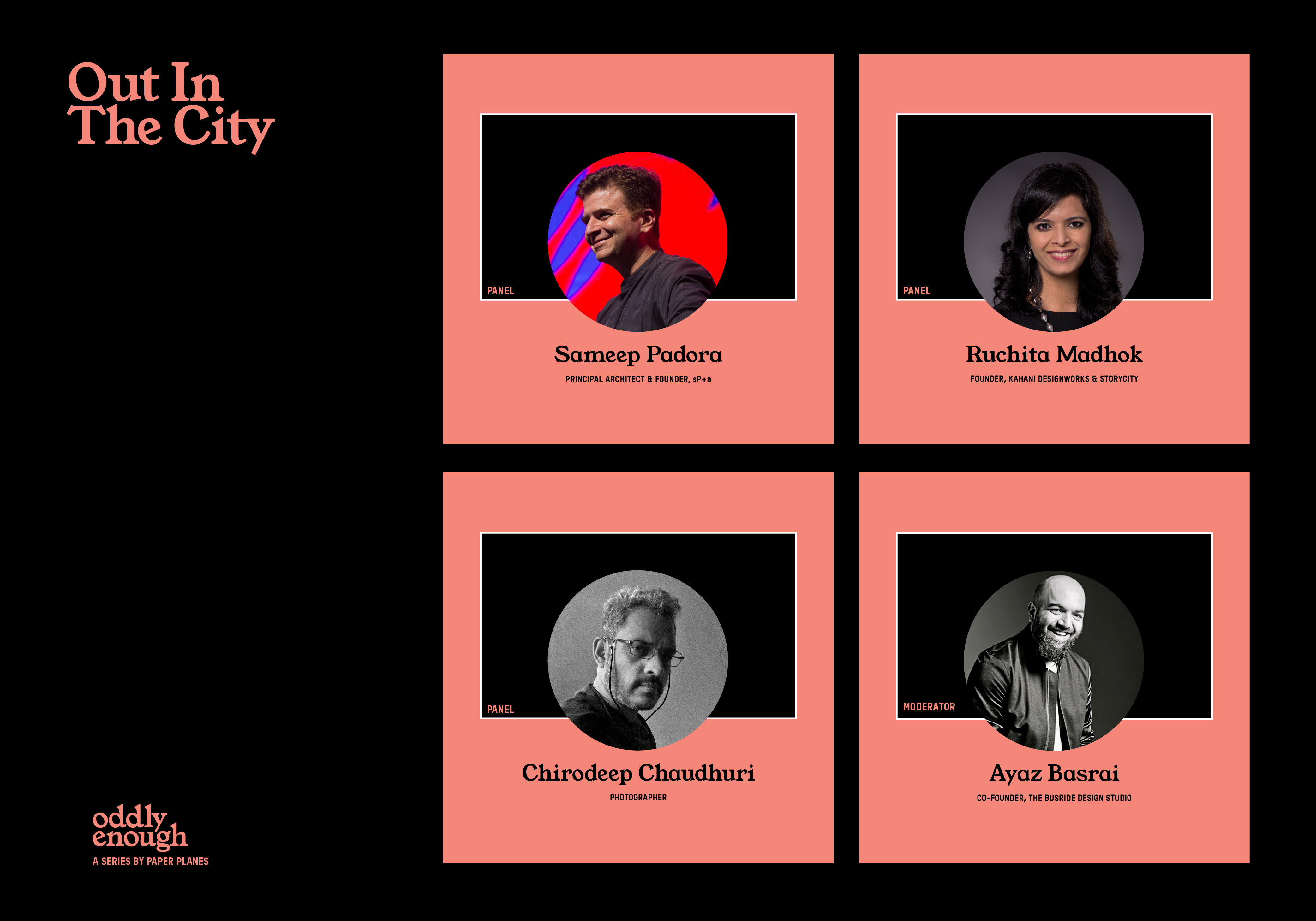 SAMEEP PADORA Principal Architect & Founder, sP+a, and Co-Founder, Bandra Collective Sameep Padora & Associates (sP+a), a Mumbai-based architecture studio, has received Archdaily's Building of the Year 2019 award, the Wallpaper* Design Award for Best New Private House in 2016, as well as the WAN 21 for 21 Award in 2014, World Architecture News' award for 21 emerging international practices for the 21st century.In 2016, he founded sPare, the research arm of the studio. sPare's maiden project — a documentation and analysis of historic housing types within the city of Mumbai — resulted in a travelling international exhibition, In the Name of Housing, and a book on the subject.He is also a co-founder of the not-for-profit, Bandra Collective, an organisation of architects engaging with design of public spaces in the city of Mumbai.RUCHITA MADHOK Founder and Principal Designer, Ruchita Madhok, Founder of Kahani Designworks, and Founder and Editor, Storycity Ruchita Madhok's practice lies at the intersection of the creative industries and cultural economy in India. Her expertise spans the areas of communication, design and strategy for cultural institutions, foundations and creativity-led enterprises. With a background in exhibition design and scenography, she is Principal Designer of Kahani, where she leads the studio's engagement with arts and culture organisations. Tapping into her passion for cultural heritage, Madhok is also the Founder and Editor of Storycity books, maps and guides, Kahani's research effort devoted to interpreting the urban experience in creative ways. CHIRODEEP CHAUDHURI Photographer Chirodeep Chaudhuri began his career in advertising and has since gone on to work with a newspaper, a few magazines and a website over the last 22 years. He headed the photography and design departments of Time Out's India editions. He was also the Editor-of-Photography for National Geographic Traveller India. His work has been featured in publications across India and in books like Bombay: The Cities Within, Fort Walks, Anchoring a City Line and Bombay, Meri Jaan. He is the author of the critically feted book A Village In Bengal: Photographs and an Essay, a result of his 13-year long engagement with his ancestral village in West Bengal and his family's nearly two-century-old tradition of the Durga Puja. He is also the co-author of With Great Truth & Regard: The History of the Manual Typewriter in India. Chaudhuri's work documents the urban landscape and he has often been referred to as the "chronicler of Bombay". During his career, he has documented his home city in a range of projects like Bombay Clocks, The One-Rupee Entrepreneur, The Commuters, In the City, A Library, among others.AYAZ BASRAI (Moderator) Co-Founder, The Busride Design Studio Ayaz Basrai graduated in Industrial Design, specialising in Product Design, from the National Institute of Design, Ahmedabad in 2003. In 2006, he set up The Busride Design Studio, a leading architecture and interior design firm in India, with his architect brother Zameer. The independent design studio specialises in the design and creation of built environments, ranging from hospitality and entertainment, to film and production environments, exhibitions, installations, institutional and architectural environments. The Busride comprises a team of architects, interior and industrial designers, who look for solutions from the macro to the micro, from the slightly mad to the totally insane. More recently, Basrai heads the studio's research arm, The Busride Lab, based in Goa, which works with research on heritage conservation and futures, at the intersection of technology, design and art.

Swipe through to see more.