Paper Planes' conversation series around design in our everyday life travels to AhmedabadDesign is all around us and plays an important role in influencing our behaviour, often covertly. With Oddly Enough, we celebrate the various ways in which design interacts with our surroundings and informs our choices.In the last few years, there has been a surge in the number of innovative, independent design brands in the country. While good design is paramount, the making of a brand is equally important. At Oddly Enough N°4, we're looking at the Business of Design.Here, we hone in on the journey of design studios and brands in the country, and look at the business side of things. What does it take to build a brand that can sustain itself? How do you reach the right audience? What skill sets do you need to establish a business and sell a product?Oddly Enough N°4 will take place at 6.30pm on November 29, 2019 at Raw Collaborative in Ahmedabad. Entry on a first-come, first-serve basis for those attending Raw Collaborative.Our panel comprises designers and marketing executives, all working towards establishing a successful design brand and developing a market for their product. We have Avenish Jain, the co-founder of Spin, a young product design brand that's inspired by Nordic aesthetics; Latika Khosla, founder and director of lifestyle brand Freedom Tree; Rajat Mathur, the business head of Script — A Godrej Venture; Sandeep Sangaru, designer, educator and founder of Sangaru Design Objects Pvt. Ltd.Paper Planes is the official digital media partner for Raw Collaborative, and it was only fitting that we bring our Oddly Enough series to the design event as well. To read more about why you ought to make time for Raw Collaborative, go here. And for what else to do when you're in Gujarat's big city, you'll want to bookmark our A to Z Guide to Ahmedabad.Scroll down to read more about the panellists.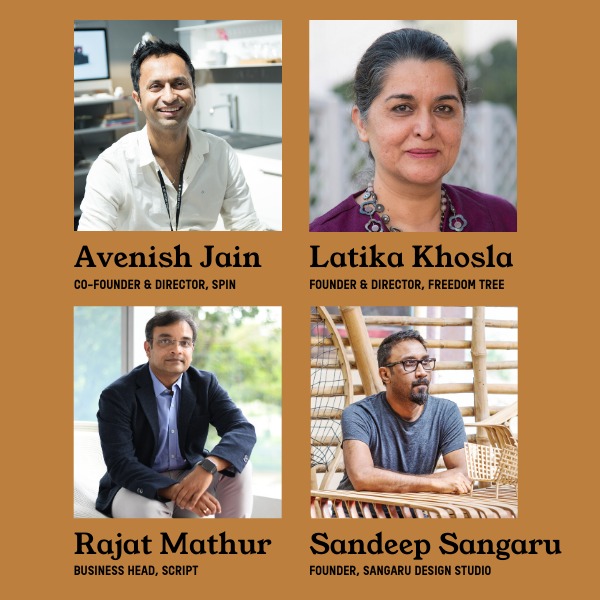 Avenish Jain
Co-Founder, Spin Avenish Jain is co-founder and director of Spin, which was launched in 2017. The idea with Spin is to create products for an evolved Indian consumer. Jain, who has a Master's in Advertising, is also Spin's chief designer.
Latika Khosla
Founder and Director, Freedom Tree Latika Khosla is the founder and director of Freedom Tree, a home brand with stores in Mumbai, Goa and Bangalore, as well as an online presence. She is also the director of Freedom Tree Design, a niche trend and colour design consultancy that works to develop colour strategies for brands, and study emerging lifestyle trends and their influences on everyday-use products. She is on the board of the Color Marketing Group and regularly contributes trend reports to various publications.
Rajat Mathur
Business Head, Script Script is a contemporary furniture design brand from Godrej & Boyce. As Script's business head, Rajat Mathur plays a key role in the strategic and conceptual framework of the brand. With an MBA in marketing management, Rajat has over 18 years of experience working with large global conglomerates — launching, expanding and sustaining businesses across verticals in the lifestyle, fashion, and accessory industry, with expertise in retail business development and retail operations.
Sandeep Sangaru
Founder, Sangaru Design Studio Sandeep Sangaru is a multidisciplinary artist who founded Sangaru Design Studio in 2004. The studio has worked on projects that have encompassed craft design, furniture design, industrial design, photography and documentary filmmaking. Over the years, the studio has been actively involved with the craft sector working with local artisans and materials. In 2010, he founded Sangaru Design Objects Pvt. Ltd., a company that designs, manufactures and markets furniture, products and accessories for urban homes and workspaces. Sangaru's designs have been part of Christie's London sale. Sangaru is also an educator and is a visiting faculty to various design institutes in India.