The founder and editor of Soup on Russian folk tales, romantic gestures, and a compulsive need to read moreWhat got Meera Ganapathi reading in the first place was a folk tale about a Russian witch. It was about Baba Yaga — an evil old witch who lived in a house that stands on chicken legs. As a child, it was the morbidity that she found immediately enticing. At the time, in the '90s, there was a lot of Russian literature in the Indian market. In addition to some western classics (Famous Five, Nancy Drew and Harry Potter), she fondly remembers these illustrated Russian books. "There was another Russian book called A Boy By The Sea," she says, "and it had woodcut printed illustrations. It was stunning — somehow the illustrations impact how you're reading too."As an adult, however, she finds it harder to carve out as much time as she'd like to read. It's easier when something in her routine shifts — "for instance, if I'm on holiday, or say, when my husband is out of town [which means] we're not watching Netflix, so I can use all that time at night to read." On regular days, it gets a bit difficult to read with work to take care of, but she tries to keep an hour each day aside for reading. Currently, she's able to manage a book a month.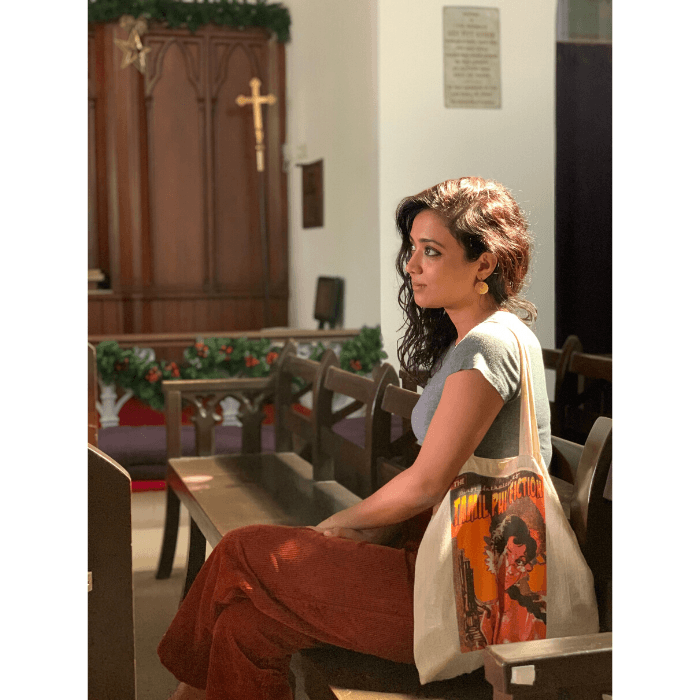 Despite the time crunch, reading is an important part of her job. "If you wish to write, I think it's very important to read," she says. "It's as simple as reading a great book that makes you want to write." Interestingly, what she reads has changed with the change in her job profile. Ganapathi used to work as a copywriter before starting Soup — now a four-year-old independent digital publication on contemporary Indian culture — and she recounts how what she wrote affected what she read. "In advertising, you're supposed to write in a more clever sort of way where you're drawing someone in, where every line's a punch, so at that point I felt that I was reading a lot of funny stuff." She also recalls reading books like The Art of Looking Sideways and God Explained in a Taxi Ride which were popular in advertising circles because of their design and how they made you think. As editor of Soup, there's a change of pace in work and the stuff she's reading is "a lot more soulful."

***

At half past four in the evening, Meera Ganapathi's home is all aglow. Her apartament in Bandra, Mumbai, opens out to a striking view of the Arabian sea, sparkling in the setting sun. The warm sunrays seem to lick every corner, and there is no dearth of comfy spots to curl up with a book. Ganapathi, however, sometimes reads in the loo. "If it's a very boring book that I must get through, then I dedicate whatever loo time I have to reading. Otherwise, I mostly read in my bed, or on the couch."Ganapathi has her books neatly stacked in several bookcases — there are two that line the sides of her living room, and two in what could fondly be called her cats' room. She organises her books by their content. "I put all my food and cooking books together, all my graphic novels in one place, and the books I like a lot together, for easy access. There's also a shelf only for the ones I've given up on," she laughs. Her cats seem to have made peace with her vast collection and her reading time. But the younger one — the roguish black-furred Flea — does flash an averseness from time to time, like when he puts his paw on a page Ganapathi's reading, demanding her attention.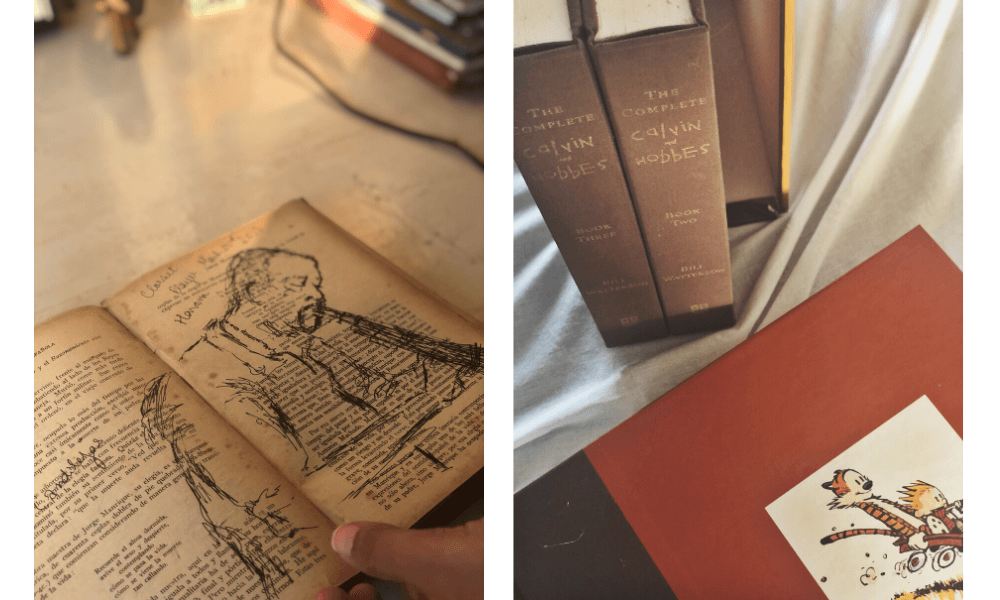 Among her trove of books lie some treasures that she would never lend or give away. One is The Complete Calvin and Hobbes, a collection she was gifted by her husband. "I'd just left college and I told my now-husband — I couldn't afford to buy this then but he was working — that I'd marry whoever bought it for me. He gave it to me in 2010 for my birthday." Another is a book — entirely in Spanish — that she bought on a trip to Cuba. "I drew in it because I couldn't understand anything," she tells us pointing at her sketch of a Cuban street musician. "There was no internet there, there was nothing to do except sit and chill, and there were no books in English that I could find so I sketched in this."This year, she wants to read more non-fiction, and she's been collecting recommendations for her reading list. While we browsed through her bookshelf, we asked her about some of the books she's loved and would recommend as well. Scroll down for her recommendations.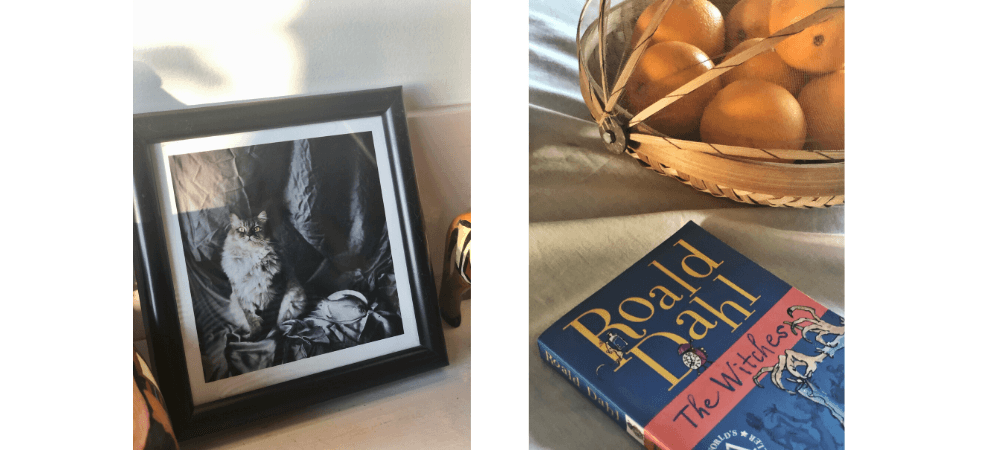 A book that you're currently reading? Early Indians by Tony Joseph.A book you keep going back to? I go back to books according to whatever I'm feeling at that moment. During a lack of inspiration I tend to look back at The Art of Looking Sideways, it usually makes me get out of a creative fug. For days when I'm looking for meaning, oddly enough, I find Calvin and Hobbes extremely philosophical, existential, sometimes even brutal. Like this quote that always works for me when my mind is muddled — "when you look into infinity you realise there are far more important things than what people do all day." I found Maya Angelou's I Know Why the Caged Bird Sings helpful during some of the darkest times in my life. I read it again sometimes to remind myself that one needs reservoirs of strength tucked away in secret places like books and snatches of poetry that work like emotional bank accounts. And finally when I'm sick, without fail, it's Harry Potter. There can be no healthy explanation for this habit, but it works.A children's book that you love? The Witches by Roald Dahl.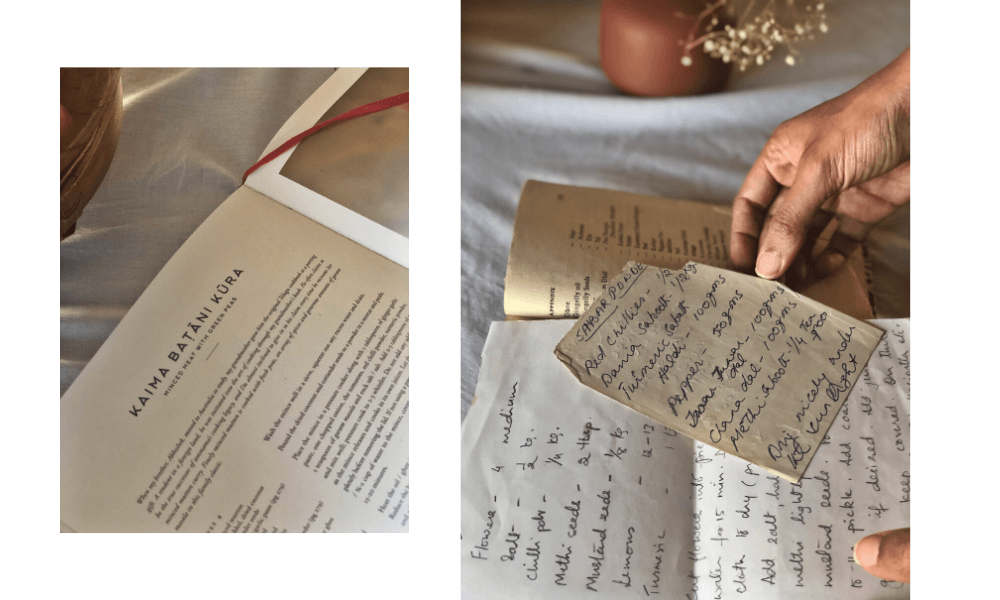 A cookbook that you would swear by? My mum's copy of Cook and See. My grandma gave it to my mum, who gave it to me. This is a cookbook that most TamBrahm families pass on to their daughters, and now also their sons. And Jerusalem by Yotam Ottolenghi and Sami Tamimi. Also, Five of Morsels of Love, we use this a lot too.The last book you gifted? Girl in White Cotton by Avni Doshi.An illustrated or graphic novel you love? Habibi by Craig Thompson — I don't love the book, I find his books very mushy, but the art is stunning. Also, Dororo by Osamu Tezuka.A non-fiction book you'd recommend? From Heaven Lake: Travels Through Sinkiang and Tibet by Vikram Seth.(Note: When you buy something using the retail links in our stories, we may earn a small affiliate commission.)