Plus five queer zines that you ought to haveHorror is highly subjective. For a child, it could be imagined monsters under the bed; for a 20-something, her looming future. For many, it may be confined to cinema — but horror is never too far, just a step beyond the bend, a pitch louder.For the queer community, in India especially, the stuff of horror is closely intertwined with daily life. It's been a year since the Supreme Court decriminalised homosexuality in India, but there are still miles to go. In light of these everyday encounters within the LGBTQIA+ community, Gaysi Zine's soon-to-launch issue focuses on queer horror. "Normally, horror conjures up ghosts and paranormal elements, but what's in this collection is far better and beyond the typical," explains Niyati Joshi, the editor of the zine. Gaysi was founded in 2008 to make space for queer perspectives in a desi context. With the Gaysi Zine, a self-published print magazine, the idea is to make queer narratives more relatable, everyday concepts.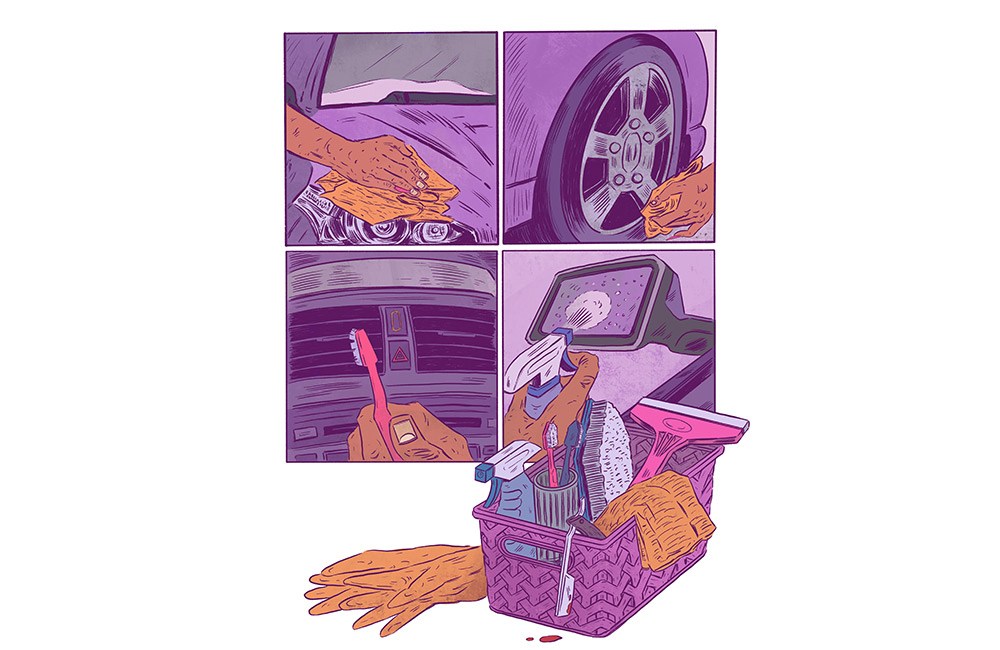 A sneak peek from a story by Joshua Muyiwa, illustrated by Gaurav Sharma. Courtesy Gaysi Zine."At its core, horror has always been a genre for outcasts and misfits," Joshi explains about this new issue. "But it's not been co-opted by the queer community or fully embraced as a tool — not internationally and not in India — so we thought we'd be the first ones." The 96-odd-page new zine is an anthology of long-form stories, poems and graphic narratives. The subjects tackled are diverse — some are rooted in Indian folklore, for instance, but bring up characters that are presented in a completely different context. There are urban horror tales, like a story about an Uber driver, and a poem that talks about a Tinder chat gone horribly wrong. "These pieces are quite different from each other," says Joshi, "and the idea [is for] each piece to evoke a sense of horror, of 'oh my god, I've not seen something like this before, I haven't even thought of this type of horror'."Titled 'Normal', this issue of the zine is a delectable feast, primed to leave you uneasy and squirmy, incredulous and uncomfortable. With about 20 different pieces, sourced through an open call-out as well as commissions, the zine prioritises queer perspectives — via queer characters and the minds of queer writers and artists. Expect pieces from journalist Shweta Narayan, playwright Sneh Sapru, Rashmi Ruth Devadasan of Chennai-based Blaft Publications, writer and poet Joshua Muyiwa, and storytelling studio Kokaachi. Visuals, helmed by illustrator and graphic designer Priya Dali, bring the zine to life. Dali, who has designed the cover, tells us to expect diverse visual tones too. The zine includes work by young artists and illustrators like Anshuman Sathe, Noel Jyothis, Tora, Harmeet Rahal, and Preetam Dhar.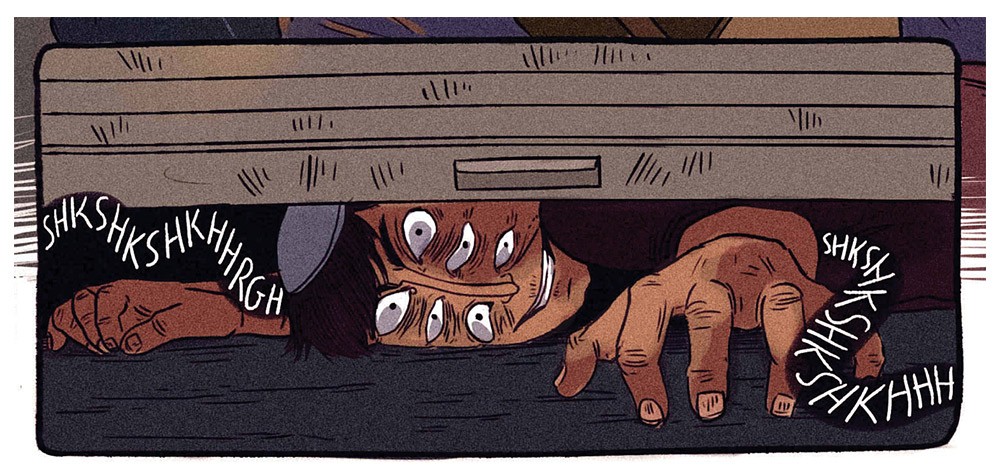 Horror comes in all shapes and sizes. Illustration by Alafiya Hasan. Courtesy Gaysi Zine.From the call-out for desi-queer horror stories in May to its compilation and editing, along with a successful crowdfunding campaign of ₹1,50,000, the zine has been months in the making. Normal, the seventh issue of the Gaysi Zine, will be out later this month, at the Gaysi Zine Bazaar, and later online. This edition of the Zine Bazaar too looks at a topic tangential to the world of queer horror — Desi Fantasy. The two-day event will include activities, talks, design and storytelling workshops and a curated exhibition of over 50 independent artists and publishers.Gaysi Zine Bazaar, 11am to 7pm, Saturday September 21 and Sunday September 22; G5A, Mahalaxmi, Mumbai. Find the schedule here. For tickets and more details, visit the Gaysi Family website.ZINES TO WATCH OUT FOR We asked the Gaysi Family team to recommend five zines you should keep an eye out for. All titles will be on sale at the Gaysi Zine Bazaar later this month. Plus One: A Journal Companion By Gaysi Family X Tinder This journal is filled with stories, activities, and spaces for folx to explore their endless creativity and opportunities to express themselves, or in collaboration with a friend or partner. Users get to explore areas of love, fantasy, dating, and sexuality and let their imagination run wild as they jump from page to page. Sunny, and he will be loved By @sunnyterrain This is "a coalition of personal experiences that are desi-esque and narrated through the lens of a fantastical world, in which our protagonist tries to understand love." Anatomy of a Panic Attack By Shruti Bhiwandiwala In her debut zine, the writer and designer explores the journey her mind takes when it goes through an anxiety spiral. While admittedly morbid, she hopes the illustrations and colours bring light to some of the darkness. Chosen Family By Veer Misra A desi-fantasy zine, Chosen Family is a series of illustrations centred around male-to-male love and deconstructing gender performance in India. It focuses on "the importance of chosen families within the queer community and living in what feels like a fantasy environment in our current socio-political climate." Queering the Anthropocene By Kokila Bhattacharya This one is a short comic focused on reclaiming the word 'queer' and fixing the climate crisis through anarchy, and love.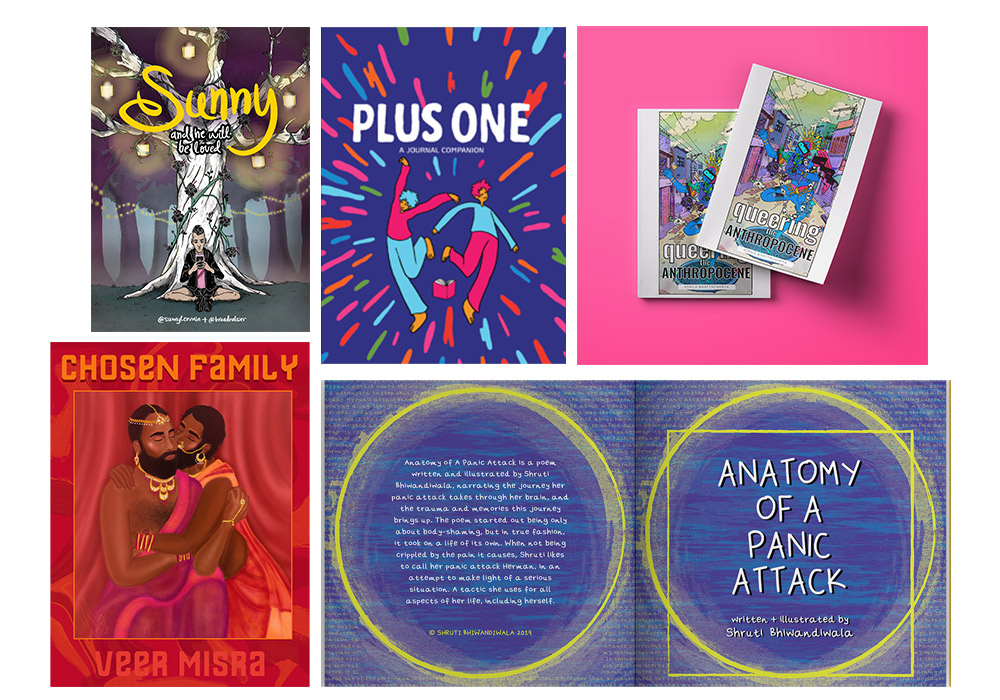 Sabah Virani is a writer, trying to make it big in life, but really just drowning in books. She is an editorial intern with Paper Planes.