A start-up is turning flowers, discarded from temples and other sacred spaces, into incense sticks, vermicompost and more Varanasi's ghats attract hordes of visitors each day, for pilgrimage, purification or pleasure. In 2018 alone, the city in Uttar Pradesh saw over 64 lakh tourists. These visitors line up around the ghats to marvel at synchronised spectacles of pandits chanting, swirling giant lamps, and tossing flower petals into the air. Some go on gentle boat rides or take dips in the river, getting up close with the little bowls of marigold flowers, with a tealight in the centre, that float down the holy river. Many also offer prayers at temples, where deities are adorned with garlands of vibrant flowers. Varanasi is revered by many, but it is not the only sacred site that sees a widespread use of flowers in worship. In homes, temples and religious institutions across India, marigolds and other flowers are used in a host of prayer practices. Pumped with insecticides and pesticides, these flowers are commonly discarded into rivers and are a significant source of pollution that's clogging the country's water sources. In 2015, two friends in Kanpur, about 330km from Varanasi, took note of this, decided to find a more sustainable solution for this waste, and founded HelpUsGreen. The Kanpur-based start-up, set up by Ankit Agarwal and Karan Rastogi in 2016, developed an innovative technology that upcycles flower waste into organic products like incense sticks and vermicompost — a process they call 'flowercycling'. Last year, the brand took home top honours in the consumer products category of Fast Company's World Changing Ideas Awards as well as a UN Climate Action Award. What's also appealing about the products is the clean and contemporary design for packaging — which also happens to be biodegradable.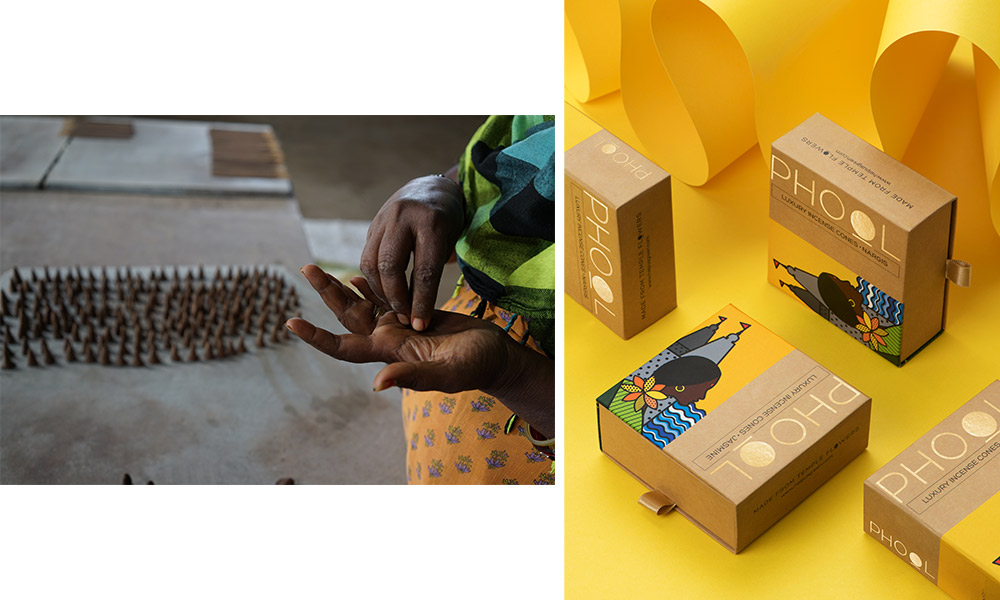 The incense cones are made by hand (left) and are available in fragrances like lemongrass, eucalyptus, jasmine and tulsi. HelpUsGreen's line of products — Phool — comes in colourful packaging (right). All photos courtesy HelpUsGreen. Many thought flowercycling was a ludicrous idea, says Ankit Agarwal, founder and CEO of the start-up and winner of the UN Young Leaders Award 2018. "Nobody was willing to take it seriously or give up their floral waste," he says. "Karan and I spent hours experimenting, meeting various stakeholders, and pitching the idea of managing temple waste in the country. A year and a half — and countless hours in a makeshift laboratory — later, flowercycled incense and vermicompost was conceived and crafted." The long process of flowercycling begins with collecting floral waste. Sacred spaces like temples and mosques as well as weddings are popular hotspots from where HelpUsGreen sources the necessary flowers. A majority of the waste comes from Kanpur itself, where the flowercycling plant is based, but temples in Tirupati, Andhra Pradesh, are also suppliers. Once the dead flowers are gathered, about 80 local women set to segregating the waste by hand — discarding plastic, threads, and other objects. The remaining flowers are then sprayed (to get rid of any chemical residue) and washed (the water is saved to make vermicompost).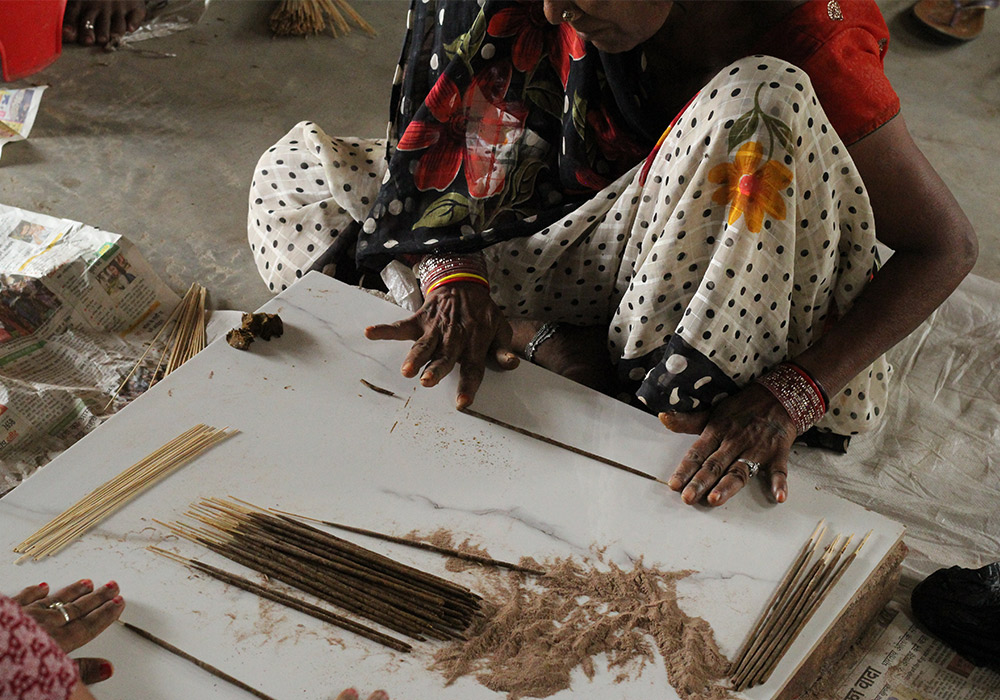 From segregating the waste to rolling the incense sticks, much of the flowercycling process happens by hand. All photos courtesy HelpUsGreen. Then, the petals are broken and laid out to dry in the sun. Once dried, the flower petals are hand-rolled into incense sticks and cones, which are 100 per cent natural. The rest of the flower — like the leftover stems, stamens and leaves — go towards making vermicompost, closing the loop and ensuring minimal waste generation. The start-up is also working to take its method of upcycling flowers beyond incense sticks and vermicompost. Under development at the moment are two materials — 'Florafoam', a sustainable alternative to Thermocol, and bioleather. As citizens and travellers, the most we can do is pay attention and make amends to our own waste management. It's hard to control what does end up in rivers and oceans, but it is reassuring to know that there are brands who are working to minimize the waste and helping us choose to live more sustainable lives. The incense sticks, incense cones and vermicompost are available for purchase here. Fresh out of college, Jessica Jani is a writer at Paper Planes. She enjoys reading books, about books, and the scores of magazines she now has access to thanks to our amazing library. Find her on Instagram as @jesthetic_.