How to work better when distractions pile upThere are times — now more than ever — when we struggle to focus, execute tasks, or get through our to-do lists. There's a lot that could help, especially if you're working from home — like establishing a routine or alloting a specific space for where you'll work — but at the top of our list right now is effectively combating distractions to concentrate on the tasks at hand. Some of our biggest distractions today come from our phones and computers, the very gadgets many of us employ for our work. There's no cause for grievance however — you can find the tools to help you focus on these same devices. We're here to help.
For Reading
Raise your hand if you've settled in with a longread and five minutes in, switched to scrolling through your Instagram feed. Or if you've found yourself completely befuddled by all the hyperlinks you've opened in tabs and lost the original article you were reading. We've all been there. Instapaper is a handy app that allows you to save and store your articles to read offline, at your leisure. (You can even choose the typeface you'd like to read in.) Send to Kindle is another app that allows you to save articles onto your Kindle, also a great way to cut down on distractions.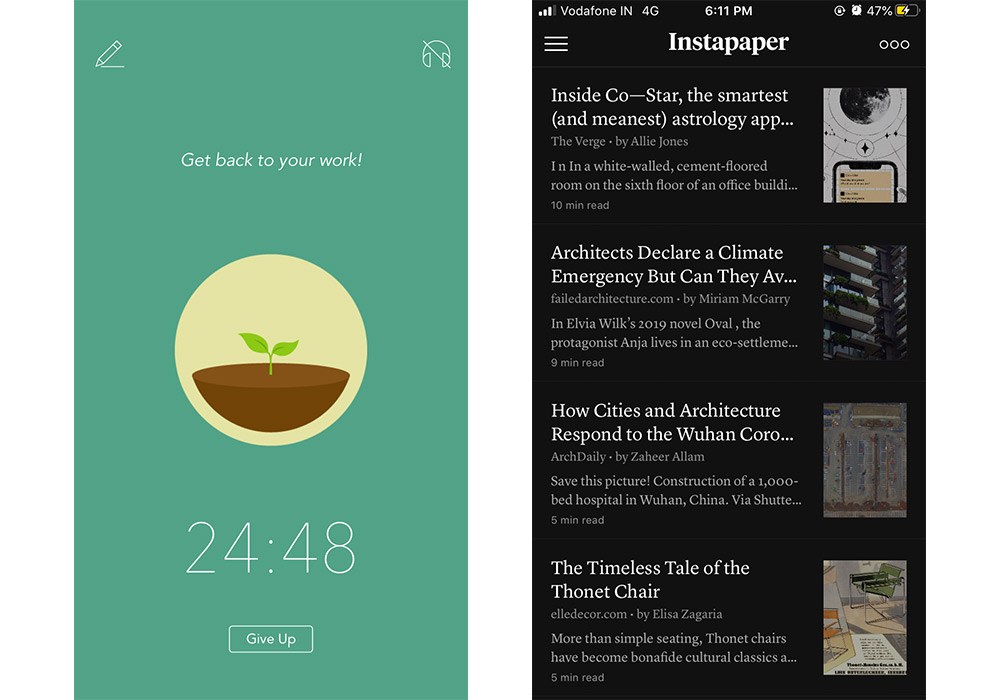 Stay focused with the Forest app (left) and read all your articles in one place on Instapaper (right).
For Working with Colleagues
Communicating with your team efficiently, especially when working from home, can be tricky. On Slack, you can organise projects, make to-do lists and delegate work much more clearly than on a whatsapp group. You can also integrate tools like Google Drive, Dropbox and Twitter into your account. Apps like Google Hangouts, BlueJeans and Zoom have become extremely popular for video conferencing. If you don't feel comfortable letting your colleagues into your home, Zoom even lets you opt for a virtual background.
For Organising and Focusing
Making to-do lists is key to organising. Apps like TickTick and Todoist help you make lists, add reminders, prioritize your tasks, and track your productivity progress. These apps do more than just listing tasks, they go the extra mile with features like a pomodoro timer (on TickTick) and a habit tracker (on Todoist). If note-taking is your focus, and you're looking for an app that might help you organise your notes better, Zoho Notebook and Apple Notes (iOS) are good options.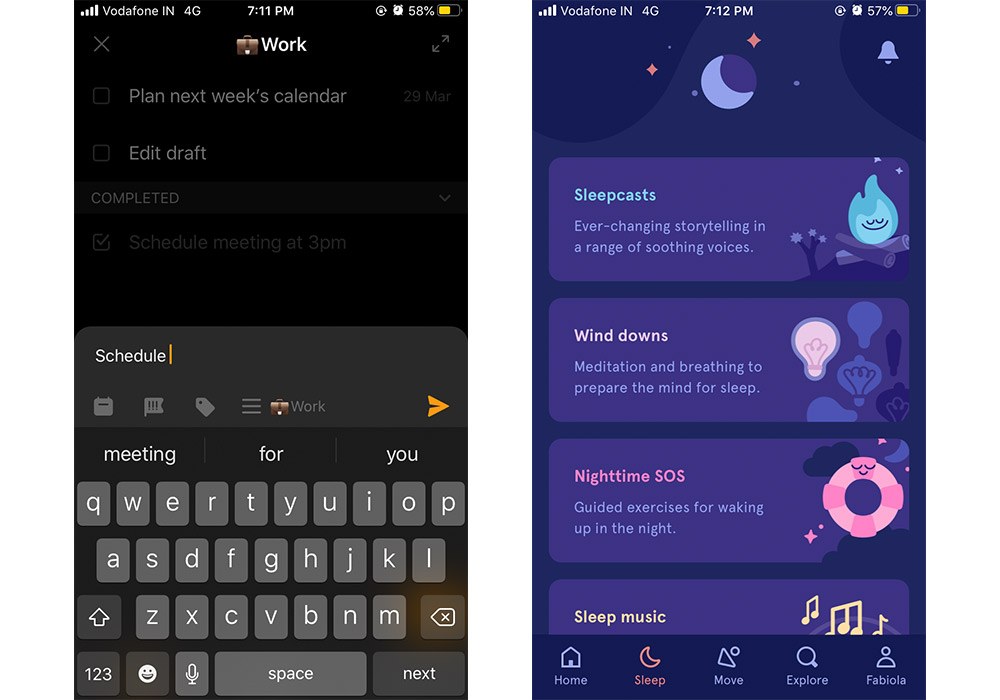 Organise your tasks with TickTick (left) and get personalised meditations to improve focus on Headspace (right)For those who find it hard to keep away from your phone, the Forest: Stay Focused app helps you stay away for longer times in an interesting way. It makes you plant a virtual seed, which starts to grow into a tree — leave the app and the tree withers. At your desk, browser extensions like StayFocusd (on Google Chrome) let you configure the time you want to spend on unessential websites, after which they are blocked for the day. Pause is another extension which encourages you to be more mindful and consider your decision when you click on a 'distracting' website, by making you pause for five seconds. You can decide if you want to go to the website or close the tab after that. And if you're hoping to maintain good habits and chart your progress, try the Loop Habit Tracker app (Android) or Productive (iOS).
For Sleeping and Waking Up
Relaxing your mind, and giving it a break enhances productivity. Try Headspace for their guided meditations, especially the sleep meditations, to relax better. If you're having trouble waking up, the I Can't Wake Up! Alarm Clock app (on Android or iOS) could help. It makes hitting snooze and going back to sleep far more arduous, with eight wake-up tasks (including math tasks and quizzes) that won't turn off the alarm until you finish them.