I was at the Hazarduari Palace in the city of Murshidabad, and had just finished going through the memorabilia on display. To commemorate my visit, I was posing for a picture against a closed, green, louvred door that wasn't real. (As its name suggests, Hazarduari Palace is said to have a thousand doors — not all are real.) Standing there on the veranda, I found myself paying attention to its colonnade, which reminded me of the columns at Rajbari in Dhuliyan, a small town in the district of Murshidabad. As a child, every time I drove past it, I remember being delighted — the colonnade at Rajbari had a majestic feel, exuding an air of bucolic charm.
Murshidabad — a city as well as a larger district in West Bengal, close to India's border with Bangladesh — has a rich legacy, with a profusion of monuments. In the early 18th century CE, the capital of the Mughal province of Bengal shifted from Dhaka (in modern-day Bangladesh) to Murshidabad, and the city became the seat of power for the nawabs of Bengal. Back then, it was a roaring city for trade with the English, French and Dutch companies. In 1757, during the Battle of Plassey, the British East India Company defeated Siraj-ud-Daula, the last independent nawab of Murshidabad, which sowed the seeds for British rule in India, and in turn, saw the advent of colonial architecture.
But its heyday didn't last for too long. The city saw a devastating famine in the late 1760s and an outbreak of smallpox, along with a shift in administrative functions to Kolkata, the eventual capital of the Bengal province. Still, this remained a good time for architecture in the area. The nawabs and other moneyed folk in town continued to build rich, lavish structures — several of which had numerous columns — like the European-style Hazarduari Palace.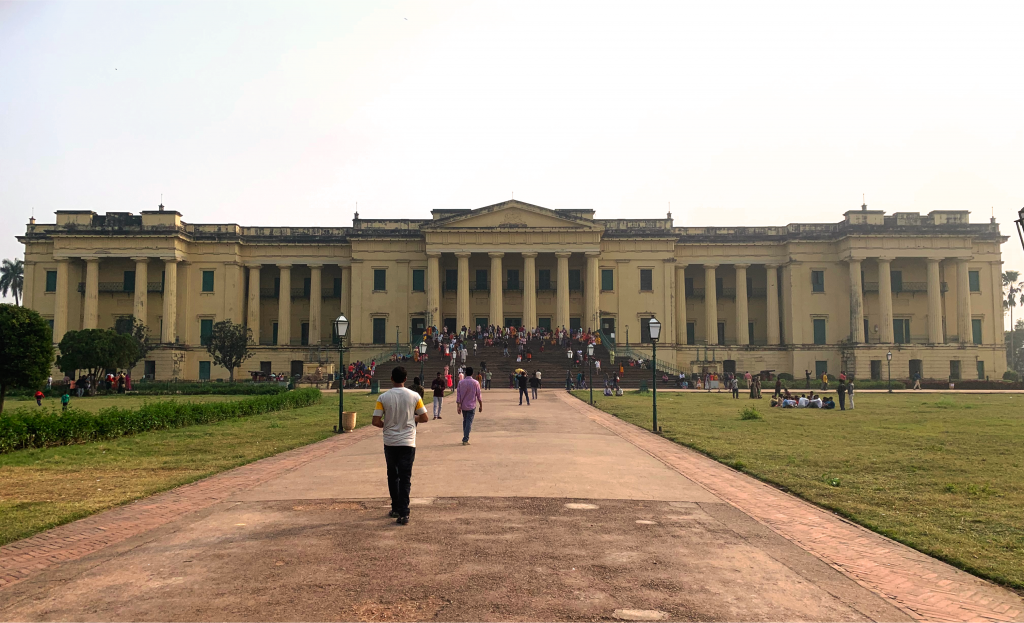 Hazarduari Palace, built between 1829 to 1837 under the reign of Nawab Nazim Humayun Jah, was designed by the British architect Duncan MacLeod. With a colonnade of 52 yellow columns on all its sides and an impressive portico, it resembles the Parthenon in Greece, and visibly takes cues from classical architecture, commonly seen in Ancient Greece and Rome.
To understand the connection between Ancient Greece and 19th-century Murshidabad, I spoke to Shubhda Bhutra, an architect in Bengaluru. She told me that the facades and rows of columns in these early colonial structures were a direct interpretation of Ancient Greek and Roman architectural principles, popular in the West in those times.
At Hazarduari Palace, I noticed that the columns have shallow vertical grooves, or flutes, running through the entire shaft, which make them appear tall and slender. I later learned that this design was characteristic of Doric columns, a kind of Greek column.
In comparison, the columns at Rajbari in Dhuliyan have subtle differences, hinting at Roman architectural influences, with their Tuscan and Composite columns (other kinds of columns, common in Ancient Rome). Wasif Manzil, another palace not very far away from the Hazarduari Palace, showcases Tuscan columns as well, but with a shift in influence. The structure that stands today was completed in the early 1900s and shows features that draw from Indo-Saracenic architecture, like detailed ornamentation from Hindu architecture, with Western elements like a front garden.
Over time, Bhutra explains, different architectural influences came in, and are especially evident elsewhere in the country. This was a result of local craftspeople and masons learning and interpreting the new Western styles, as well as designers from the West developing an understanding of the local skills, climate and building materials available to them.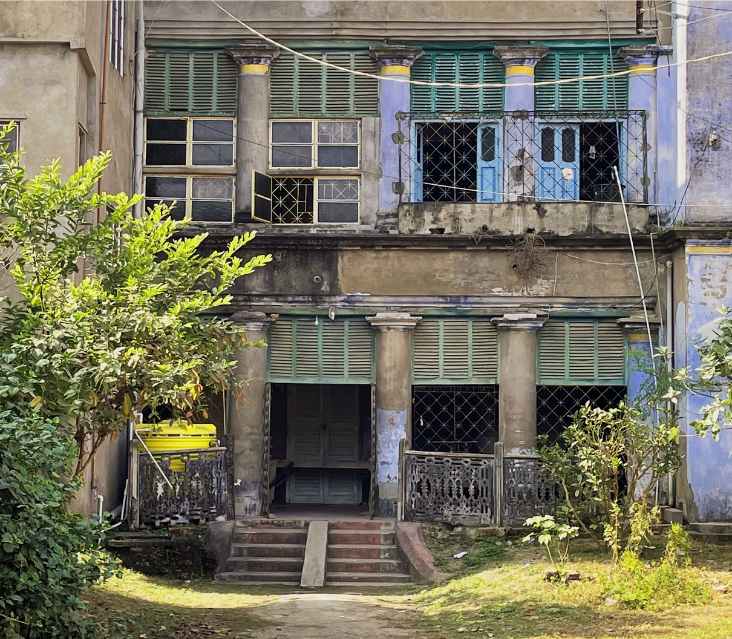 Looking back, I remember my mother regaling me with anecdotes about Murshidabad, but I brushed off her statements, unable to fathom her pride in the district's turbulent past — from the land of nawabs to a thriving commercial hub — or its architectural heritage. Today, those memories fit perfectly together like a jigsaw puzzle as I share her joy at discovering that the story behind Murshidabad's classical columns is in fact intricately entwined with those historical narratives.
Our selection of stays across India, best visited for their design and style. Check in
Ridhi Agrawal is a writer based in Nepal with her roots in India. She writes on various topics like arts, culture, and travel. She is on Instagram at @ridhi_ag.