On the shores of the Kakkathuruthu Island, many miles away from the din of traffic, the race of deadlines and the claustrophobic confines of city life, is the Kayal Island Retreat. Kakkathuruthu is a quiet island on Kerala's Lake Vembanad, a 40-minute boat ride from Fort Kochi. Visitors to the island are greeted by a sweet tropical breeze, swaying coconut trees, and boats gently bobbing on the water. It's largely fisherfolk and farmers who inhabit the island, where the boutique hotel blends in seamlessly with local life. We asked Maneesha Panicker, the person behind Kayal, who has thought through every little detail here, to take us behind the scenes and talk us through the way things come together before guests are welcomed to this scenic, cosy getaway.
The Rooms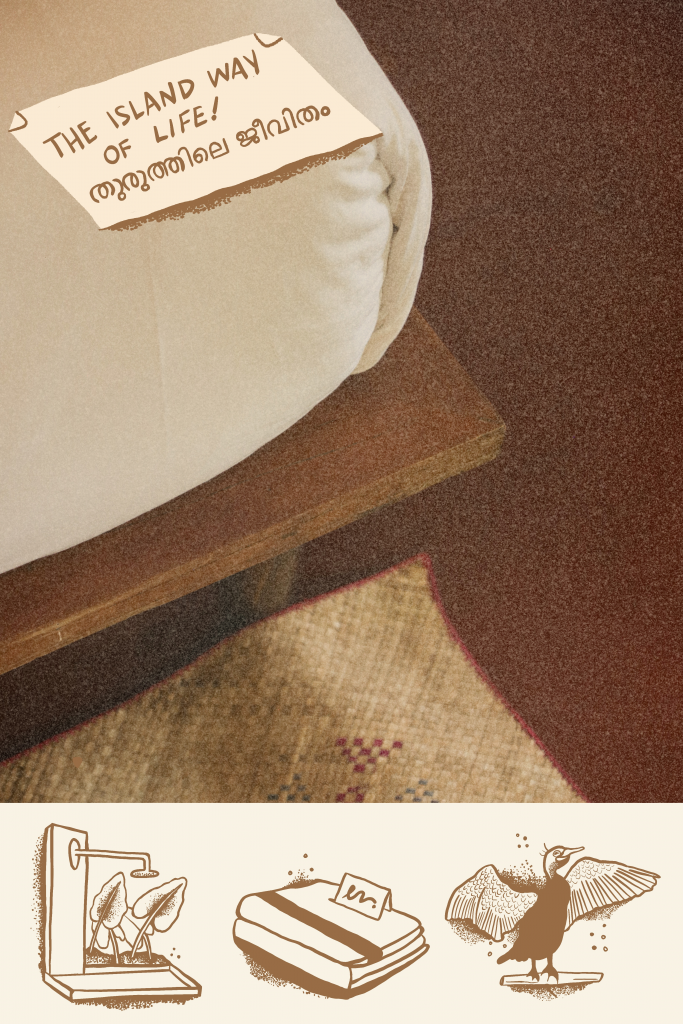 Before you check in, you first have to reach the island. This happens on wooden rowboats, handcrafted specifically for this purpose — compared to fishing rowboats, these have a wider base and cut through water slower so that it's a more comfortable ride. Meanwhile, at the island, the staff is busy readying the four-cottage property — each with its own room — for new guests. The architecture here is inspired by old Keralan homes with tiled roofs, white walls, thazapa (screw pine) mats, and locally sourced repurposed furniture. Open spaces with few walls act as reminders to breathe easy. Comfort takes top priority inside each cottage. The crisp bed linen and bathrobes in the rooms are made from the same sort of breathable, locally grown cotton that mundus — a traditional garment worn around the waist by people in Kerala — are made out of. The open-to-sky bath garden outside the cottage allows for starlit showers, and thoughtful notes encourage guests to enjoy their well-deserved time off and slow down. The artwork in each of the rooms mirrors the life of the people on the island — artists from across Kerala are invited each year to stay at the property, get a feel of the locals' life and create these pieces, whether it is a series of photographs or paintings. Each of the cottages open up to the calm, green backwaters of the lake, with sunbeds by the shore, where guests can relax after a refreshing swim in the lake.
The Sourcing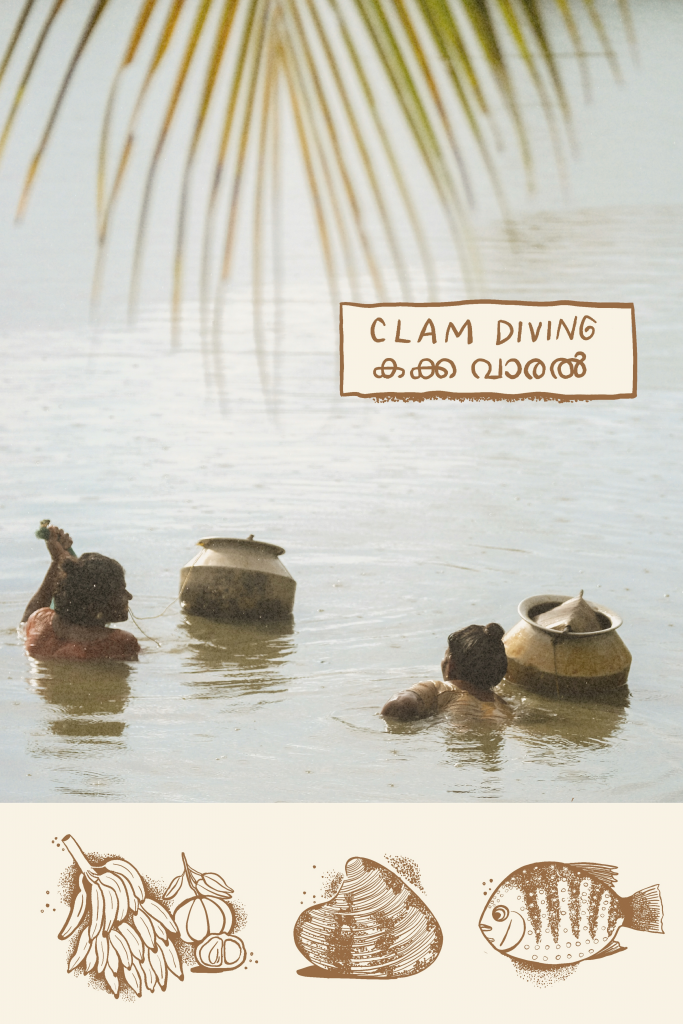 A large part of slow living involves making conscious choices. At Kayal, ingredients are sourced from as close to the island as possible. These ingredients introduce the best the island has to offer and are staples in the local cuisine — raw and ripe bananas, kodampuli (Malabar tamarind), toddy and of course, seafood. To see exactly how fresh and sustainable sourcing on the island is, guests are encouraged to participate in the process by visiting the local fish auction or assisting the toddy tapper. Crabs, prawns, clams, pearl spot fish, and other seasonal fish are commonly found in the waters around here. Between January and April, clams grow at the bottom of Lake Vembanad, making it clam-diving season. During this season, clam divers swim with baskets about 20 to 30ft deep to catch clams from the lake bed. Many women from the village on the island are skilled clam-divers; most of them — the oldest is currently 86! — have been doing this all their lives.
The Spa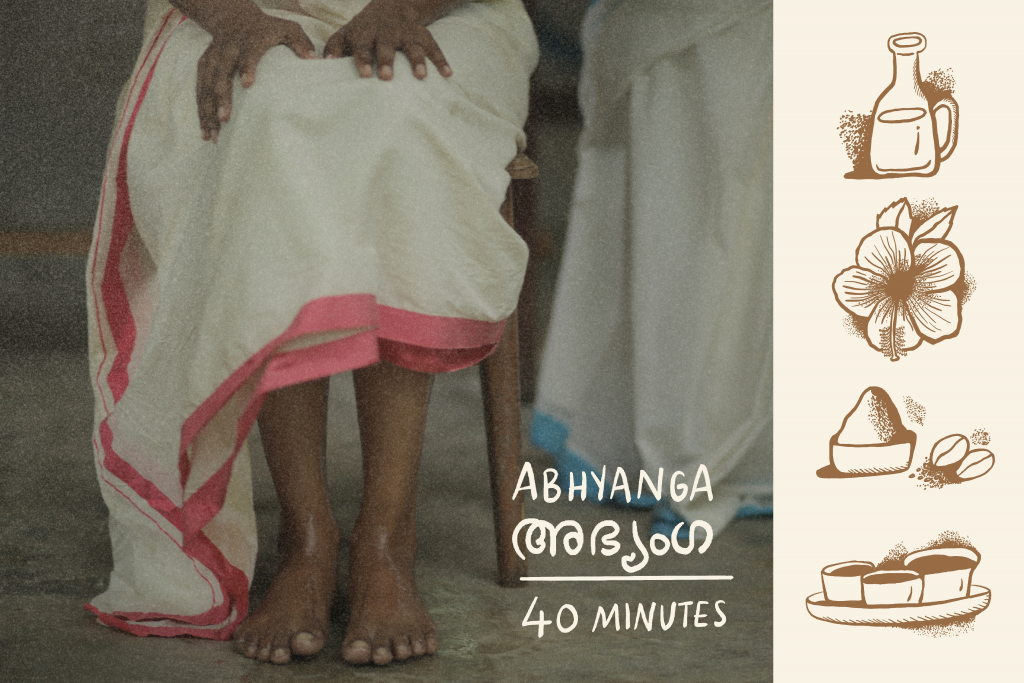 Masseurs who are adept at kneading out tense knots and soothing tired bodies are on call for Ayurvedic massages like the Abhyanga, a relaxing, full-body oil massage. For the massage, seasonal and traditional herbal oils are used to stimulate blood circulation and regulate lymphatic fluids. A scrub, made with coffee powder, is used for exfoliation. And for those looking for a warm, refreshing bath, hibiscus flowers and leaves are ground into a paste that can be used as a natural alternative to store-bought shampoo after a long day by the lake.
The Food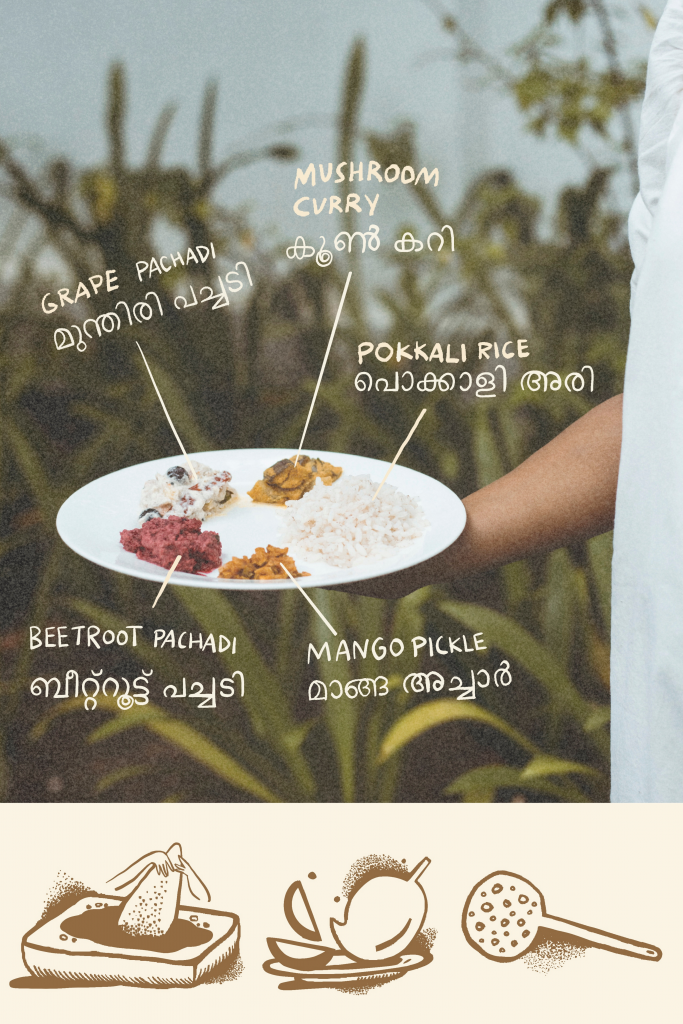 There's very little that a warm, comforting meal can't better — more so, if it is an amalgamation of delicious flavours that celebrate tried-and-tested cooking practices and island recipes. The menu at Kayal includes an all-Keralan affair that is a celebration of what is local and seasonal, and takes into account every guest's dietary preferences. Breakfast prep usually includes doling out idiyappams and steaming bananas. The island's toddy tappers supply fresh coconut toddy that's used to make the batter for the appams, or of course, drunk as is for a heady buzz. Lunch spreads are more elaborate — spices and coconut are ground on slabs of stone for preparations of beef ularthiyathu, and banana leaves are wrapped around parcels of karimeen, or pearl spot fish, to make fish pollichathu. Vegetables are stir-fried and stewed for dishes like thoran and aviyal. Yoghurt is tempered with coconut oil, mustard seeds and curry leaves, along with a vegetable or fruit, to make a creamy pachadi. Pokkalli rice, which grows on the island, is prepared. And then there's dessert — usually payasam or ice cream. For those who'd like the elaborate sadya, served on banana leaves, the kitchen is well-equipped to turn out a nap-inducing spread.
At Kayal Island Retreat, the entire experience is designed to be more than just restorative — it's meant to infuse a sense of how valuable it is to live in the moment and coexist with the world around you. And whenever you're ready to choose downtime from sparring with daily checklists and chock-a-block routines, the folks here are ready to soothe all your worries away.
Devi Poojari is a Staff Writer at Paper Planes. She is on Instagram at @sobombed.
Ayesha Punjabi is a Designer at Paper Planes. She is an Information Designer and Illustrator who enjoys working at the intersection of gender identity, health, culture and conservation. She is on Instagram at @hohobaplanet.
This story is produced in partnership with Kayal Island Retreat, as part of a Local Attractions giveaway campaign. To win a free two-night, three-day stay at Kayal, visit @joinpaperplanes on Instagram and participate in the campaign (on until 17 June 2022). Terms and conditions apply. For all booking enquiries, contact the hotel here.
Kayal Island Retreat is part of Local Attractions' Hotel Directory.