When I moved to Panaji, also known as Panjim, almost 15 years ago, I was delighted to know that there was a thriving public library not too far from home. We had just relocated from the United Kingdom, where my husband and I put away our careers to start our own non-profit here. I'm a 'Bombay girl', and while books consumed me as a child, access wasn't always easy. We either relied on the school library which had strictly designated cupboards for each class, or on roadside vendors selling everything from issues of Tinkle to gorgeously bound books from Russia. The thought of a well-stocked library in a beautiful old building gave me goosebumps.
In Panjim, the Central Library — now officially known as the Krishnadas Shama Goa Central Library — was on the ground floor of the Institute Menezes Braganza, right opposite the Panjim jetty and next to the police station. It was housed here since the mid-1800s until 2011, when it moved to a new building on the outskirts of the city. Its original location was ideal for booklovers — upon entering, you walked past a sea of blue-and-white azulejos into spacious, airy rooms filled with books and the quiet hum of people engrossed in words. In the early days, I had admired the beautifully painted ceramic tiles in the lobby. While it seemed they had a story to tell, there was no plaque explaining their origin or history, so they remained largely ignored.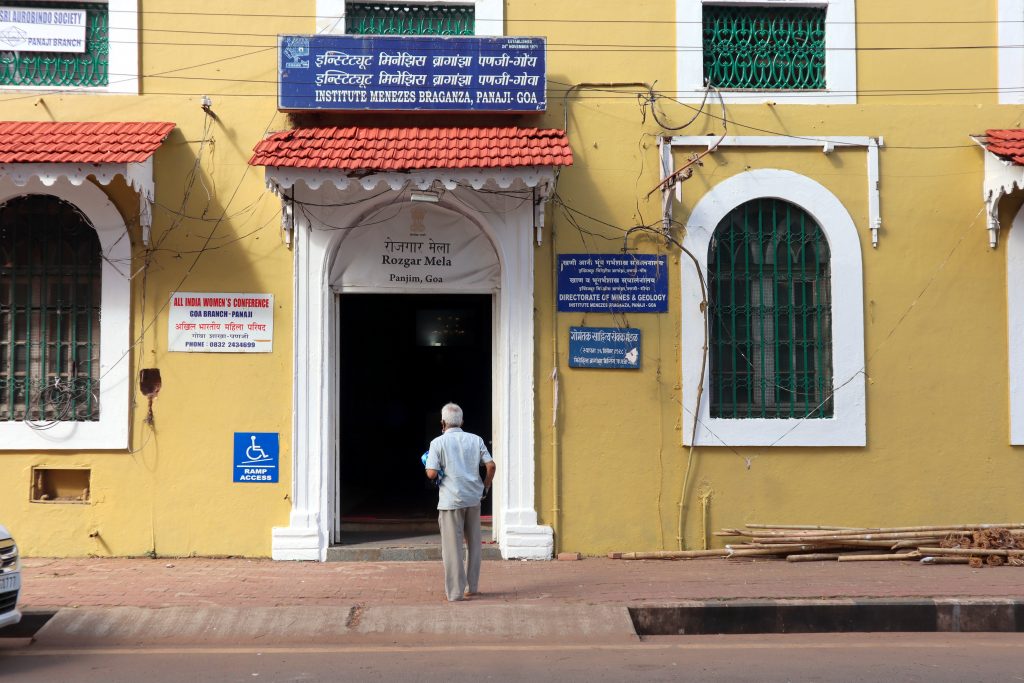 These tiles are called azulejo (pronounced aah-zoo-lay-jshu) and are typically Portuguese or Spanish ceramic tiles painted, decorated and glazed on one side. The word 'azulejo' is derived from the Arabic 'al zulaycha' or 'zuléija', meaning 'little polished stone'. The art of azulejo was introduced to Portugal via Spain sometime between the 8th and 13th centuries CE by the Moors, who, in turn, had learnt the craft from the Persians. It was only from the 16th century onwards that Portugal began producing its own decorative tiles, once potters from Spain, Flanders and Italy began settling there. The early 18th century is described as the 'Golden Age of the Azulejo', as whole buildings, churches, palaces and houses were covered in these tiles, internally as well as externally.
From the 19th and 20th centuries, the name of a particular artist stands out: Jorge Colaço (1868–1942). A Portuguese painter, he attained fame for his large-scale tile compositions exalting characters and episodes important to Portugal's history. His masterpieces include the 20,000-tiled decoration of the vestibule of the São Bento railway station in Porto.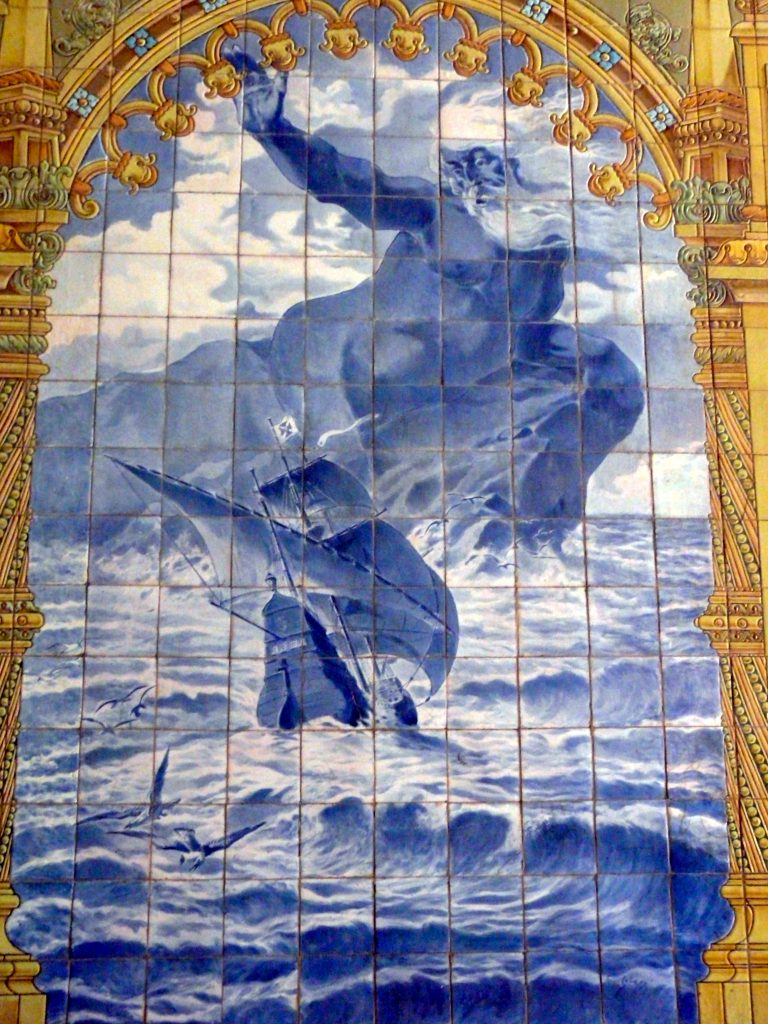 It is Colaço's work that adorns the lobby of the Institute Menezes Braganza. Five floor-to-ceiling panels painted in blue and white with ornate gold borders depict scenes from the Portuguese epic poem Os Lusíadas written by Luís Vaz de Camões, regarded as Portugal's greatest poet. Each of these extraordinary panels bears an inscription at the bottom right: 'Jorge Colaço, 3-7-1935'.
Os Lusíadas eulogises the Portuguese explorers and the voyages they undertook during the 15th and 16th centuries. The panels are elaborate — telling the story of Vasco da Gama's departure from Portugal, the wrath of nature he had to overcome (depicted by the towering Adamastor, a mythological character invented by the poet), and his arrival in Calicut. Each panel has a corresponding verse below, framed in gold. What is most fascinating is that the tiles were painted in Lisbon and shipped to Goa to be installed here. It is the only site in India that is adorned with azulejos made by Colaço.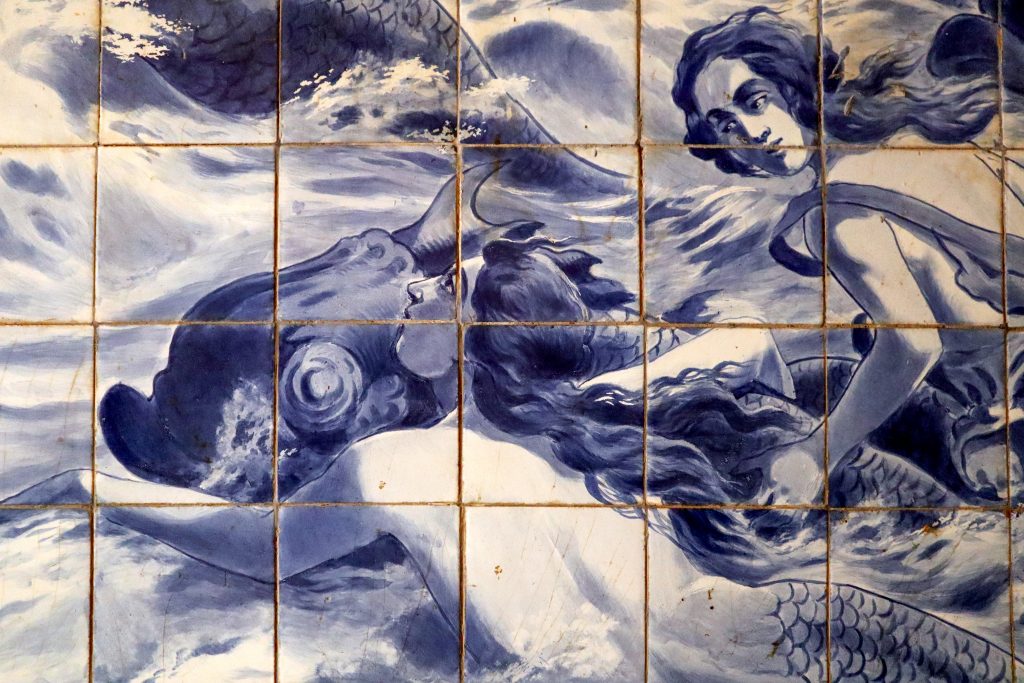 With the Central Library moving across the Ourem creek to a new five-storeyed home, the reasons to visit the Institute Menezes Braganza are slowly dwindling, unless you wish to drop by for the classical music concerts our charity organises in the hall upstairs.
The old library now houses the offices of the Department of Mines and Geology, a far cry from the former literary abode. Instead of being celebrated and preserved, the azulejos have been overlooked. Some tiles are chipped; one can often notice wooden panels or other material leaning on to them, or posters carelessly stuck with tape. On your next visit to Panjim, perhaps take a few minutes to admire this glorious work of art — and to tip your hat to the genius of a great master of the craft.
Find your way to the Krishnadas Shama Goa Central Library in Panjim via Google Maps here.
Our selection of stays across India, best visited for their design and style. Check in
Chryselle D'Silva Dias is a journalist based in Goa. When she's not writing, she runs a music education charity and also stalks all kinds of libraries on social media. She is on Instagram at @missfrangipani.