"This house is more than a structure of brick and mortar. It is intimately connected with our national struggle for freedom, and within its walls great decisions were taken and great events happened."
The golden letters embossed on a tablet on a large rock face are not unfamiliar to me. I have read and re-read them many times over as a young girl, even when I wasn't fully aware of the context.
Anand Bhawan stands inconspicuously behind a thick curtain of Ashoka trees, far removed from the din of the busy Church Road in Allahabad, the city we now know as Prayagraj. A hundred years ago, it is said, the same road was a quiet, tree-lined avenue that served as a private driveway to the mansion. While the city around it has changed, the house stands tall and elegant — perfectly preserved. To find out more about the structure and its history, I reached out to Nilesh Narayan, the founder of a local travel company.
A two-storey cream and light grey structure, Anand Bhawan was designed and built by eminent lawyer Motilal Nehru, the father of Jawaharlal Nehru, in 1927 — a few years before his demise in 1931. His idea was to make a modest home after the former family home became the headquarters of the Indian National Congress (INC). Coincidentally, that old home was also named Anand Bhawan, but was later rechristened Swaraj Bhawan and dedicated to the nation in 1930. The new house was constructed next door to Swaraj Bhawan, and turned out to be a rather lavish mansion where the family lived from 1929 to the mid-1940s.
Anand Bhawan was gifted to the Jawaharlal Nehru Memorial Fund by Indira Gandhi in 1970 — today, it is a memorial museum. The complex also comprises the Jawahar Planetarium. Conservation architect Abha Narain Lambah was brought on board to painstakingly restore the two erstwhile family homes between 2012 and 2017.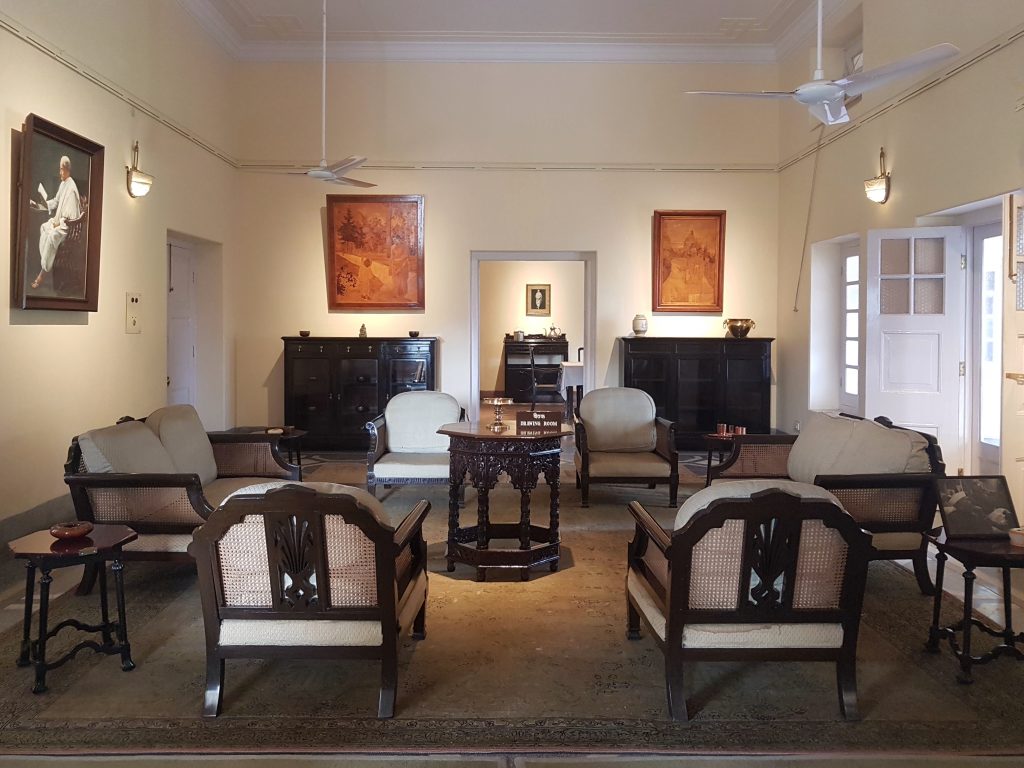 It is hard to tell the exact architectural style of Anand Bhawan. On one hand, there is a large chhatri and jaalis across the mansion, which seem to suggest an attempt at Indian revivalism; on the other are long terrazzo verandahs wrapping around large rooms, high ceilings supported by tall columns, and large windows, reminiscent of colonial Indian architecture. The fine interiors made of teak and mahogany showcase the fine taste and wealth of Motilal. "Crowds of people, Indians and Europeans, come to see the house daily and take numerous photos," Motilal is said to have written to Kamala Nehru, his daughter-in-law, in a letter in 1927, evidently pleased by what he had created.
Walking through the house, we see glimpses of its glorious past. Hundreds of books still line the walls of the library on the first floor that was once the spot for many intellectual discussions of the INC. The ground floor dining room, complete with Art Deco chairs and family portraits, is preserved so well that it could still host an impromptu dinner party, and the drawing room, my favourite space in the entire house, is as elegant as it is sparse. The ornate floors, with red, blue and white mosaic patterns, draw you into parapets and balconies, and the stairways wind down the two floors like cascading waterfalls.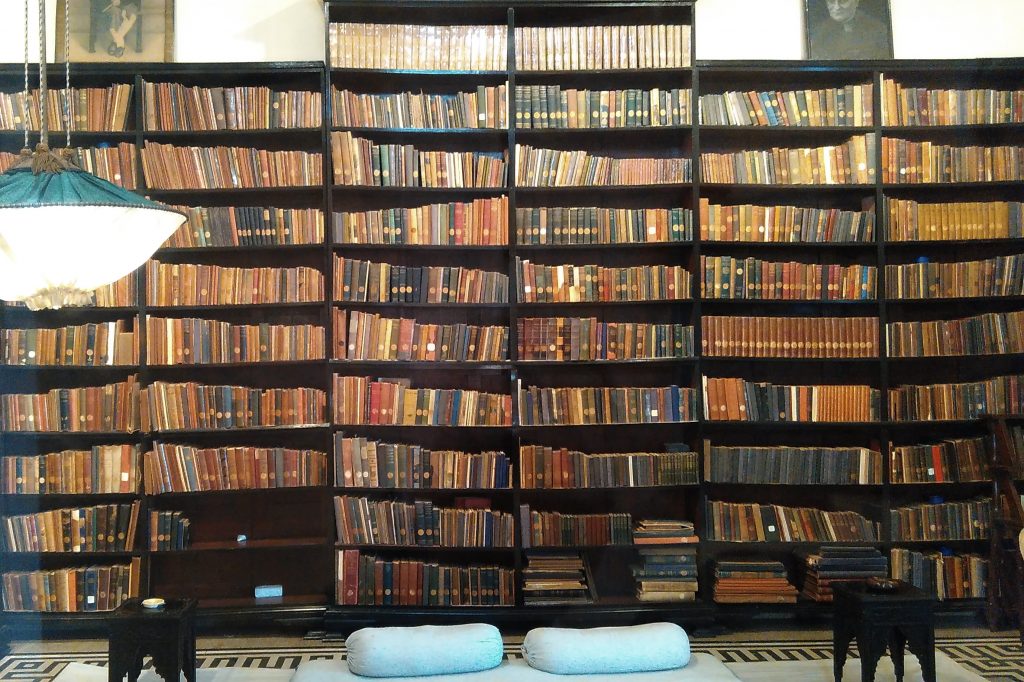 It is the private rooms with subtle details, however, where the real character and humanness of their occupants comes out — a single bed, a desk, and dozens of books in Indira Gandhi's room tell of her love for reading; Jawaharlal Nehru's study, filled with book cases, adorned with portraits of the family and dominated by a grand study table, to me indicate the time he spent writing, when not in jail or travelling across the country. And his bedroom, decorated with just a single portrait of Kamla Nehru, marks the solitude of a man who lost his young wife very early in life. But it is Mahatma Gandhi's room — where he often stayed when he was in the city — that best showcases Anand Bhawan's identity as both a lavish home of a wealthy family and an important site of the Indian freedom movement. Devoid of expensive carpets, intricate furniture, or any adornment, the room houses just a few of his belongings — a floor bed, a floor desk, a charkha and some books.
Almost three decades later, as I read those golden letters on the tablet again, I am also deeply aware of the immense, if intangible, value of the house in question. The iconic Anand Bhawan is certainly so much more than just brick and mortar.
Find your way to the Anand Bhawan in Prayagraj, Uttar Pradesh via Google Maps here.
Our selection of stays across India, best visited for their design and style. Check in