Pondicherry, or Puducherry as it is now known, has an exceptional hold on me, although I have no roots in this erstwhile French colonial settlement. It is its Creole cuisine, concocted from centuries of Tamil recipes and French ingredients blending surprisingly harmoniously, and the blinding sunshine and intense humidity that my Mangalorean coastal upbringing craves. But above all, it is the town's architecture, expressly on the western side of the Grand Canal, that draws me in.
The city is renowned for its mustard-yellow public buildings, pastel-hued French villas, serene rues (streets), the austere Sri Aurobindo Ashram, and chic cafés sprinkled throughout the sea-facing French Quarter on the Canal's eastern side. Cross the Canal, and an unspoken side of Pondicherry unfolds. The pink and yellow bougainvillea are replaced by sweetly scented white bael flowers. The louvered windows, high-walled gardens and colonnaded porticoes — quintessential expressions of French architecture — make way for native-style wall-to-wall row houses. Their doors feature ornamentation symbolic of the owners' faith — goddess Lakshmi in Hindu homes, the sacred heart of Jesus in Christian ones, and a metal inlay of the crescent moon and star in Islamic homes.
This is Pondicherry's Tamil Quarter.
Also known as Heritage Town, this area comprises the Hindu, Christian and Muslim Quarters — the former is concentrated around temples in the northwest of the Tamil Quarter, and houses streets named Eswaran Kovil Street and Perumal Kavil Street. Similarly, the Christian Quarter developed around the Immaculate Conception Cathedral with streets like Rue St Therese and Rue Laporte. The Muslim Quarter, too, came up around the Qutpa Mosque. Similar homes lend the streets a sense of homogeneity while retaining their uniqueness.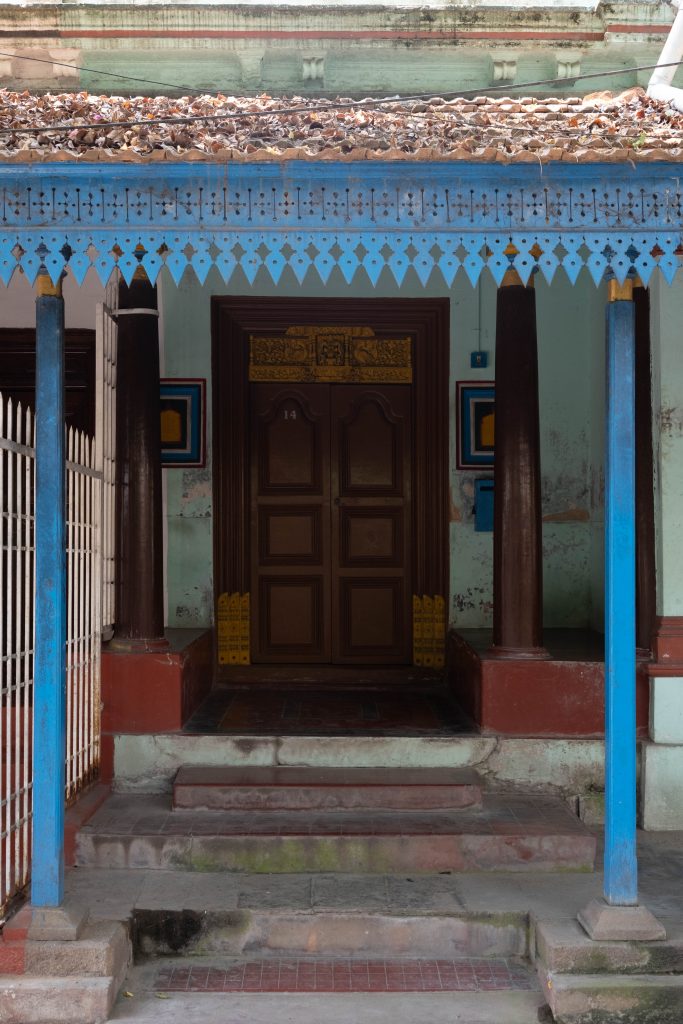 The Tamil Quarter is where traditional Tamil and Franco-Tamil homes — some over 250 years old — are concentrated. Their facades are characterised by a thalvaram, a wooden-pillared verandah with a sloping tiled roof, and a thinnai, a semi-public portico with bench-like platforms. This creates a social extension of the home, providing protection for the structure from harsh elements, while also offering visitors a resting place — much like an embodiment of virundhombal, or hospitality with devotion. It also functions as a transition zone from the social 'talking street' nature of the public-facing facade, to the intimate sections on the other side of the carved door. In contrast, homes in the French Quarter are reserved; interpersonal interactions would have occurred within their compound walls.
Inside a Tamil home is the mutram — a colonnaded courtyard bordered by rooms. The floors are red oxide, and above is a Madras terrace roof — a feature shared with Pondicherry's French villas — to keep temperatures bearable.
Interestingly, the structure of the homes reflects the time period they were built in. Homes in the old Hindu Quarter are single-storeyed and country-tiled with no French influences. The later Hindu and Christian Quarters that came up under the French power, however, feature grander, two-storeyed constructions. The ground floor retains the vernacular thalvaram, thinnai, carved doors and mutram, while the upper floor embraces French elements — arched windows, multi-coloured glass panes, fluted pilasters, and parapets with pot balustrades. The Muslim Quarter incorporates playful colours and community-centric ornamentation.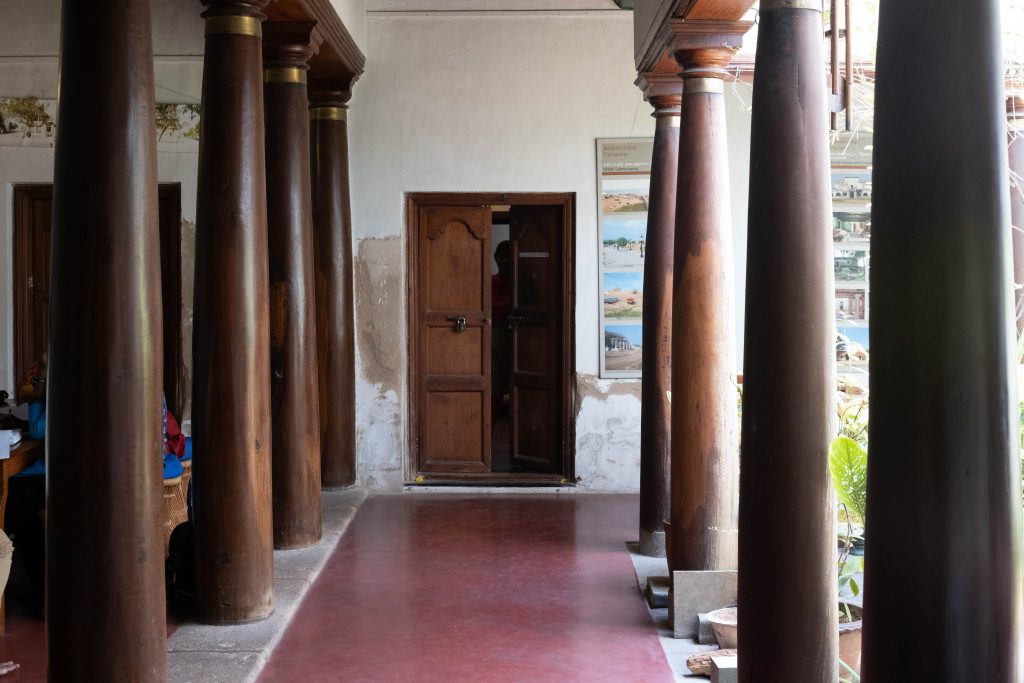 Today, not many of these homes remain. Some have made way for more era-apropos dwellings, some are altered with little regard to heritage sensibilities, while others are in a state of disrepair. The once-elegant wooden pillars are chipping, the walls carry cracks; mere ghosts of their former selves, they are suspended in an age that regards them as unnecessary relics. However, to peek inside a well-maintained Franco-Tamil home, one can visit the INTACH Pondicherry office, check into a heritage hotel in the area, or dine at the restaurant at Maison Perumal.
Organisations like INTACH Pondicherry work to conserve historic structures that have withstood the ravages of time and the demands of modernity. Additionally, a handful of local architects continue to work on new spaces that respect the sensibilities and architectural nuances of the town's heritage.
Pondicherry's inimitable charm stems from both sides of the Grand Canal. While the French Quarter basks in tourism–poster child glory, the Tamil Quarter fights a silent battle — against poor heritage awareness and the pressure to modernise. One hopes that local heritage endures, to shine light on the vestige of Indo-European harmony that is Pondicherry.
Our selection of stays across India, best visited for their design and style. Check in
Niviya Vas is an independent content writer based in Bangalore. When her rescue cats allow, she slow-travels and documents her experiences in her blog, Commoner's Causeway. She is on Instagram at @niviyavas.