Winters in Delhi are synonymous with picnics, or at least they used to be. Growing up in Delhi in the '90s meant picnics in Deer Park or Lodhi Gardens. Armed with a couple of baskets of food, a picnic blanket or two, and some Frisbees and badminton gear, we'd head out in a group of 6–10 people, consisting of family and friends.
As a young student and later, as an architect, I have always known that Delhi has no dearth of open spaces. But over the years, I have observed a change in their usage. The parks that I remember from the '90s no longer have the same crowds as before. One such park, deemed as India's answer to New York's Central Park, is Sunder Nursery.
People knew this late–Mughal era heritage park as Azim Bagh. Located next to the Humayun's Tomb complex, it was built in the early 20th century to propagate plants and trees for the new capital of British India and to test which species would survive in Delhi's climate. Today, Sunder Nursery is spread across 90 acres comprising a productive nursery, nine Mughal-era monuments, a 17th-century lotus pond, an artificial lake, flower beds, sandstone seating, marble fountains, water channels, and landscaped, sunken gardens that draw inspiration from Persian gardens, which are said to represent an idea of paradise.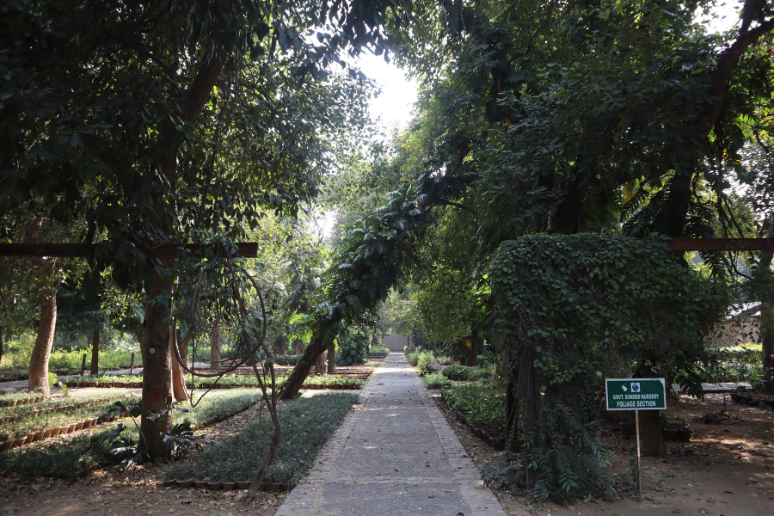 In 2009, the Aga Khan Trust for Culture (AKTC) began restoring this once derelict park as part of the proposed Nizamuddin Urban Renewal Scheme. Landscape architecture firm Shaheer Associates planned the landscape master plan for Sunder Nursery in collaboration with the Central Public Works Department and the AKTC team. It opened to the public in February 2018.
I first visited Sunder Nursery that year, on a walking tour that took us around the premises. The tour enthralled me and made me want to return more often. It also made me envious of the fact that Mumbai — where my family and I now live — has nothing yet compared to this urban oasis.
The park houses six UNESCO World Heritage monuments — Sunder Burj, Lakkarwala Burj, Sunderwala Mahal, Chota Batashewala, Mughal Tomb, and Mirza Muzaffar Hussain's Mausoleum. It is also a biodiversity hub in the heart of the city — Sunder Nursery is home to around 4,500 trees, over 50 varieties of flowers, and about 80 species of birds. The restoration made accommodations and interventions to sustain the ecosystem that now thrives within the park. Streams flow through a rocky ridge, special habitats have been created for bees, butterflies and insects, and scenic walking trails offer respite from city rush.
Earlier this year, I visited again — this time with my family on a leisurely Sunday morning, taking in the sights and sounds of this park. The Sunder Burj was the first monument I came across upon entering. It is a 16th-century garden tomb with a rectangular floor plan, four arched openings hanging over the doorways, and a typical Mughal dome. But, to me, its most striking feature is the highly ornamented ceiling that resembles a radiating star and follows geometric patterns.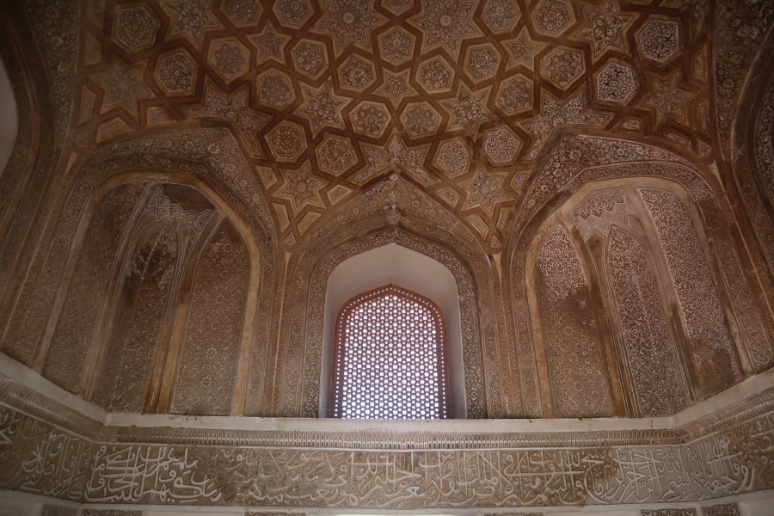 Just above the doors, on the inside, are intricate Quranic inscriptions that have been painstakingly restored through traditional techniques, using lime plaster and stucco ornamentation. The colour palette of warm white and sandstone red forms a beautiful contrast against the verdant green backdrop of the nursery, and adds to the romance of its architecture.
We also spent some time marvelling at the beautiful Lakkarwala Burj, but what mesmerised me far more was stumbling upon a secret garden within Sunder Nursery — the Mughal Garden Pavilion. It's a dreamy structure to the east of the nursery that might have been a mausoleum or a garden pavilion, and was most likely built in the late 17th or 18th century. It continues the same design language as the Sunder Burj, but is easy to miss because of its relatively smaller scale. Its reinstalled jaalis and chhajjas, charbagh layout, surrounding flowering plants and trees, and visiting peafowl make it the perfect place to pause on walks around the garden.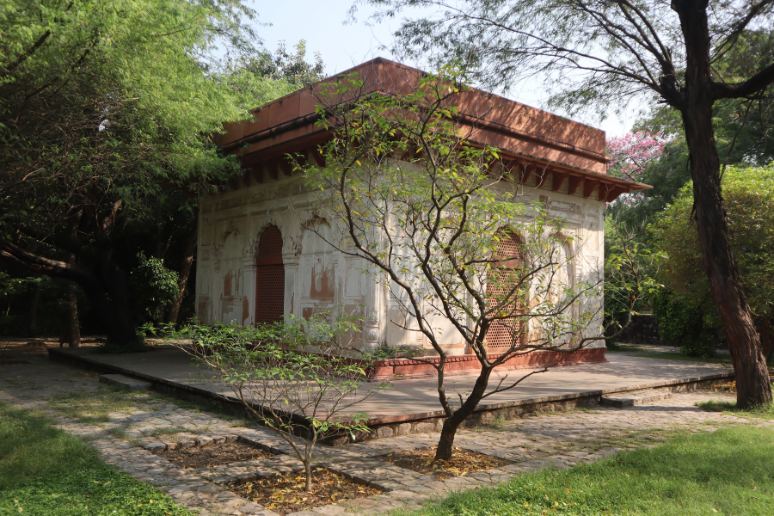 Towards the end of our walk, I noticed that the layout of the park, with the central linear pathway acting as an axis, incorporated routes that unfolded organically and took us through the various biodiversity zones and monuments. We wrapped up the morning at the farmers' market that takes place at the park every Sunday, sampling various jams and jellies to bring back home to Mumbai.
What I love is that Sunder Nursery has something to offer for everyone — morning walkers, yoga enthusiasts, families with young children, history aficionados, and nature lovers. Amongst ancient monuments and amidst nature, you're transported to a different place and time. In the dense urban landscape of Delhi, the park has become a pocket of tranquillity. I hope that Sunder Nursery revives every visitor's love for urban parks within our concrete jungles, as it did for me.
Our selection of stays across India, best visited for their design and style. Check in
Neha Tambe is a conservation architect and urban planner, with a keen focus on urban conservation projects. She loves discovering what makes cities tick. She is on Instagram at @girlwithoutthechasma.