On annual vacations to Goa, as we made the journey from the airport to our grandparents' home in Colva, a coastal village near Margao city in South Goa, we would drive past the familiar sights of expansive fields, herds of buffalo and little village shops. And then there were the houses — the huts of fisherfolk and toddy tappers, cottages of farmers and tradespeople, and finally, the sprawling bungalows of doctors, lawyers and landowners. We learnt to tell them apart quickly.
The larger homes — many of which were built under Portuguese rule, which ended in 1961 — had an imposing gatepost leading up to a grand balcão (porch) and French doors that opened up to spacious verandas. Each home, varying in design and complexity, competed for attention as we walked past, wondering about the kind of people that occupied them.
Amongst all these architectural surprises were the terracotta statues that adorned the cascading rooftops of Goan homes. Perched just above the main entrance, these statues were most intriguing. The seaside state has a rich history with pottery and red clay, but it was the wide collection of terracotta forms that made me curious — on some roofs were animals like lions and roosters, on others were stern soldados (Portuguese for soldiers). Over the years, I noticed that while they were common, not all homes had them, and I began to ponder about their origins and purpose. This led me on a quest to explore villages around Colva, in search of these mysterious statues and their stories, occasionally stopping and hoping someone would be able to satisfy my curiosity.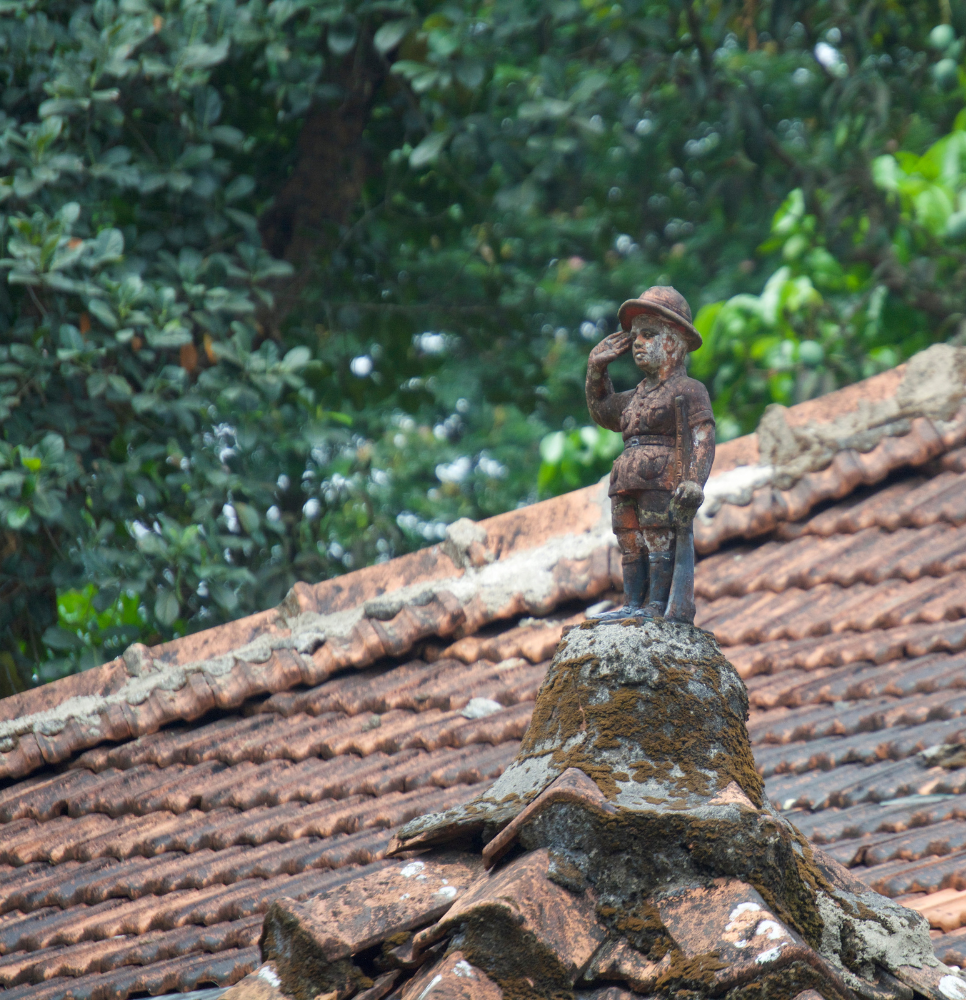 One such home was the Misquita House in Benaulim, a village close to Colva, where I found not one, but two types of statues on the roof — a rooster and a lion. On enquiry, Mrs. Misquita said that they had always been there, and it was hard to know who put them up or why, as their home was close to 400 years old!
I proceeded to the 350-year-old Pereira House, also in Benaulim, where the owner, Mr. Pereira, thought he had a pig on the roof. After a detailed inspection from all sides, and much to his surprise, we realised that while the face was pig-like, the statue had the body of a lion.
In my search, I reached out to a number of architects for an explanation about the presence of these statues but drew a blank in most places. Heta Pandit, an author and independent researcher on Goan heritage, pointed out that they don't serve a specific architectural function, but instead, they appear to be a part of Goa's cultural heritage.
Motifs like lions, apart from conveying strength and courage, were associated with the Kadamba Dynasty that ruled Goa from the 10th to 14th centuries. Meanwhile, it is commonly believed that the rooster over these homes symbolised the Rooster of Barcelos — a key character representing integrity and truth in a popular Portuguese folktale. The Portuguese connection also lends itself to some theories. For instance, the rooster is said to signify that families of these homes were pro-Portuguese, whereas the lion was a marker of those that were against colonial rule. It also meant that the house belonged to a landlord (bhatkar as they are referred to locally) and pointed in the direction of the property.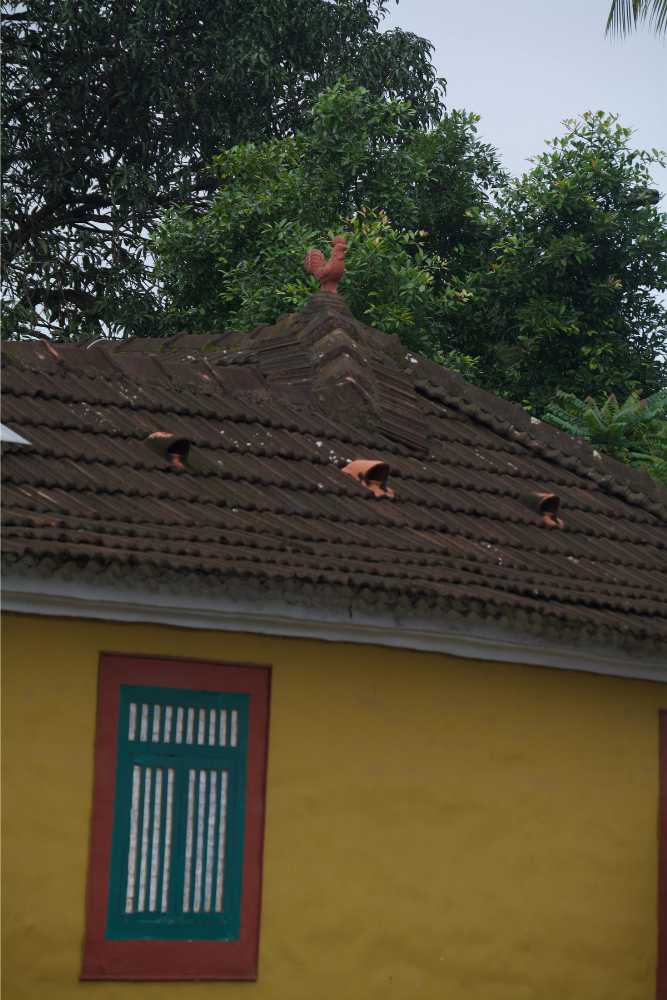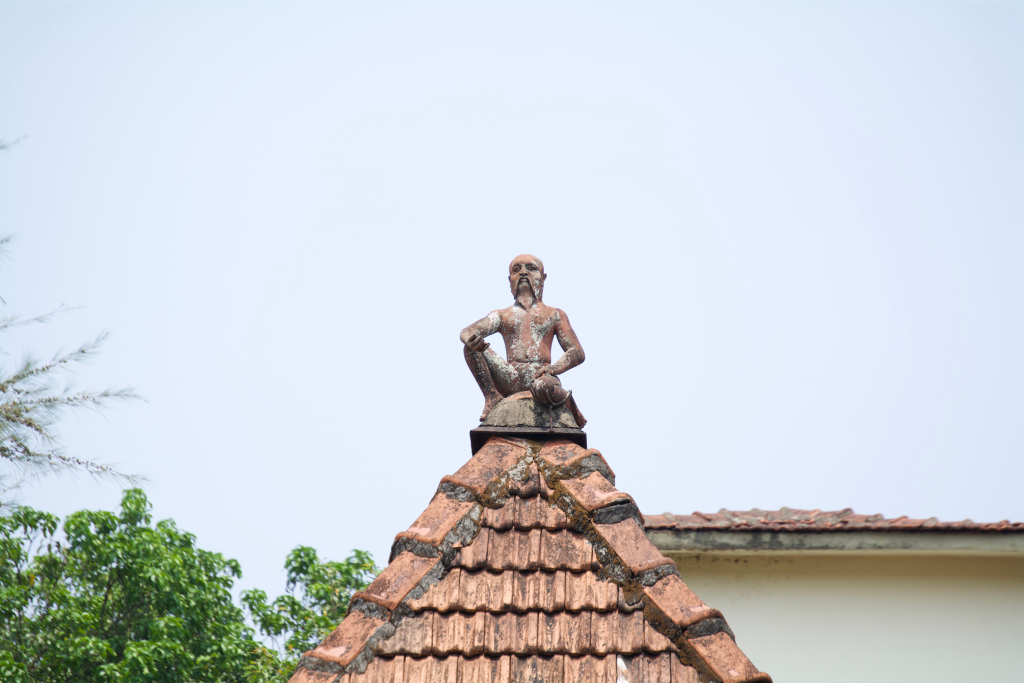 Architect Lester Silveira tells me he's heard that the mid-salute soldado may have denoted members from the household having been in military service. That might also explain why some houses, where members of Catholic families may have joined religious orders, had a cross on them.
I'd spotted soldiers, lions, roosters and even onion-shaped domes, and I thought I had seen it all, until I stopped for a bite across the Hospicio in Margao one afternoon only to discover the statue of a seated man on the hospital's rooftop — a new mystery to solve.
I continue to be on the lookout — and the next time you are driving through a village in Goa, I'd recommend taking a closer look at the rooftops to see what surprises lie resting on them.
Our selection of stays across India, best visited for their design and style. Check in
Clive Figueiredo is a shipping professional from Goa, and runs @colvachronicles, a culture blog on Instagram about the village of Colva.