The chakkar, as it's known locally, is a motorable road, carved into the top of the ridge along which the British colonial–era cantonment town of Landour is located. Forming a figure of eight, it cuts through the forest, splitting the cemetery in two, before looping around on the south-facing side that overlooks the vast valley of Dehradun. Everything lies either uphill or down dale from the road. Fittingly referred to as the infinity loop — especially if you take it enough times — this is the path I follow on my daily walk with a pack of mountain dogs that have adopted me.
Together, we set out from Sisters' Bazaar — a quaint little street with two homes facing each other, a popular bakery, two little shops and a breathtaking view of the Bandarpunch Range on a clear day. The street is named after the nurses' quarters that were once here, and where I now live.
Landour was built nearly two centuries ago as a convalescent station for soldiers of the British Indian Army. At first a sanatorium for British troops stationed in India and Burma, now Myanmar, it went on to become politically and administratively strategic, secluded and secure after the Seige of 1857, and finally grew into a settlement for British and American missionaries, which continued after independence.
As I exit the bazaar, the sounds of the forest fill the air, and I peer from above into discreetly hidden bungalows hugging the contours of the ridge, stirring memories of the sprawling two-storeyed English home of my childhood in Nainital. Landour's hillside is peppered with the familiar architecture of restful mountain homes that carry Irish, Scottish and English names — Shamrock Cottage, Redburn Lodge and La Villa Bethany. An amalgamation of colonial architecture and indigenous materials like local stone and wood, these bungalows are English in character, but unique to India. This distinctive blend of sensibilities unifies British bungalows in hill stations across the country, but is preserved almost monumentally in Landour, due in part to the Cantonments Act of 1924, which restricts new construction on defence land.
Past the steep stone steps leading to the charming Kellogg Memorial Church, I reach the knot in the road. On the other side lies Ellengowan — originally an army barrack, now just homes. En route to St Paul's Church at the bottom of the slope is the prominent stone portico that marks the entry to Rokeby Manor, a boutique hotel.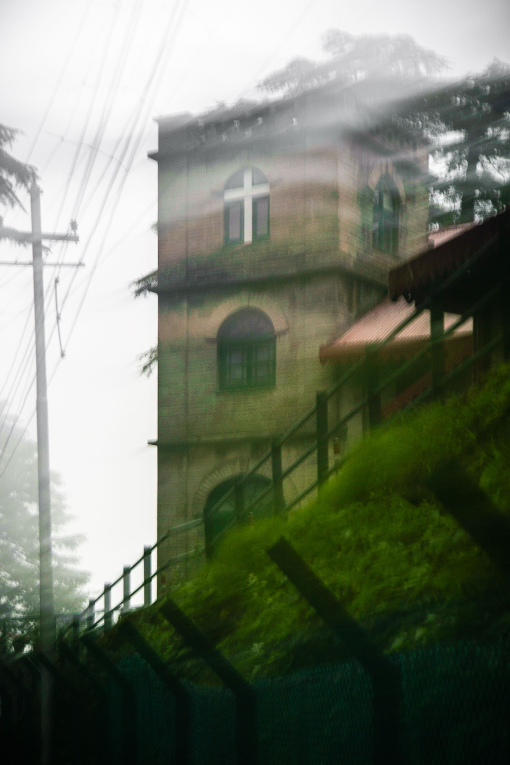 Further down, tourists throng Char Dukaan, which once quite literally comprised four typical pahari tea stalls, now known for their pancakes and lemon tea. Up a steep flight of wooden steps is a tiny sub-post office that has occupied this spot since the 1890s.
Ahead, beyond the sightseeing frenzy at Lal Tibba viewpoint — a three-storeyed pile of bricks that counts as classic 'Maggi-point' architecture — I cross a tranquil patch of leafy gardens with damask roses, honeysuckle and blue hydrangeas. This stretch leads up to Seaforth Lodge — one of the few private colonial bungalows that is fully visible from the road, with heavy columns flanking its deep veranda. Around the bend is my favourite cottage, Parsonage, named after Emily Brontë's home in Yorkshire. Its white picket fence and traditional wood-carved Garhwali pillars blend perfectly into the forested setting.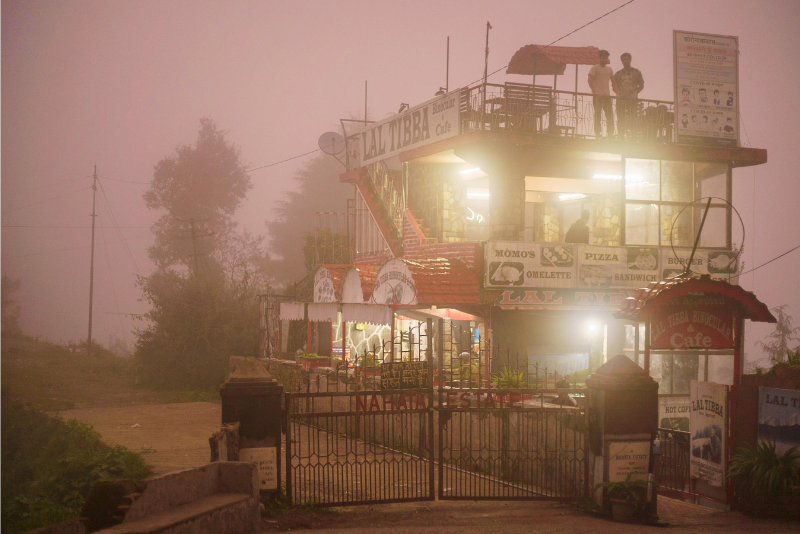 Gentle drops begin to fall as I approach the Christian Cemetery, where recuperating British soldiers who did not survive were laid to rest, and many locals have been buried since. A loud clap of thunder sends me scuttling into the hawaghar, which was installed here to provide walkers a place to rest and enjoy the pleasant breeze. A few minutes later, I make a break for it!
Past the famous Landour Language School attached to Kellogg Church, I cross over to the south-facing slope. Dehra has all but disappeared, as clouds now swallow up Landour Bazaar. Embedded into the hillside, below the road, on a protruding mountain rock, the Bothwell Bank cottage signals the final stretch home. It is roofed in the koti-banal style, an indigenous earthquake-resistant design that uses locally sourced thick wooden logs as beams to support natural stone slates that form the roof.
It begins to pour as I duck into Landour Bakehouse for a cup of tea, while my dogs wait patiently for their treats outside. I have come full circle. When the winter line disappears and Dehra is a twinkling bowl of lights, I set off again, hoping for a mist that conjures up images of Llanddowror, a village in Wales that gave Landour its name.
After a fevered life in Mumbai, Landour was never meant to be more than a well-earned break, as it is for most. The peace, the sights and the cool mountain air were obvious attractions, but for me these symbols of nostalgia built in the colonial era, like treasures hidden across its landscape, are the soul of Landour.
Our selection of stays across India, best visited for their design and style. Check in
Reine Mountford has a law degree in human rights and a passion for documentary making — she travels in search of stories that change perceptions. She is not on social media.
Vivek Raj Singh is a photographer and cinematographer, with an interest in telling stories from the Himalayas and the Northeast. He is on Instagram at @vivekr.singh.