For much of my childhood, Bengaluru's (then Bangalore) Malleswaram neighbourhood was familiar territory. It still is. Home was on its fringe, in Srirampuram, but the area was a regular stomping ground for school, to visit relatives, to shop and to eat out. The grid-like pattern of these streets — mains (running north–south) and crosses (running east–west) — might flummox the first-timer but it was terrain I could navigate with ease, more so because of the narrow lanes, each about ten feet wide, that ran between main roads. There was seldom any traffic in these lanes; they served mostly as parking spaces, and hence were safe enough for us children to zip through. It was only as an adult that I realised they were called 'conservancy lanes,' and the rather ignominious purpose they served.
Relics of the city's colonial past, these lanes are found in areas such as Malleswaram and Basavanagudi, as well as Richards Town in the Cantonment area. At the end of the 19th century, Bengaluru was overrun by the bubonic plague, which killed thousands. In response, the city administration planned two new neighbourhoods sometime around 1898 — Basavanagudi in the south and Malleswaram in the north — to decongest the city. N. Lakshman Rau, the architect of new Bangalore and best known as the first administrator of the Bangalore City Corporation, points out in the book The City Beautiful, authored by TP Issar: "These sprawling extensions were laid out on the grid-iron or chess-board plan with narrow lanes known as conservancy lanes running behind the houses, as the underground sewerage system had not come into existence." These were privileged residential neighbourhoods and the lanes had a very specific purpose: as access for collection of night soil.
Meera Iyer, author and convenor of the Bengaluru Chapter of the Indian National Trust for Art and Cultural Heritage, elaborates on these lanes in her book Discovering Bengaluru (2019): "Conservancy is a euphemism for the disposal of human excreta. In the early days of Indian cities, night soil was disposed of in cess pits. Often, these were cleared only infrequently." In the late 19th century, and more so after the plague hit, laws were passed making the clearance of night soil an everyday task. "Conservancy lanes were built which allowed access to the backyards of houses: workers would come along these lanes, enter the backyards where the toilets were, and remove night soil every night or very early in the morning every day," writes Iyer.
The concept debuted with Basavanagudi and Malleswaram, and was implemented in subsequent extensions such as Richards Town in 1911–12. But as the city developed, and the local administration introduced underground drainage in 1922, conservancy lanes fell into disuse. Often, they were overgrown with greenery or doubled as ad hoc parking spaces. Worse, they became garbage dumps and public urinals, ending up as not just an eyesore but a health hazard, too. That's until the community in one neighbourhood decided to take matters in its hands.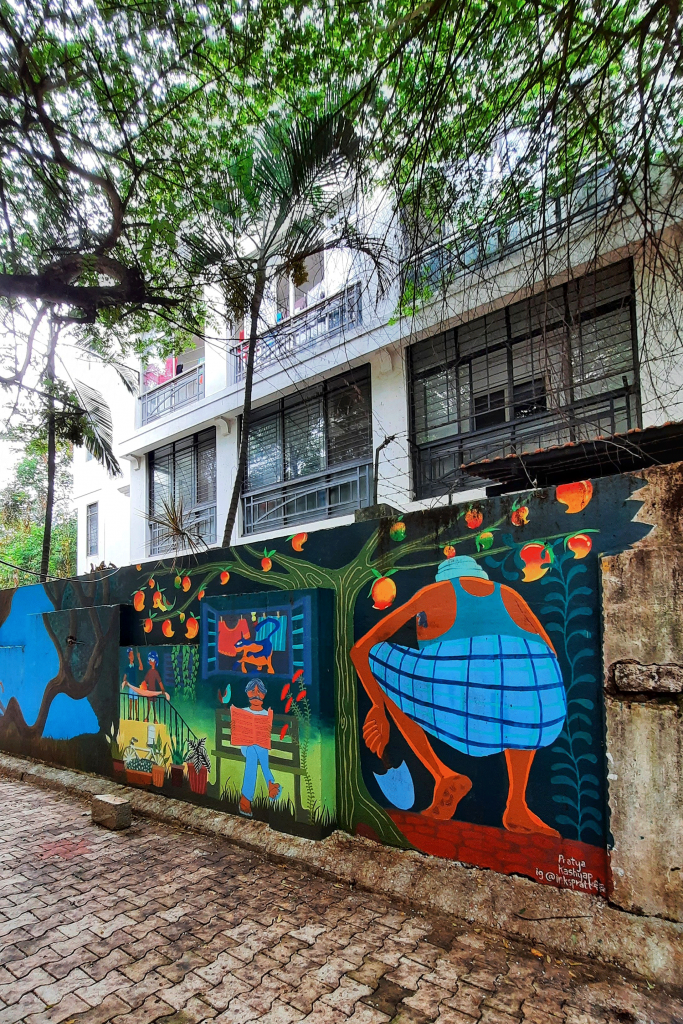 In 2020, Malleswaram Social, a residents' NGO, and Sensing Local, an urban living lab, launched Walkable Malleswaram to reclaim these spaces and make them friendly for the elderly and children. They brought in local authorities and agencies like the Bruhat Bengaluru Mahanagara Palike (BBMP) and the community organisation Swabhimana to clean and pave the conservancy lanes. They went one step further and decided to beautify the area by roping in artists to paint murals. As the COVID-19 pandemic raged, Malleswaram's conservancy lanes underwent a quiet transformation.
Today, bright and engaging murals are at close to a dozen locations. The themes range from nature to nostalgia: patterns created by shadows of the thick tree canopy, disappearing sparrows, and depictions of art, craft and textiles as a hat tip to Malleswaram's reputation as a neighbourhood that nurtures creativity. One mural showcases the lost practice of letter-writing symbolised through a postcard with Bengaluru's icons, while another depicts a lady pouring coffee into a traditional brass dabara; there's also one paying tribute to the local municipal worker tasked with cleaning the lane. Others are so nuanced, they reveal a different facet with each visit. Several murals were made by involving the immediate community, local school children and anyone who was interested in being part of it.
Once generating a feeling of disdain, the lanes have become a place of interest. Now, people regularly pause to see the art and enjoy the surroundings. Once in a while, local organisations set up events including music performances, flea markets and games to engage the community. They are also frequented by guided walking tours during weekends.
The lanes felt safe to me while I was growing up but as an adult, I've always walked past them quickly, often disgusted by the stench. Since their transformation, I have gone around them several times, enjoying the peace and quiet that they offer. They feel safe again.
Our selection of stays across India, best visited for their design and style. Check in
Anita Rao Kashi is an independent journalist based in Bangalore. She loves her city to bits, but is always looking for an excuse to travel. She is on Instagram at @anitaraokashi.