Growing up near Malleswaram in Bangalore (now Bengaluru), the cantonment area was always a mysterious, enchanting place. Established by the British in the early 20th century, it was a sprawling mish-mash of leafy lanes with pretty colonial-era bungalows tucked away behind stone walls. With names like Richards Town, Fraser Town, Cleveland Town and Coles Park, and roads called Cockburn, Promenade, Primrose, Brunton, and Stephens, it was like a slice of Enid Blyton come to life.
It was only much later, as an adult, when I was on a leisurely walk near Richards Park with a friend, that I was enthralled by the windows of a bungalow. The window itself had plain vertical iron bars, but it was the sunshade that caught my attention. It was wooden and shaped like an inverted V, with a lovely trellis-like frame of vertical slats, topped by a pointed crest. The slats sat like immovable tassels and transformed the window into something with oodles of character. "They're called monkey tops," my friend said.
My interest piqued, I went looking for colonial-era bungalows in the area and found several more monkey tops — sometimes painted green, sometimes white, others topped by Mangalore tiles. Some had wooden embellishments, some were bare and one did not even have a crest. Back home, I rushed to TP Issar's The City Beautiful, a seminal coffee-table book on Bengaluru's architectural heritage and aesthetics, and found a profusion of pictures depicting a slew of monkey tops. There was a brief description of the feature and that it "became a favourite perch of the frolicking monkey." Elsewhere, I heard it was meant to do just the opposite — to keep them out.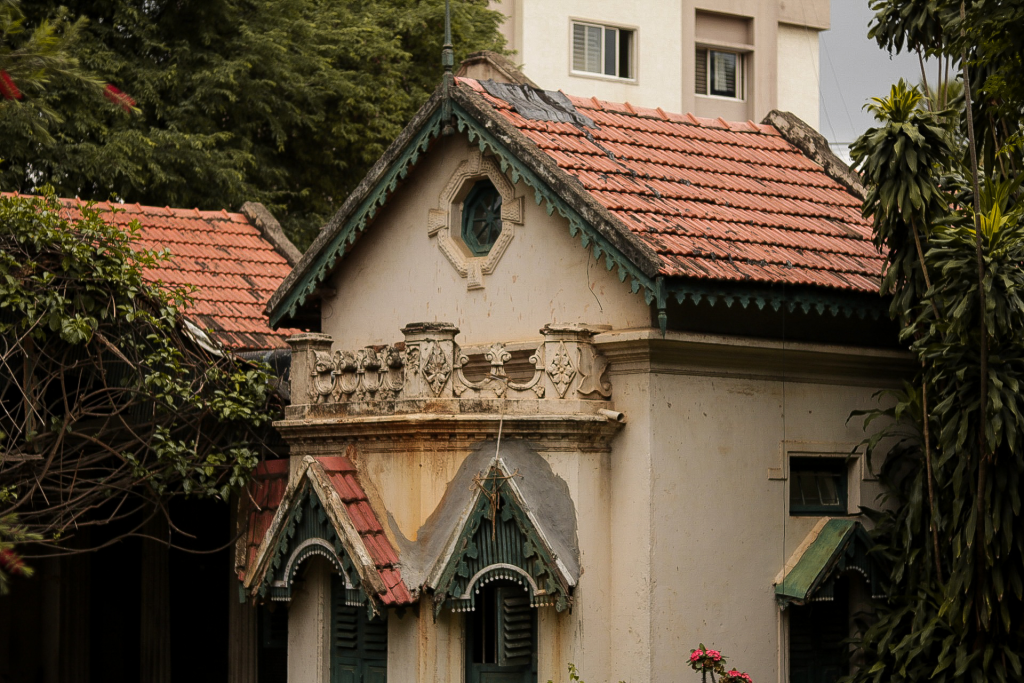 A couple of years ago, Meera Iyer, convenor of the Bengaluru Chapter of the Indian National Trust for Art and Cultural Heritage, released her book Discovering Bengaluru, an informative book on the city, its history and neighbourhoods. Browsing through it, I learnt a bit more about them but gleaned a lot more in conversations with her. The mystery deepened when she indicated that not only did the feature have no concrete relation to monkeys, their origin was an enigma.
"Most of these were built between 1900 and 1920; after 1930, it seems to have gone out of fashion. It is actually curious why they came up," says Iyer. "If you look at buildings in England from around that time, there was a strong Gothic Revival kind of architecture with playful elements and decorative eaves. But when this style came to India, it went totally haywire with monkey tops and other elaborate embellishments. It really didn't have anything to do with monkeys, and the origin of the name is a little bit of a mystery."
Iyer says that monkey tops can be found in other cities across south India as well, such as Mysore, Mangalore, Ooty and even Visakhapatnam. But because half of Bangalore was under the British and many of the localities came up around the 1900s, most buildings built then ended up with the feature. That's how the city became known for it, she pointed out.
Over the years, many of the bungalows have disappeared and my own forays into that part of town became less frequent too. Yet, there are plenty still visible — around the park in Richards Town, on MM Road in Frazer Town, Robertson Road in Cleveland Town, Berlie Street in Langford Town, and in some surprising places. "There are some still hidden under the grime in busy Ulsoor on shops and houses," says Iyer. "You just have to look a little carefully."
Our selection of stays across India, best visited for their design and style. Check in
Anita Rao Kashi is an independent journalist based in Bengaluru. She loves her city to bits, but is always looking for an excuse to travel. She is on Instagram at @anitaraokashi.
Lester Silveira is an architect who divides his time between Goa and Bengaluru, documenting and archiving their rich architectural heritage. He runs a heritage blog called the balcão. He is on Instagram at @thebalcao.