I first notice it from a distance: a wooden spire towering above a skyline of intricately carved wooden buildings. As I get closer, four pagoda-like minarets with pyramidal roofs and open pavilions reveal themselves, followed by a grand wooden gate. At first glance, Srinagar's Jamia Masjid reminds me of Cordoba's Mesquita, the 8th-century Moorish mosque-cathedral with long corridors, large courtyards and a tiered belfry. It is nothing like any mosque I have seen in India.
Located in the heart of Srinagar, in Nowhatta, the Jamia Masjid is among the oldest mosques in the valley; with a capacity to hold over 33,000 people inside, it is also the largest. There are conflicting dates of its establishment — some records say Sultan Sikandar Shah Kashmiri Shahmiri built it in 1394, some claim it was completed in 1402. The original building, owing to its timber construction, suffered three major fires and was rebuilt thrice before the final renovation happened under Aurangzeb's rule in 1672. By some accounts, there was another fire followed by renovation in the 18th century, following which the structure fell into decay and was reconstructed 1913 onwards, under the reign of Maharaja Pratap Singh. But it is believed that the typically Persian layout — with four iwans (hallways) surrounding a central courtyard — remains the same. And it is this grand plan that I am standing inside.
Jamia Masjid is a fascinating piece of architecture. It is angular and stark; is built with brick, wood and stone; and its minarets have turrets rather than domes. The pagoda-like spires remind me of the temples in Nepal and Himachal Pradesh, and the rectangular courtyard, of Persian mosques. The arches here are angular towards the top, which to me resemble those found in Europe and Central Asia, quite unlike the ones I've seen back home in Delhi.
"The architecture of Jamia Masjid is a mix of Buddhist and Hindu styles [among other traditions] that were prevalent in Kashmir before Islam was adopted, which is why you see spires and pagodas here," my friend Muzaffar Shah, who is showing me around the old city, tells me as we walk across the courtyard. "You can also see influences of Central Asia, mostly Persia."
Rays of the mellow sun stream in from small windows illuminating parts of the dark prayer hall that runs along the periphery of the complex, as we walk inside. The Persian influence is particularly apparent in this hypostyle hall. Hypostyle is a roofed colonnade that can be seen in ancient and medieval Greek, Egyptian, Roman and Central Asian structures, which is also why the masjid looks so much like the Moorish Mesquita.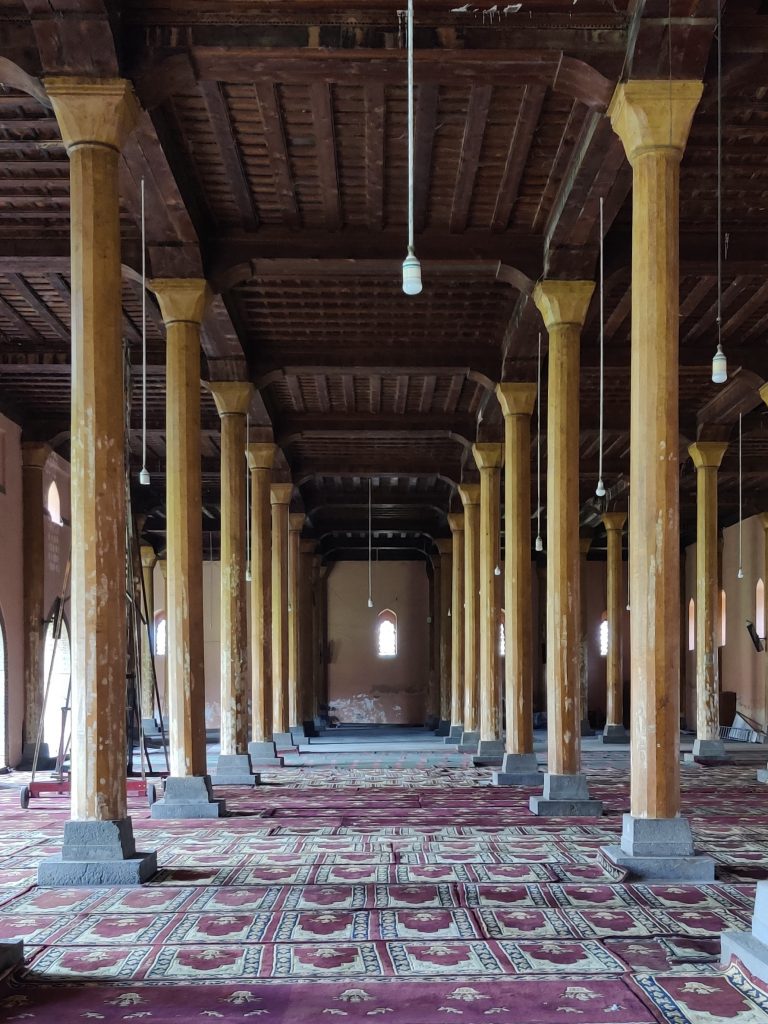 With the mihrab — the most important part of a mosque: a niche that denotes the direction of Mecca, and facing which devotees pray — in the centre of one of its walls, the 1,46,000 square feet hall of Jamia Masjid is supported by 378 pillars that range in height from 48 feet to 24 feet; the girth ranges from 5 to 6 feet. Each pillar is made with a single Deodar tree trunk. Deodar or Cedar, Shah adds, is preferred in Kashmiri buildings not only because it is locally available and affordable, but also because of its durability — just as the ceilings are made of walnut wood, which is equally strong but can easily be carved to make beautiful patterns.
Carved ceilings, like many other elements, have come to Kashmir from Persia. Locally called khatamband, the craft involves setting small pieces of wood in geometrical patterns, which is believed to keep the houses warm in winter and cool in summer.
From within the hall, on one side are symmetrical arches that open to the large courtyard, on the other are endless columns and on the third is the mihrab made with black marble. But it is the people that I notice more than the mihrab. Some sit in a corner chanting, some sit close to the mihrab with their hands open in dua. I, too, join my hands, say a little prayer and step out.
Our selection of stays across India, best visited for their design and style. Check in