It all started with a Bharatanatyam recital by New Delhi–based dancer and choreographer Jayalakshmi Eshwar in 2010. The recital, Antariksha Sanchar, explored the concept of flight and its evolution in Indian mythology. Avinash Kumar, Eshwar's son and co-founder of Indian design research studio Quicksand, took inspiration from the recital and envisioned the same tale as an independent video game, Antariksha Sanchar: Transmissions in Space. 10 years since, Kumar has held on tightly to the story, embarking on an epic transmedia journey.
The story is fictional but rests upon maths genius S. Ramanujan in early 20th-century Madurai and his dream to fly into space. "Looking back, we wanted to tell an Indian science fiction story," Kumar says. "We felt like the general world of science fiction did not have much representation from India." Kumar, who lives in Goa, began developing the video game in 2012 under GamesLab — incubated by Quicksand — but it has morphed into much more since then. In 2018 and 2019, the story was adapted into a Bharatanatyam dance opera, choreographed by Eshwar, with visual backdrops from the game by Kumar and a grand background score by Hyderabad-based electronic music producer Murthovic. The 90-minute opera travelled to Mumbai, Bangalore and Delhi. But that opera told only one half of the story — set in Madurai, it showed a young Ramanujan dreaming of flying into space on a vimana (a mythical flying vehicle). The second half, for which work is underway, will take Ramanujan into space. In the past year, they have also released Murthovic's background score as an album, along with a separate remixed version of it.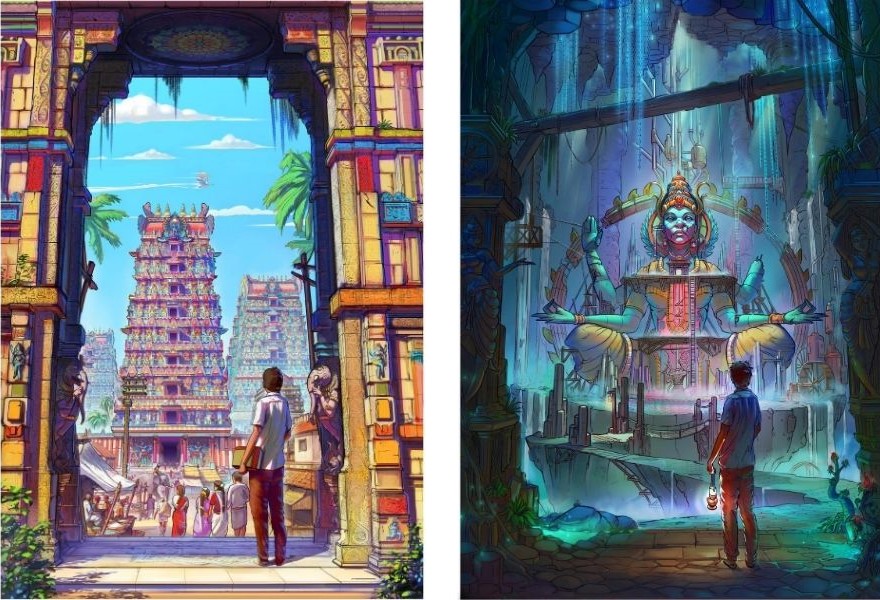 Murthovic, who came on board over four years ago, comes from an electronic music space. That's how he met Kumar initially (Kumar is one half of EDM duo BLOT!). For Antariksha Sanchar, Murthovic played around with Carnatic music, fusing it with electronic sounds. The second half of the story, which has more futuristic elements, is what he's most excited about. "It's a return to our roots in the electronic scene," Kumar says of the music and overall aesthetic. "It's the subculture I live in, it's definitely going to be ahead of times, if I may say so," Murthovic adds, over our three-way conference call.
Putting together the game has not been an easy task. Kumar and his team were all making a video game for the first time, and approached it in a simple, curious way. They drew inspiration for the concept art from the architecture and landscape of Madurai and south India in general, along with public domain artwork put out by museums, among other things. Kumar explains how, since most of the designers are looking at it via a non-traditional approach, it's been a mash-up of many ideas. "It [is a] blend between research as an artistic activity and art being actually a practice of research," he says.
What's most striking about Antariksha Sanchar's visuals though, is the "TamilPunk" aesthetic — it's sci-fi steampunk with strong regional elements, reminiscent of campy pulp visuals and Indian mythical fantasy. This aesthetic is something both Kumar and Murthovic are proud of, chuckling excitedly over the phone about it. "We just made up the term during the course of the project," Kumar says. From the start, the idea was to make it Indian steampunk, and since the tale is set in Tamil Nadu, with its main creators being rooted in Tamil culture, it became TamilPunk. The music is also very TamilPunk, in its fusing of Carnatic with modern elements. "For me, the music has actually been the greatest revelation of that aesthetic," Kumar says.
Antariksha Sanchar is a rare project, in that it isn't bound to a medium. It flows effortlessly, telling the same story through dance, music, and design. Harmonising across these three artforms seems complicated, but Kumar and Murthovic say that they've had a great time synchronising their practices, with "zero disagreements". They credit a lot of this to Eshwar. "My mom is an amazing choreographer, and has a complex eye for dance forms, music and visuals," Kumar says, explaining how her vision brings things together. Murthovic also emphasises on the discipline and humility that traditional art practices like Bharatanatyam and Carnatic music bring, and how this has also made their collaboration more seamless.
The team plans to release the video game by the end of this year. They also have plans to launch the second-half of the dance opera, although when this will happen is uncertain. In the meantime, there's a graphic novel on the horizon as well as some cool merch — we're sitting tight for whatever the transmedia experiment will bring to us next.