Photobooks allow myriad ways of seeing, thinking and engaging; they give us an intimate reading of an image-maker's mind. We ask photographers and book designers to share their personal favourites — titles that are vivid, compelling and powerful, those that they will value and revere for the years to come.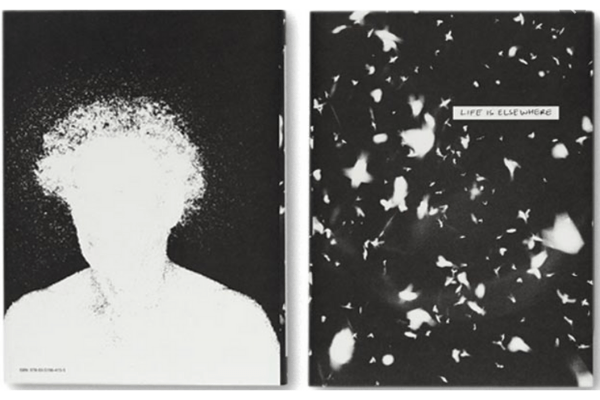 'Life is Elsewhere' (2015) by Sohrab Hura
Sohrab Hura's first photobook, Life is Elsewhere, is a compelling and moving journey about living with his paranoid schizophrenic mother. It's haunting, it's devastating, it's beautiful. Treated like a journal, the text in the book is in Hura's own handwriting, making the experience of going through it an even more personal one. The book is a lesson in vulnerability and compassion, and what it means to open up the deepest corners of your life. What makes the book much more honest for me is the photos you cannot see — the photos Hura talks about but aren't featured in the book.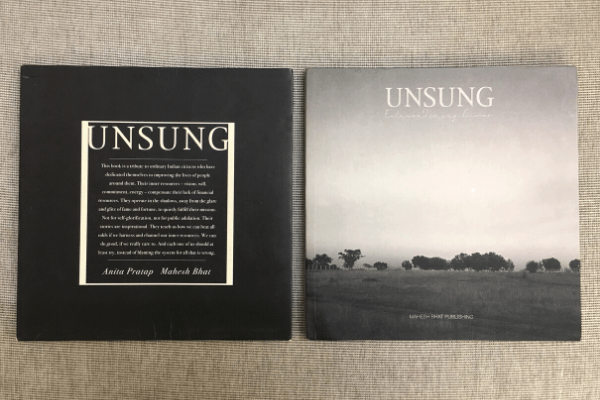 'Unsung ― Volumes I & II' (2007-2016) by Mahesh Bhat
Photography is integral to my practice, which focuses on Design for Documentation, and most deliverables that manifest are books. UNSUNG is a photobook that has helped me find meaning as a photographer and a book designer at a time when I felt I was walking on water.
Shubhashini Mistry from Hanspukur village in West Bengal was born in a poor family and lost her husband to a stomach ailment as he was refused attention in a nearby government hospital. Left with almost no money, illiterate, and with four children to support, Shubhashini embraced what she calls a vision that was bestowed upon her by God's infinite grace. This vision was to build a hospital in her village so that nobody would suffer her fate. Earning money through housework and eventually by selling vegetables, she began saving every rupee over 20 years to build 'Humanity Hospital', which today stands in Hanspukar as a 9,000-square-feet structure over two floors, serving people at little or no cost. What is most touching is that she continued to sell vegetables, not spending a penny on improving her own living conditions.
Reflective of inner strength and the will to do good against all odds, 16 such stories are narrated through evocative black-and-white images and accompanying texts to form two volumes — UNSUNG (Volume 1) and UNSUNG – Extraordinary Lives (Volume 2). The books are conceived by photographer Mahesh Bhat. While the first volume is fully documented and shot by him with the accompanying text by journalist Anita Pratap, the second is curated by Bhat and includes stories and photographs by eminent photographers, writers and social activists.
Both volumes are a tribute to ordinary Indian citizens (whom I'd like to call 'Anonymous Extraordinaries') who have dedicated themselves to improving lives around them. Providing the postal addresses and contact numbers of these individuals — in the first volume — meant that the readers could reach out to encourage and support these 'UNSUNG Heroes'. It is remarkable when a photobook can produce an impact such as this. It may have inspired others like me to find purpose, and potentially prompted more photographers and bookmakers to document meaningful work and bring it to the eyes of the people. When good is exposed, it only spreads more goodness.
—Deshna Mehta, co-founder, Studio Anugruha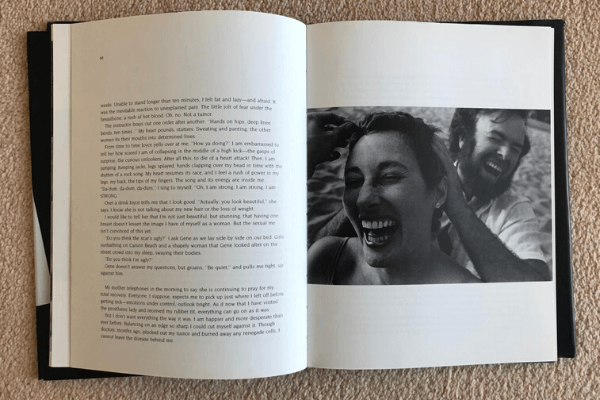 'Exploding into Life' (1986) by Dorothea Lynch and Eugene Richards
During my first year of university, I was following a young family whose 19-year-old mother was diagnosed with cancer. A lecturer, upon seeing the work I was making, suggested I look at Eugene Richards' Exploding into Life. Back then, I had no idea about the book or who Eugene Richards was. I looked up online and managed to find a copy in an old American library, which I duly purchased.
The book is a collaboration between Richards and his then partner, Dorothea Lynch. Lynch was a writer who was diagnosed with breast cancer. Richards follows her journey — first as a partner, and then as a partner with a camera. The book takes the form of a chronological alliance of sorts — Richards photographs and writes as Lynch goes through a whirlwind of treatments and emotions. This book was revelatory to me as it transcends the typical 'photo essay' on such a subject. It delves deeper, closer, and is really about love. As I was photographing a similar subject (although I was not in a relationship with the person I was photographing), it showed me the extent that could be attained when such honesty and intimacy is surrendered to. I had shot maybe half of the project with the family I had been following, and Exploding into Life helped me understand that in order to photograph the subject matter that was cancer, I needed to move away from the 'logistics of cancer', and try to photograph the 'love' surrounding it.
I am fortunate enough to own a first edition of this book, purchased by mere stroke of luck as a student. I celebrate its red 'DISCARD' stamp inside and am glad it has gone on to inspire me to look for the same honesty and intimacy in subsequent subjects I've photographed.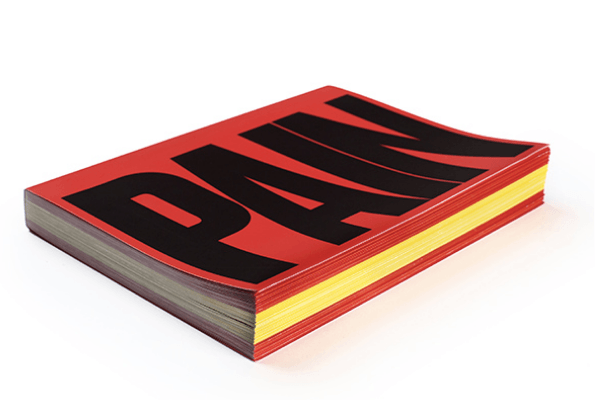 'Pain' (2014) by Toni Amengual
I first came across this book in 2016. It appears as a striking object — stacks of bold red and yellow sheets of paper bound together — and opens with a quote: "The best way of hiding a secret in Spain is by writing a book".
As you flip through the book, you realise the pages are sealed and need to be slit open with a paper knife. This reveals 120 close-up snapshots of the everyday in Spain, shot by Toni Amengual between 2010 and 2012 to portray the socio-political crisis faced by the people then. This suffering — a consequence of the Great Recession in Spain — was largely concealed by political parties as well as mainstream media. Designed by Astrid Stavro and Pablo Martin from Atlas Studio, it is the act of tearing the pages of the book to reveal photographs bordered with the colours of the Spanish flag that makes each spread unique and powerful.
'1984' (2013) by Gauri Gill
I picked up 1984 during the second edition of the Delhi Photo Festival in 2013. At first glance, it is a seemingly slim intervention but the strength of the work lies in its pocketbook-like intimacy. 1984 traces out a difficult emotional terrain, allowing us to look back at the massacre of the Sikhs with new eyes that move beyond victimhood, to embedding fundamental questions about the state — nation-state, existential state, state of mind — in which we live. Yes, you can carry the dead in the palm of your hand, you can throw a pogrom into your purse.
Created by Gauri Gill — one of India's most prolific photographers — the publication is a casual collaboration with some of the country's finest artists and writers, those that I've returned to often over the years. Artists are rarely able to engage with history head-on, neither obfuscating nor attempting to provide evidentiary frameworks. Gill's openness and confidence is palpable in her ability to let others speak to what her images evoke. Of course, she has chosen people who have a way with words, and this is what lends the work its longevity, along with her classic black-and-white photographs. Without straitjacketing anyone — the subject, the people, the respondents, the viewers — Gill ensures we are unable to look away from those who continue to carry the burden of injustice and loss on their shoulders. This is a photobook that can be experienced in its entirety during the ongoing lockdown. 1984 can be downloaded, printed out, folded and stapled from Gill's website, and was always meant to be disseminated in this way.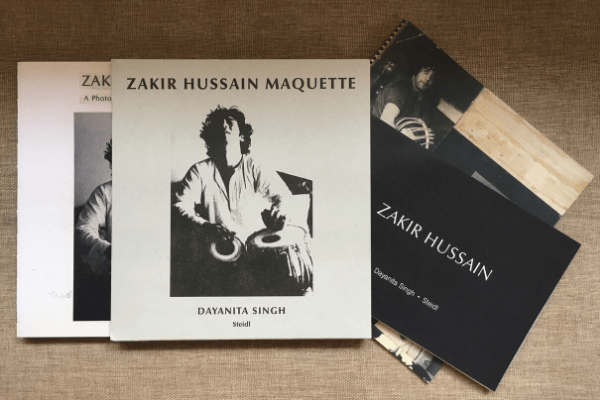 'Zakir Hussain Maquette' (2019) by Dayanita Singh
This is an unusual book that reveals the warp and the weft of its making. It is a simultaneous study of a person and of the book itself. It generously gives us a behind-the-scenes glimpse of the making of a legendary musician — Zakir Hussain, and the making of the book on him — and eventually, the bookmaker Dayanita Singh.
Published by Steidl, Zakir Hussain Maquette is Dayanita Singh's project from her student days at Ahmedabad's National Institute of Design. It is a photobook (including a reader and a poster) that gives plentifully. Dayanita is that rare artist who invests an extraordinary amount of time guiding young artists, laying bare the processes of her practice. Here is a book that exemplifies the single-minded attention — the riyaaz and rigour — that she upholds as sacred to her practice; any practice. It is illuminating to read hand-written accounts by the tabla maestro in tandem with the designer's acutely self-reflexive, sometimes admonishing notes on her design process. It is a book of thoughts and stories on learning by complete submission to your craft.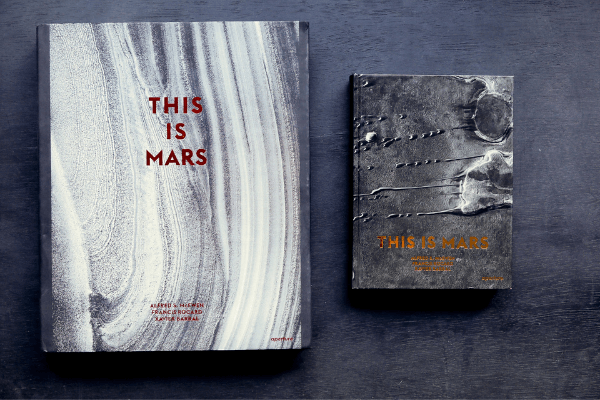 'This is Mars' (2013) by Xavier Barral
When I first came across This is Mars, I was captivated by the various realms of fantasy that cohabit within a book of scientific imagery. Using precise satellite images taken by the Mars Reconnaissance Orbiter, we enter a world that is exceedingly real, perceiving it as a meditative exercise of the emotional psyche. The book travels above the surface of the Red Planet from a uniform vantage point, presenting impassive photographs — each covering the geographical data of six kilometres. In the abstractions these images present, I find myself lost in its slowness of time, waiting for Mars to create the slightest shift on its surface over millennia, like a frozen sirocco over the Saharan Desert. In the accuracy of these machine-made images, we begin to observe ourselves and the birth of our own planet. The panoramas in the book have been carefully placed by Xavier Barral, almost as homage to our philosophical need to look deeper within the different worlds we inhabit.
—Anshika Varma, photographer and founder, Offset Projects