"Don't get involved." It's something a lot of us have grown up hearing. But what if "getting involved" also means being an ally? What if being proactive could help someone? Is it a privilege to watch, unaffected? These are the sort of questions Bystander, an anthology from Kadak Collective, hopes to raise.
Kadak Collective, comprising a group of South Asian women engaged in graphic storytelling, was launched in 2016 to create a space to value and amplify diverse voices from the subcontinent. The collective's most recognisable work is perhaps the Reading Room — a travelling library of self-published comics, zines, books and illustrations produced by the Kadak Collective — that has been showcased at festivals around the world, like the Fumetto Comics Festival in Lucerne, Switzerland, LA Zine Fest and Chicago Art Book Fair in the US, and the Unbox Festival in Bangalore. Bystander is undoubtedly their most ambitious project yet.
Now out on crowdfunding platform Kickstarter, the proposed 256-page anthology has a team of six editors and 47 contributors. The long list of contributors comprises women, trans artists, queer men and non-binary creators from South Asia and the diaspora across 13 countries — India, Pakistan, Sri Lanka, Canada, the UK and USA, among others. Editors Gopika Bashi, an activist and Asia campaigner for Oxfam International, and Sabika Abbas Naqvi, an alternative educator, poet and gender rights activist, have been brought on for the project to focus on inclusivity and diversity. The contributor list includes Bangalore-based collective The Aravani Art Project, which works to enable the transgender community through visual arts and socially inclusive experiments, Karachi-based illustrator Samya Arif, Toronto-based artist Sab Meynert and illustrator Jasjyot Singh Hans, who works between Baltimore and India.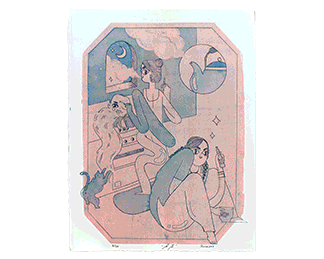 Akhila Krishnan, a London-based director and multi-disciplinary designer, with teaching experience in both the UK and India, is also part of the editorial team for Bystander and one of Kadak Collective's members. She explains, "We wanted to make an anthology that's rooted in India, that privileges South Asians and the diaspora, is just as complex and nuanced, and is produced in just the same quality, if not better, than anything you will find anywhere else in the world."
Diversity may be the thread that connects the contributors, but it's also what ties together their responses to the word "bystander". "It was something that each of us [editors] instinctively responded to in a powerful way," says Krishnan. The theme had to translate as a prompt so that each of the contributors could respond to it in a really personal way, she explains. Besides, it's also a relevant theme today. "For some, it's interpreted as a call to action, specifically with the Me Too movement and everything that's come up in India in the last year. People are really discussing what it means to be a feminist, to be an ally, to be a supporter — they're asking if we can stand by and watch all these things going on," says Krishnan.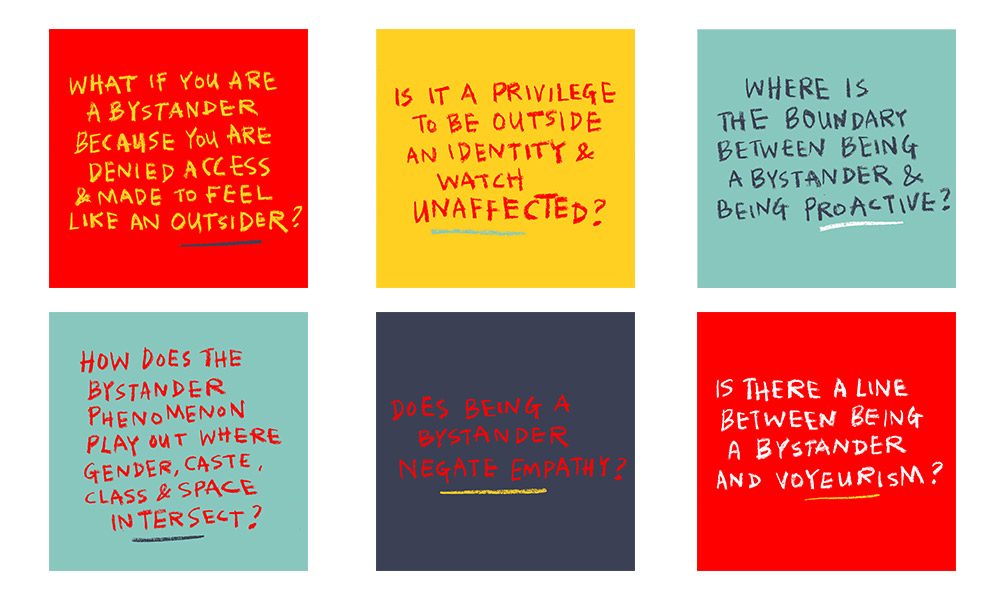 While the anthology will be a print book, the team hopes to make it digitally interactive for the reader. This is fitting, considering the Kadak team works completely online. "We're all based in different countries and some of us still haven't met in person," says Krishnan. Going beyond the hard copy also works to make the most of some of the contributors' skills — incorporating sound and moving image, whether gifs or video, is something a printed anthology can't do. QR codes for the printed anthology are being considered, but "we'll have to wait and see how the web contributors develop their work before we make certain decisions on how we represent it in the printed anthology," says Krishan. Additionally, the Kickstarter campaign also offers a digital copy of the book (May 10 onwards). As per current plans, the book will be ready for shipping in January 2020.
Bystander's Kickstarter goal is a whopping £40,000 (around ₹36 lakhs), and will be live for 40 days. (Kickstarter is yet to launch in India, so the campaign will run out of the UK.) The amount is set to cover an initial print run of 600 copies, production costs, and payments to the contributors commensurate with international rates. "There are no profits," Krishnan says. "We want to keep everything above board in that respect and we just thought to turn to our support system — nationally and internationally — to put this money together." The anthology will be designed by Mumbai-based Studio Kohl (whose Mira Malhotra is also part of the Kadak Collective and an editor for Bystander). While plans are in place for the anthology, work will begin once the fundraising period closes.
The Kickstarter campaign for Bystander went live on May 8, 2019. Go here to contribute. Avail an early-bird price of £18 (approximately ₹1,620) for the book for the first 48 hours of the campaign. Supporters can also choose from an assortment of other beautifully designed rewards like postcards, sticker sets, and zines created especially for the campaign with artists like Priya Dali, Kruttika Susarla, Pearl D'Souza and Studio Kohl.