The stick-and-poke (SnP) form of tattooing is an age-old technique that has often been associated with traditional and ritualistic practices in India. How did you get introduced to the form? What were you pursuing at the time?
I've always been interested in all things artistic and enjoy using my hands to create things. My interest in SnP tattoos peaked a couple of years ago when I was studying fine arts at the School of the Art Institute of Chicago. Since it was a multidisciplinary course, people were constantly experimenting with different media — it was a very DIY environment where SnP tattoos were quite popular. When I saw friends and classmates give each other hand-poked tattoos with sewing needles, I wasn't sure if the technique was for me. But later, while interning with a textile designer in New York, my boss had a lot of SnP tattoos, and that caught my attention. I then bought tattoo supplies in bulk, taught myself the technique by watching a lot of YouTube videos, and started practising on an orange because it made for good 'fake skin'.
Since SnP tattoos are hand-poked, the process is comparatively slower and requires greater dexterity and patience than getting inked by a gun machine. What appeals to you the most about the process?
SnP tattoos are made dot by dot, and I like how every single dot counts and is intentional. I love how organic the tattoos look, especially on brown skin — they appear earthier and more natural. I'm not a big fan of very graphic detailing and prefer a more natural approach, so SnP tattoos fascinate me a lot.
You have a lot of tattoos yourself. Did you give yourself a lot of tattoos before you were confident enough to do it on others? Which was the first tattoo you gave yourself?
Yes, I do have a lot of tattoos. When I started learning the SnP technique off YouTube, I chose to practise on fruit first. My first ever tattoo was actually on an orange, after which I inked myself. I gave myself a tiny one on my finger — something that took an hour to complete back then, and would probably take just 10 minutes now. The very next day, I gave my boss a tattoo — four tiny dots and an eye, a variation of the tattoo I'd given myself.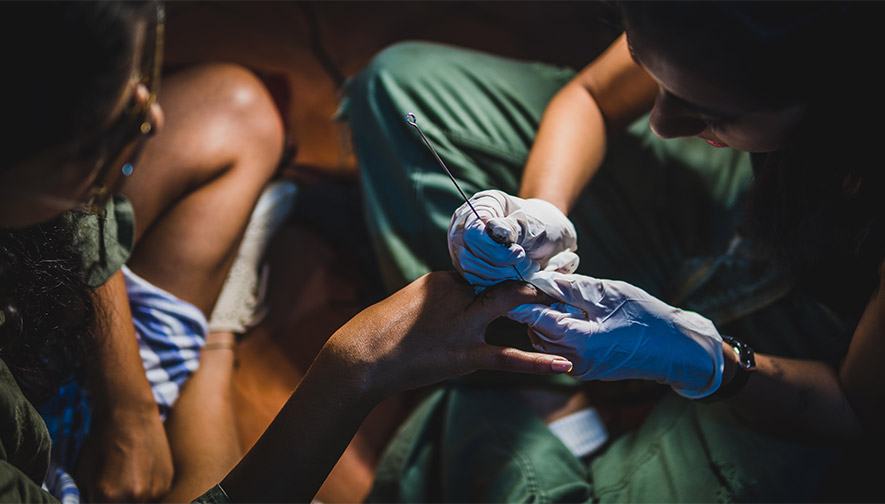 In a world filled with elaborate tattoos, yours have a distinct identity — they're usually small and minimalistic with clean, neat linework. Is it important to you that your clients' aesthetics match your own?
Yes, definitely. I don't necessarily consider my art a source of income, I treat it as an artistic practice, and so, if a client comes to me with a tattoo request that doesn't align with my aesthetic sensibilities, I decline. I like working with people in a way that retains my authenticity and stays true to my roots and design philosophy. Placement of tattoos are important as well — I like to be able to suggest specific, asymmetrical angles, keeping in mind the client's body, how it moves and how best the tattoo can be activated. So, it's also very important for me to be able to build an equation of confidence and trust with my client before I ink them.
You conduct workshops on SnP tattooing. What kind of skill set does one need to learn this art form?
Anybody who's comfortable with their skin can learn how to do SnP tattoos. When I started practising, I used to conduct workshops in Bombay and Bangalore, with about 10 to 15 people per workshop. There were several people who came in believing that they didn't have a single artistic bone in their bodies — when I convinced them to give it a shot, they turned out to be surprisingly good.
Where do you derive inspiration for your designs?
I tend to draw inspiration from nature and my immediate surroundings. For instance, if I'm in Japan, I will notice all the street art, which will then stay in the back of my head and perhaps turn into inspiration for my art. Architecture also interests me — you'll find pictures of arches of buildings, staircases and the likes on my phone. I just prefer a more fluid approach — I like relying on whatever catches my eye at the moment as opposed to actively seeking inspiration. I even avoid following the work of too many other tattoo artists because of the fear of imitation.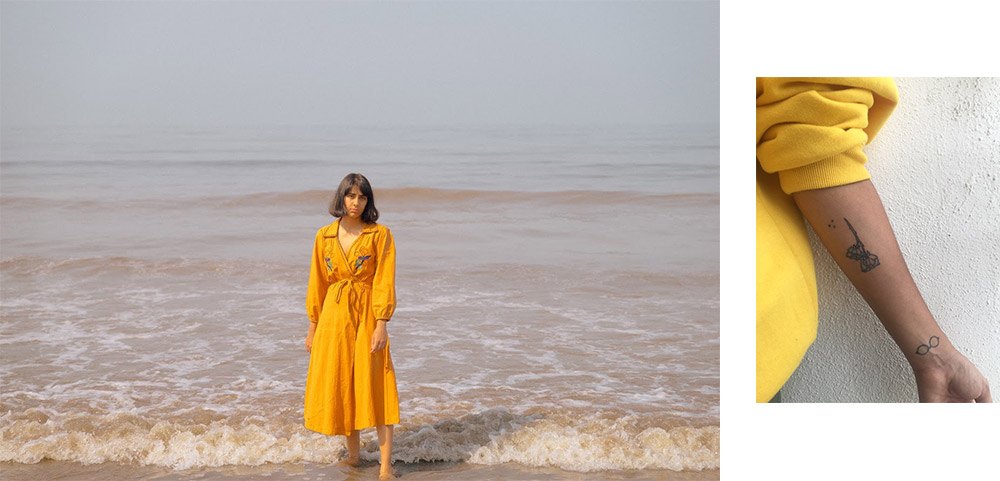 What are the most common tattoo designs clients request for and what's the most challenging design you've undertaken?
Flowers are very popular with clients. It's a lot of fun making them freehand on skin without stencil work and then convincing people to try coloured ink. I think the positioning of tattoos, more than their actual design, can be quite challenging. Tiny tattoos with a lot of detailing, or requests for tattoos on parts of the body that may not be best suited for them, can be quite challenging.
What do you like to do when you're not working on tattoos?
I'm usually doing something or the other arts-related when I'm not working on tattoos. For instance, I've hosted art markets with friends in basements, where we've invited artists to meet each other and display their work in a laidback environment, with the goal of making art more accessible and approachable. I've also assisted an artist in painting a mural for St+Art India in the past. Sometimes, I manage to snag a few modeling gigs as well.
Tender Pokes, which will comprise Shreya's studio and a tattoo shop, will have a permanent address March 2019 onwards in South Extension, Delhi. She's currently busy putting together events and exhibitions for the launch party next month. She retails DIY tattoo kits on her website here.