Welcome to Eye Candy, where we bring you the story behind a striking piece of art. Each time, you'll get to feast your eyes on the work of one illustrator, graphic designer and/or visual artist, and discover details about their style, ideas and more. Follow along!
Back when he was still a student at Kolkata's St. Xavier's College, Anirban Ghosh found a flair for political cartoons, "and quite a few of them used to get published in The Telegraph." About a decade later, his illustrations on Instagram continue to examine political and social issues in the country. "A lot of my work has its focus on social inequalities, especially LGBT rights, and I've been able to associate myself with a lot of initiatives and organisations that have been working in the space of women's rights and rights for gender and sexual minorities in India," he explains.
After graduating from St. Xavier's, Ghosh went on to study animation film design at the National Institute of Design in Ahmedabad. Today, he works as a UX designer in an IT company in Bangalore, and finds time for his illustration work on the side. Having dabbled in animation and film-making, Ghosh used to be medium-agnostic when it came to storytelling, but he finds that illustration works best to respond to immediate political and social situations. It allows him time to introspect and work through his own thoughts as well, especially "some of the feelings that I have while being confronted with, say, a pandemic." Earlier in the year, he also created art in support of the nationwide protests against the Citizenship (Amendment) Act and the National Register of Citizens.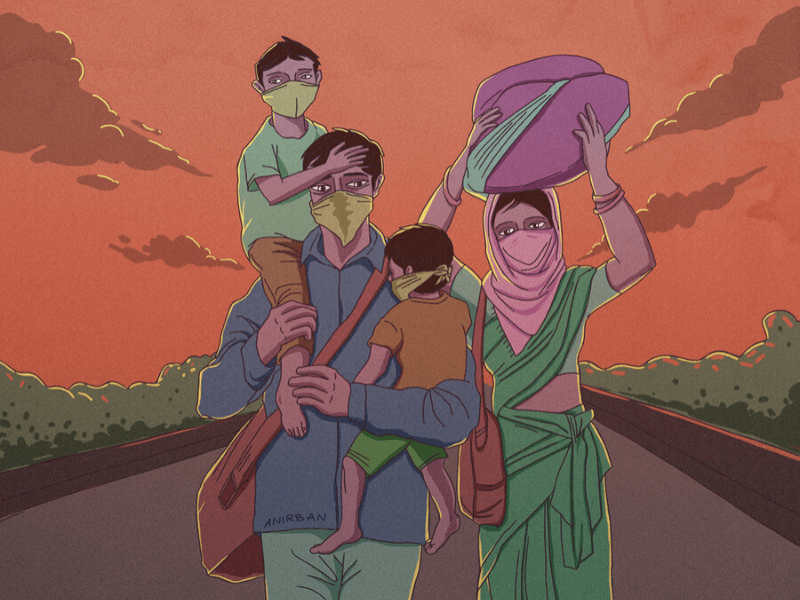 Ghosh's illustrations have recurrently highlighted disparities in the country. His most recent series explores the idea of 'home' in the wake of the COVID-19 lockdown in India. "It started with me reflecting on the pandemic and how the lockdown has brought out, in a very harsh way, the class inequalities in our society," he says. "Who you are and what sort of access you have to a certain amount of privilege will determine [the sort of] space you occupy and how many people occupy this space around you, as well as how it will directly or indirectly affect livelihoods." Numerous communities across the country have been adversely affected due to the lockdown, especially migrant workers who were left to fend for themselves with no income and no way to get back home, often stranded in small, packed rooms. Ghosh points out that transgenders who make their living at traffic signals have also lost their primary source of income. By juxtaposing folks from different economic and social classes in his Home series, Ghosh attempts to shine a light on the vast differences in privilege in our society.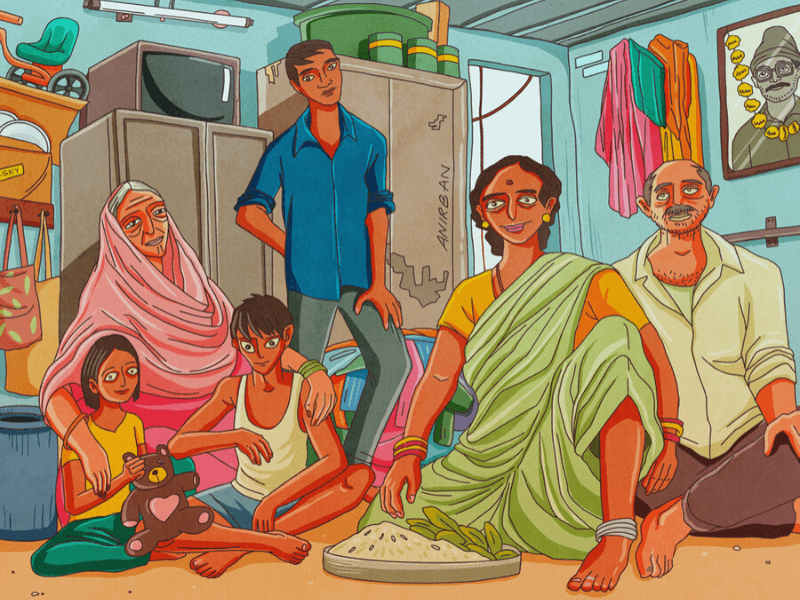 What's also striking about Ghosh's art is his colour palette — bright pinks and yellows, light blues and dark purples bring his illustrations alive. This, he explains, isn't a very conscious effort but it does serve to make these pieces resonate with people more. "The subject matters for these illustrations are very dark by default," he says, "so at first look, [the colours] draw their attention." Ghosh adds that he tries to keep his illustration style simple — he's not a big fan of dark, heavy textures, which has influenced how his style has evolved. "Sure, you're capturing, documenting and chronicling some very complex socio-political, economic issues, but it need not be literal in terms of colours," he says.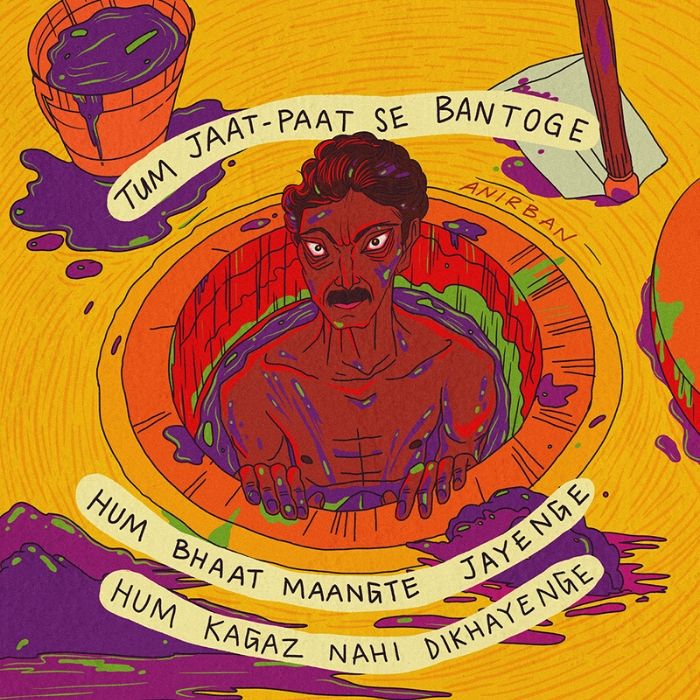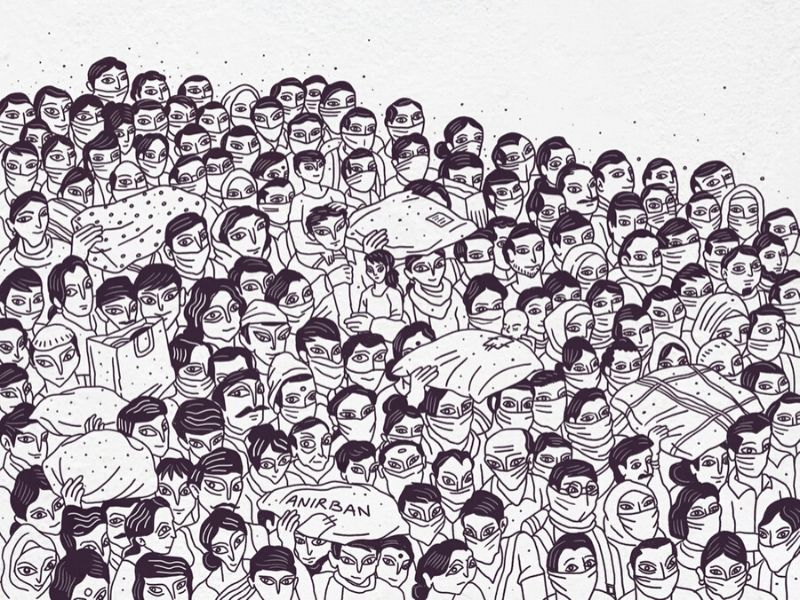 Each illustration takes around three hours to finish, but even though they're simple, there is a sense of soul to his characters. You can notice it in the eyes he draws — most of them large, slanted, and staring right at you. Different emotions are communicated through them — joy, anger, defiance — depending on the subject. A lot of his characters are inspired by real people and real faces, because he explains, "they had to reflect the sensibilities, bodies and faces of people from the subcontinent. So even though I was stylising them in some ways, I was always cognisant of the fact that these should be faces that you resonate with immediately and place in the geography or the ecosystem that I'm trying to depict."
And they do resonate. Ghosh has had a lot of people reach out and say that they connected with his works. "I have always made it a point to make sure everybody knows that all of these artworks are for free," he says. Most recently, he illustrated black activist, drag queen and sex worker Marsha P. Johnson, an icon of intersectional activism, as a response to the murder of George Floyd and the #BlackLivesMatter movement in America.
The power of art has always been tremendous — in the case of activism, it can make insidious issues more approachable. On platforms like Instagram, voices like Ghosh's encourage us to examine our privilege, show solidarity, and spur action.
See more of Anirban Ghosh's work on Instagram at @anirban_ghosh.