Welcome to Eye Candy, where we bring you the story behind a striking piece of art. Each time, you'll get to feast your eyes on the work of one illustrator, graphic designer and/or visual artist, and discover details about their style, ideas and more. Follow along!
Anjali Mehta's work is, in more ways than one, autobiographical. Her illustrations reveal bits of herself in the colours, characters and narratives she chooses. Before realising that illustration was her calling, the 27-year-old worked in fashion for a few years — back then, she'd just graduated in fashion communication from the National Institute of Fashion Design (NIFT) in Bangalore. "I had a diary in which I used to doodle with a black pen, just for myself. This is probably how all illustrators start — with a diary and a black pen," she laughs.
ashion continues to influence her illustration style. The characters she draws are all incredibly stylish, even in varying states of leisure and undress. She says that it's her own fashion sense that she projects onto these characters.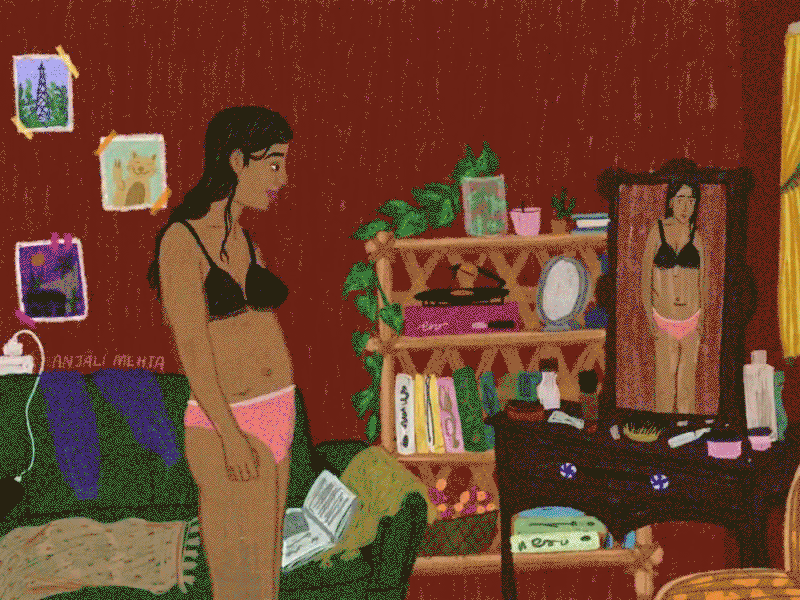 The colours Mehta chooses also make their mark. A sweeping glance at her work will leave you with popping pinks, cooling greens, and bold blues seared in your mind. "It's very surprising because [initially] I was never a colourful person in my fashion choices or anything I bought," she says, adding that she preferred black and white tones on her person. In her illustrations however, she "loved using colours as bright as I could." She explains that it's all about building a world that would be ideal for her through her art. The colours have seeped into real life too, she adds. "I slowly became that colourful person."
Mehta usually sticks to digital mediums when working since they're quicker, but she does enjoy working with traditional mediums like gouache occasionally. Her digital illustrations tend to hold a hand-painted quality too, something she is consciously inclined towards. It gives her work a bare, honest vibe, which ties in well with the themes she often explores.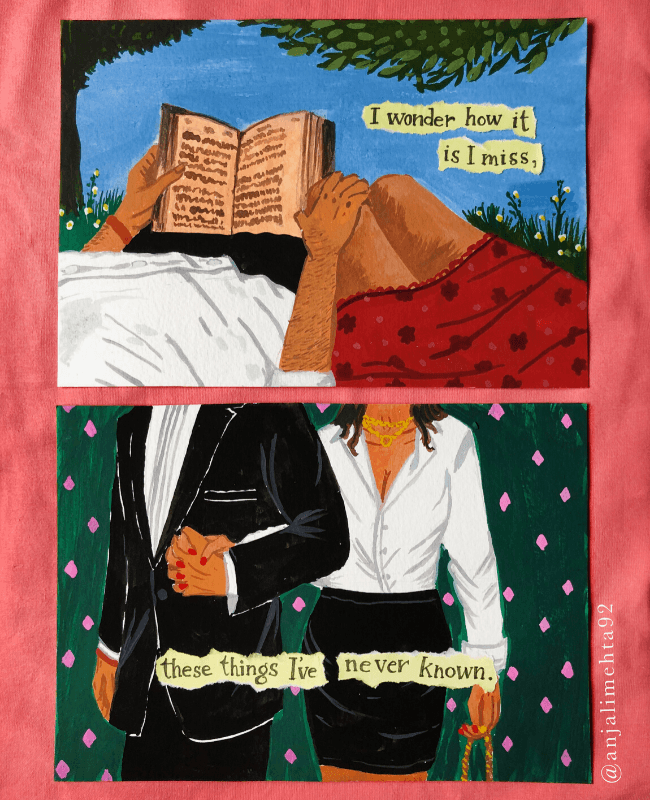 Two of her most loved series, both ongoing, are based on personal experiences. She started the 'Journal of Perception' in 2016, and it stemmed from heartbreak. It was her way of dealing with her emotions, and putting out something that was both vulnerable and autobiographical. In the series, she strings together words or quotes she's read (from a constantly updated bank of writing), and juxtaposes them against a visual. Although the heartbreak is long gone, she continues to make sense of her feelings and experiences through the series, which she puts out because it also resonates with a lot of her followers.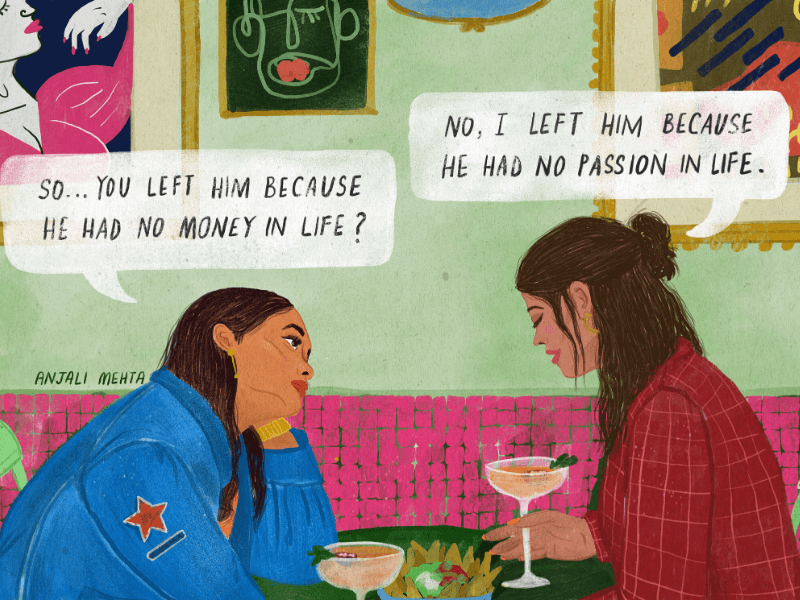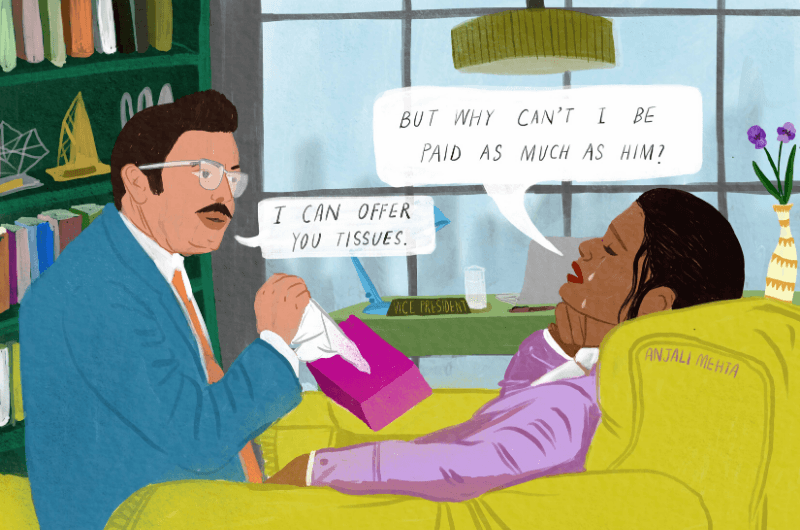 Mehta's 'Modern Living' series is also derived from personal experience, specifically from a question that was put forth during a class at the Arts University Bournemouth in the UK, where she completed a Master's degree in illustration. The question — "what does your art do?" — spurred some introspection. Mehta's resultant series covers issues that she personally confronts and identifies with — gender equality, body positivity, modern love, conservation and technology are some of her most recurring themes. Her illustrations are often accompanied by somewhat sardonic text bubbles, which, coupled with her striking use of colour and detail, make her illustrations highly relatable.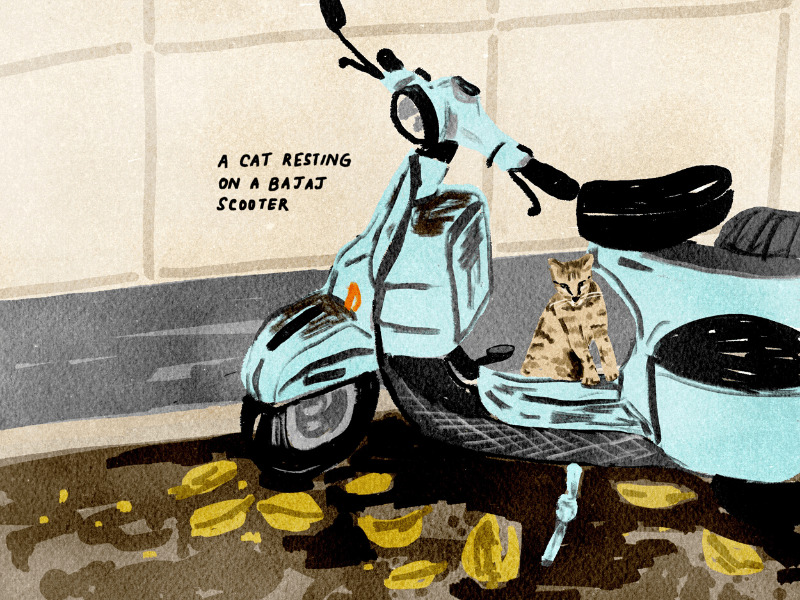 The illustrator is currently based in Delhi, and has been quarantining with her family for the last few months. For someone who gets most of their inspiration from the world and people around her, Mehta found herself at a loss during the lockdown. "I wasn't in the mood to start from [something] from scratch," she explains. "I have a huge collection of photographs, so I started making five-minute Procreate illustrations of some of them." The illustrations — which include reading in the park, applying lipstick after lunch with friends, and a construction worker perched atop a ladder — are reminiscent of an old normal.
Perhaps she didn't intend for them to be nostalgic, but like her other work, the illustrations manage to strike an emotional chord with you. Mehta explains that, with her art, she tries to create an ideal world for herself — and we're glad to partake of it too.
See more of Anjali Mehta's work on her website or on Instagram at @anjalimehta92.