Welcome to Eye Candy, where we bring you the story behind a striking piece of art. Each time, you'll get to feast your eyes on the work of one illustrator, graphic designer and/or visual artist, and discover details about their style, ideas and more. Follow along!
Great music is only made better by the art that sometimes accompanies it. Think Joy Division's iconic debut album cover, King Crimson's In the Court of The Crimson King, or Andy Warhol's album cover for The Velvet Underground & Nico, which became more or less synonymous with the music over time. Closer home, the odds of metalheads and indie music fans in the country recognising Anoop Bhat's illustrations are high. He's the 28-year-old artist behind the incredibly detailed pen-and-ink cover art and posters for Indian bands like Bhayanak Maut, Parvaaz, aswekeepsearching, Djinn and Miskatonic, and Cinema of Excess.

Bhat studied architecture at Mumbai's Sir JJ College of Architecture, and until five months ago, was working as an architect. Now he's turned to illustrating full-time, freelancing out of Bangalore. But his relationship with illustration and art goes back decades. "I've been drawing since a very young age," he explains. "I wasn't very social so I guess pen and paper was all I had. I was the happiest left alone with my crayons."
It was only while studying architecture that he realised that art could be more than a hobby, and that he was drawn to pen-and-ink illustrations. "All I had around me was pen and ink. In the initial years of architecture, we were made to draw by hand so we had to have a set of micron and Rotring pens on us [at all times]." This comfort, along with the chance to avoid the anxieties of picking and dealing with colours, led him to stick with and master this style.
---
Bhat was a metalhead much before his brush with illustrating for the genre. He started out, "like any other person", by learning to play an instrument and starting a band. When that didn't work out, he started writing music reviews for publications around the world. "At that time, it was me trying anything and everything to be a part of this subculture. Finally, it came down to drawing which I realised I was good at… so I continued."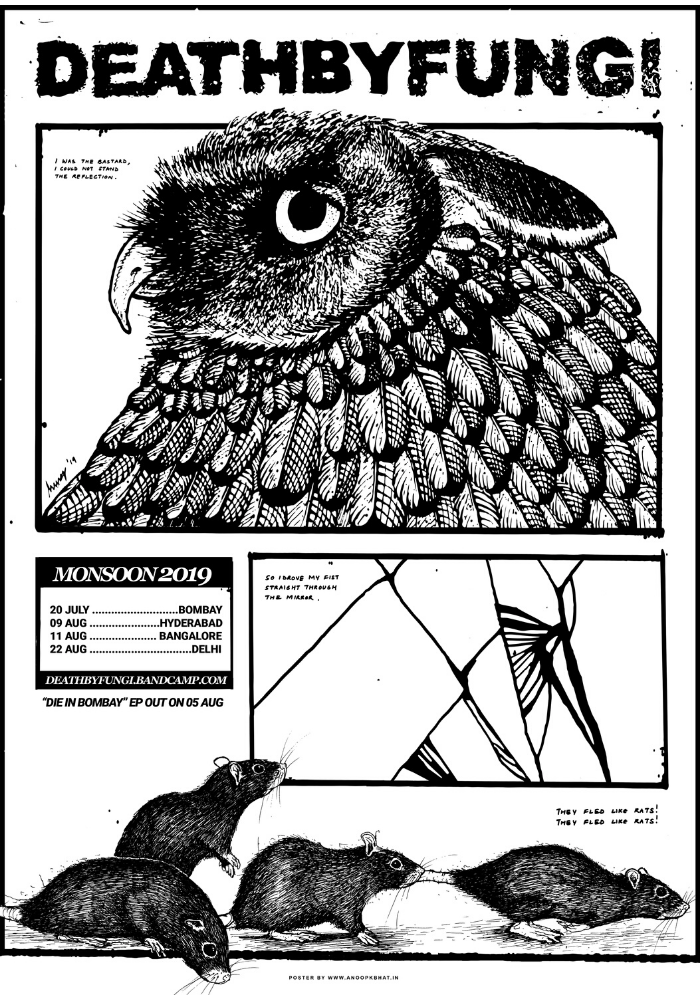 His first piece of commissioned work was an illustrated poster for Bangalore-based metal band Djinn and Miskatonic, back in his third year of college. It paved the way for a slew of art for indie bands, a process that's highly intuitive and sensorial. He says that when it comes to making posters, he rarely gets detailed briefs. "They can sometimes be as vague as — just make something cool-looking," which gives him a lot of freedom to play around. Like the time he illustrated a gig poster for NYC-based noise-rock band A Place to Bury Strangers. "That one is just me [looking at] the band name and [exploring] what this place would look like, a place where one would go to bury strangers — it's damp, marshy and inhabited by these monitor lizards." He also used textures around him as inspiration while decoding how their music made him feel. "The kind of music they make is very jarring and quite heavy and ominous in how it sounds," he says, explaining his choice for the poster.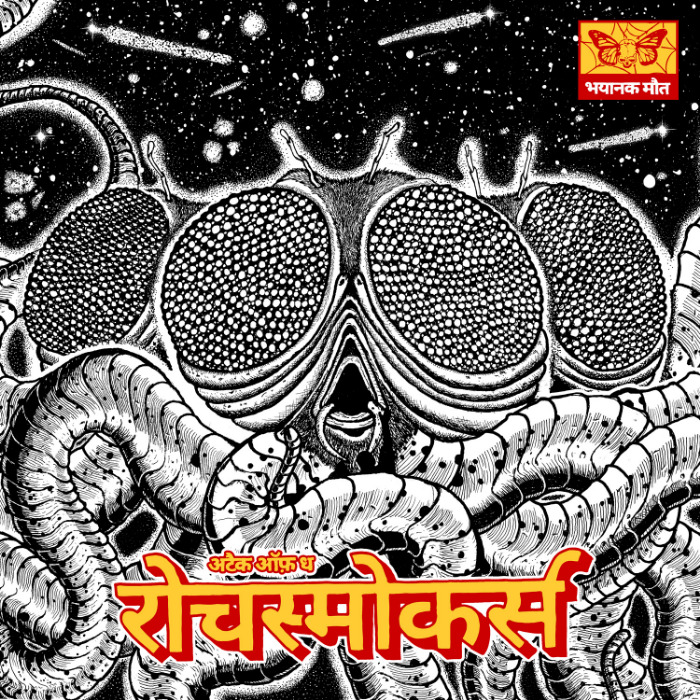 When it comes to cover art however (whether for singles or albums), in Bhat's experience, bands usually give more detailed briefs. For heavy metal band Bhayanak Maut's recent single Attack of the Roachsmokers, he received a very specific brief about how the song was based on creatures — the 'roachsmokers' — who were about to attack humankind. "They'd also made it clear that it needed to be very campy and b-horror like," he says. Keeping these things in mind, he illustrated the creatures with a trapped human and galaxies in the background that look like spliffs and joints.
---
Natural imagery — birds, flowers, animals — dominate his work, and it's a love for flora and fauna that is largely a result of the sort of childhood he had. He remembers his summers, which he spent at his grandmother's in Mangalore. "It was this huge place with a lot of trees and flowers around us. I'm very peaceful around [nature]." But perhaps the more compelling reason, he laughs, "is my inability to draw anything else." Plus, using nature themes in his artwork for bands — especially the heavy metal ones — is a big step away from the norm. "Heavy metal imagery is full of gore and extreme portrayals of violence, whereas for me, a lot of heavy metal music is not because I'm raging — it actually calms me down."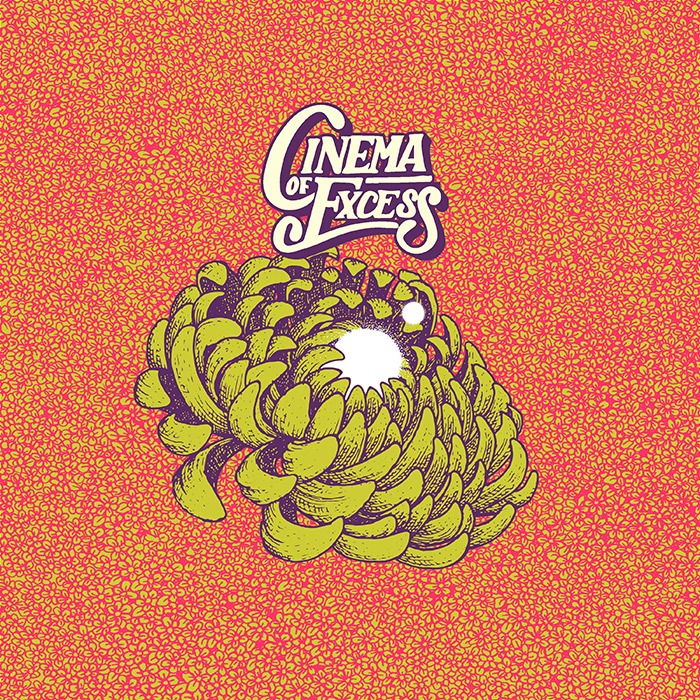 When it comes to the association between an artist and a band, Bhat believes it must go beyond just a sole album. Building a more lasting association and creating a universe with a defined visual identity to complement a band's sound is what he hopes to do with Bangalore-based indie folk band Cinema of Excess. He illustrated the cover for their debut album Bring Back the Sound as well as their latest single Beyond What's Here, and is set to work on the cover art for the next one as well, which will be a continuation of this graphic. With these covers, he's been venturing into work with colours, which only stands to deepen the visceral sensations his work creates.
As a student, Bhat used to put in all the money he earned illustrating into buying more CDs and albums of the music he loved. Although he doesn't do that anymore, he is still committed to contributing to the independent music scene, and his artwork — which just might be gaining a cult following of its own — does the job extremely well.
See more of Anoop Bhat's work on his website or on Instagram at @anoopkbhat.