Welcome to Eye Candy, where we bring you the story behind a striking piece of art. Each time, you'll get to feast your eyes on the work of one illustrator, graphic designer and/or visual artist, and discover details about their style, ideas and more. Follow along!
A fishmonger, mid-scream. A boy, pretending to be a superhero. A flower-seller, smiling. Debjyoti Saha's candid and comical illustrations elevate everyday street scenes. Each comic, animation and illustration tells a different story — and it's this narrative that defines his style of illustration.
25-year-old Saha has spent most of his life in Kolkata. He moved to Ahmedabad for a Master's in Animation and Film Design at the National Institute of Design. Currently, he works in Mumbai. His work is heavily influenced by his interactions with these cities he's lived in, and it's clear that his astute observational skills are the foundation for his illustrations. Take, for instance, the one with the fishmonger, surrounded by a squawking squad of crows, egrets and cats, a sight he hadn't encountered before moving to Mumbai. "The fishmonger actually sits in front of my house [in Mumbai, and] I buy fish from her every other week," he tells us over the phone. "I have been to markets in Kolkata, but there haven't been so many cats or even animals around. I found that quite amusing so I thought that I would make a sketch out of it."
Another time, in Bangalore, a street-side flower-seller and a coconut vendor caught his eye. Both ended up featuring in his work. What he noticed was how happy the flower seller seemed to be. "You see very few people who enjoy their work right around you," he explains. It's these casual interactions with "random people" that stay with him, he says. "After leaving a place, you kind of remember that place because of that person."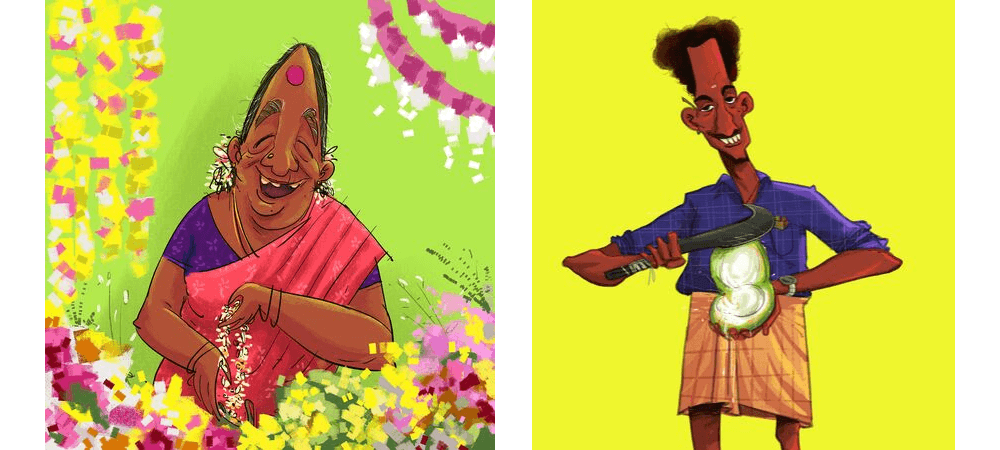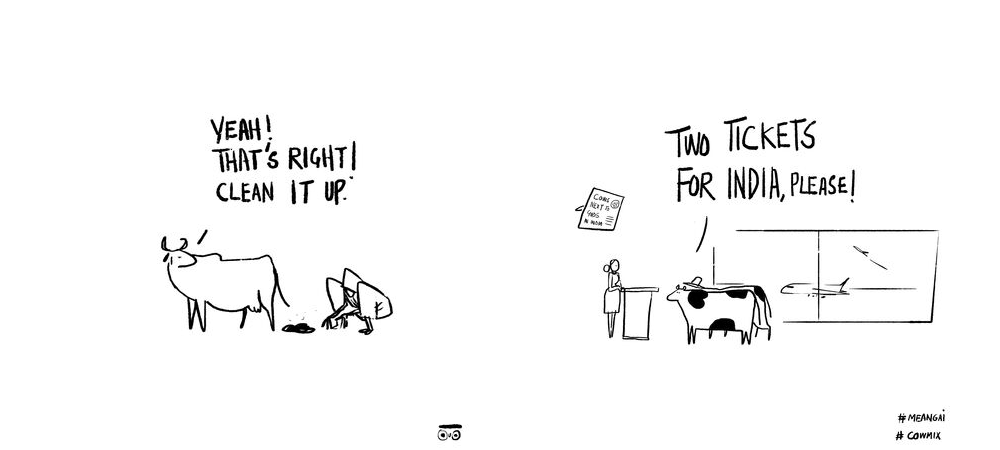 His hometown, Kolkata, has also been a driving force in his work. After moving away, he's found himself more in its thrall. "Some sensibilities and perspectives have been in my mind since I stayed [there] for that long — my heart is really in that city. I want to tell stories pertaining to my home and my people, and whatever is in between," he says. He's set his illustrations during Durga Puja, an important festival in Kolkata, and in everyday settings like this bus ride, an animation inspired by his ride home for three years and his daily view of the conductor at the door. "The buses are completely wooden and they're not sophisticated or anything," he says, but he still misses them.
Scrolling through Saha's work, it's hard to miss his strong satirical voice. There's his socio-political comics, like the MeanGai Cowmix, or a very relevant series of four-panelled comics (like this one) from last year's Kerala floods. "I like to use satire in my work. I'm not [trying to get] controversial, but I am speaking out what I feel is the truth." It's these candid call-outs that people can relate to, he tells us.
See more of Debjyoti Saha's work on Behance here or on Instagram at @debjyoti.saha.