Welcome to Eye Candy, where we bring you the story behind a striking piece of art. Each time, you'll get to feast your eyes on the work of one illustrator, graphic designer and/or visual artist, and discover details about their style, ideas and more. Follow along!
Illustrator, muralist and visual artist Osheen Siva's illustrations are inspired by, to quote her, all things "goopy and slimy." With all its rejections of the 'normal', she has a distinct style of eliciting a visceral reaction from the viewer. It's a style that "changes from time to time. [It] also depends on what kind of medium I'm using, but mostly it's a bit — for lack of a better word — weird." Her work, with its electric, grungy aesthetic, has been influenced by the books and TV she grew up on — underground comics, her favourite Goosebumps novels, and TV shows like Twin Peaks and Courage the Cowardly Dog. There was a lot of trial and error. "I tried a lot of things. I think it has a lot to do with trying to identify what you really like and trying to put it together," she says. The 26-year-old artist has grown up across countries — from Taiwan to China to India. After working as a graphic designer and then as a design researcher with Quicksand Studio in Goa and Delhi, she quit last year to freelance as an illustrator. "When I started to do illustration full time, I constantly referred to artists and movies that I really like so that I can somehow put it together to create [my] own thing," Siva explains.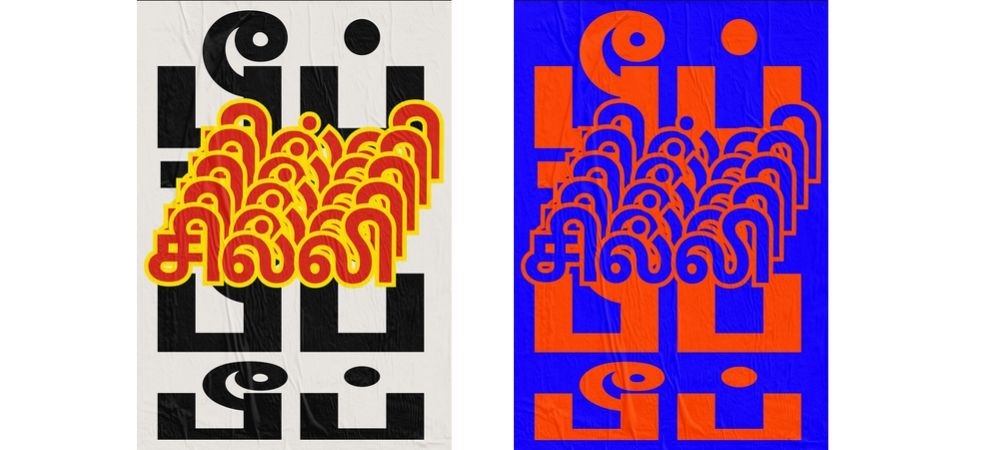 A defining characteristic she has noticed in her illustrations is her colour palette. "I tend to stick to really bright primary colours. I have a lot of blues and yellows and reds. I guess I'm just naturally inclined to really in-your-face kind of colours," she laughs. Other than these, she has also been using a lot of pastels — a result of her exploring her own south Indian heritage. She speaks about the influence of south Indian architectural elements like temple motifs in her work off late. Her hometown of Vellore in Tamil Nadu inspires her art and colour choices too. "My neighbourhood is pretty much all pastel."
Her work gets its spunky, otherworldly feel from the themes she explores — she is inspired by space, cosmology and all things sci-fi. Strong female characters feature heavily too. "Mostly I've been sticking to women, south India, aliens and space, and somehow bringing them together but I guess I just try to pinpoint the things that excite me and mix them in different ways to see what comes out," she says. (Case in point: her recent Instagram series called #dailyladies where she expertly ties together these three wildly different themes.)

Siva's illustrations all have a surreal vibe to them, but it is most pronounced in an eerie three-part comic series she did last year "on dreams and nightmares." The first one, where a hand caresses an eye before ripping it out, is a direct drawing of a dream she had. "I was the hand and the face —I don't know what my dream was trying to say." The other two are metaphors of what she was feeling at the time, in the process of making a career shift. "I guess I was scared of quitting my job. This was me trying to wake up every morning [and] figure out what I was trying to do."
Siva does a fabulous job of creating works that are bizarre enough to be reminiscent of an '80s alien flick — letting one's imagination run wild — while keeping them rooted in her cultural identity. Lovers of the uncanny can feast their eyes on her illustrations, as she continues to probe and explore what 'weird' means to her. If art was candy, we think her illustrations would be sour, sugar-coated and cola-flavoured.
See more of Osheen Siva's work on her website or on Instagram at @osheen.siva.