Welcome to Eye Candy, where we bring you the story behind a striking piece of art. Each time, you'll get to feast your eyes on the work of one illustrator, graphic designer and/or visual artist, and discover details about their style, ideas and more. Follow along!
When looking for comfort or to gratify your inner child, Tasneem Amiruddin's soft-stroked, brightly coloured illustrations hit just the right spot. 28-year-old Amiruddin studied illustration at Rachana Sansad Institute of Design in Mumbai, after which she spent a few years working in advertising. Now, she's a full-time illustrator, primarily for children's books. "It's what I really wanted to do and that's why I quit [advertising] — I kept getting projects to do which I had to reject."
Amiruddin's style is light and full of joy. "I'm really attracted to stuff like magic. I like a bit of spark," she says. The process usually starts with an idea in her head, which she sketches out roughly either in a sketchbook or digitally, before developing characters and adding details. She has specific colour palettes she returns to — ranging from dark blues to pale pinks and rustic oranges — to enhance that element of magic. On Photoshop, she uses a variety of brushes, but she swears by Kyle T. Webster's which afford her works "a very organic feel."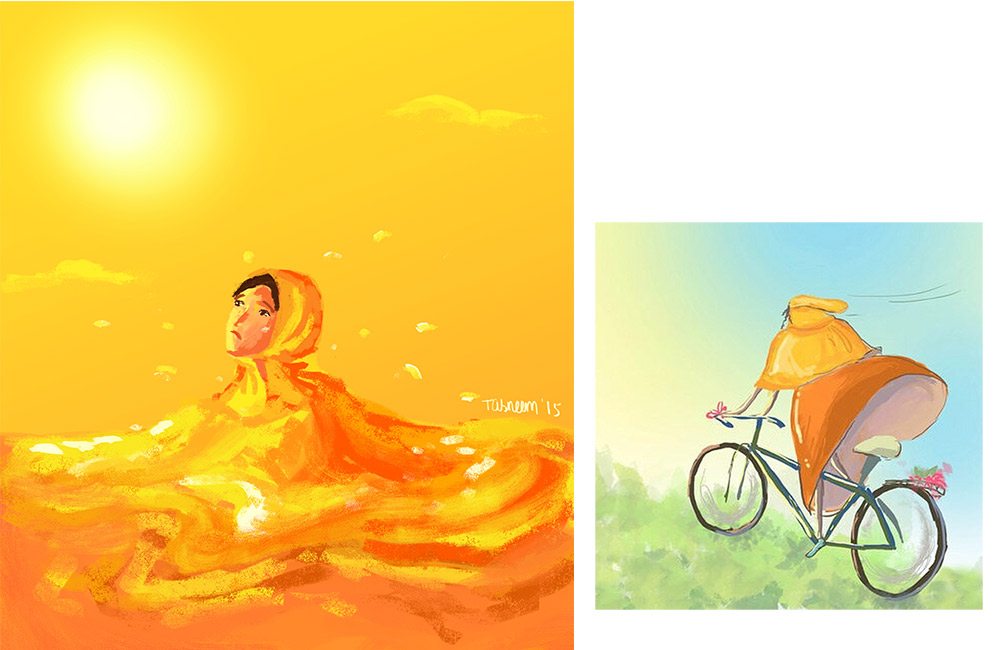 Outer space appears often in her work, as in the illustration at the top of this story. Earlier this year, a supermassive black hole was captured in an image for the first time. Inspired by this, Amiruddin illustrated Dr Katie Bouman — the young computer scientist who helped develop the algorithm for imaging black holes — peeking into a black hole. The illustration, resplendent in contrasting purples and yellows, was also a hopeful metaphor, she says. "Just taking that one picture of the black hole is a window to so many other things." The stars guide much of her work, often in subtler ways, like in this illustration for Diwali or this one of a girl picking stars, both reminiscent of van Gogh's The Starry Night.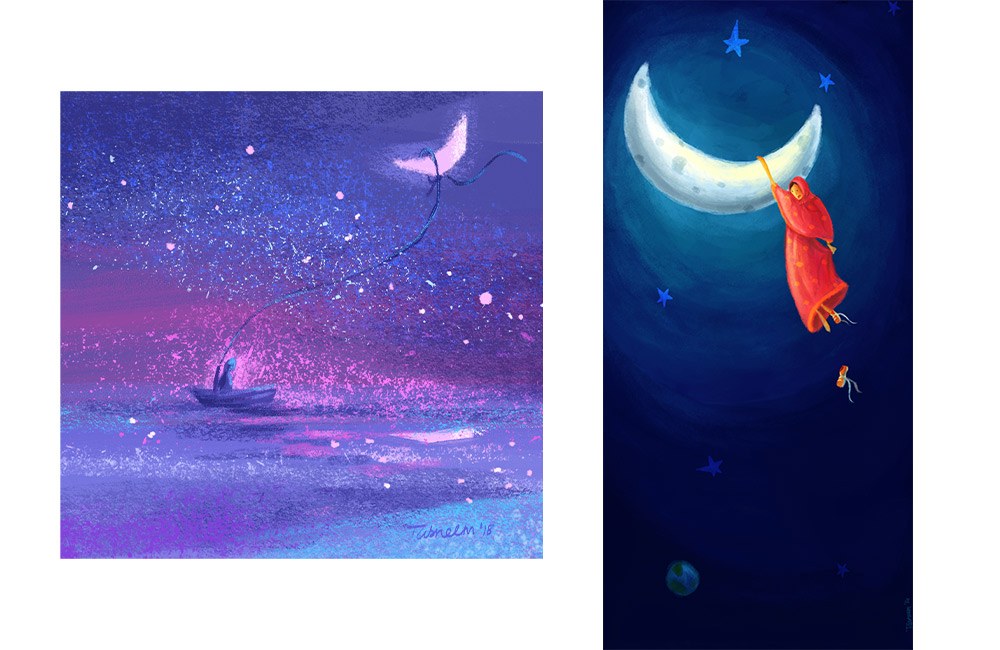 Amiruddin's personal experiences — like what people say to her or things she has observed — provide fodder for a lot of her illustrations. She has a keen eye and a cosy way of conveying what she sees, like this sketch captioned "cute conversations" done at the Starbucks at Fort's Horniman Circle in Mumbai. Some of her more detailed illustrations have hilarious backstories. Take, for instance, this illustration of a girl in a hijab hanging from the moon. The story here, she laughs, is an inside joke from design school. As the only girl in class wearing a hijab, her classmates often joked about how she wouldn't need a parachute if she jumped off a building because her hijab would facilitate a smooth landing. Taking off from this, she sketched out a girl's failed attempt to fly off from the moon, aided by her hijab.
Similarly, this one of a hijab-clad girl riding a bicycle merges personal experience with something she saw. On holiday with her family, she recalls an iconic fall after bashing into a wall on her bicycle. "Then I saw a little girl riding a bicycle with her skirt flying, so I put it all together to make this." Much of her work appears to be semi-autobiographical, featuring girls in hijabs and quick sketches of grandfathers, and they're all a visual treat.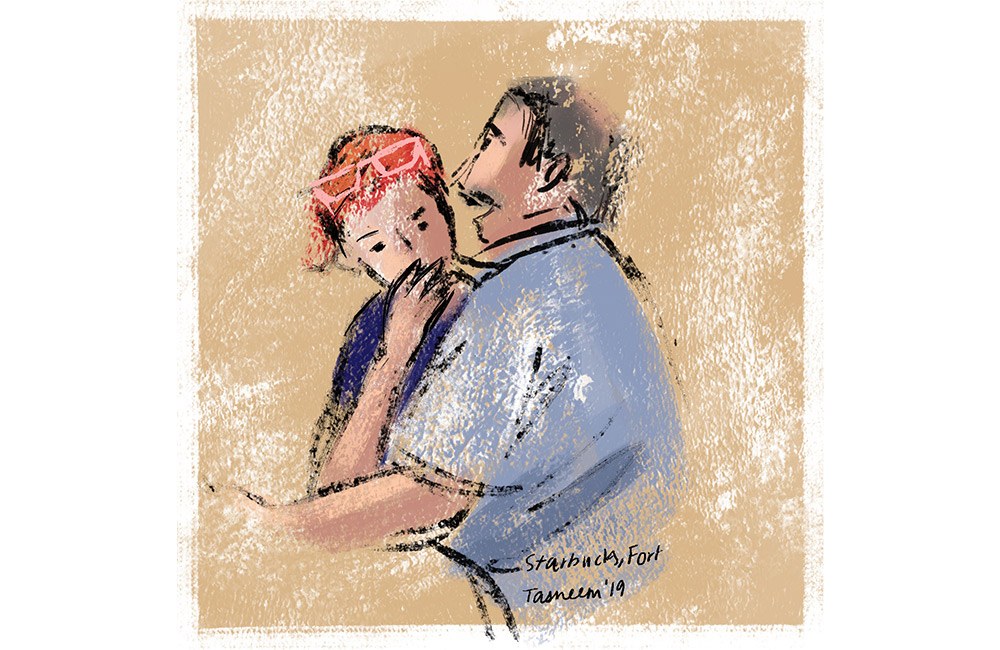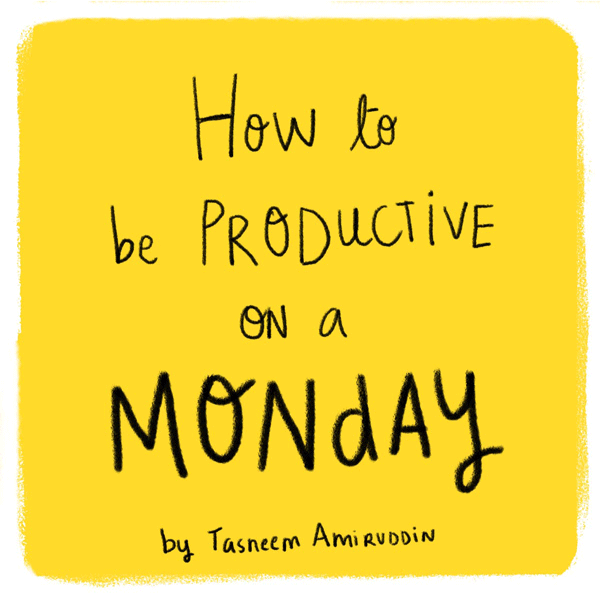 As a freelancer, personal projects and commissioned work often intersects, and balancing the two can be challenging, she says. She tries to squeeze in a fun illustration or two even when she's particularly busy with work. There's also a marked difference in style when it comes to the two — while her picture books have a very kid-centric approach, she likes to explore different styles in her personal illustrations, experimenting with colours and brushes. "I guess from time to time you [have] to do something on your own [which] actually boosts your creativity and that's where you can come with your original ideas," she says.
See more of Tasneem Amiruddin's work on Behance here or on Instagram at @tasneemamiruddin.