Welcome to Eye Candy, where we bring you the story behind a striking piece of art. Each time, you'll get to feast your eyes on the work of one illustrator, graphic designer and/or visual artist, and discover details about their style, ideas and more. Follow along!
Last year, Sanika Phawde injured the nerves in her hand because she was "drawing too much." The injury — which admittedly sounds incredibly hardcore — meant that the 24-year-old illustrator and comic artist had to take a break from making art. When she got back to drawing, everything seemed different. From oil pastels, she switched to water colours and pen and ink, mediums that are easier on the hand. The injury became the catalyst for her current style. "It pushed me to move in this other direction, which is pretty satisfying to me now," she says.

Phawde, who grew up in Mumbai, is currently halfway through a Master's in Illustration programme at the School of Visual Arts, New York. A closer look at her work will reveal that a number of her comics are rooted in reportage. "I go to places, draw on location, and I make books based on those experiences," she explains. For example, for her series Conversations over Food, she would go to different restaurants with people who she associated with those restaurants, draw the meal while they ate and write down everything that was discussed. This connection between food and people is a recurrent theme in her work. "When I first started making comics, I wanted to document how human relationships work — how people become comfortable with each other and form relationships," she says. "But then I realised that a lot of the bonding [happens] over food." Incidentally, her interest in food culture has also been a way to figure out her own complicated relationship with food.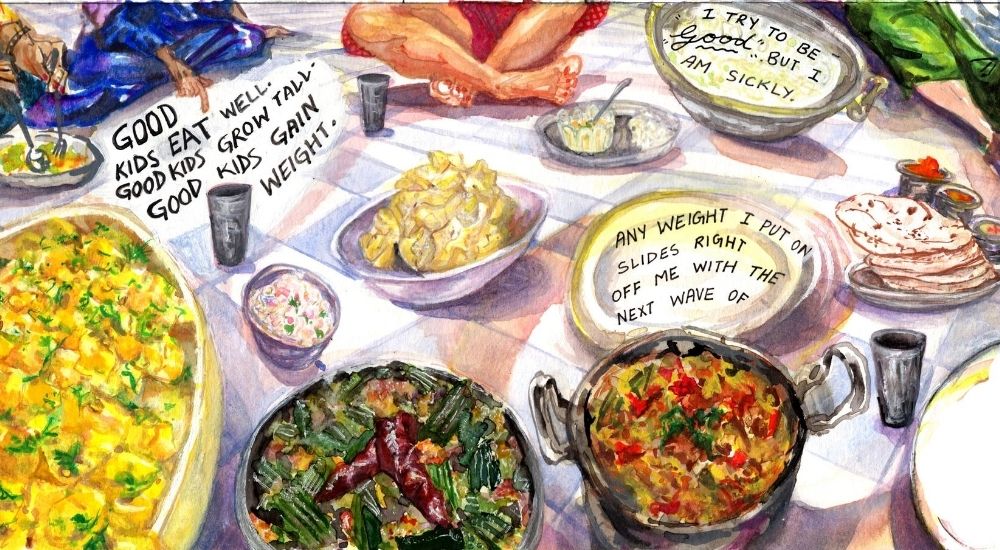 Through the COVID-19 lockdown, Phawde has been working on a book called Sukka Bombil, which is told entirely through her childhood memories of conversations around food. While putting it together, she's attempted to understand her personal relationship with food. "I used to make a lot of unfair associations with food like associating meals with rewards as opposed to sustenance," she explains. After her injury, when she returned home briefly to Mumbai, she also realised that her unhealthy relationship with food was seriously affecting her health. "I'm obsessed with food now," she adds, but Sukka Bombil has been a way to unpack this relationship. With the book, she delves into food culture in India, and how deeply ingrained associations with food are in language. Take, for example, her illustrated series (and an excerpt from Sukka Bombil) of things her grandma used to tell her versus what she actually meant.


While food may be a running theme in her work right now, Phawde doesn't think it will be that way forever. "I get obsessed with a particular theme," she says, "so right now I'm looking at everything through the lens of food." When she moved to New York at 18 and was struggling with her body image, her work (which featured lots of aliens then) delved into this issue and helped her become more accepting of her body. Since then, as she's moved homes in New York and shifted neighbourhoods, she's paid closer attention to immigrants in the city, how different cultures prioritise food, and the role of gentrification.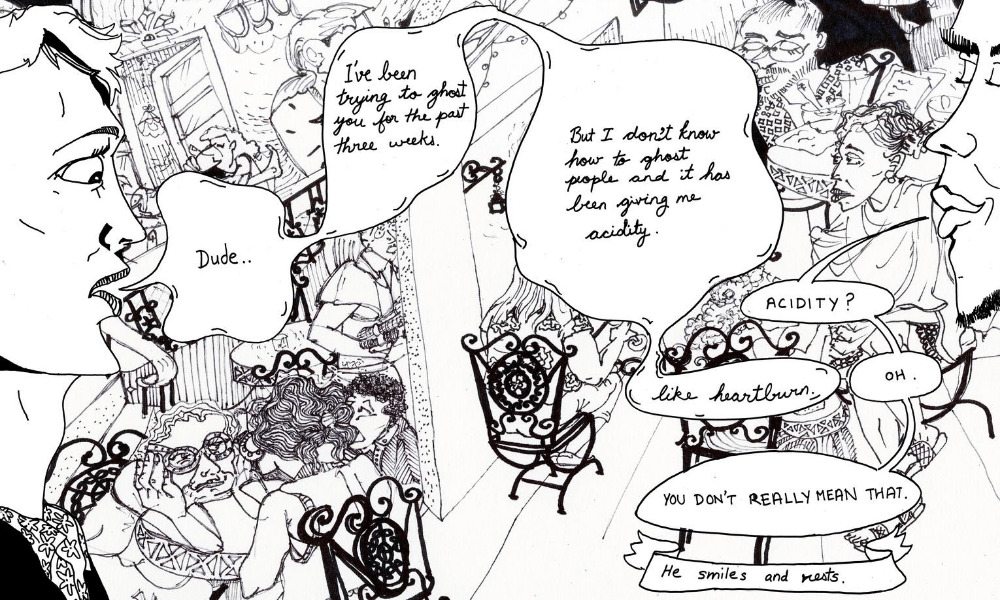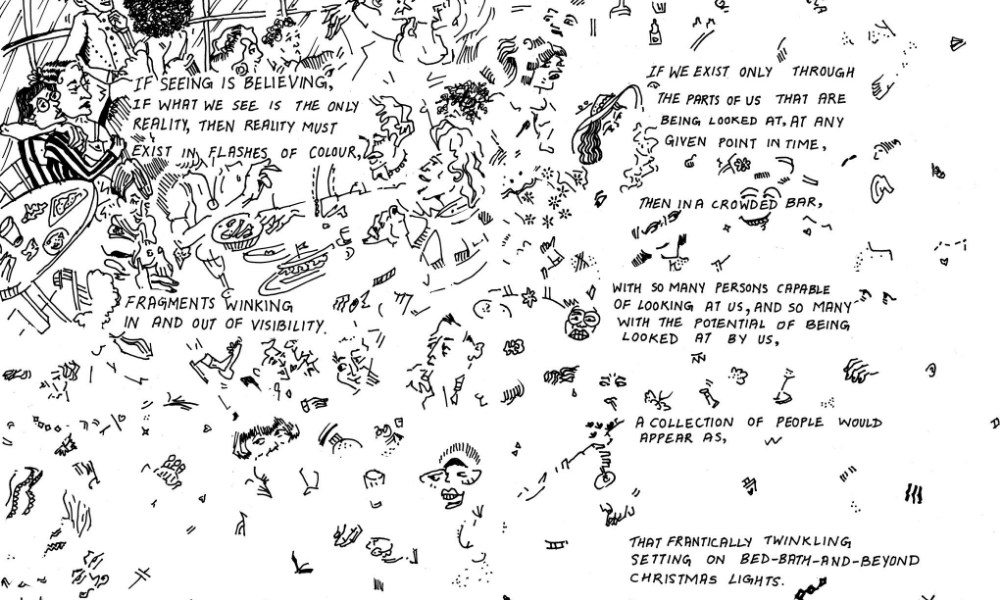 Much of Phawde's work is the stuff of anthropological and cultural theories, but it is primarily autobiographical. "What if I'm the Taylor Swift of comics?" is a concern, she says, she's thought long and hard about, because just like the singer-songwriter does with her music, Phawde draws about her feelings and talks about herself in her comics. "I used to be a massive hater," she laughs. She's done some deep-diving since then and now loves Taylor Swift for her fearlessness and her ability to wear her heart on her sleeve. She doesn't feel guilty or self-conscious about writing and drawing about herself and her life now. "Everybody does have their own little problems and they need to be addressed," she says. "Learning how to not hate Taylor Swift helped me like myself and my own art practice."

Like our conversation, Phawde's work is also candid, evocative and highly relatable. While she's still working on Sukka Bombil, she's been posting snippets from it and other comics on Instagram. At a time when meeting friends might not be possible, we'd recommend a daily look at one of her comics or drawings — it's just as warm and welcoming.

See more of Sanika Phawde's work on her website or on Instagram at @thejackfruitslayer.