On a particularly melancholic afternoon, as I was walking down the sleepy lanes of Southern Avenue in Kolkata (formerly Calcutta), my thoughts closed in on how the old windows in this part of the city — with their stacked, movable, horizontal wooden slats — bicker to survive as ghosts from a bygone era. They are grand yet humble relics of a chapter of its history that the city holds on to. I think of that iconic scene from Satyajit Ray's Charulata where actress Madhabi Mukherjee gazes out of her window to catch a glimpse of the neighbourhood and the world outside.
Adorably and colloquially called khorkhori janala — thanks to the khar-khar sound the shutters make when pried open by a wooden rod — the design of these windows can be traced back to ancient Greece, where marble shutters served to let in air and offer shade, or more recently to medieval England, where louvres constructed over central hearths of buildings allowed for heat to escape and air to circulate.
They found their way to homes and public buildings across Calcutta through the city's European settlers, for whom the wooden slats — which could be tilted at specific angles to control the volume of air, light and rainwater waltzing inside — were a perfect way to manoeuvre the largely humid weather of the city. Bengalis, especially the nouveau riche class, were quick to adopt the louvred windows. Through the shutters, the inhabitants could also observe passers-by and events unfolding on the street, without leaving behind any evidence of their gentle invasions — all while preserving their own privacy.
They were often painted in a distinctive shade of green owing to the low cost of the pigment that the emulsion was based on — a cost-cutting measure by the East India Company. With time, the windows became an indelible element of Kolkata's vernacular architecture and cityscape. While still ubiquitous across the city, these windows are not common in newer constructions, and some khorkhoris now have glass windows behind them that open on the inside — seemingly to combat increasing dust and pollution levels. Upkeep is also challenging — the hardware needed for facilitating the movement of the slats has become increasingly difficult to source over the years.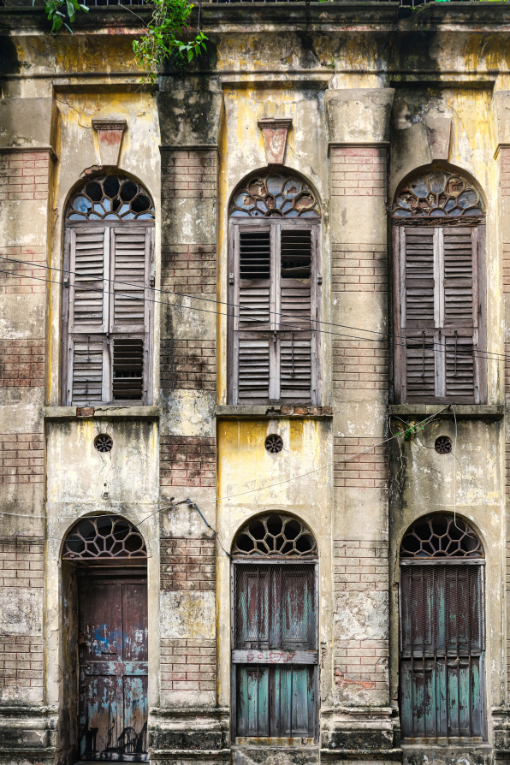 During my school years, when I used to frequent the northern thoroughfares of Vivekananda Road and College Street in local buses, through a part of Kolkata you'd still find steeped in sepia tones, I developed an enduring interest in these khorkhoris. On the rare occasion when I'd find an empty bus seat, I'd keep my eyes open and gaze wide, looking out of one window to spot another — a staple green khorkhori here, then one in an audacious crimson in some adjacent alley. But more than just their visual grammar, it thrilled me to think about the language of their oral memory: the stories of the people whose lives have long been unfolding in the bask of these windows, who have embraced the remnants of a troubled, imperial past with the generosity of making them their own.
While the presence of these louvred windows may fast be eroding from the urban architectural landscape of Kolkata, they continue to fortify my longing for the city in fierce ways, even half a decade after I moved away. It irks me when I hear people talk about Kolkata with a sense of disregard, as though it's a place of could-have-beens, where nothing ever happens, clocks work slowly, and people sleep their days away. To them I'd recommend taking a stroll in a quiet Cal neighbourhood, having a few slow sips of cha, and finding a khorkhori to look out of, to watch life pass you by. I promise you won't be too far from stumbling upon joy.
Our selection of stays across India, best visited for their design and style. Check in
Ashish Sharma is a writer from Kolkata who's been moving cities every two years. He is on Instagram at @
sheesh.sharma
.
Arnab Bhaumik is a photographer based in Kolkata. He is on Instagram at @bhaumikab.