Back in college, I often spent my Sundays exploring old neighbourhoods of North Kolkata. Born and brought up in a swanky South Kolkata neighbourhood, I was fascinated by these time-worn quarters — the narrow lanes and tapering alleyways, flanked by old houses with louvered windows and stained-glass lunettes; pillared doorways and long hanging balconies with ornate balustrades; and finally the red-oxide rowaks. The rowak— a recurrent architectural feature in old neighbourhoods across the city — is an elevated platform that runs along housefronts, sometimes interrupted by doorways. At times, in the quiet of the afternoon, I would sit on a rowak for a while, listening to the sounds emerging from the house I had intruded into but not entered — the drone of a ceiling fan, the creak of a rickety bed, a stray cough…
The rowak, often pronounced as 'rock', has its roots in Bengal's rural vernacular architecture. According to historian Dipesh Chakrabarty, it is likely to have been a structural remnant of the daoas or wraparound verandas seen in traditional mud huts in rural Bengal. A similar element also features in Bengal's temple architecture. Yet, the rowak is steadfastly urban, intrinsic to Kolkata's evolution as a modern city.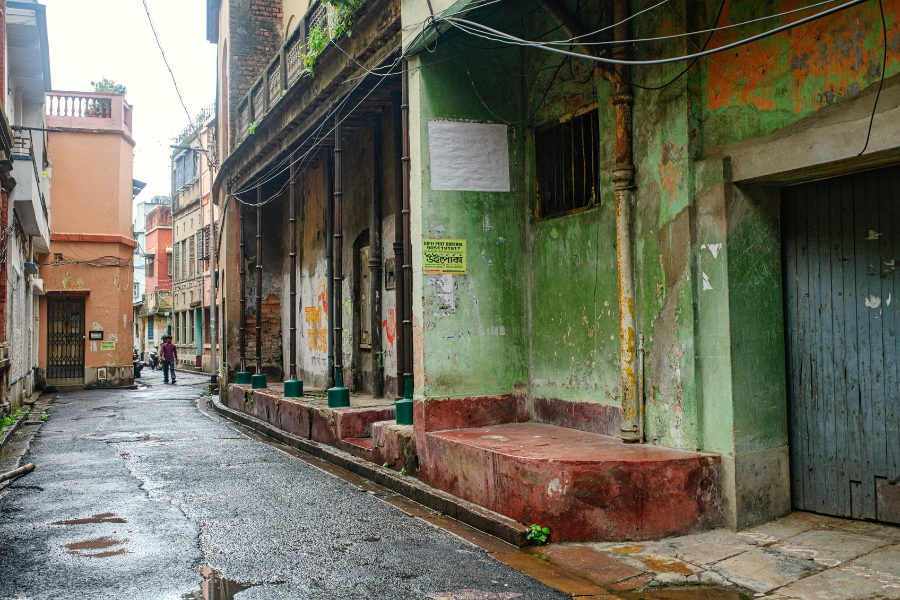 A rowak serves many purposes. On sultry summer afternoons, it's a place of repose for neighbourhood rickshaw wallahs or exhausted passers-by. At night, it morphs into a bunk for homeless migrants and addled drunks alike. It comes especially handy during the long nights of pandal-hopping come Durga Puja. I, for one, have nursed many a blister sitting on the rowaks of strangers' homes. Young romances are known to have bloomed and withered on them. More recently, the rowaks of North Kolkata have been top picks for pre-wedding shoots too. But most importantly, the rowak is a textured communal space closely linked to the city's socio-cultural ethos, prized para (neighbourhood) culture and favourite pastime — the adda.
Addas — leisurely, free-flowing and often animated discussions on diverse subjects — are often tied to the physical spaces where they take place. There's the intimate adda of a private baithakkhana or sitting room, the more cerebral coffee house'er adda, the informal chai'er dokan'er (tea shop) adda, and then there's the rock'er adda: a rite of passage for generations of men who grew up in the city.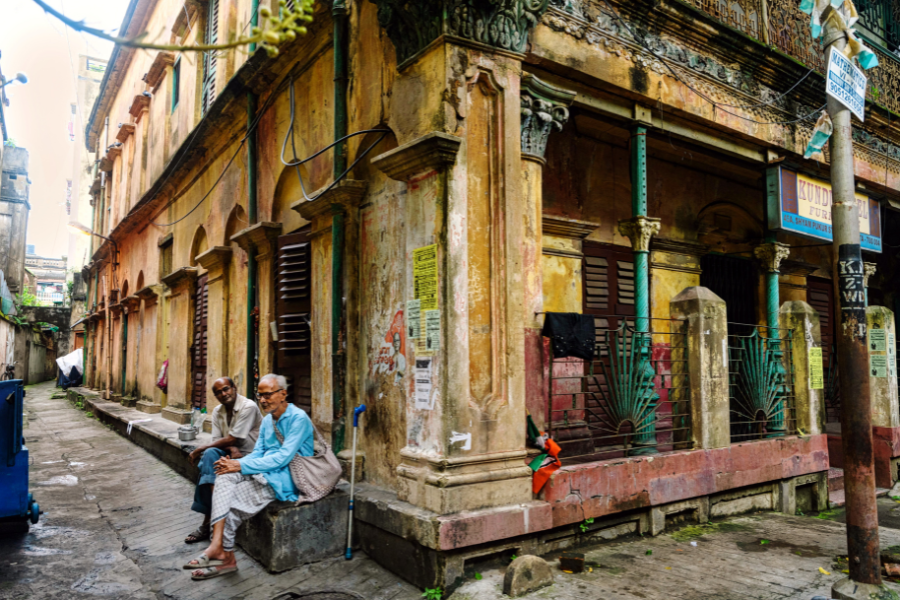 Stripped of intellectual undertones, rock'er addas are often dismissed as ramblings of puerile minds — powered by endless cups of tea and cheap cigarettes — that could quickly degenerate into noisy squabbles and fights. Even if the elderly too have often congregated on their preferred rowak in the evenings, young boys would be admonished for hanging out on a rowak with their peers (an activity tagged as rockbaaji) — "Porashona chhere ekhon rockbaaji hochhe?" (Have you given up studies and resorted to rockbaaji?) The rowak is the touchstone of boyish profligacy and the idle indulgence of unemployed youth — a stridently gendered space outside the ambit of female propriety. Rock'er adda doesn't quite fit into middle-class Bengal's bhadralok culture narratives, and yet it is a veritable icon of Bengali-ness.
That's the thing about the rowak — it is a strangely amorphous space, permeated by dualities. It's neither part of a home's private quarters nor an offshoot of the streets, neither resolutely domestic nor unreservedly public. It is an extension of hospitality that could be revoked or violated by either party at any point.
And yet it is a fantastic architectural representation of the city's communal spirit — a cultural palimpsest layered with memories and steeped in nostalgia. Nowadays, an adda is a rare luxury. Besides, as more and more of these old houses are razed to the ground to make way for modern apartments, the rowaks are disappearing too — and with them the sepia-tinted memories, like tendrils of smoke in an eddy of dust.
Our selection of stays across India, best visited for their design and style. Check in
Priyadarshini Chatterjee is an internationally published food and culture writer. Her work has appeared in Scroll.in, Mint Lounge, Whetstone Magazine, Condé Nast Traveller India, Lonely Planet India and other print and digital publications. She is on Instagram at @cpriyadarshini.
Arnab Bhaumik is a photographer based in Kolkata. He is on Instagram at @bhaumikab.