It would be fair to say that for those of us who are used to serially capturing moments of our life on the 'gram, life without GIFs would be hard. In GIFs we've found an ally making our documenting rituals more effortless and cool. For instance, to really sell how lip-smackingly good your dinner was last night? Or how thrilling it was to meet your childhood friend after all these years? Or the melancholy of a rainy Sunday evening? Pin a GIF sticker (or three) to the story!
Powered by Giphy, the New York-based company that's regarded as the world's largest library of animated GIFs and stickers, these Instagram stickers add a dash of emotion that can be otherwise hard to convey. The graphics cover a phenomenal range, from puns to pop stars — but we're particularly struck by the illustrated ones.
Making these GIF stickers available on Instagram is a fairly straighforward process. Before the stickers become available on Instagram, they need to be uploaded for approval on Giphy, where you need an artist channel or a brand channel. Much like physical stickers, the GIF stickers are cut-outs of sorts, without a white or coloured background. They have to be exported with transparency, and have to follow Giphy's guidelines. The platform also lets you tag your sticker with keywords — it's these that encourage discovery by Instagrammers. For instance, keying in words like 'cats' or 'coffee', artists like 'adamjk' and 'shamika', and characters and comics like 'ketnipz' and 'goodbadcomics' on Instagram's GIF search pulls up related stickers.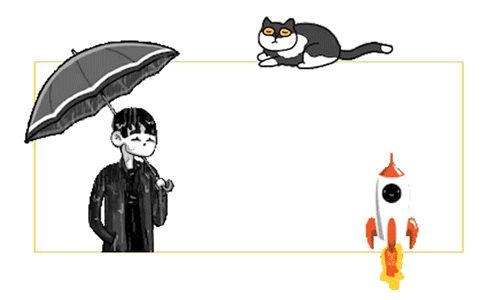 GIF stickers are a fascinating form of visual communication, enhancing the modern ritual of putting up a story. After doing some digging — which involved significant sifting through Giphy's artist pages and hours of Instagram stalking — we found a handful of Indian illustrators who have designed stickers that are now up on both Giphy and Instagram. Mumbai-based Studio Kohl has stickers featuring a tiny blue dinosaur blowing bubbles and a rocket taking off. Many of their uploads are repurposed old illustrations from founder Mira Malhotra's college days. Malhotra was drawn to this form because she was fascinated by how stickers have the ability to punctuate conversation, "basically being able to customise your experience or make your messaging a little [more fun], a little happier, a little cooler."
In this world of designing GIF stickers, the goal is to make ones that are highly relatable and contextual. Aditi Mali, creator of @goodbadcomics, designed her GIF stickers around Adi, her hilariously relatable comic character. To shortlist the GIFs she would make, she made a list of emotions and tried to create something for each of them, she tells us. Shamika Chaves, of @shamikasdoodles, also animated some of her existing comic characters to make these stickers. "I wanted to make GIFs that would best represent me as an artist and at the same time be relatable for people so they would choose them in their stories. So I picked five of my existing illustrations that would also look best as GIFs," she says. Malhotra agrees with this approach: "When it comes to GIFs like this, I look at what the user would want or how they are using the app, what kind of stories they would be telling and then create a sticker that works for their purpose."
One of the benefits of GIF stickers is their use in creating a brand identity. A few of the stickers that Studio Kohl put out were a part of brand promotions for indie singer-songwriter Tejas Menon's 2017 album Make It Happen. (The studio designed the cover and moving motifs for the album.) These stickers really helped publicise his crowdfunded album, according to Malhotra. A lot of brands and companies are also tapping into this social media phenomenon now, creating engaging illustrations rather than just animated logos, like NH7's stickers for last year's Weekender (which have since been taken down). International brands like Adobe, Starbucks and Netflix have capitalised on this social currency as well. For individual artists as well, stickers can help build an identity. As Chavez puts it, "I love the idea of using my own GIFs in my stories because that helps to create brand awareness and visually helps people to relate to my work even more."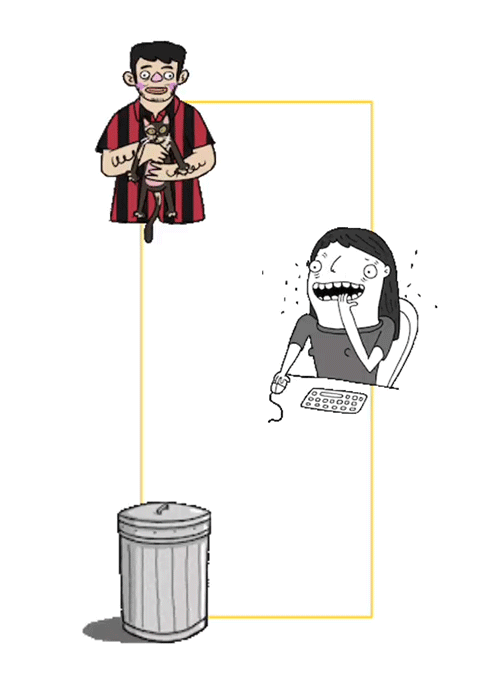 A downside to this fun creative pursuit is that — at this point in time — it is not really lucrative. Artists don't get paid for these stickers, which can be seen "as a way of getting free artwork," says Malhotra. Another is the fact that artists have no way of tracking who is using their stickers, unless they personally follow the person using them or are tagged by them. (The only data available to designers is the number of views on their Giphy dashboard.) A high point for the 22-year-old Indian graphic designer behind @sandserifcomics, a popular Instagram account, was when Halsey — the American pop singer who featured on Closer, the inescapable earworm by The Chainsmokers from 2016 — used one of his stickers in her Instagram story, he tells us.
For Chaves, the mystery around GIF artists is a good thing. "It means that the person who chose my GIF and did not tag me picked it [because] they either liked them or thought they went well with their story as compared to someone who picked my GIFs and tagged me probably because I made them," she says.
There is also a lot of freedom when it comes to making and using GIF stickers. Since these aren't commissioned, artists are free to do what they like (as long as it fits in with Giphy's guidelines) and experiment with their illustration style. In the future, expect a steady stream of stickers from Mali, Chavez and @sandserifcomics, who plans to make more fan-suggested ones. Malhotra says that she'd prefer creating these for a specific brand or campaign, like when she works on stickers for Snapchat.
While we wish there was an easier way to find out who made some of our favourite GIF stickers, we'll be here, pinning stickers — like this neon skeleton knocking back champagne — that articulate our glee and gratitude for the gamut of expressions we have today.
Pro tip: Track down the artist behind your favourite GIF sticker by typing the search keyword that you use on Instagram on the Giphy website where you'll find the artist or brand that uploaded the sticker.