Is there anything more satisfying than waking up in the morning and staring at a clip of your friend playing "Flappy Bord" on their Instagram story from the night before? Face filters truly took over our phone screens when the "what ___ am I" ones appeared at the beginning of the year. These basically include a pop-up above your head that randomly assigns you a pop culture character, a 2020 Vibe Check, or stats on how many people hate you.
These face filters are augmented reality (AR) effects that allow creators to make custom filters for the face, and for users to share them. A trend that started with Snapchat was soon replicated by Facebook and Instagram (in Facebook's bid to quash competitors). What makes Instagram and Facebook's filters stand out is the platform they are made on — SparkAR, which is free for anyone to download and then use to create and publish a filter. This sort of democracy is also what makes the two social media apps more appealing to users and creators alike, in comparison with other platforms. Initially only available for beta testers, SparkAR launched for all last August. Anyone can make face filters, and after a review (to check that they meet community guidelines), which takes around 10 days, they are published. Since its launch, there have been countless creative filters, ranging from horrific to goofy to adorable. The burst of talent and excessive interest shown by bored-turned-enthusiastic Instagram surfers has encouraged everything from tutorials to heartfelt odes.
View this post on Instagram
Another reason for the popularity of filters on Instagram is perhaps the way interaction with them has been designed — you can't just search for a particular filter. On the mobile app, instagrammers can either go to a creator's account to find their filters (which can be hard if you're not in the know of amateur AR creators on the app) or swipe to 'Browse Effects' on the camera to scroll through a bunch of random filters. Browsing also lets you look under broad categories like "horror" and "events", where you might chance upon a few curated favourites but not everything ever made on the platform. This whole process can be mind-numbingly tiring if you aren't locked in a room with no other form of entertainment. The only way to easily find a filter is to follow a creator (their new filters will automatically show up in your Effects tray in the camera window) or see a friend using it in their story, tap on it, and use it yourself or bookmark it for later. This whole process works like a chain reaction, making a mildly entertaining filter reach millions of people overnight. Factor in Instagram's accessibility, not limited to a young urban population any more, and the reach of a filter has tremendous power.
This has not gone unnoticed by big brands and celebrities. Even before it was made open to all, popular brands were using filters to market their products. Closer home, Bombay's biggest brand has taken notice — T-Series Films' Instagram page lists a handful of filters themed around their latest movies, like Malang and Tanhaji.
However, face filters aren't just useful as a marketing tool. New Delhi-based new media artist Akshat Nauriyal, who was one of the beta testers for SparkAR, has made four filters now — all using satire to respond to ongoing political crises. Being opposed to the nation's ruling party, his first filter, made before the general elections in April last year, is the face of India's current prime minister. Every time you open your mouth, the word "LIE" pops up in a grid all around you. More recently, following the crackdown on Kashmir in August 2019, he released the #withkashmir filter, and then the Reject CAA/NRC/NPR filter in December. The Reject filter, he says, has reached 1,50,000 people according to SparkAR insights. "This is the power of the medium. To try and reach 1,50,000 people in reality is almost next to impossible for an individual like myself." His motivation for using the platform to make political filters was to subvert the paradigm and encourage solidarity. "These technologies exist in a way where it's all about these feel-good sort of filters which make you look better, or which you can take a selfie with. I wanted to look at the platform and disrupt the way people are using it, and see if one can instigate and mobilise people using it." For him, one needn't necessarily use his filter — even seeing it on someone else's story is enough to start a dialogue or encourage a person to inform themselves better.
View this post on Instagram
Video producer and creative technologist Abhinay Khoparzi, who co-founded Algorave India, a collective that deals with live-coding, has been working in the AR space for a few years now. While he has implemented AR technology on other platforms like openFrameworks, he was only recently attracted to the Instagram format. On January 14, 2020, BJP workers in Bengaluru used saffron paint to censor street art made by students of the Srishti Institute of Art, Design and Technology, outside the school. This, and the moral policing the girls of the college were subjected to, spurred Khoparzi to publish a filter with tricolour strokes onto which appear statements like "Graffiti Wahi Banayenge" and "Skirts Pehen Ke Jayenge" — a satirical take on the infamous RSS call during the longstanding Ayodhya dispute. Face filters offered a chance to protest in an arguably more guarded way. These strokes obliterate the users eyes, which as Khoparzi puts it "sort of hides your identity." This was important since there is now a fear around protesting in the virtual space as well, with increasing concerns of how easily data privacy and facial recognition can go sideways. "A whole bunch of people sent me pictures of them using the filter, but not as many actually put it up [on their stories]," says Khoparzi. While people might be hesitant to use these filters, they are still looking at them, and that, as Nauriyal also emphasised, makes a huge impact.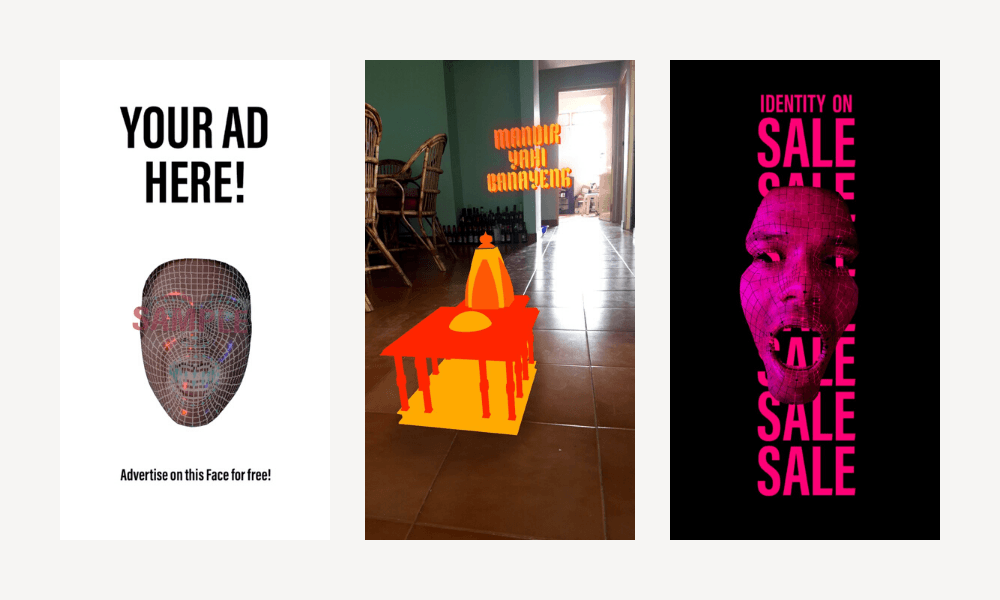 Similarly, recent National Institute of Design graduate, Yatharth, who studied exhibition design but is inclined towards research and creative technologies, has been working with artificial intelligence in his creative practice. "I'm interested in exploring new media and critically analysing their impact on society, specifically their accessibility — how do you make technology accessible to everyone?" In early September, amid the growing unrest in the country and prior to the Supreme Court verdict on the Ayodhya dispute, he published a filter — a saffron banner saying "Mandir Yahi Banayenge" — that let you place a mandir on what you were photographing. He has since taken down the filter. He has worked on others too — one is up, others are in review. "With these, I'm trying to explore the idea of facial recognition and how companies like Facebook are, ironically, exploiting it. They are a critique of the platform itself." Perhaps this is why they don't seem to be meeting the platform's community guidelines. In the past, he's also received requests to create filters for weddings and other events.
The trajectory of face filters, especially on Instagram, serves as a reflection of our lives on social media in a way — from meme-worthy expressions and smoother skin to a platform for dissent and disruption, there's space for all. Whether they will rise to the occasion to become community-building tools that empower independent artists and encourage free speech, or slowly fade into oblivion after being used for kitschy marketing campaigns remains to be seen. Meanwhile, we can continue tapping through the stories, and use a filter or two, while they're still fresh.