Over the years, there's been a steady incline in the number of independent singer-songwriters, musicians and bands in India. From living-room gigs to the festival circuit, this indie scene has grown with the sharing of posters among friends and fans. But these vibrant posters, often created for the sole purpose of a standalone gig, tend to have a short shelf life. As the gig wraps up, the posters fade away too, relegated to a life in the artist's portfolio. Mohini Mukherjee, a Mumbai-based illustrator and graphic designer, saw the need to collate and preserve these artworks. While she now works independently, Mukherjee first noticed the extent of the art produced for these posters while at Kulture Shop, where, she tells us, she curated over 100 graphic designers and artists for the brand's studio. In March 2019, she established the Indian Gig Poster Archive, a website that's exactly what it says on the tin.
"I saw that a lot of the work was being produced for music [and it was] often some of the artist's best work, but apart from being used to promote gigs, there wasn't a permanent record of them anywhere," she says. Currently, the archive comprises about 400 posters, made for performers like pop duo Parekh & Singh, the dynamic Ladies Compartment, singer-guitarist Tejas Menon and the metal band Djinn and Miskatonic. The posters span 2000 to today, but Mukherjee has been slowly working to grow the collection. She's now on the lookout for posters from the 1960s and '70s, prominent decades for the music scene in India.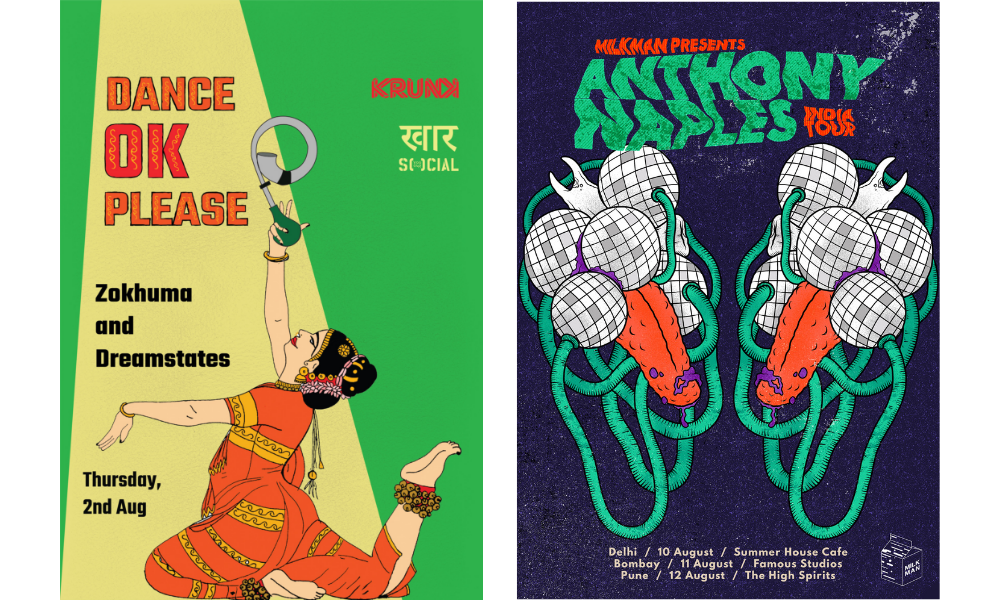 One of Mukherjee's reasons for founding the archive was the relevance of posters in graphic design. "When you start learning graphic design, [posters] are the first thing that you learn — it teaches you composition, typography, layout, it's the building block of communication," she explains, "but they're kind of dying out. We rarely get to design them anymore. Even with these gig posters, very rarely are they printed posters. Most of the time, it's just a promotional piece of artwork. They're not merchandise anymore. It's worth it to archive something like that."
These posters are generally commissioned by a variety of sources — the indie artists themselves, record labels, or even gig venues. While it is a collaborative process between designers and musicians, these posters are a chance for illustrators to showcase their style.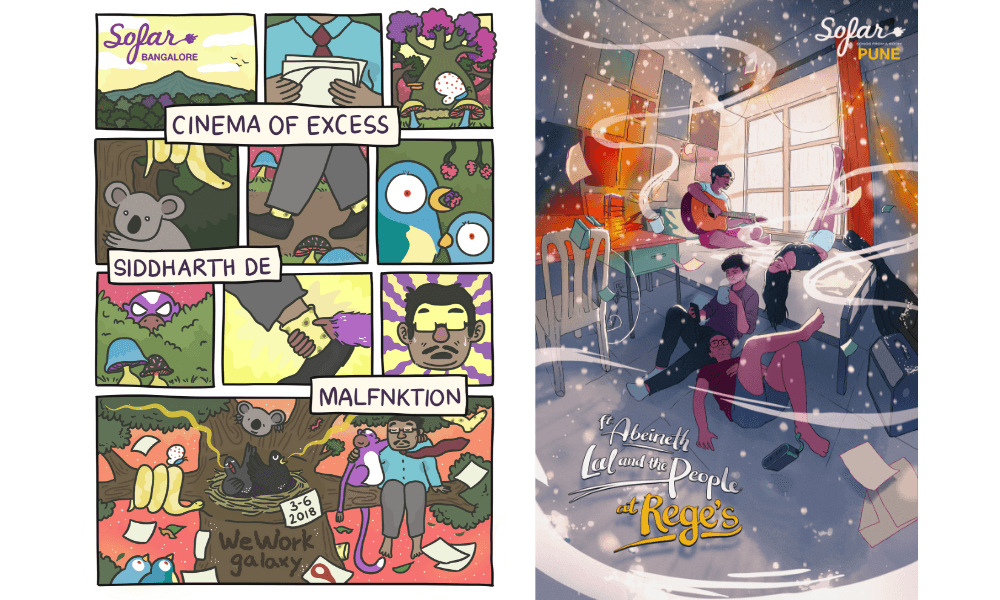 To put together this archive, Mukherjee first reached out to the illustrators and designers she knew had a body of work. The response was great — they were eager to share their work and also introduced her to others. Many also reached out and volunteered to help with the platform. "You need all the posters together in one place to see the sheer body of talent and hard work that's going into this," she points out.
The collection is broad and diverse — there are watercolours and digital illustrations, some colourful, some black and white, some dreamy, some gothic. These include designs by artists like Raya Sarkar, Sachin Bhatt, Annada Menon, Anoop Bhatt and Ayesha Kapadia, among others.
The archive is constantly being updated — while Mukherjee always has an eye out, posters also come in through the site's Submit tab. It's hard, she says, to do it all alone, considering this doesn't pay the bills, and yet, she appears determined to keep it going. As cultural artifacts, these posters are a storehouse of information — about our times, its art, nightlife, design trends and tools. And it's great that there's now a home for them.
Sabah Virani is a writer, trying to make it big in life, but really just drowning in books. She is an editorial intern with Paper Planes.