Few things beat the joy of discovery that unfolds when I wander around streets and neighbourhoods on foot. This search for the unknown often leads me to the villages that silently persevere, concealed behind the high-rises that line Bandra, a popular suburb of Mumbai. In these narrow streets, I've come face to face with cottages snuggled against each other, and struck up conversations with them — noticing architectural details up close, soaking in the sound of music wafting out of open windows, and inhaling the aroma of East Indian flavours that floods the air.
Bandra was once a cluster of villages, or pakhadis, spread across paddy fields, vegetable patches, coconut groves, salt pans and an expansive coastline. Over centuries, occupation by the Portuguese, the Marathas and the British, and the passage of time, has transformed the built and unbuilt landscape of the suburb, bringing in churches, schools, and new housing typologies. The arrival of the Portuguese and the Jesuit priests in the 16th century led to the spread of Christianity in Bandra. Several natives converted to the Roman Catholic faith and over time established their identity as Bombay East Indian Catholics to distinguish themselves from Catholics belonging to other parts of the country.
Today, farmlands and pakhadis have given way to planned neighbourhoods, and narrow, meandering pedestrian lanes have transformed into crisscrossing grids of busy streets — but some parts of Bandra have stood the test of time. In the villages that remain, such as Ranwar, Pali, Malla, and Chuim (in Khar), some unique markers of history endure — in the form of roadside crosses, grottos and oratories. Often located at the convergence of pathways, they also serve as points for gatherings and sacred sites for the community. For a wayfarer like me, they play an important role as sentinels that aid navigation in unknown territory.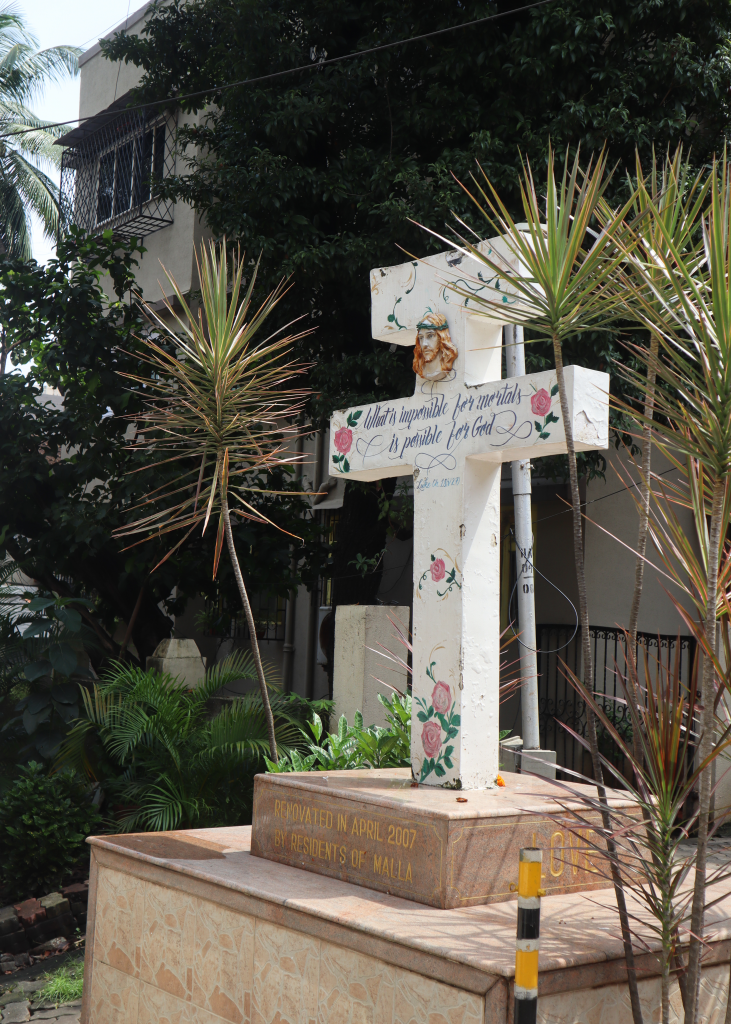 Each cross lends itself to a local story. Some were erected to mark village boundaries, or placed along the coast or at less frequented roads and junctions of three roads in order to — as was often believed — ensure safety from wandering spirits. Crosses were erected to commemorate events or even people. For instance, the resting points where pall bearers halted while carrying the bier of an eminent person in a funeral procession became sites for erecting a cross. Burial and cremation grounds were once protected by crosses, as were wells and tanks with the cross engraved on their walls. Some crosses were named after the cottage they abutted or the person who funded the construction.
The most significant crosses, however, are those built during the worst period that Bandra experienced in recent history. Between 1896 and 1906, Bandra — along with other parts of the city — was hit by the bubonic plague, leaving behind a trail of death and devastation. In an attempt to ward off the disease and to commemorate its victims, over 150 crosses were constructed in Bandra. One such prominent cross can be seen on the Pali Mala Road.
Walking around these villages, I've also encountered grottos — small, rock-hewn caverns with a figurine of Mother Mary nestled inside. These grottos are situated in nooks, often in small patches of green. It is believed that these places of worship emerged around the world after the Marian sighting, in a cave-like space in natural surroundings, by a shepherd girl named Bernadette at Lourdes, France in 1858.
Another form of spiritual space in the neighbourhood is the oratory. This chapel-like space functions as a place of worship for the inhabitants of the village on several occasions. Besides, it also serves as a local landmark, like the picturesque oratory in Ranwar Village.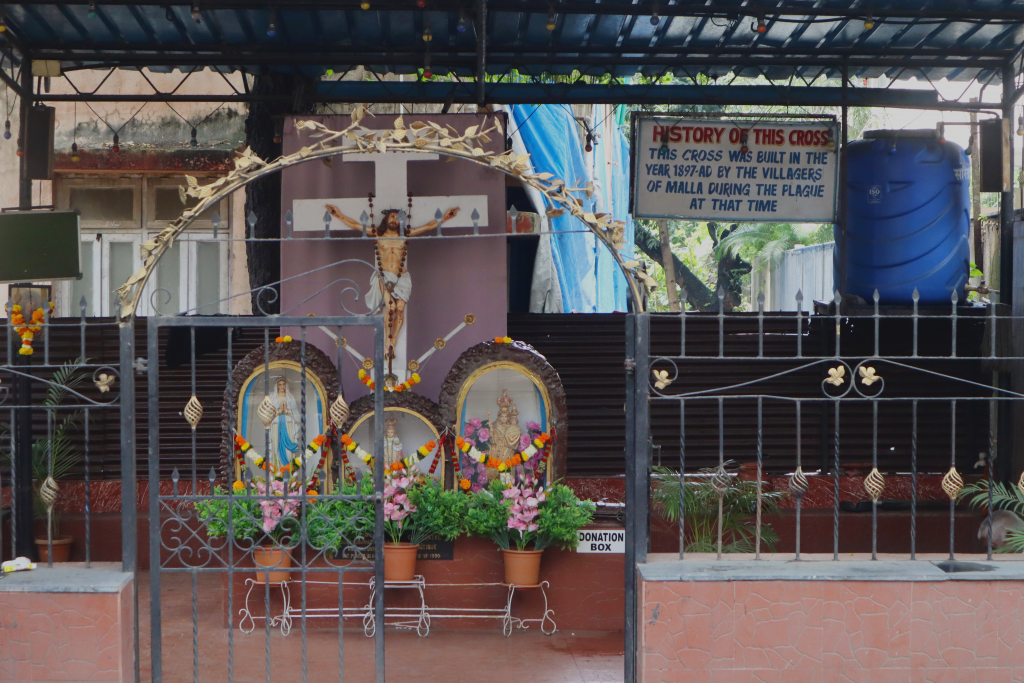 At various events through the year, the community gathers at these intimate pause points — around crosses, grottos and oratories — to pray and to mingle. Candles are lit and garlands of fragrant jasmine or brightly coloured marigold are offered. In May, a month devoted to the Blessed Virgin Mary in the Roman Catholic church, it is a serene sight to witness groups of local residents reciting the rosary post sundown whilst catching some summer breeze.
To the locals, these cultural markers keep alive the sense of spirituality, identity and social cohesiveness within the community. To passers-by, they help find legibility in a tangled lace of village streets. And to explorers of the city, they provide hope — that despite the rapidly changing urban form of Bandra, the heartbeat of its rich cultural and architectural heritage remains alive in these tiny microcosms of sacred space.
There are many journeys that I've gone on along the circuitous routes of the villages of Bandra. A chance encounter with a roadside cross, a rocky grotto or a charming oratory could well be a portal taking us back in time.
Our selection of stays across India, best visited for their design and style. Check in
Minaz Ansari is an architect, urban designer, academic and explorer. She designs, mentors, researches, writes and looks at her various interests as a means to create a kinder world. She is on Instagram at @minazansari.