Treasures do not always come with a map, especially in Mumbai. Like many who call this city home, I am continually allured by its history. I've stumbled upon structures hidden in plain sight with deeply fascinating stories. Many of these discoveries are thanks to my job as an engineer with the Brihanmumbai Electric Supply and Transport (BEST) Undertaking, where I get to learn of lesser-known heritage sites in and around Mumbai.
One such spot that I'd overheard colleagues talking about was an old, forgotten fountain near one of our offices in Tardeo, at Rusi Mehta Chowk, inside the Solanki Garden — or as it's officially named, the Late Jaysingh Bhai Solanki Udyan. My interest piqued, I went to look for it one weekend and was delighted to find the fountain — it's easily overlooked, not functional, but stands tall amid dense foliage.
Fountains in the city can be traced to the era of Sir Bartle Frere, the Governor of Bombay between 1862 and 1867. Frere was a crucial force to the city planning of Bombay — he not only reorganised the Esplanade area and brought down the old fort walls, but also prioritised beautification in the expanding city. This included the erection of stone fountains in ornate styles prevalent during the time, like Gothic Revival and Indo-Saracenic architecture. For these, apart from the stone available in local quarries at Malad and Kurla, stone was also imported from Porbandar in Gujarat, and at times — like at Flora Fountain in Kala Ghoda, which was built in honour of Frere — Portland stone was imported from England.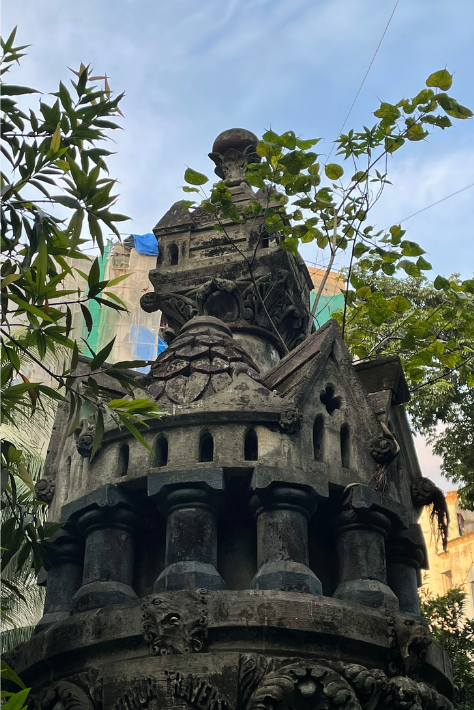 As emblematic as fountains may be in the neighbourhoods and crossroads they inhabit, over the course of history, several have been lost — either shifted from their original location, or demolished. For example, out of the 40 fountains that Parsi industrialist Cowasji Jehangir Readymoney — who invested in several structures across the city (including Crawford Market) — ordered from England for Bombay, only a handful can be located today.
Fortunately, the fountain I'm in front of isn't lost — but its history isn't well documented either. One detail that is particularly noteworthy is, as historian Christopher London suggests in his book Bombay Gothic, that this fountain could in fact be the rejected version of the one at Crawford Market.
I notice that the central shaft of the fountain bears the name of Arthur Travers Crawford, the city's first Municipal Commissioner, in decorative carving, along with the monograms 'JLK' and 'WE', which London points out in his book too. I wonder if that means that this fountain — like the Crawford Market building — was designed by British architect William Emerson, with decorative work supervised by artist John Lockwood Kipling (also the father of novelist Rudyard Kipling). William Emerson, known for designing Kolkata's stately Victoria Memorial, was a student of William Burges, a very prominent Gothic Revival architect in England. The design of this fountain at Solanki Garden echoes Burges' proposed design for a fountain in Gloucester. While that one was never built, I notice similar strong, expressive elements of Gothic Revival architecture in this fountain in Tardeo.
If you were to imagine the Crawford Market fountain side by side with this one, you'd be able to spot the differences. Emerson's 1874 drawing for the Crawford Market fountain has a bird standing on a ball at the top — this part of the fountain that stands in the market today was reportedly damaged in 1985. Peering closely at the pillar fountain in Solanki Garden, I see a similar ball atop it too. Its crown is made of Porbandar stone. At some point, there must have been some attempt to fill the floor basin that it stands in with water, because I notice a piped supply to it.
During my visit, I ask the garden's caretaker about the fountain's origins — he says that this fountain used to previously be in an open, unguarded space but has been part of the garden ever since it was developed in 2001. Today, the fountain is a proposed Grade I heritage structure and the Mumbai Metropolitan Region Heritage Conservation Society hopes to restore it as a historical fountain.
As I stand and marvel at this gem leaping off the pages of history books, there's a sense of joy and thrill that rushes through my body. It is always fun to look at something nearly obscured in anonymity and realise its enduring value, especially in a city that's been picked apart and so heavily documented.
Our selection of stays across India, best visited for their design and style. Check in