Mumbai, the city of our birth, thrums in our blood. For brief escapes from the chaos and colour of our unquiet metropolis, we retreat to our happy place: St Thomas Cathedral, located in the commercial heart of the city. Walking from Horniman Circle, we look up at the tower standing tall amid a cluster of buildings. With its rose windows and decorative mouldings, it seems to brush the heavens as though in prayer. We step into the cathedral's compound, past the tree-shaded gardens and the pitched timber porch, and duck into the all-white interior.
The cathedral, in the historic Fort precinct of Mumbai, is often deserted, with just a devotee or two sitting deep in prayer, locked in the embrace of time — much like the structure itself. We walk down the vast nave that gives the church its aura of airiness and are instantly enveloped by its sense of grandeur.
St Thomas was the first Anglican church built in the city — then Bombay — a little over 300 years ago. Its foundation stone was laid in 1676. While work proceeded for three years, it was halted after the death of the second Governor of Bombay, Gerald Aungier, and another foundation stone was laid 40 years later. This was thanks to Richard Cobbe, a chaplain of the East India Company, who in 1715 delivered a powerful sermon in favour of its completion.
Today, what sets St Thomas Cathedral apart from other churches in Mumbai are its walls, virtually smothered with sculptures and memorials — around 150 of them — which silently but evocatively tell the stories of soldiers felled by war, of Britishers who died of disease, and also pay tribute to those who settled here between the 18th and 19th centuries.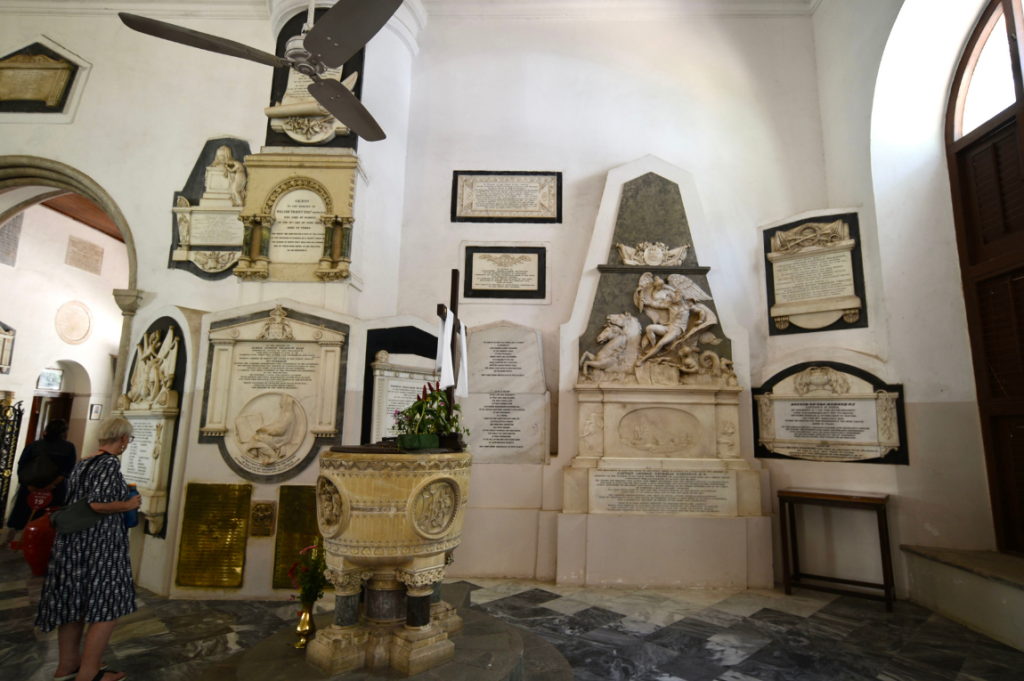 For instance, two figures depicting death and hope stand on either side of an urn, atop a pedestal, paying tribute to Lt Col John Campbell who, in 1784 at the age of 33, died defending Mangalore for the British during an eight-month siege against the combined armies of Mysore and France. And at the memorial to Jonathan Duncan, Governor of Bombay between 1795 and 1811, we see the sculpted image of a Brahmin priest paying his respects — a nod perhaps to the fact that Duncan set up the Sanskrit College in Benares (now Varanasi), where he also introduced reforms against female infanticide.
Built to serve a congregation of a thousand churchgoers, the pew-lined aisle leads to the main altar cradled beneath a series of tall stained-glass lancet windows through which amber sunlight streams in. The stained glass, a typical feature of the Gothic style, was designed by Henry Holiday and Charles Kempe.
The church saw its first service held on Christmas Day in 1718 with appropriate pomp and pageantry, and was consecrated as a cathedral in 1837. Two years later, the clock tower was raised to a height of 146 feet, and in 1865, flying buttresses were added to support the chancel wall.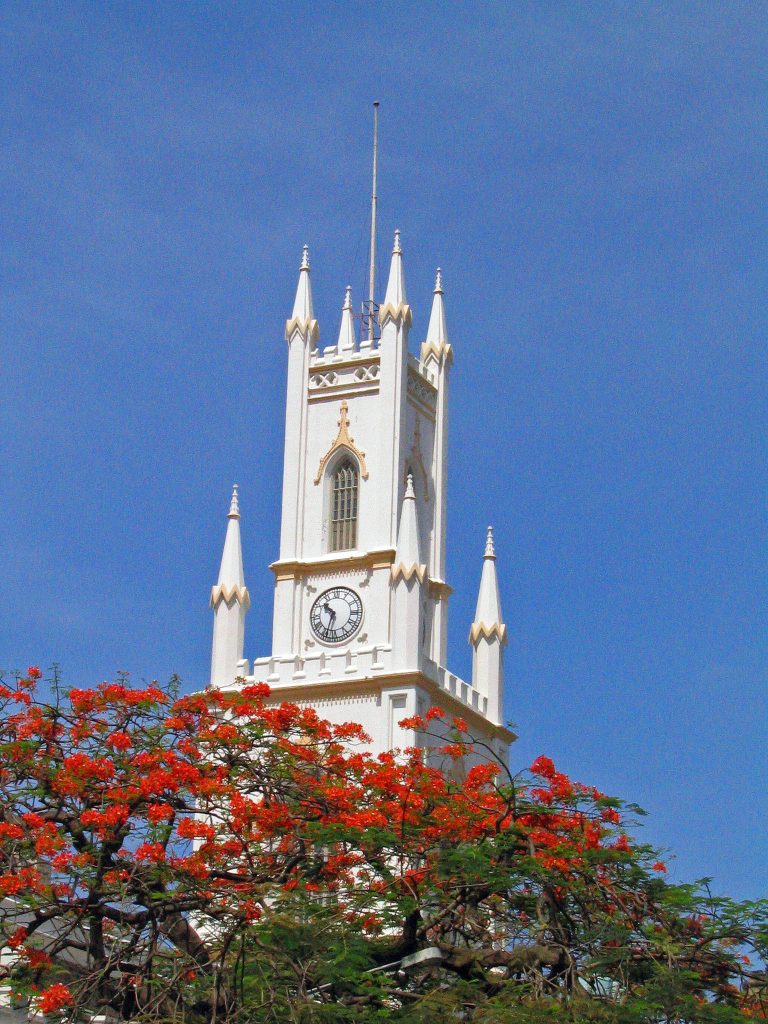 A closer eye reveals several layers of architectural influences. While the original structure was said to be in the neoclassical style, the cathedral evolved over the centuries with additions and renovations. It blended Byzantine and colonial-era architecture, and Gothic Revival elements were added in the 1860s. Yet, today, the cathedral looks to be a seamless whole.
St Thomas has witnessed the city expand and evolve over the centuries and is undeniably a time capsule of sorts. In fact, when it was built in 1718, it was considered 'zero point', or the city centre, from where distances along major roads were marked.
On our way out, we always pause to admire the show-stopping 12-feet-high memorial dedicated to 28-year-old Captain George Nicholas Hardinge, who died within the reach of victory, during a fatal encounter with a French enemy ship on 8 March 1808. The sculpture appears to mythologise Hardinge's final moments — he is rendered in uniform, carried by a conch shell atop two horses trotting through the sea, accompanied by an acolyte of Neptune, and in the embrace of a figure that symbolises death. It's one of many examples of how, in this great house of worship, the chilly breath of the ghosts of the past seems to brush our shoulders.
Our selection of stays across India, best visited for their design and style. Check in
Gustasp and Jeroo Irani are a husband-and-wife team of travel writers and photographers, based in Mumbai. Globetrotters, grandparents and authors of two guide books, they have been trawling the planet and their own backyard for the last three decades in search of the off-grid and unusual.