December is a month of feasting. It's Christmastime, of course — a season that's marked by cooking traditions, dinner parties, and other festive gatherings around food. It's winter too, when mugs of mulled wine and bowls of warm, invigorating soup are harbingers of comfort in the cold. Across India, communities have reams of recipes for the festive season. We reached out to a few of our favourite food writers and chefs — whose delightfully expansive cookbooks are in store too — for season-appropriate recipes from their books. They're easy to prepare and perfect for Christmas cooking. Embrace the noshing!
Banana Coconut Bake
—from Tiffin by Sonal Ved
After Christmas dinner, if there is one meal that's important during this time of the year, it's the brunch shared with family after church time. Urban homes on the southern Konkan coast of India, often make this dish for breakfast using a variety of tropical ingredients. It's usually eaten after a great meal of salads, fish curry or easy roasts. Serve it as a dessert or at tea-time if you like.—Sonal Ved
Time: 35 min | Serves 2
Ingredients:
2 tbsp (30g) butter
½ tsp vanilla extract
2 cups (160g) fresh coconut, grated
¼ cup (50g) sugar
½ tsp ground green cardamom (choti elaichi)
3 medium-size bananas, halved lengthwise
½ cup (120ml) milk
A few saffron (kesar) threads
Preparation:
Preheat the oven to 200ºC (400ºF).
In a skillet over medium heat, melt the butter. Add the vanilla and coconut. Cook, stirring, until lightly browned.
Stir in the sugar and cardamom powder. Remove from the heat.
In a baking dish, layer one-third of the coconut mixture. Top with half of the banana pieces. Cover with another one-third of the coconut, and layer the remaining banana pieces on top. Top with the remaining one-third of the coconut.
In a small bowl, combine the milk and saffron threads. Pour this over the coconut mixture. Bake for 10-15 minutes until golden. Serve hot.
Aligot with Merguez Sausage and Harissa
—from Paris Picnic Club by Shaheen Peerbhai and Jennie Levitt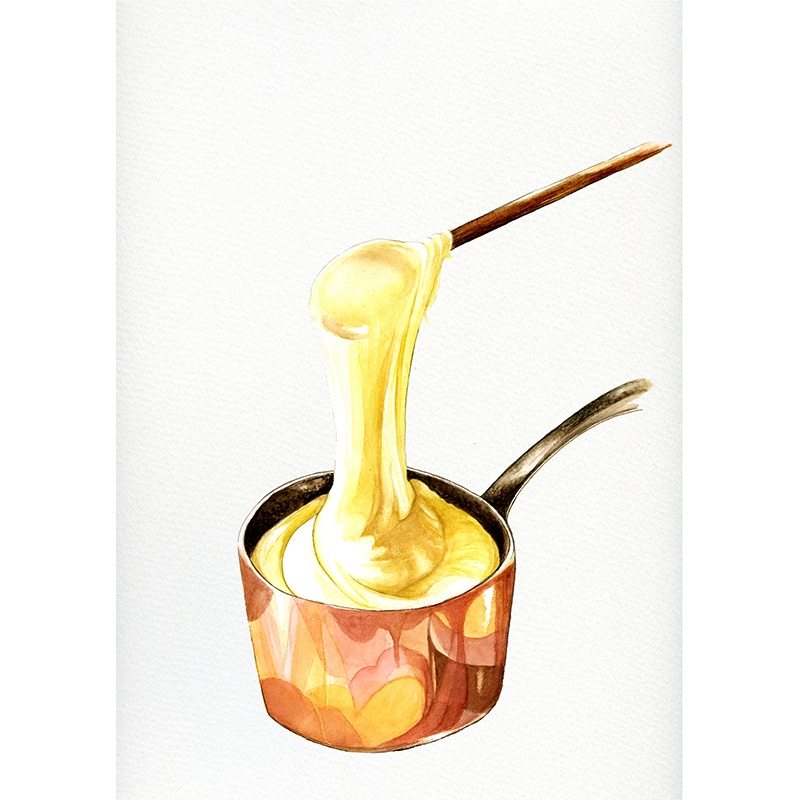 Aligot — rich creamy mashed potatoes taken up a notch with the addition of cheese — is the perfect winter comfort food. We first discovered aligot at a Christmas market on the streets of Paris. It was quite the spectacle, as the vendor stretched the big spoonful of the warm, elastic potato-and-cheese mash over his head — only to drop it and stretch it out again. It was a feat that attracted all the passersby to line up for a plate of Toulouse sausage with a giant dollop of aligot. We make ours with spicy merguez sausage and lots of our homemade version of Harissa.—Shaheen Peerbhai
Prep time: 15 min | Cook time: 1 hour | Serves 4
Ingredients:
For the Harissa Vinaigrette
¼ cup harissa
Zest of 1 lemon
1 tsp freshly squeezed lemon juice
1 ½ tbsp extra-virgin olive oil
For the Aligot
450g potatoes for mashing, peeled
3 tbsp salted butter
1 tbsp crème fraîche
3 garlic cloves, germ removed and minced to a paste
275g Tomme d'Auvergne, Gruyère, or Appenzeller, grated
Pinch of freshly grated nutmeg
1 tbsp extra-virgin olive oil for the pan
8 Merguez sausages
Fresh cilantro for garnish
Sea salt and freshly ground black pepper
Preparation:
Prepare the harissa vinaigrette by whisking together all ingredients. Season to taste with salt.
Preheat the oven to 230ºC (450ºF).
Place the peeled potatoes in a large pot of salted water and bring to a boil over high heat. Once the water has boiled, cook the potatoes for an additional 20 to 30 minutes, depending on their size and density. (To tell if they are done, you should be able to insert a fork easily into the centre of the potatoes, but they shouldn't break apart.)
When the potatoes are ready, remove them from the stove and drain them. In a stand mixer, or in a large bowl with a hand masher, beat the warm potatoes to a mash. Mix in the butter, crème fraîche, garlic, and a pinch of pepper to make a smooth, silky purée.
Place the mixture in a medium-size, thick-bottomed saucepan and set it over low heat on the stove. Add in the grated cheese and nutmeg; stir until well combined.
With a wooden spoon, stir the potato mixture in figure eight motions. Continue to stir the over low heat for about 15 minutes. You'll know that the mix is ready when it starts to pull away from the edges of the pan and has taken on a more elastic, thicker texture. Keep the aligot warm in a bain marie.
Heat a pan with olive oil and brown the sausages over medium heat. Switch to turning them over when you see that the sausages have taken on enough colour, instead of moving them constantly.
Dollop the warm aligot onto four small plates. Top with merguez sausage, drizzle with the harissa, and garnish with fresh cilantro leaves.
Caramel, Apple and Ginger Syrup
—from Paris Picnic Club by Shaheen Peerbhai and Jennie Levitt
This drink, which is perfect for autumn, is our version of a classic tarte tatin (French apple pie) in a glass. You could also make a hot version of the drink, spiced with cloves and cinnamon, for a cozy evening indoors.—Shaheen Peerbhai
Prep time: 5 min | Cook time: 10 min | Makes 1.5 litres
Ingredients:
½ cup (100g) sugar
½ cup, plus 4 cups (1 litre) to serve, apple juice
2 ½-inch (7cm) piece of ginger
2 lemons
2 cups (500ml) cold sparkling water
Preparation:
Place the sugar in a small saucepan over medium heat and caramelize the sugar until it takes on a deep amber colour 175-180ºC (350-360ºF). Do not turn away from the pan – the sugar can cook and burn very quickly. Once the sugar has caramelized, take the pan off the heat and add ½ cup apple juice to keep the caramel from cooking any further. Be careful: the sugar will bubble, so make sure to pour the juice in, little by little. If the sugar has hardened, place the pan back on a low heat so that the sugar can melt again. Next add the piece of ginger that has been cut into slices and let it infuse with the caramel apple syrup by simmering the mixture for 5 minutes. Remove the pan from heat, add the juice of 2 lemons, and let it cool completely. Remove the ginger slices. You can bottle this to use over the course of two weeks.
To serve, combine the mixture with the additional 4 cups apple juice and the cold sparkling water.
Coffee Custard Pudding
—from Five Morsels of Love by Archana Pidathala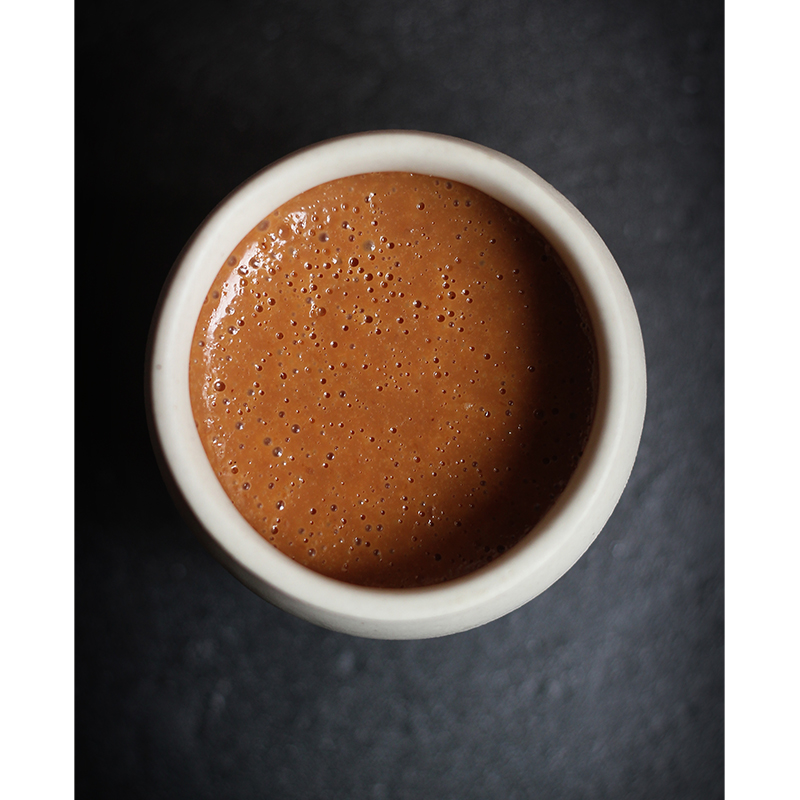 This is a much-loved family recipe handed down by my grandmother, who loved her south-Indian coffee strong and sugarless. With delicate coffee and cocoa undertones and a subtle caramel flavour, this pudding is simple and failproof, takes no time to make and will make for a perfect dessert to share at your Christmas table.—Archana Pidathala
Serves 8
Ingredients:
4 cups (1 litre) whole milk
2 tbsp vanilla custard powder
2 tsp instant coffee
2 tsp cocoa powder
200g sweetened condensed milk
¾ cup (150g) sugar
½ cup (120ml) water
2 tsp gelatine powder, dissolved in 3 tbsp of hot water and strained
¼ tsp vanilla extract
Garnish with:
whipped cream or
3-4 tbsp grated chocolate or
praline bits or
chopped nuts
Preparation:
Stir ¼ cup (60ml) of milk (at room temperature) with the custard powder in a small bowl to form a smooth paste. Set aside.
Warm the remaining milk in a pan over medium heat and add the coffee, cocoa powder and condensed milk. Stir till the coffee and cocoa dissolve completely. Now add custard powder paste and stir till well combined. Set aside.
Place the sugar and water in a heavy-bottomed vessel and bring it to boil. Cook over medium heat, undisturbed, for 6-7 minutes until the sugar caramelizes to a golden brown colour. Whisk in the milk mixture slowly on low heat till the caramel dissolves completely. Be careful while adding the milk to the caramel as it will bubble up vigorously. Continue to cook over medium heat, stirring occasionally, till the pudding reduces to a thick yoghurt-like consistency. When the pudding coats the back of a spoon in a thick layer, let it cook for 3-4 minutes more and then take it off the heat.
Dissolve the gelatine in 3 tablespoons of hot water. Strain it into the pudding and mix well. Add the vanilla extract and mix once more. Immediately pour the custard into mini dessert glasses / cups. Bring it to room temperature and then refrigerate for at least 2 hours or overnight. Garnish with your choice of topping and serve.
Tips:
– Never leave the stove unattended while making caramel, as it can go from beautiful amber to burnt in seconds.
– To avoid skin forming on the pudding as it sets, loosely cover with cling film and then lightly press the cling film down onto the pudding so that it touches the entire surface.
For more cooking inspiration and recipes, get a copy of Tiffin by Sonal Ved, Paris Picnic Club by Shaheen Peerbhai and Jennie Levitt, and Five Morsels of Love by Archana Pidathala.