Ever since The Bombay Canteen, one of India's most celebrated restaurants, opened in 2015, the Independence Day Daawat has been a highlight in its calendar and arguably in the calendars of food lovers across the city. Sameer Seth, founder of The Bombay Canteen, remembers when it was only a seed of an idea. "We'd opened in February and we realised, two-three months in, that Independence Day was around the corner," he says in a conversation over the phone. "Growing up, Independence Day used to be a day when, either in your school or in your neighbourhood, there would be something special and people would dress up. But over the years, it had become another dry day in our lives." In close collaboration with Please See, the creative agency behind much of the The Bombay Canteen's visual identity and events, the Daawat became a chance to create a new kind of tradition on this day — with meals served on banana leaves at the restaurant, community table–style, and all funds gathered from the day going towards a good cause.

Today, community tables and big gatherings belong to a world that shimmers with nostalgia. Still, the team at The Bombay Canteen have found a way to make the Daawat happen this year amid the pandemic, via home deliveries. This meant that it was crucial to nail down the packaging.
Out of the Box
The idea was to pack in as much of the Daawat experience as possible. "There [used to be] 700-odd people eating in those three-four hours and the energy of that room is something we obviously can't recreate, but the look of [the meal] is something we definitely wanted," says Seth.

For this, Corugami, a firm that works with brands to offer well-designed sustainable packaging alternatives, was roped in to work with Please See on the conceptualisation and design of the box. Udit Bansal, the co-founder of Corugami, tells about their many iterations — around themes like 'unity in diversity' and 'organisation in chaos', ideas that are often associated with independent India — before arriving at the half-octagon shape of the final box. In an abstract way, Bansal explains, the shape is meant to represent a thali. "Originally it was a full octagon, but we had some issues related to the banana leaf, which was a very key component of the box," he says. Seth explains that the banana leaf was crucial "so that people could have that [restaurant dining] experience at home — you unroll the banana leaf, heat your food, place it on the leaf, and eat it in the same way you would have at The Bombay Canteen." But it wasn't easy figuring out how to fit an entire banana leaf into the box — there were multiple in-house experiments to make the leaf pliable before Bansal found a way to neatly roll it.
Material Goods
Sustainability is another core concern that the Corugami team were able to address. Rooted in structural design, the boxes — made of sturdy corrugated board — eliminate any need for glue or staples and can be assembled in about two minutes. Moreover, all the materials used are easily separable for recycling. "When you typically use paper plates or paper cups, it's tricky because they have a plastic lining and they are harder to recycle than plastic. Most people think it's paper so it [must be] better but very often it is not," Bansal says. With these Daawat boxes, the paper — onto which Please See's designs of handy instructions and information about ingredients is printed — is coated with a water-based varnish to protect the ink instead of the more common plastic film.
Another big challenge was striking a balance between being sustainable and minimising leakages. "We decided to stick with good-quality plastic containers that can be recycled," Bansal says, a practical decision given that the restaurant would be delivering the Daawat across the city and paper-based alternatives would be more likely to leak. (Before the pandemic struck, while the restaurant was still open for dining, their home delivery radius spanned a surrounding five kilometres and deliveries went out in locally inspired potlis with biodegradable containers.)
Ultimately, the focus is undoubtedly on the food, but it is design-driven decisions, as we've seen on numerous occasions, that add to the user experience. "Good design adds that warmth — it's when you don't realise that it's happening around you," says Seth.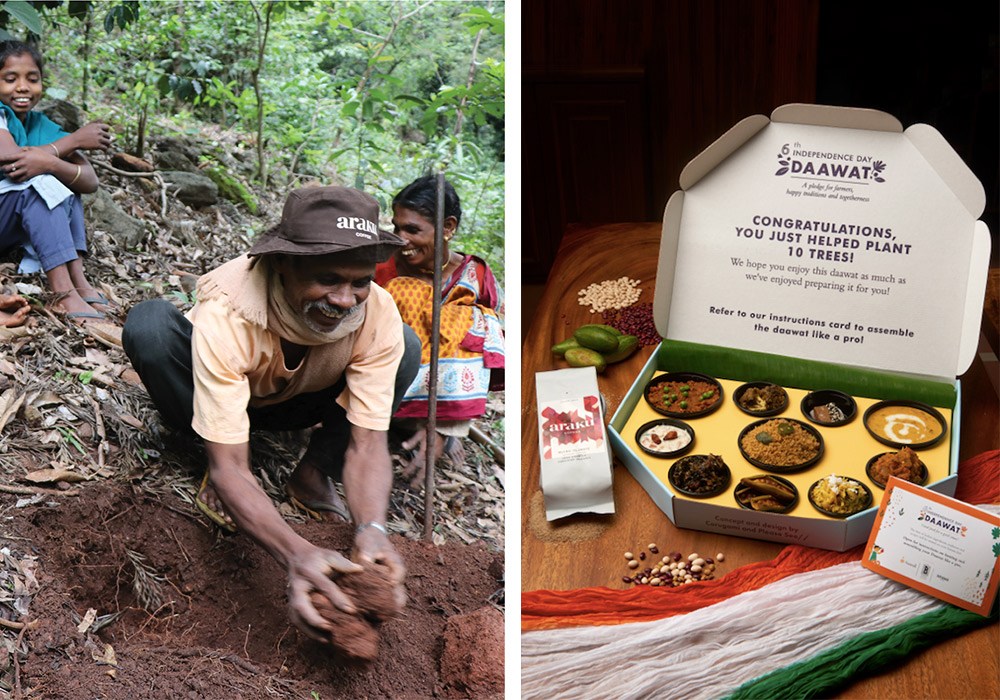 The Independence Day Daawat for Saturday 15 August, 2020 is available in Mumbai. Order here; orders shut 11am, Friday 14 August, 2020. Those outside Mumbai can also participate in the festivities via cooking masterclasses. Details here. All proceeds from the Daawat go to the Naandi Foundation, an organisation that works with independent farmers in the Araku Valley in Andhra Pradesh.