Mealtime Rituals is a set of essays that explore the comfort so many of us have sought in food at a specific point in the day as our lives are upended by the coronavirus lockdown.
I hear someone ask me to pass the papad for what they say is the umpteenth time, their voice laced with irritation that I've zoned out at the table. As I sheepishly do so, I take stock of the state I'm in. My hands are a sticky mess, I can feel something stuck between my teeth, and there are blobs of saffron-coloured pulp on my T-shirt. It's not one of my finest moments, but it is among the happiest. That's because for a few minutes, I tuned out everything and focused on one task: devouring the mango in my hands. It's my daily moment of zen. In the last few months, I've searched for instances that allow my mind to stop pinballing and just pause, and I've found many of them during lunchtime, thanks to my grandmother and mangoes.

My family and I are spending the lockdown in our home in Karjat, just outside Mumbai; my dad wanted to get my aged grandparents out of the city before the coronavirus situation escalated. We're fortunate to be here, surrounded by greenery and spaces to stretch our legs. It's a little difficult to get groceries, but we're lucky to enjoy locally grown vegetables and fruits, including, blessedly, mangoes.

The fruit has been an unexpected source of succour during these disconcerting times. I've been voraciously consuming news about the pandemic and have developed an unhealthy tunnel vision thanks to my social media 'doomscrolling.' The resultant anxiety, helplessness, anger and sadness has made it difficult to think of anything not connected to COVID-19, or anything even remotely cheerful. But summer's arrival, and that of mangoes and my granny's annual ritual of transforming the fruit into various avatars through the season, has reminded me of the small joys of a world beyond the disease.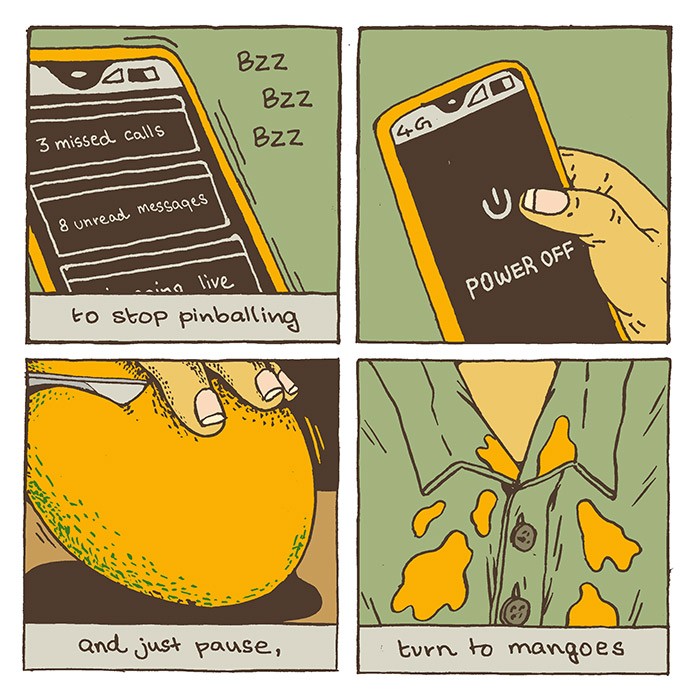 Ammi's mango preparations are often unveiled at lunch, making the meal the highlight of my day. It began with the pickles towards the end of March — chopped, whole, sweet, tart, and spicy forms of raw mangoes, like the salty green vadu maanga and the fiery red avakkai. So prolific was the pickle-making that my dad had to ask Ammi to slow down because the lockdown prevented him from getting the oil and salt required. Soon we were digging into tangy curries and salads flecked with kairi. Ammi also used this version to make maanga thuvaiyal, a refreshing chutney of grated mango, coconut and chillies. Plans to use the kairi for aam panna were shelved as sugar rations were running low. And now, as the heady fragrance of ripe mangoes fills the air, our lunches revolve around golden Alphonsos eaten whole or in maambazham morkozhambu, a south Indian mango kadhi.

Most years, I take Ammi's mango routine for granted. I relish the flavours and am grateful for the trouble she takes to prepare the items, but that's about it. This year, I value her efforts more because they are a source of comfort and constancy. I despise uncertainties and struggle to accept the looming unknowns the virus foreshadows. In my grandmother and the fruit, I have mascots of dependability, reassuring reminders that certain things can always be counted on. I know that Ammi's mango pickles will always be ready by early April. I know that, no matter how stressed I am, I will unclench my jaw and exhale the first time I taste them. I know that there will be a box of mango seeds in the fridge that Ammi will use for the kadhi. I know she will save the sweetest mangoes for me.

Some afternoons, like today, I wonder if it's unwise to take solace in these trivial placebos. Maybe I should focus on preparing for the nebulous future or just let my anxieties run wild. Then I remember that there's always time to brood. Right now, it's time for lunch.
Kamakshi Ayyar is a freelance journalist based in Mumbai. She tweets as @kamakshi138.
Madhav Nair was formerly part of the editorial team at Paper Planes. Most of his work as an illustrator and graphic artist is published under the pseudonym @deadtheduck.