Many of us may share memories of a purple-faced, bespectacled and plump — in my case — teacher shrilly crying, "Is this a classroom or a fish market?!" Fish markets, especially in India, have always been associated with an abundance: of sounds, smells, people and cats. The chaos may be unsavoury for the uninitiated, but there's also a certain charm that emerges from regular visits to your neighbourhood fish market — the banter and bargaining, the crows and cats with their eyes out for a tasty morsel tossed to the ground.
Amid the current lockdown, due to the COVID-19 outbreak in India and around the world, we've been thinking about our visits to the fish market. Like so many other industries, the fishing economy has also been severely impacted. Ganesh Nakhawa, a fisherman who belongs to Mumbai's Koli community, the chairman of the West Coast Purse Seine Fishing Welfare Association and the director of Karanja Fisheries Cooperative Society Ltd, says the situation is as bad as it is because fisherfolk across the country were caught unaware. When the lockdown was announced, fishers were already out at sea. They returned to a system that was completely disrupted — they were unable to offload their catch once they docked their boats, and they did not have the provisions to stock the catch until they could figure out how to sell it. There were many reports of the catch being thrown back into the sea. While seafood has been recognised as an essential commodity by the government during the lockdown, it's a comparatively small part of the population who consume it across the country — which means it fell under the radar, and appropriate actions haven't been taken to keep the cogs moving. "Ninety per cent of the people in the fishing industry are dependent on daily wages. But there are no smart supply chain solutions, there are no fish markets, and there are no alternatives being given," says Nakhawa. "At this point, for social distancing, we need to have new policies and ways on how to avoid crowds. For example, fish markets are really crowded [and cramped] so why not open bigger grounds for them?" Additionally, the fishing industry slows down during the monsoon, when boats can't go out to sea, which means these current months are particularly crucial.
These events have led to a shortage of fish for most urban consumers. Across India, fish is the staple for several communities, particularly those that live (or find their roots) along the country's 7,516km-long coastline. Fish is fried, roasted, steamed, dried, pickled… the possibilities are endless. We spoke to folks who love their fish to understand its significance in regional fare and its role in their lives — and sourced recipes from each cuisine (save them for when fish is back in the market and on our dinner tables).
Rohini Bhowmick
Home chef and owner, Spices and Friends, loves rohu
"Bengalis swear by their fish," says Rohini Bhowmick. Two years ago, she started a catering service called Spices and Friends out of her home in Mumbai, and her offerings are inspired by the food she grew up eating in her Bengali home. "Bengalis don't have sea fish as much as we have river fish," she points out. Freshwater fishes like rohu, catla, and hilsa (or ilish) make up a lot of the diet, often finding their way into every meal. She explains how fish forms a part of every auspicious occasion in a Bengali household. There's even a Bengali wedding tradition that involves a huge rohu being dressed up as a bride and sent over to the groom's house. She recalls the time she lived in Kolkata as a child and witnessed young men being fed a plate of rice and fish by their mothers and wives before setting off for work, which left her puzzled and appalled at the time. But she gets it now — it's a good breakfast. It's not heavy but it keeps you going through the day.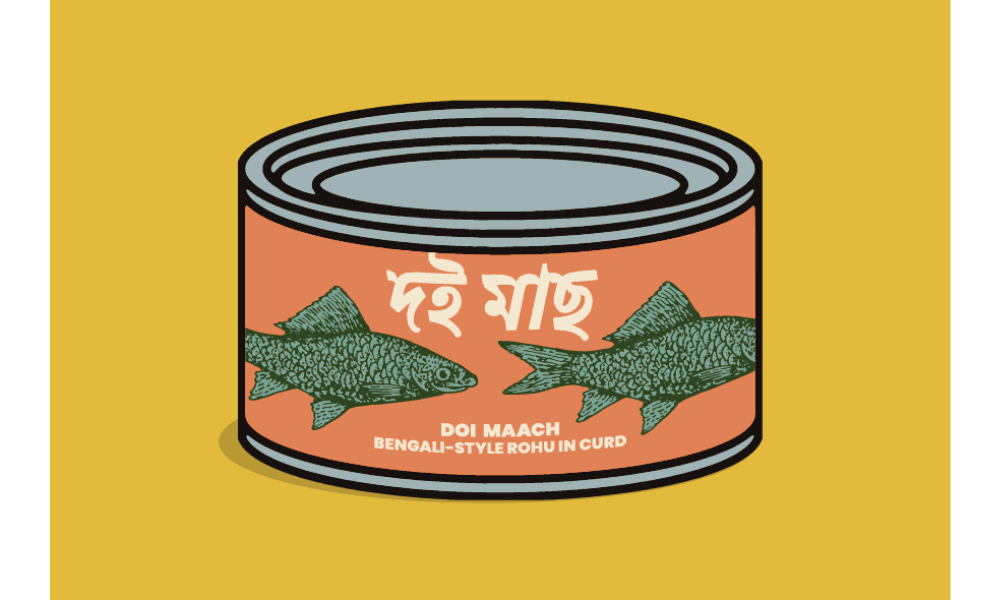 Bhowmick's favourite fish is rui maach (rohu), which is available all year round and can be prepared in multiple ways. She serves it up in two ways — there's doi maach, made with a tangy-sweet curd gravy, and shorshe maach, "a quintessential Bengali fish curry, made with black mustard seeds." It's very pungent, and "not everyone can take the hit of strong mustard," she says. When cooking for those who aren't Bengali, she tones down the flavour by trading the black mustard seeds for yellow ones.
Fortunately, Bhowmick isn't short on fish right now. She's managed to stock up via her regular supplier, who calls a few of his regulars as soon as he can manage to source some fish in the city.
Rohini shares her mother's recipe for doi maach:
Marinate the raw rohu overnight in curd, with ginger and garlic pastes, some salt, and a hint of turmeric. In a kadai, heat mustard oil, add onion paste and a few green chillies, along with garam masala, clove, cinnamon, and cardamom. Then add the marinated fish and cover. Allow to cook for about 15 minutes. Garnish with coriander leaves and serve it with steamed rice.
Harsha Tapke
Home chef and co-founder, Koli Seafood Festival, loves pomfret
The indigenous Kolis are Mumbai's earliest inhabitants, and have lived along the city's coast for over 500 years, making their living from the sea. This fishing community is among those heavily impacted by the lockdown as not only their source of livelihood, but also their staple diet, has been disrupted. Harsha Tapke is a Koli fisherwoman from Versova in Andheri, Mumbai. Over the years, she has grown as an entrepreneur and home chef. She hosts dinners at her house as part of the Dine with Kolis experience offered by Authenticook, a platform that spotlights regional fare by home chefs, and she co-founded the annual Koli Seafood Festival in 2005, which takes place in Versova.
According to Tapke, what makes Koli food unique is its use of seafood of course, but also the special masala that they use. She makes hers at home, usually in April and May, and fiercely guards its recipe — "How could I tell you, it's my secret recipe!" she says when we try our luck. Fish forms an integral part of the community's food, and most meals must have some kind of fish, she says. "Even if we make a bhaji, we put some jhinga (prawns) or dried bombil (Bombay duck) in it. Then it feels like we've eaten something."
Her favourite fish to cook is white pomfret. It can be fried, stuffed, cooked in a curry, and there's even a special biryani, she tells us. The fish is found most between August and December. Tapke cooks pomfret that her fishing boats catch from around the city itself.
With the lockdown, she and her family have not been able to source fresh fish, but they've found a way around it. "Like I said, we use a lot of dried fish as well to add to our bhajis. So currently, I'm using whatever dried fish I have stored from earlier to cook with." For now, it suffices and satisfies.
Tapke shares her recipe for the masala that goes into her stuffed pomfret:
Half a fresh coconut, chopped into pieces
1 onion, sliced
A few sprigs of coriander
4 green chillies
20 cloves of garlic
1 inch of ginger
1 tsp black peppercorn
1 tsp Shahi jeera (black cumin seeds)
8-10 cloves
2-3 cardamom
1 small piece of cinnamon
Roast the onion and coconut pieces until light brown. Mix all the ingredients and blend in a mixer, without too much water. Heat oil in a pan, roast the masala until the oil leaves the pan. Add a teaspoon of turmeric and salt to taste.
Basheer Thottayil
Owner, Taste of Kerala, loves pomfret
26 years ago, Basheer Thottayil migrated to Mumbai from Calicut, a coastal city in northern Kerala. He started out working at Deluxe, a premier restaurant in Fort, Mumbai, known for its Malayali food. 11 years ago, he set up Taste of Kerala, a much-loved haunt for Malayali food, also in Fort. When asked why fish is important for Malayalis, he says, "Whether you have 101 other dishes or nothing else, if you have a bit of fish curry, a piece of fish and some rice, a Mallu generally attains bliss." He loves all his fishes — sardines, mackerels and so on — but pomfret, of any kind, is special [there's the black pomfret (called halva in Maharashtra), and the white pomfret]. He loves it regardless of the preparation too, but he leans more towards it in a curry as opposed to fried.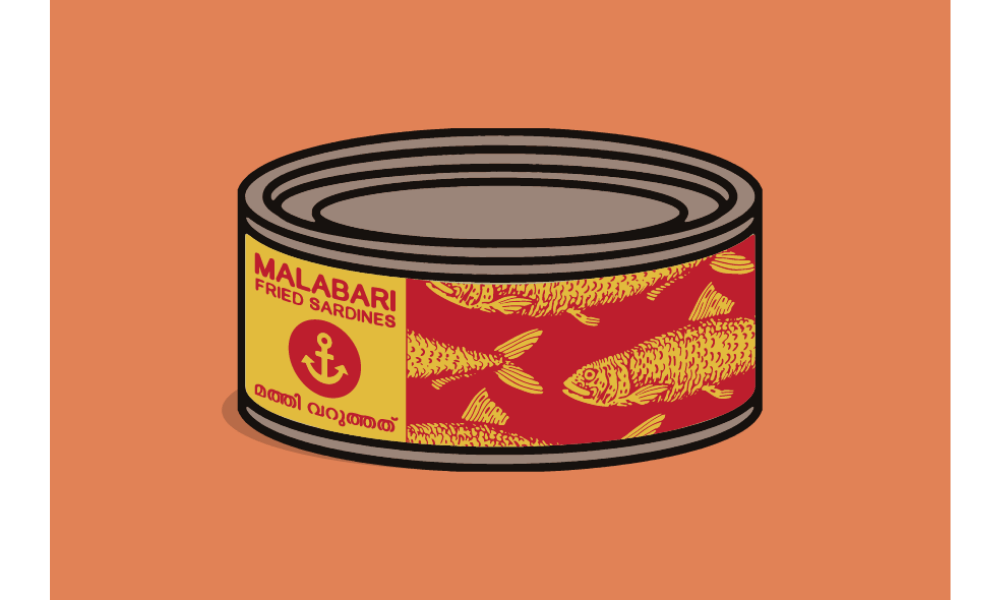 Recently, Thottayil went on a six-month keto diet, but instead of the usual protein-based meat fare, pomfret was his go-to protein. "Fish is something that you'll never grow tired of," he says. "Just because you had fish for one meal doesn't mean that you cannot have fish for the next meal." This, he feels, sets fish apart from other non-vegetarian dishes in Malayali cuisine.
He has a contract with a vendor in Crawford Market, who sources the fish for the restaurant. Apart from certain staples, what they get is based on the catch. But right now, he says, even the vendor can't get him any fish. So while the restaurant continues to operate for home delivery, fish preparations are off the menu. Whenever they're available again, we highly recommend the karimeen pollichathu (pearl spot fish, wrapped, steamed and shallow-fried in a plantain leaf) and the prawn sukha at Taste of Kerala.
Thottayil may be partial to pomfret, but sardines are also a staple in Kerala, and they're easy to cook. We dug out a quick and easy recipe from our cookbooks for mathi varutthathu or sardine fry:
Clean the sardines. Mix generous portions of ginger-garlic paste, red chilli powder, black pepper powder, turmeric powder, and a little salt in coconut oil to make a thick paste. Marinate the fish in the paste for half an hour. Deep-fry the marinated fish. PS: With this preparation, you can chew through the plentiful bones in this fish.
Jessica Jani was formerly part of the editorial team at Paper Planes. Find her on Twitter at @_jesthetic.
Madhav Nair was also formerly part of the editorial team at Paper Planes. Most of his work as an illustrator and graphic artist is published under the pseudonym @deadtheduck.