Mealtime Rituals is a set of essays that explore the comfort so many of us have sought in food at a specific point in the day as our lives are upended by the coronavirus lockdown.
Let's start with an embarrassing secret. There was a while in my adult working life when my mother packed me a ready-to-eat lunch. By that I mean, she deboned the fish in a curry, mashed it with rice, dal and other vegetables, and put it in a box. All that was omitted from this infant-life fantasy was my mother making "incoming aeroplane" noises while stealth-bombing my open mouth with a rice-mash loaded spoon.

This lunch ritual existed, for longer than I care to admit, not because I didn't have hands or teeth, but because I would be too embarrassed to sit in an office, and debone a fish and eat with my hands. But not mortified enough to give my home lunch up and resign myself to canteen lunch.

Here is where I should also tell you how my days are split — "before lunch" and "after lunch". Most people have a more logical split of "work" and "after work". And this essay is about how the lockdown has put me out to pasture in the old, familiar land of home lunches.
Dinner is the popular star of the day — the one to which cocktails are raised, the one that gets accent lighting and costs a $100, the meal that unites families and ignites lovers, the one that leads to adventures, the one that whispers promises.

For most, the only promise a lunch has is a bark to get back to work.

But not for me. For me, lunch is the fist-pumping champion meal of the day. The one that is eaten in full view of the world. It is the most visible of all meals, a universal hat-tip to fellow workers that we are not "all work". I take particular pleasure in watching people eat lunch. Workers nested in tight, concentric circles around food stalls that work with industrial efficiency, bench hoggers scarfing down deli sandwiches in moist cling wrap, lone lunchers on the greens, office mates on a sneaky beer lunch, a "lunchtime runner" hurrying back, probably to a smoothie lunch.

Last year, after several years of freelancing (aka home lunch days), I went back to a full-time office job. For five and a half years, I had indulged in my home lunch fantasy, cooking, eating, feeding, paying no heed to a 45-minute allotted break. And now, I had to fend at an office canteen in Cambridge, UK, with food so bland that my lunches were like this: tabasco-shepherd's pie, tabasco-chicken paella, tabasco-sausage and mash. One day, the tabasco bottle was missing from the condiment table. I poured gravy on my fish and chips. My British colleagues politely looked away from my public humiliation.

It got so bad that sometimes I stayed up late to cook my lunch. (No, I don't do batch cooking.)

The lockdown has me unleashed again. I wake up, humming lunch delights to myself. The truth is I enjoy each and every aspect of home lunch, right from recipe quest. Every time I plunge into the internet looking for a new recipe for a tedious vegetable, I feel the same electric frisson I do just before deep-diving into an ex's social media: all the time wondering if I will find evidence of a trait I have overlooked, or reassurance that scorn was legitimate. My most recent adventures were for lauki for which I have no feeling, good or bad, and lobia for which I have reserved hate. I have decided I still hate lobia. And none of my exes has redeemed himself.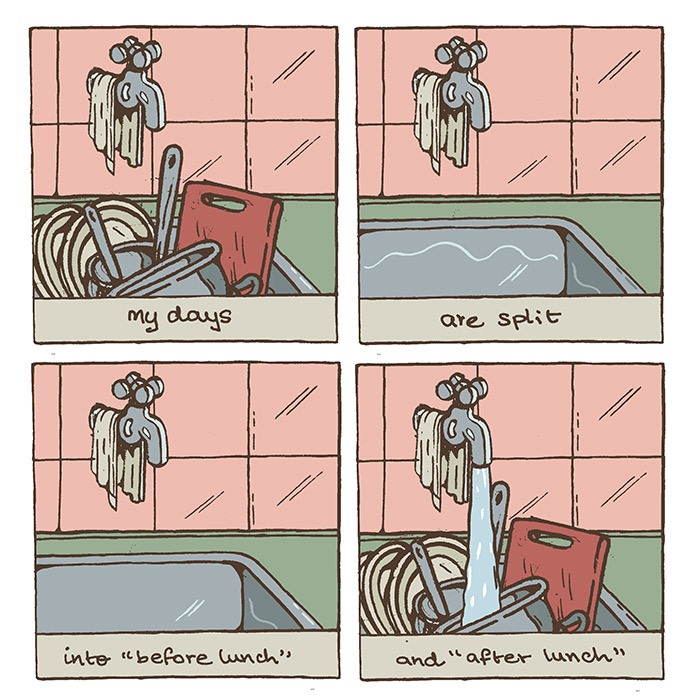 I suspect another reason I adore lockdown-lunch so much is because I can spend my whole day cruising supermarket aisles. As I leave for the shops, my husband asks, "Half hour?" I scoff and walk out on my two-hour voyage. Who shops in half an hour?!

In all honesty, I eat lunch in five minutes flat. I don't use my lunch time in eating but in cooking and watching birds from my kitchen window. During this time, I don't listen to a podcast, I don't watch a movie. I stand there watching onions curl and melt, smelling hing bubble, wincing from a hot oil splutter and occasionally clearing my eyeglasses of steam. Mostly I just stand, quietly waiting to move to the next step in a reassuringly familiar process.

I am back to making large, satisfying Indian lunches. All the luxurious cookbook capers that involve ingredients like mirin or pomegranate molasses, and involve "resting times" are for dinner time.

If dinner is for Instagram, then lunch is for the family WhatsApp group.

When I was a child, I would watch my uncle, with mild horror and increasing fascination, as he methodically emptied a giant pile of rice and various sides (fish, of course) at 10am, before work. It is because this was his lunch. I recognise him now because we are the same. Lunch, for me, is the sweet spot of a day, when calories don't exist, rice is not carbs, and I am still 20.
During this quarantine, we have all struggled to find some firmness to our days, some sort of purchase on a constantly advancing conveyor belt. On these days, lunch is my anchor. Without it, I would float away unmoored on a sea of nameless days.

For further lunch celebration, presenting Weird Al's Girls Just Wanna Have Lunch.

Padmaparna Ghosh is a science writer and communicator based in the UK. She prefers to be outdoors but is also constitutionally suitable for lockdown life. She is on Twitter at @PadmaparnaGhosh.

Madhav Nair was formerly part of the editorial team at Paper Planes. Most of his work as an illustrator and graphic artist is published under the pseudonym @deadtheduck.