A wholesome french onion soup sandwich. Festive banana churros with a warm mug of hot chocolate. Hot-hot gahad pakodi. Scrumptious green harissa roast chicken. It's the sort of food that sparks sunshine even if it's dreary outside. This rainy season, we asked a few of our favourite chefs and home cooks who spend their time (all year round) championing good food to share quick and easy recipes for indulgent comfort food that even kitchen noobs can cook.
The French Onion Soup Sandwich
—from Nuzha Ebrahim, Founder, The Fromagerie
A French onion soup is one of my favourite soups to make for myself. It uses very simple ingredients to create incredibly complex yet comforting flavours. Considering the current weather — always gloomy, overcast, and putting you in a lazy mood — it's perfect to have just simmering away slowly with not too much effort involved. I took inspiration from this soup, and adapted it into a grilled cheese sandwich to really maximise the idea of an indulgent, comforting and convenient version of the soup. It's something I would want to tuck into with a nice cup of coffee, under a blanket, with some Netflix.
Ingredients:
200g white onions
A few sprigs of thyme
1 tbsp butter, and more for toasting
A good splash of red wine
2 slices of thick cut white bread
30-50g Gruyère
Preparation:
Peel the onions, cut them in halves, and get the stem out from the bottom. Slice thickly in half-moon shapes.
In a heavy-bottomed vessel, heat the butter. Drop in the thyme and allow the herb to infuse into the butter.
Add the onions and cook them slowly for a few hours, until they turn sweet and a caramel brown.
Deglaze the vessel with a splash of red wine and let that reduce. Your onions should almost be jam-like.
Spread a layer of the grated Gruyère on one slice of the bread, and then a layer of the caramelised onions. Top that off with another layer of cheese. Cover with a slice of bread.
Spread a thin layer of butter on both sides of the bread and toast it to an even golden brown on both sides and until the cheese has melted.
---
Banana Churros with Hot Chocolate
—from Heena Punwani, Pastry Chef, The Bombay Canteen & O Pedro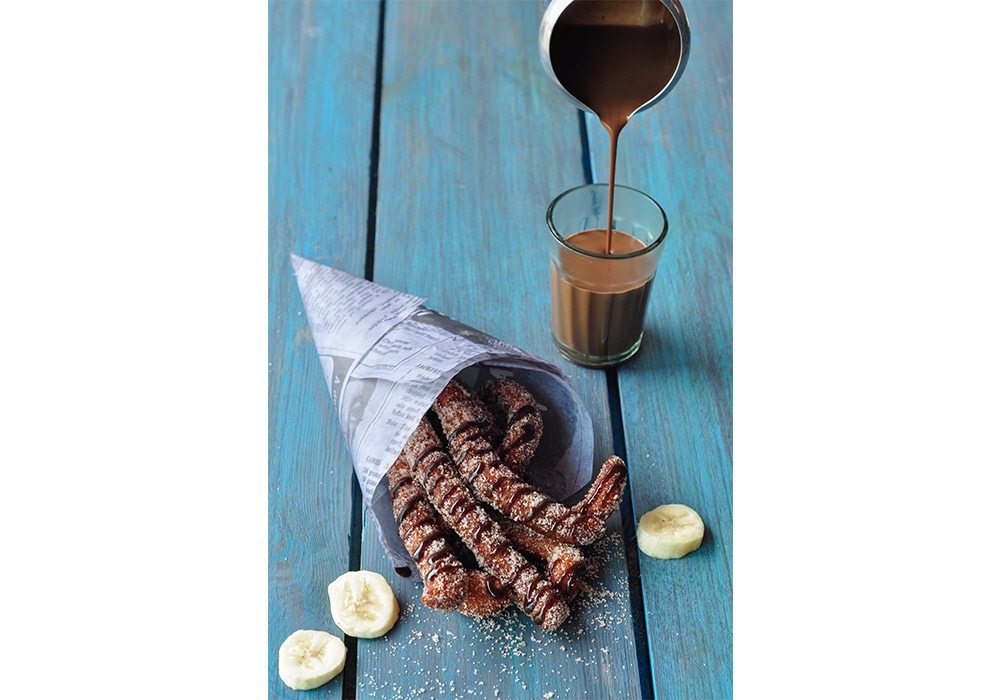 The advent of the monsoon season means it's time for something hot and something fried — chai and pakodas being the classic combination. Chef Thomas Zacharias at The Bombay Canteen has very happy memories of feasting on pazham peechi, which is essentially banana fritters made from mashed bananas and flour, and I have the same love for sipping on hot chocolate when the weather turns damp and grey. For the monsoon menu at The Bombay Canteen, I combined both these warm memories into a comforting dessert: Banana churros, hot and fried, and dusted with cinnamon-and-nutmeg sugar. They're really easy to make (and easier to eat!). Served with dark hot chocolate on the side, it's the perfect comfort food for this weather.
Banana Churros
Ingredients:
¼ cup (30g) all purpose flour (maida)
½ cup (70g) cornflour
¾ cup (92g) rice flour
1 ¼ tsp (8g) baking powder
¼ cup (16g) desiccated coconut
¾ tsp (4g) salt
Approx 6 (440g) medium overripe bananas, mashed (the riper, the better)
1 tsp (5g) vanilla
Oil, to fry
½ cup (100g) castor sugar
¼ tsp cinnamon
¼ nutmeg, freshly grated
Preparation:
In a bowl, sift the flour, cornflour, rice flour and baking powder together. Add the desiccated coconut and salt, and whisk together.
In another bowl, mash the bananas or blend to a puree. Add the vanilla and mix.
Add the banana puree to the dry ingredients and fold gently with a spatula until everything is mixed well. It should have the consistency of a thick batter. If it looks too thin, fold in a little more flour.
Rest the batter in the fridge for at least an hour (and up to 3 hours) before using.
In the meantime, mix the castor sugar with the cinnamon and nutmeg, and keep aside.
For the frying:
Heat the oil in a saucepan to 180ºC. (You can test the oil by dropping a little batter in. It should quickly rise to the surface and the oil should never be smoking hot.)
Fill the batter in a piping bag with a big star tip. Pipe the batter in the shape of churros directly in the oil. The churros should rise immediately to the surface of the oil. Fry until golden brown on one side, then flip and fry on the other side. (If you don't have a piping bag or tip, you can drop small spoonfuls of the batter and make banana fritters instead.)
Take the churros out with a frying spoon and drain completely on a paper towel.
Roll the churros in the sugar to coat, and serve hot. Enjoy!
Hot Chocolate
Ingredients:
2 cups (454g) milk
1 ½ cup (227g) dark chocolate, chopped (Use the best quality dark chocolate you can find. We use a mix of 54% and 70% Callebaut dark chocolate)
¼ to ½ cup hot water (or as required)
Preparation:
Heat the milk in a saucepan over low heat until it is steaming.
Add the chocolate and whisk over very low heat until smooth.
Keep whisking continuously over very low heat until it comes to a simmer. Don't let the chocolate scorch.
Add the hot water to bring the hot chocolate to the consistency you like. (We add hot water to thin the hot chocolate instead of milk so the chocolate tastes more intense.)
Serve hot!
---
Gahad Pakodi with Chulu Chutney
—from Pooja Pangtey, Co-Founder, Meraki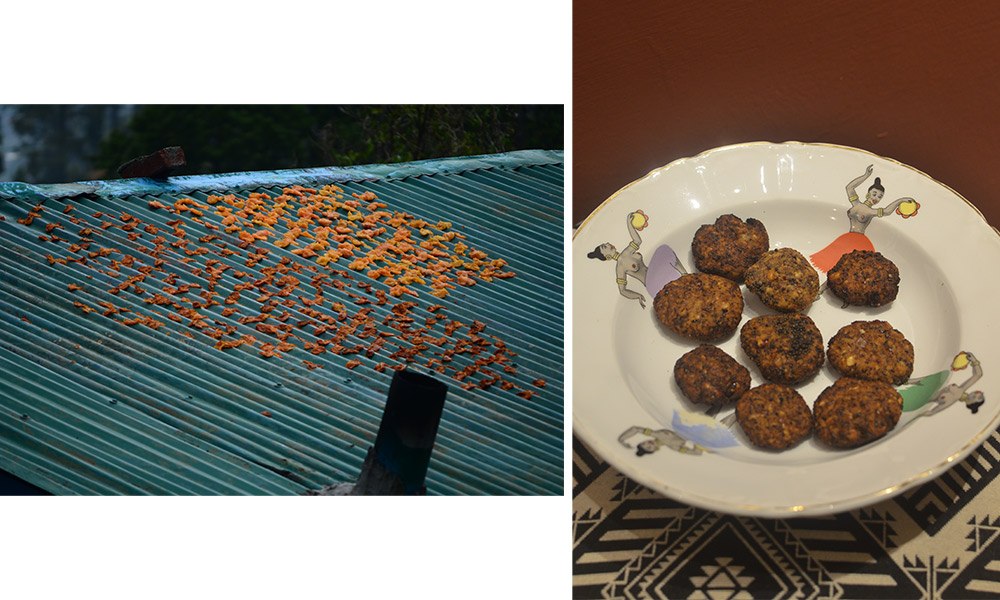 In Uttarakhand, gahad or horsegram is used in a variety of dishes due to its high protein content. In folk medicine, it's used to treat kidney stones — there are legends that have people in old times using gahad, boiled in hot water, to break stones in the hills.
Back home in Uttarakhand, pakodis, chutney and chai are part of the food culture that one associates with a feeling of community spirit. Meeting someone and chatting over tea is a favourite everyday activity for the hill folk. It's an unspoken cultural ritual of sorts to have chai in the cold rains and winters, and Pahadis always have a seasonal chutney and flavoured salts that add zing to a plain meal.
This time of year is peak season for stone fruits like chulu or apricot in the Himalayas. I just returned from a trip back home. We went fruit-picking and met farmers for a project and, inspired by this trip and the weather after coming back in Bombay, I thought it would be apt to share recipes that could bring a Himalayan twist to the chai-pakora cravings that the monsoon brings.
Gahad Pakodi
Ingredients:
100g gahad (horsegram)
1 small onion, diced
½ tsp red chilli powder (add or reduce as per personal taste)
Salt to taste
1-2 tbsp fresh coriander, chopped
2 tsp jakhya (which is commonly used in Garhwal for tempering, or replace with a mix of black and white sesame)
Preparation:
Soak the gahad overnight in water.
Drain the water out and grind the soaked gahad in a mixer to a coarse batter. (Don't add any water while grinding.)
Add the diced onion, chilli powder, coriander and salt to the batter.
In a pan meant for deep-frying, heat the oil until it starts smoking slightly.
If you're using jakhya, mix evenly into the batter, and make small discs. If you're using sesame, make small discs of the batter, tap in the middle, and place a few of the mixed sesame seeds on top (size of a fingertip).
Deep-fry the discs until they turn crispy, and medium to dark brown on both sides. Turn them to ensure thorough cooking.
Enjoy the gahad pakodi with chulu chutney or any green chutney and a hot cup of tea.
Chulu Chutney
In the hills, chulu or apricots are generally used fresh, or they are deseeded and sun-dried for two to three days. Either can be used for this recipe. Pro tip: Fresh apricots are currently available in markets. Alternatively, you could use dried apricots — soak them in warm water for a couple of hours before using.
Ingredients:
3-4 apricots
A few sprigs of fresh coriander
A few sprigs of mint
1 tbsp roasted white sesame
1 tbsp roasted peanuts
1-2 green chillies
2-3 cloves of garlic
½ tsp mustard seeds, roasted in an oiled pan
Salt to taste
Preparation:
Grind the ingredients into a coarse paste with some water in a mixer, a sil batta, or with a khal batta (mortar and pestle). The latter gives a better texture to the chutney.
---
Kathija Hashim's Green Harissa Roast Chicken
—from Aysha Tanya, Editor and Co-Founder, Goya Journal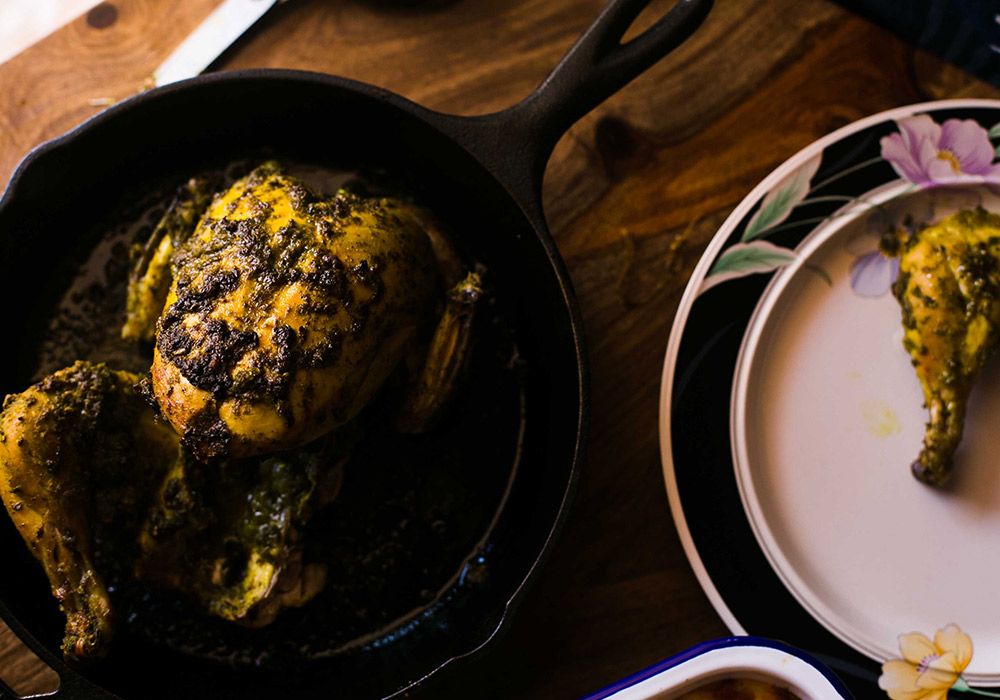 My mother's roast chicken recipe has been part of the family repertoire for more than a decade. We call it The Moroccan Chicken, but I'm not sure how accurate that is. It does contain the ingredients for a green harissa, however, so we'll go with that. Mum and I spend a lot of time cooking together now, especially since we run a blog together, www.malabartearoom.com, and this is one of our favourite dishes to cook together.
Ingredients:
1kg chicken (with or without skin; we've used skinless here)
2 tbsp olive oil
35g coriander leaves
7 cloves of garlic
1 tbsp coriander seeds
1 tsp cumin seeds
1 tsp peppercorns
5 green chillies
Juice from 1 lime
Salt to taste
Preparation:
In a mixer or food processor, grind all the ingredients for the marinade to a smooth paste.
Using your hands, or wear gloves if you're uneasy about this, rub the marinade all over the chicken including the cavity. If you're using a chicken with skin, push some marinade inside the skin as well by making two small incisions on the breast.
Let the chicken sit covered for at least half an hour, but if you can let it marinate overnight in the fridge, that would be best.
When ready to roast, bring to room temperature if it was refrigerated, and preheat the oven to 180ºC.
Tie up the legs of the chicken with some food-grade twine (optional).
When the oven is hot, place the chicken, breast side up, on a roasting tin or cast iron skillet and roast for twenty minutes. Now, carefully turn it over and continue to cook for another 40 minutes or until the juices run clear when a skewer/knife is inserted down to the bone between the thigh and the leg.
Remove from the oven, cover with foil and let the chicken 'rest' for 20 minutes. This helps it reabsorb moisture and stay succulent.
Carve and serve!