The sun is on its way. The mosquitoes have arrived early. They hum and waltz, a halo around my head. There is a lot on my mind. There is a lot on my table too. Empty cups, two towers of books and one very content cat, napping on the floor plans of the new house. Moving is never easy — it makes you box your life and divide your possessions into what you want to carry and what is to be left behind. As I type these lines, the room is golden, at once distant and near as a dream, and this is the nicest time, to tell you the story of a table, two bookshelves, and its makers.
Most of my furniture came from the street, from a store that has no roof or name board. People in Thiruvananthapuram, Kerala, colloquially call it Pathira furniture, the furniture of the night. ('Pathira' literally translates to 'midnight'.) The craftsmanship is a tad shoddy and the sale is limited to evenings. There are hurriedly put together shelves, tables that are a puzzle of planks, and stools in various sizes. These are made from the wood of a local tree called Anjilli, or wild jack, which is primarily employed to make the famous snake boats of Kerala. Nails, one too many, peek out from the wood like weed after a spell of rain. On the street, the glow of sodium vapour lamps makes up for the lack of polish. The ideal buyer, always in a hurry to get back home, doesn't spend more than five minutes at the stall and bargains for the one with least flaws.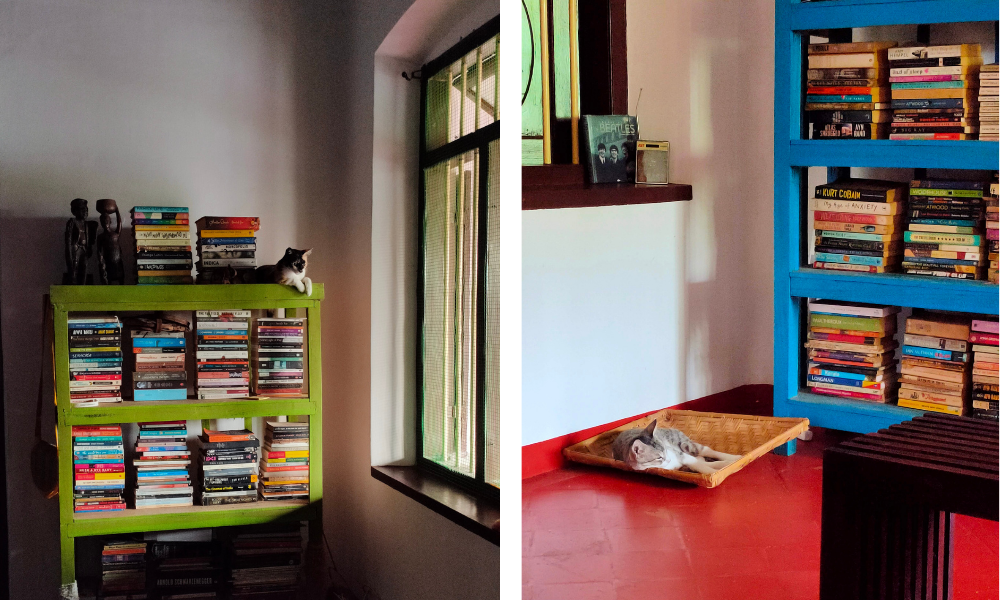 The first time I heard about Pathira furniture, I was nearing a deadline, and the wonky table in my rental apartment was rocking to the rhythm of my frenzied clickety clacks. Latha Aunty was rinsing the saucepan while mocking me for being stingy and not purchasing a good table. "Next month," I said between lines, placing another folded newspaper under its weak leg. Before she left, she wrote down a number and suggested I try calling her relative, a furniture seller at East Fort, for a new cheaper option.
I had driven through East Fort, the commercial hub of Trivandrum, countless times before. I had seen anonymous wooden furniture line the busy street, but was completely unaware they came as cheap as ₹1,000.
I remember standing across the street smitten at first sight, a steady stream of vehicles between me and the table of my dreams. It is too big, the seller had said, it is not a writing table but a dining table for a family of six. But here it is now, three houses and at least a hundred bylines old. I painted it yellow on a night I was most worried about my father's health. My writing table is the sun in a summer sky, the mellow mustard of a soft-boiled egg. One of its hind legs is a DIY scratch post for my cats. The other is where we leash-trained our first puppy. On this table, I have written letters to someone who is now no more, shared meals with my lover, and dined alone with rum and laughter track.
Stories have started and ended at this table, so has love. It makes me not want to agree with Anaïs Nin. "If one changes internally, one should not continue to live with the same objects," she wrote in her journal. It would be impossible for me to outgrow my furniture, no matter how inexpensive.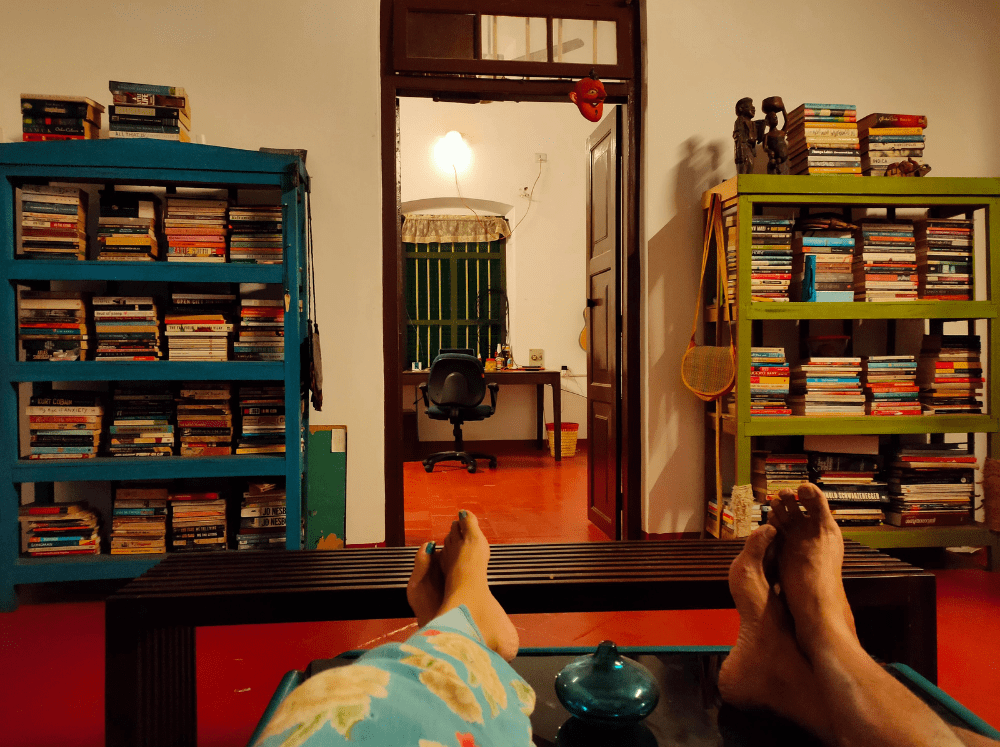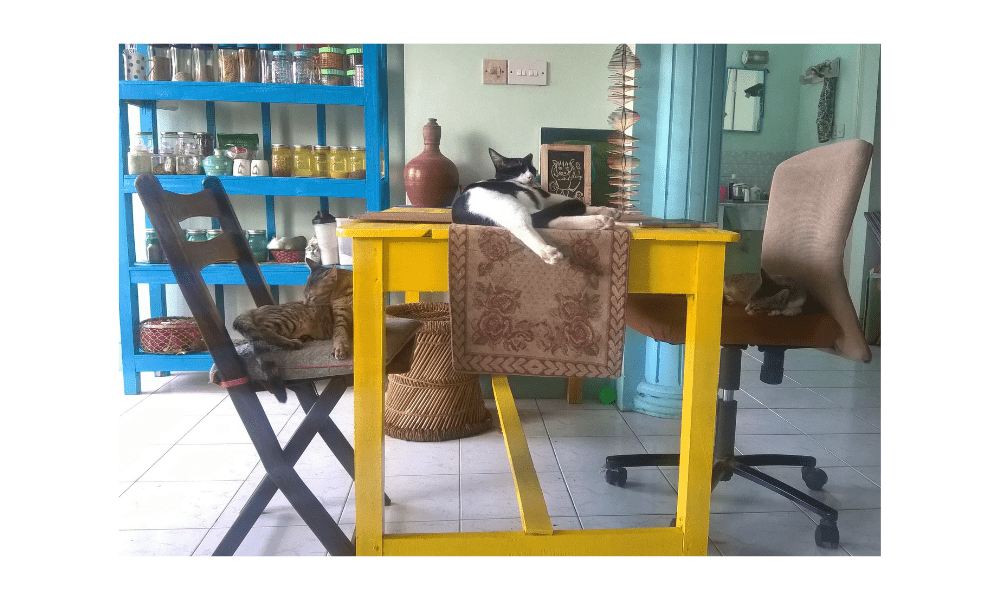 It's half past seven on an evening in August when I find myself in East Fort to check how my favourite vendors are braving Covid restrictions. There are three stalls, twenty workers in all. Tables and shelves play jenga on the hem of the footpath, that is adjacent to the traffic police room and right opposite a Ganapati Temple. Rajagopalan Nair, from whom I had long ago purchased a bookshelf and two stools, finishes his tea from a nearby stall and hurries over, "Oh, we were open even during lockdown," he tells me as we discuss pandemic-time business.
I try my best to gather information about the person who first decided to sell stopgap furniture and tap into the market of temporary furniture but Rajagopalan doesn't know much nor does he attach much importance to the whys and hows I have as questions. Pathira started off in Putharikandam Maidanam, a government-owned ground that is today opened only for exhibitions. When the ground became a gated property around forty years ago, they just moved right outside to the footpath. "The designs haven't changed in all these years," he says. Rajagopalan has a house of his own not too far away from the city, his kids are graduates, both medical representatives, and he doesn't want much except for things to go on as they have. "If we try to get ambitious, we would have to start charging more and people who buy from us are mostly those who can't afford fancy designs and people who are in the city on temporary posting. This can just be discarded when they leave." His phone rings thrice in the ten minutes we're speaking, all of which he ignores, but the minute the temple bells start ringing, he puts our conversation on hold, folds his hands and enters a state of devotion that's hard to fake. I hang onto the word 'temporary' and wonder, what isn't?
Plant stands and easels are the only additions to their repertoire over the years. Jayanthan, another vendor, is amused by my questions. "Who'd want to know about our sales," he curtly continues. "With the hotel and education industry on standstill, we have stopped getting bulk orders for benches and desks. But the common man continues to come to us for his cot and chairs." I wish I could help him realise that he is doing a service, that every house deserves handcrafted wonderful things, and that more affordable furniture options — like his — play a part to ease the plastic waste crisis.
On the way back home, I peeled and popped peanuts into my mouth and peered into a few houses wondering, what does our furniture say about us? I spot a heavy antique swing with a side of symmetrical armchairs. Cane chairs that sport vibrant cushions. Plastic disguised as rattan, and plastic in the form of shoe racks, chairs and stools. When is it that we begin taking ownership for our choices? Does a single table we buy have environmental consequences? When we pick plastic or import wood that comes from across seas aren't we hinting at the kind of world we want? What we buy is no longer a fashion statement, it is a political one.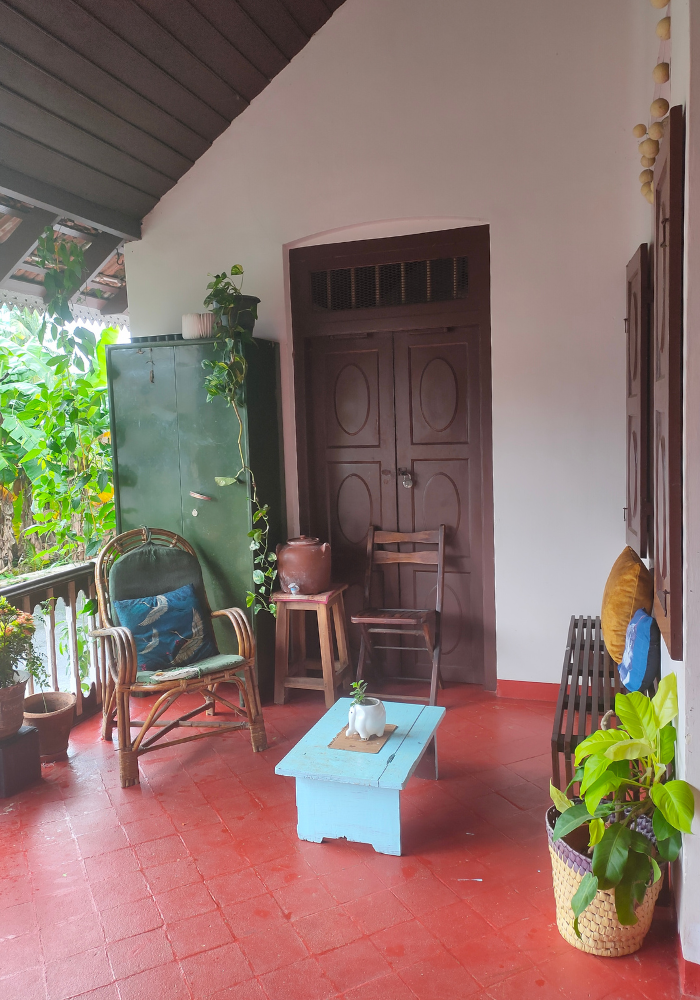 Back home, I poke a citronella stick into the crevice of my Pathira bookshelf. An old Yera saucer from my childhood is already on duty, at its foot, to catch the ash. Just like my table, I love how forgiving my shelf is too. For all its shortcomings, it tolerates my sloppiness. It has served as a canvas for my anxieties — the repetitive to and fro of painting furniture is the balm you need to calm down. Fiction is stacked on the blue shelf and non-fiction is the colour of tender leaf.
At my table now, I run my hand across the coarse grains of the table and remember a line from acclaimed geochemist Hope Jahren's book Lab Girl. "If you know how to listen, each ring describes how the rain fell and the wind blew and the sun appeared every day at dawn." Perhaps my table was once a tree in someone's backyard. It was home to a murder of crows. Maybe in the month of Onam, someone once tied a swing on its branch.
Akshaya Pillai's anxieties can only be tamed using a pen. Her hometown, Trivandrum, and its many eccentricities and wonderful people constitute her stories which have earlier been published in Open, National Geographic, Verve, Himal SouthAsia, Vogue, Hindu BLink, Man's World, amongst others. She leads a slow life with her partner, a bunch of cats, a dog and some visiting hawks. She is on Instagram at @akshaya_pillai.