Cross-legged, sprawled out, demurely, ceremoniously, or just exhausted — sitting can say a lot about your stance. But for product designer Matteo Guarnaccia, the chairs we sit on can be even more telling. Over the last eight months, the Sicilian designer, who's otherwise based in Barcelona, has travelled to eight of the most populated countries around the world with Cross Cultural Chairs. It's a project he launched to analyze and document the objects we sit on, and to collaborate with a design studio in each country and produce a chair.
The project, which debuted on Kickstarter, is described as a "tribute to taking a minute to sit together in a world that seems to go too fast" on the Cross Cultural Chairs website. It's a sentiment that 25-year-old Guarnaccia echoes in an email interview with us. "The main drive of this project is to understand how globalisation is influencing design around the world," he writes. "I feel like my generation is wearing the same shoes, dancing to the same music and somehow, designing the same things. I wanted to understand in person the importance of the cultural aspects during the design process."
Guarnaccia has spent a month each in Brazil, Mexico, Japan, China, Indonesia, India, Russia and Nigeria. It was an extensive project to put together — planning and fund-raising alone took a year and a half — but it's a journey that's almost complete. Guarnaccia wrapped up his travels for the project at the end of last month. In each country, he partnered with a design studio that could accurately distil and be inspired by their own cultural values. From a colour-popping foldable metal chair in Mexico and a minimalist zaisu (which has no legs) in Japan, to a homely rattan chair in Indonesia and an iteration of the cantilevered CH-4 chair in India, cultural context has been the cornerstone for each chair.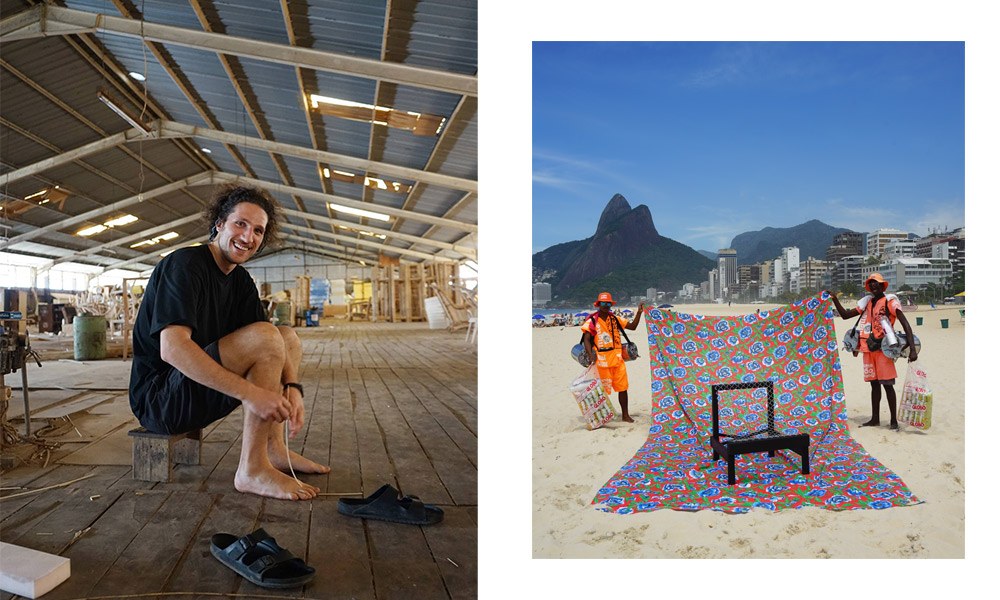 "Chairs are probably one of the few objects that can trace the evolution of man since every kind of technical discovery or technique was applied to the king's throne. I think understanding how people sit and consequently, the role of the chair in each culture, could help me to better understand the culture itself," he says. His interest in bridging design with global cultures stemmed from his thesis project to solve a transportation problem with Doctors Without Borders in the Democratic Republic of Congo. There were numerous concerns — "What was the culture like? What if I find a solution that involves a metal structure, and in this village, the shamans preach that metal is an evil untouchable material? What if there is no metal production for the next 400km from the village?" — that Guarnaccia couldn't answer because he couldn't visit the country due to the ongoing war. "That's when I understood that to understand a context it has to be lived, seen and eaten in the first person," he explains.
With Cross Cultural Chairs, Guarnaccia brings his anthropological interest in design to furniture. The Monobloc chair — the white or red plastic chair you'd have spotted (and sat on) at community gatherings and festivals, and "possibly the most important chair of this century" — is a good example, he says, of a chair that's relevant across the world. "It's one of the few objects that has no cultural or temporal context — it could be found in Sicily in 1982 or New York last night, without changing cost or form," he says. "Also, depending on the situation, it can be valued in a different way. In general, it's seen as cheap and ordinary, but changing the context, in most African countries, it's used for important events, such as weddings or funerals."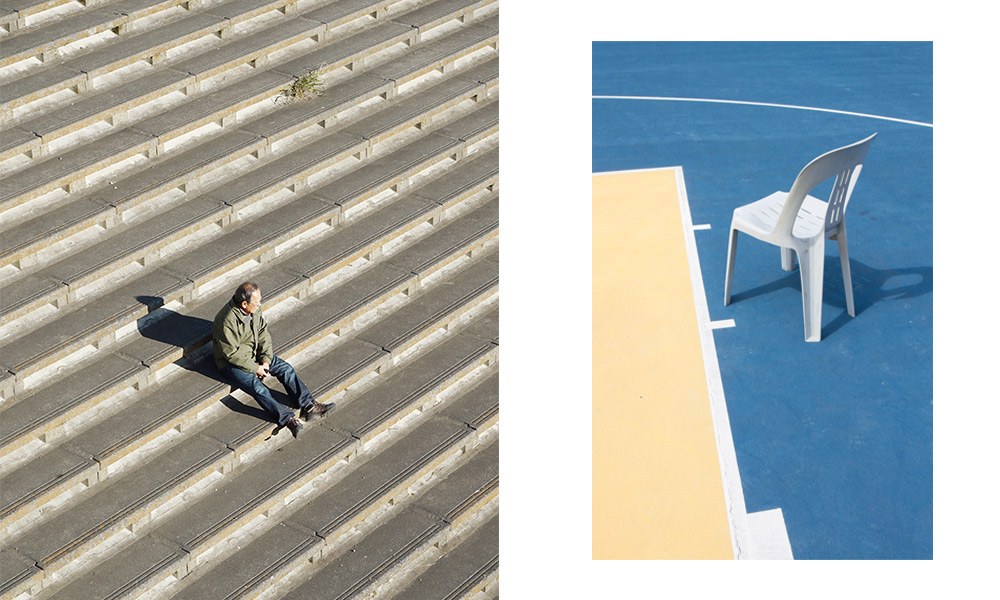 For the Indian leg of the project, Guarnaccia collaborated with architect Sameep Padora (of sP+a) and designer Ajay Shah (of Ajay Shah Design Studio and Rubberband). He recalls his initial conversations with Padora, during which the CH-4 — "a German chair, brought by a French architect and produced by an Indian company" — was mentioned several times. "It was interesting to me to see how Indians recognized this chair as Indian, but a non-Indian would never guess that it's Indian unless he sees it in an Indian government office," he says. Besides, "in India, it's really common to see people crossing their legs on a chair, both in a social or working environment." This nuance was something Guarnaccia wanted to factor into the chair's design — his collaboration with Padora and Shah comes with a leg rest "for those who can't resist crossing their legs".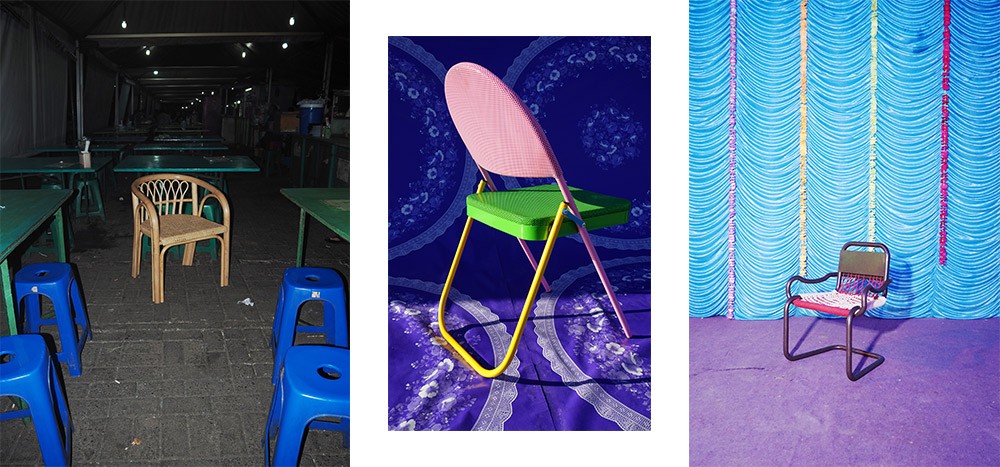 During the Cross Cultural Chairs project, there hasn't been a lot of prior research before hitting the ground with ideation and production in each country. "While I was planning the project, I was reading Fantasia by Bruno Munari, where he explains how creativity [can be] generated on a series of associations of lived experiences," Guarnaccia writes. "I felt inspired by his words and interpreted it in my project, basing the design process on something lived and discussed in the first person and not coming from a common tank of inspirations. That's [also] why I decided to collaborate with a local design studio, which turned out to be a key element during the development of the project." Considering the limited time in each locale, Guarnaccia says that a good starting point was always sharing his perspectives with the local designer and listening to their ideas of what could represent their culture. Then, he'd spend time wandering around the city — visiting markets and museums — for hints and inspirations for the chair.
Guarnaccia's travels for Cross Cultural Chairs may have drawn to a close, but the next leg is dedicated to sorting through the research. The culmination of the project is a 300-page book, a documentary and an exhibition at Barcelona's Design Museum around February-March 2020 (which will later travel to Shanghai and Milan). Guarnaccia has other ideas as well for how the project can evolve over time. In the meantime, when you pull up a chair, remember that there's so much more than meets the eye.
The Cross Cultural Chairs book is available for pre-order here (₹3,885).