Have you noticed the little ways in which the body and mind unwind, almost instantaneously, on arriving at a wellness retreat? The slowing of your breath, the unconscious drop in your shoulders, the untangling of the knot in your chest… The de-stressing starts much before any specific therapeutic programmes do. Much of this is thanks to the influence of space on psychophysical health. As research on the subject grows, wellness design — whether residential, commercial or hospitality — has never been in greater demand.
In the context of wellness hospitality, the design narrative extends well beyond architecture and interiors to include programming and brand initiatives. The last decade has also seen this narrative rooted in a deeper understanding of conservationism, which has shifted from a plant-centric approach to one of interdependency between planet and person. "Wellness for the planet is sustainability. Sustainability for yourself is wellness. They are two sides of a coin," explains Mark Sands, Corporate Wellness Director, Six Senses Hotels, Resorts & Spas. This ideology appears to be shared between reputed retreats and spa operators across the world.
---
Brick by Brick
Wellness architecture incorporates the principles of contextual architecture and biophilic design. While the former is sensitive to site, sourcing and culture, the latter welcomes the outdoors inside, based on the premise that nature positively impacts wellbeing. It's little wonder then that a biodiverse location is key to any healing holiday destination.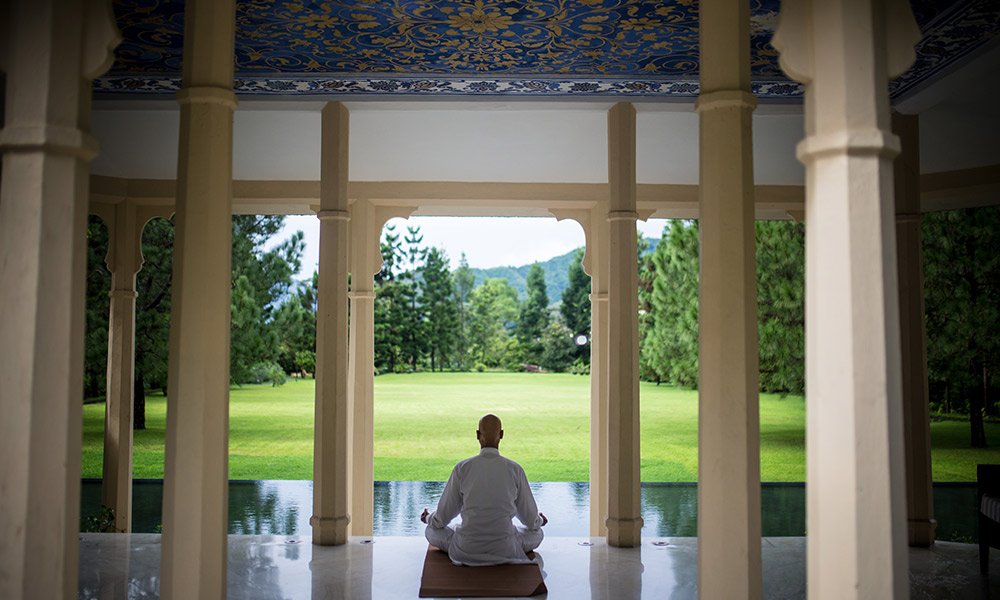 Both Sands and architect Martin Grounds agree that the arrival experience is telling of not just your time ahead but site-smart design too. A partner at award-winning Australian practice Grounds Kent Architects (GKA), Grounds recalls his work on the Taj Bekal Resort & Spa in Kerala, wherein a backwater running between the main resort and its Jiva Spa called for a footbridge entryway to the latter. "The journey across the water to the spa enhanced its exclusive destination feel," he says. The spa itself was conceptualised as a series of pavilions, punctuated by landscaped courtyards. At Ananda in the Himalayas, near Rishikesh in Uttarakhand, the retreat reveals itself in layers, much like the sal-forested Garhwal ranges on which it sits. After a royal welcome at the maharaja's palace, the property undulates across greenscapes punctuated by water bodies, meditation and yoga pavilions, and a sunset point. It culminates at the accommodation block which enjoys valley views with glimpses of the Ganga. Then there is The Khyber Himalayan Resort & Spa's iconic, glassed-in, heated pool that looks out onto snow-capped Gulmarg's conifers. Built with locally sourced pine and slate, the hotel's design draws on the architectural heritage of Kashmir.
But with great locations comes great responsibility. It often mandates working in tandem with conservation specialists and, in some cases, local governments to ensure that the area is developed in the most sustainable way possible. International green and wellness building certifications such as LEED (Leadership in Energy and Environmental Design) and WELL serve as guides and goals for many properties.
---
Inside Out
Biophilic design principles often set the tone for interiors — these are usually marked by sun-filled spaces, water features, organic forms, natural materials, earthy palettes, zero VOC paints, and living walls with air-purifying plants. With a paucity of nature in urban settings, technology aids via air-filtration systems and lighting design that regulates the body's natural circadian rhythm.
Circulation schemes are key to transitioning guests into the wellness experience. A sneak preview of the soon-to-launch Six Senses Mumbai at The World Towers by Lodha, sees us moving from active (social) zones like the reception and salon to quieter changing and wet areas, until finally arriving at the private, meditative treatment rooms. The mood shifts, ever so subtly, between zones via varied levels of lighting and music.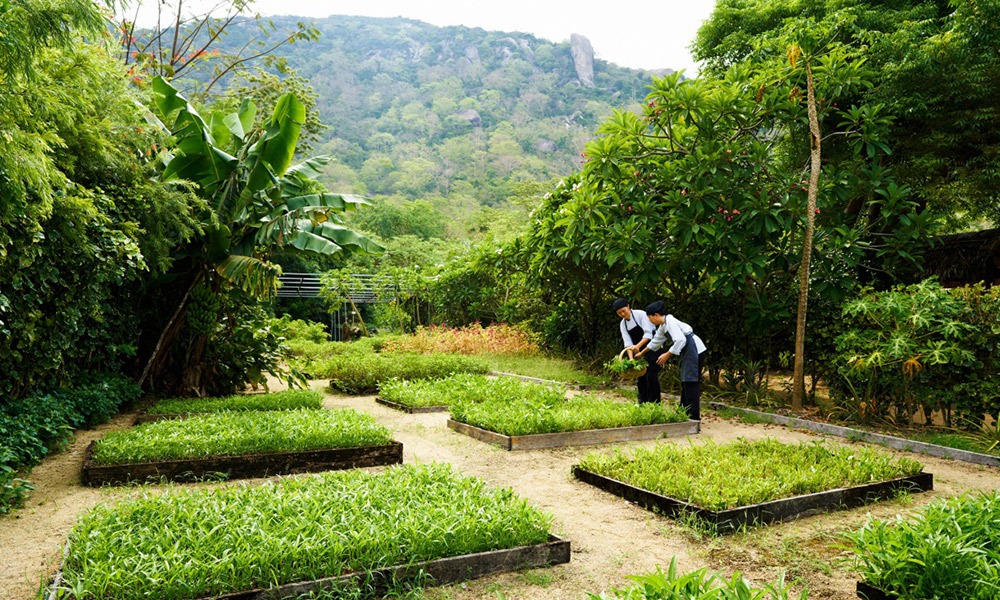 ---
Sense & Sustainability
It's the little things, delicately choreographed onto a wider canvas, that set wellness hospitality design apart. Sound and fragrance, for instance, are integral to the sensory experience. "It's fascinating with spa music — you want it to be something of a forgotten. Yet, it is the most irritating thing if you don't like it," chuckles Sands. The Six Senses brand works with music styling companies on playlists that can be customised and streamed for the guest. In a similar vein, fragrance serves as a memory trigger of time well spent, and is often part of in-house shop offerings. At Vana in Dehradun, Uttarakhand, the nature-inspired aesthetic trickles down to its organic retreat wear, designed by Abraham & Thakore.
Wellness hospitality design has evolved from mere spaces to a more wholesome way of life. "Spa villas, self-sufficient vegetable and herb gardens combined with health-conscious F&B outlets, and even medical procedure facilities are all part of the package," says Grounds. A few examples include: Six Senses' Earth Lab — a facility at every resort dedicated to zero-waste production. Initiatives encompass organic gardens, upcycled décor and related sustainable living workshops for guests. The approach to cuisines is organic and minimal with local ingredients wherever possible. Atmantan Wellness Resort in Mulshi, Maharashtra, and SwaSwara in Gokarna, Karnataka, have rainwater harvesting systems that contribute to the retreat and region at large. Local community engagement, via employment, training, cultural exchanges, etc, also falls into the sustainability programme. While Ananda's spa training institute in Hyderabad helps empower local women; Vana sources produce from a homegrown farmers' cooperative.
Eventually, finding middle ground is key to long-term success in the business of wellness. As Sands explains, "There has to be a balance between the guest's expectation, your provision and your ability to affect their wellbeing and sustainability."
Gretchen Ferrao Walker is an editorial consultant who has collaborated with Indian and international publications like GQ India, Forbes India, Time Out, Architectural Digest India, Design Anthology and Collectively.org. She is the former editor of travel bimonthly Time Out Explorer and current mum to a 2-year-old. She enjoys embroidering and making pictures.