An exemplar for many young people in the country, Shaheen Mistri — the founder of Akanksha Foundation and Teach For India (TFI) — tells us about the importance of leadership in the Indian education sector, the numerous lessons she's learnt from the TFI Fellows, and the transformative power of teaching.
What are you currently reading? Is there a work of writing you frequently revisit?
I'm currently reading two books — Hans Rosling's Factfulness and Elif Shafak's 10 Minutes 38 Seconds in This Strange World. I'm finding both fascinating and strongly recommend Factfulness to everyone. The work of writing I frequently revisit is Khalil Gibran's Prophet.
If we could take you back to the beginning of your journey ― when did you first start thinking about wanting to work with the community?
My parents have encouraged me to volunteer since I was young. So from the age of 12 I spent my holidays doing some form of volunteer work, and this made me realise that I loved being with kids. When I was 18, I returned to India during my summer break in college and was really affected by the inequity and injustice I saw in the slum communities across Mumbai. I just knew I couldn't go back [to college] after that and decided to drop out of Tufts University.
I joined St. Xavier's College [in Mumbai] and started exploring various communities to immerse myself in and understand the challenges they face every day. Working with kids in disadvantaged neighbourhoods in the city made me realise the incredible change that was possible if all children were given the opportunity to unleash their potential. Once, in a big community in South Mumbai, I met a girl named Sandhya, who was about as old as me then and graciously opened her home to me. It became a makeshift classroom where I began teaching some children and that's how Akanksha Foundation was started. We involved college students who were passionate about making a change and used existing resources in creative ways to educate the kids in the slums.
With Akanksha Foundation already functioning, what made you feel the need to establish Teach for India in 2008?
Running Akanksha Foundation for 17 years really helped me understand the transformative power of education and made me realise that this is what I wanted to pursue for the rest of my life. While we had made significant progress with Akanksha, I kept asking myself how we could possibly reach more kids faster. The problem seemed to be a systemic one, fundamentally linked to a lack of leadership. If we wanted to see a change in India's education system, we needed to develop and bring in leaders at every level of the system.
I was intrigued by Teach For America's fellowship model. After understanding it in depth, we decided to build on its belief that a movement of leaders was necessary to ending educational inequity in India, and that's how Teach For India was born. Teach For India was started with the objective of bringing the brightest young minds who otherwise wouldn't have been working in the education sector, and to foster leadership in the short and long term for both students and adults alike. And so about 70 per cent of Teach For India Fellows continue working in the education sector, playing various roles, even after their fellowship ends.
One in three children who start primary school drop out by the time they reach the fifth grade. Primary education is a determining criterion for a just society, and disparity in the education sector in India consequently impacts other sectors. Why do you think enough time and resources aren't devoted towards a need that is so basic?
While significant progress in literacy has been made, the education system remains broken at every level. From outdated curricula to rote learning, from the way children are often treated in school — subjected to humiliation, abuse, comparison and so on — to examinations that often test irrelevant content, from poor quality teacher training institutes to persistent issues of bias and inequity, the problems are just big, complex and very hard to fix.
I believe that we often focus on things other than the teaching/learning process because that is the hardest to repair. What we need to do is take this on fully, to really focus on the people we are bringing into education and to ensure leadership from the classroom to the policy level. If we increase the number of capable, committed people in the system, we'll slowly start changing our outcomes.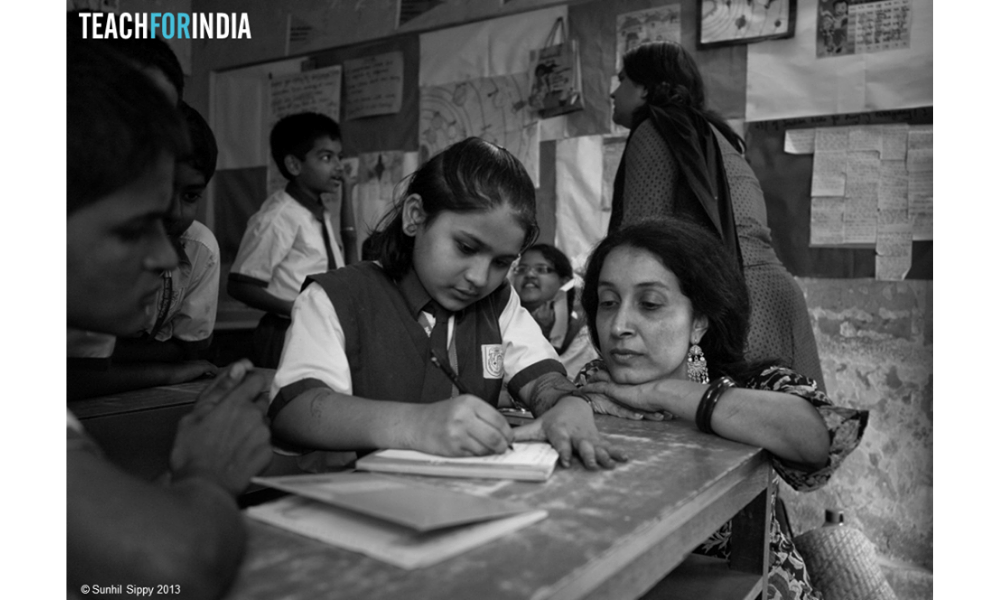 How has the Teach For India programme sensitised or cultivated empathy in those who decided to be part of the journey? Keeping in mind the glaring dearth of teachers in primary schools across India, how do you think these young professionals are driven towards what they've set out to accomplish?
At Teach For India, we are deeply rooted in and guided by our core values: reflection, integrity, a sense of possibility, excellence, and love. We recruit Fellows who believe that teaching can be a transformative journey for them as well as the children whom they teach, and that we need to collectively work towards building the country.
Our kids come from really difficult backgrounds and through the two years of the Teach For India Fellowship, I have seen the Fellows really dive deep into the problems that the kids face both in their personal life as well as in the classroom. This, I feel, builds a strong sense of empathy and sensitivity in them. The Fellowship creates an inexplicable bond between them and the kids, which remains with most of them even after the Fellowship is over.
What have your interactions with volunteers and fellows been like? While it is definitely a learning experience for them ― as fresh graduates or young professionals ― do you recollect any instances where you've learnt something from them?
This is an almost impossible question to answer because my Fellows have taught me so much. From Ajay, who relentlessly worked to find his student's estranged home, jumping onto a train with close to no information to find her family after she had been lost for two years to Satyam, who fasted over Ramzan with his students so that they could see him study in solidarity with him, to Avantika, who showed me that kids who could not write a three-letter word could, 18 months later, read a sixth-grade text. The examples are endless!
What advice would you have for those who want to pursue philanthropic interests or contribute to the community and to society but are unsure ― or perhaps even sceptical ― about where to start?
Just start. The world needs you more than it ever has before. Take the first step and the path will unfold. When I started I did not know I would build two institutions; I just knew kids needed to be taught, and I started there. Be curious, keep learning. Ask for help. Have faith. The rest will follow.
What are the most pressing challenges you face while running the project today?
We've had many challenges through the years, from academic gaps that were alarmingly large to recruiting highly driven Fellows with extreme rigour for all the classrooms we work with. Kids from low-income communities witness a lot more hostility than they should at their age, and so working with them is a very sensitive process.
One of the bigger challenges is also to shift the focus from marks and competition to actual holistic growth for kids. We are trying to reimagine the role of children in education ― from seeing them as 320 million individuals who need to be educated to making them partners in driving their own learning as well as the learning of other kids. From peer-to-peer learning in classrooms to kids actually starting their own community centres ― I've witnessed some truly exceptional examples of leadership from students. While this is a radical idea, I believe it is the right path for us to reach our vision: that one day, all children will attain an excellent education.
Could you tell us about the fundraising model adopted by Teach for India? How do you create an ecosystem that makes the enterprise both scalable and sustainable?
Teach For India operates on a donation-based model with four primary sources — corporates, individuals, foundations, and trusts. We are constantly pushing our sense of possibility and spreading our learning and thus we also run innovation projects such as the Maya Musical, or the Kid's Education Revolution which explore student leadership, and TFIx, which is a year-long incubator programme for passionate entrepreneurs willing to adapt Teach For India's model to their context and region in rural areas. These projects help us invest more stakeholders in the larger movement and scale up our efforts to more regions and people.
How do you go about assessing the progress made? Not solely quantitative but also on a more personal level?
For me, progress is about real, tangible change in our children's lives. Seeing children graduate from school and go to college, knowing that they are standing up for democracy and other values they hold dear ― these are the real indicators of success.
Since you've been working with children closely over the years, how do you think has the availability of literature for children and young adults evolved in India? Do you have a favourite children's book you keep going back to?
The Giving Tree by Shel Silverstein and Oh, the Places You'll Go! by Dr. Seuss are still among my favourites.
Do you still teach?
I've completed 27 years working with children and I still stay deeply connected to them by going to classrooms to teach, talking to them over the phone, and being in schools and communities. I get a lot of energy from spending time with kids and it really pushes me to do more. At any given time, I'm working directly with a group of children to stay close to them. I also stay connected with our Fellows and alumni who are doing incredibly important work in the education sector.
(Note: When you buy something using the retail links in our stories, we may earn a small affiliate commission.)