The city of Ahmedabad is a study in contrast: the ancient and the modern, the ornate and the stark. Its culture and vibe mimic its geography. The Sabarmati river cuts through, dividing it in two — the pols of the Old City flank its east bank, while newer sections lie along the west bank.
Walking through the pols — each a small neighbourhood of sorts formed centuries ago to group families and people by caste, religion or profession — you'll notice a mix of Islamic, Hindu and Jain traditions, offering a window into its rich history. It isn't uncommon to also spot little architectural details indicative of interactions between locals with the Marathas and the Mughals. You'll come across several mosques and temples, along with beautifully crafted homes, both thriving and dilapidated. The many cultural overlaps that the city has experienced over the centuries are best encased in the architecture of these buildings.
To traverse the city from east to west is to walk through its architectural history in almost a linear fashion. While the city was India's first on the UNESCO World Heritage list, it would be remiss to not point to the city's storied place in modern design as well. Iconic architects like Le Corbusier, BV Doshi, Charles Correa, and Louis Kahn have left their Modernist mark on Ahmedabad. Another key person behind the city's architecture is Mahendra Raj, who was the structural engineer on many projects of these architects.
Ahmedabad — often locally known as Amdavad — is also celebrated for its textiles, fabrics and handicrafts, given it owes much of its industrial boom to its cotton textile mills. You'll find these in the markets, along with glittering wares for every price range, from indigenous knick-knacks from Kutch and Saurashtra at the Law Garden Night Market to the upscale jewellery stores at Manek Chowk. But it isn't the jewellery that's the biggest draw at Manek Chowk — every night, after the stores shut, the neighbourhood transforms into a street-food hub with scores of stalls, open until the wee hours. Food forms an integral part of Gujarat, and Ahmedabad delivers on every count. From grand thalis to fusion street kitchens that mix traditional flavours with Western cuisines, Ahmedabad does it all with flair.
A good way to soak in all that the city has to offer is to stay wide-eyed and curious — this is a city that will come at you from every side. We spoke to four designers who reside in the city — architect Keta Shah who co-founded Workshop Inc., an architecture and interior design practice; Pravinsinh Solanki, who teaches Furniture and Interior Design at the National Institute of Design (NID) and is best known for his work with bamboo; visual artist Nitesh Mohanty who currently heads the Crafting Creative Communication programme at MICA; and Tanvi Karia, founder of Raw Collaborative and an interior designer — to put together an A-Z starter kit for your explorations.
If you're visiting Ahmedabad for Raw Collaborative, you should make time for the city at large as well. We hope this serves as both a checklist and a glimpse into the city's fascinating history.
Your Starter Kit to Ahmedabad
A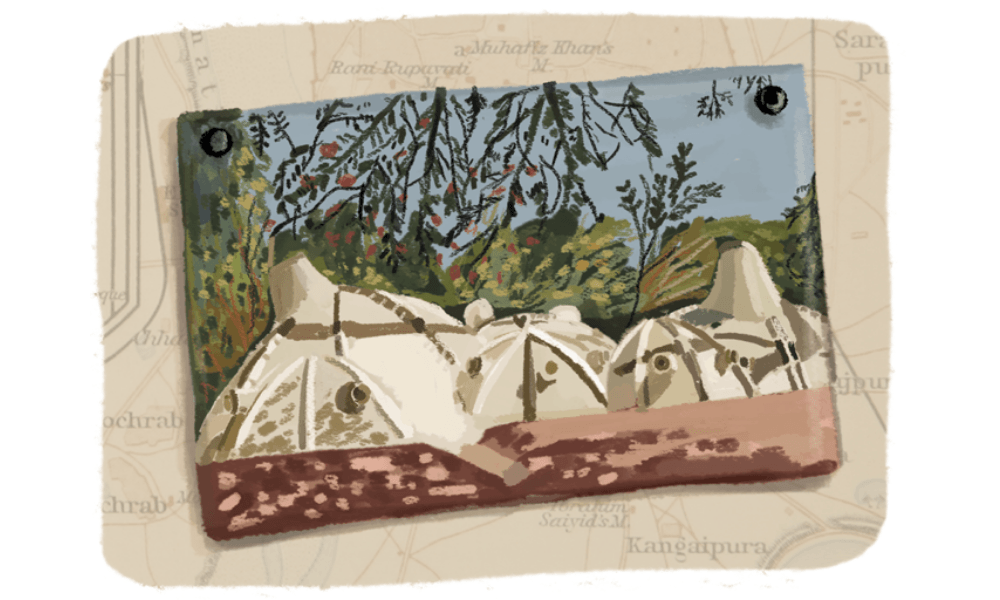 Amdavad ni Gufa, designed by Pritzker-winning architect BV Doshi and housing the works of legendary artist MF Husain, is ideal for a spot of calm. "The partly underground space cocoons you from the chaos of the city, and a 10-minute break here is enough to recharge me for the rest of the day," says Shah. The cave-like art gallery is a collaboration between Doshi and Husain, and in Apartmento's profile of Doshi last year, he explains the role of mythology in its construction. "I wanted Husain to create something with the gufa. I wrote a myth and told him it was a sacred space that was a site of prayer and sacrifice among a tribal community, that there is a great tortoise buried below, waiting to rise to the galaxies above." For more art, head to Archer Art Gallery where you'll find limited-edition serigraphs by masters like Husain, SH Raza and Jamini Roy.
Gujarat's also known for its stepwells (called vav in Gujarati) that tend to double as subterranean water-harvesting systems and architectural marvels. About 19km out of the city is Adalaj ni Vav, a five-storey-deep, beautifully carved stepwell that dates back to 1499 CE and has a tragic origin tale.
B
Bookstores are necessary pit stops for certain travellers (like us!). For rare second-hand design books, a lot of which are out of print now, the Art Book Center (near the Ellis Bridge underpass) is a favourite with design students and faculty in the city. Mohanty, who frequented the shop as a student at NID, recalls the time, many years later, when he went back as visiting faculty. "I discovered a copy of Prabuddha Dasgupta's book called Women which was again out of print, but [the store owner] had one book with him. It was such a priceless moment for me." The bookshop at Amdavad ni Gufa also stocks unique art books and is worth stopping by. You'll find an outpost of CMYK, with their trusty collection, at the Crossword bookshop in Mithakali.
C
The Calico Museum of Textiles is an Amdavadi institution. Founded in 1949 CE by Gautam Sarabhai (who was also chairman of the city's Calico Mills) and his sister Gira Sarabhai, the museum is home to an impressive collection of handmade Indian textiles, ranging from embroidered tapestries to royal apparel. Conflictorium, a "museum of conflict", is a chronicle of tensions that Gujarat has seen over the years, and aims to spark tough conversations.
D
Design is what sets Ahmedabad apart. It is a business-driven city — a trade native to the Gujarati community — but the city's rich design heritage makes it special. The city is known for its cotton mills — the first one was set up by Ranchhodlal Chhotalal in 1859 CE. With the textile industry booming, there was a surge in patronage and philanthropy from its wealthy businessmen and mill owners. The 20th century was a golden age for the city, attracting some of the world's best modern designers to the city. The Sarabhais — one of the city's most influential families, who also happened to be behind the Calico Mills, one of the oldest mills in the city — were pioneers of art and culture. They enabled the establishment of a host of educational, medical and cultural institutions in the city. BV Doshi called them the "Medicis of Ahmedabad". Doshi's contribution too, to Ahmedabad's design landscape, has been commendable — it's also the city he chose to reside in. (He also founded and designed The School of Architecture, which then became known as the Centre for Environmental Planning and Technology, and now as CEPT.) This surge in the last century set the ball rolling, and is instrumental in the role that Ahmedabad plays now — in which it continues to churn out some of the best and brightest minds in the country.
E
Peek under Ellis Bridge on a Sunday morning to find the buzzing Ravivari, Ahmedabad's Sunday market. Expect a vibe much like Mumbai's Chor Bazaar, and everything from household wares to antique furniture on sale. Insiders tell us this isn't a weekly phenomenon anymore, but it's worth trying your luck when you're in the city.
F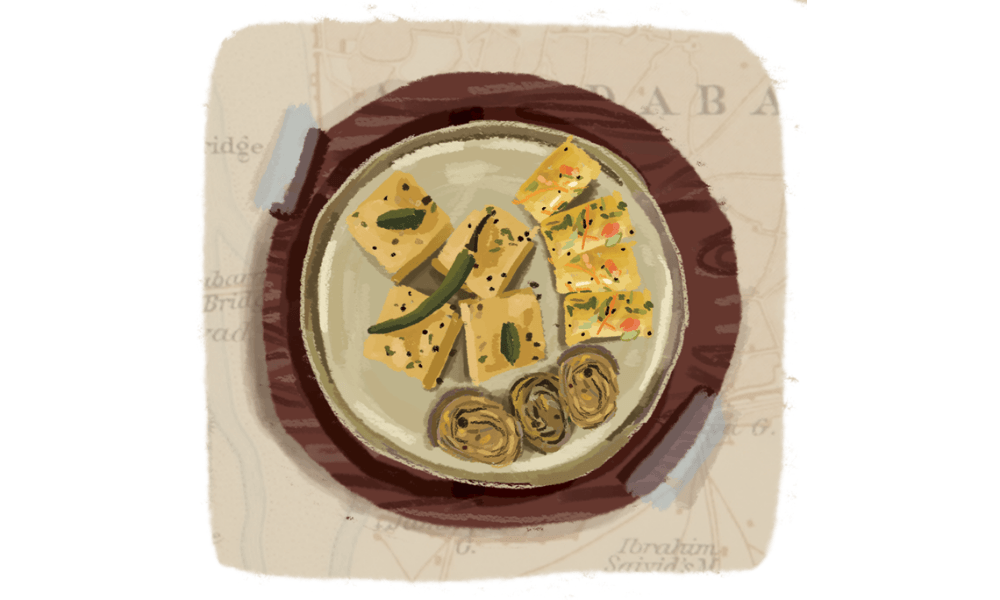 Ahmedabad's essence lies in its love for food, and more specifically, farsan. Indulge, like Gujarati businessmen do, in a swift serving of deliciously tender khandvi, spongy khaman dhokla and crispy fafda-jalebi with piping-hot chai. Farsan shops are easy to find across the city — keep an eye out.
G
Gandhi Memorial Museum, designed by Charles Correa and sited in the Sabarmati Ashram, is a window into Mahatma Gandhi's life. It was set up to preserve his personal memorabilia, and makes for a good introduction to his life — on display are books and manuscripts, old photographs, life-size oil paintings and even his writing desk.
Then there's garba, the dance form that's big in Gujarat, and is best witnessed during Navratri (a festival which usually falls around September–October). Solanki tells us that Ahmedabad's university campuses — like the Indian Institute of Management (IIM), NID and CEPT — are known for their celebrations. While you need to know someone on the inside to score an invite to these, there's no shortage of Navratri gatherings in the city.
H
Look out for Hriday Kunj during your visit to the Sabarmati Ashram. This was Mahatma Gandhi's house for 13 years during the freedom struggle. You'll find the charkha that became an emblem of the Swadeshi movement and other Gandhian relics — worth visiting for any history buff.
I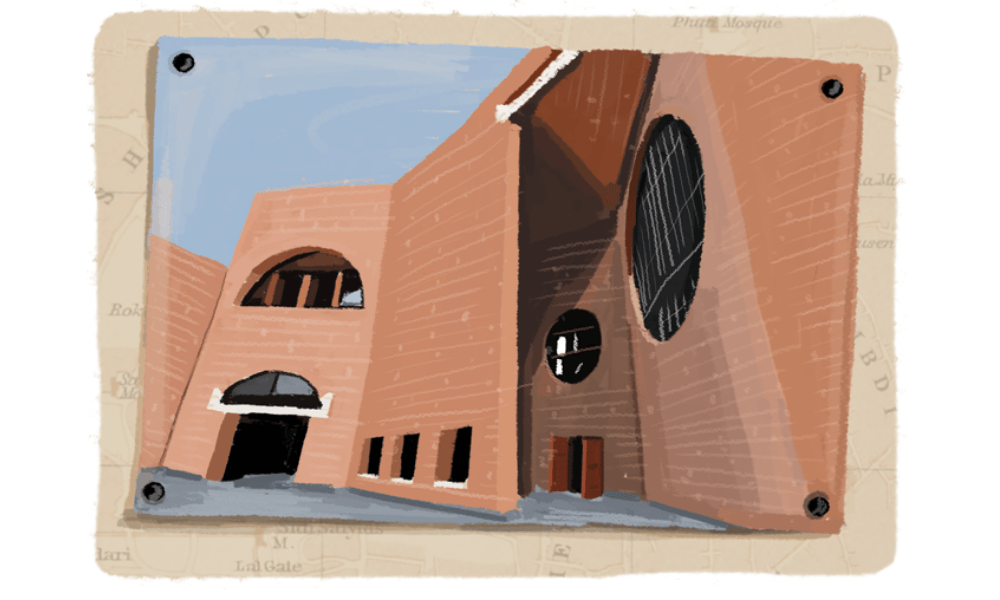 Known for being one of the country's finest educational institutions, the Indian Institute of Management is on this list for its architecture. Designed by the great modern architect Louis Kahn — with assistance from Doshi and Anant Raje, and Mahendra Raj as structural consultant — the building pays homage to Indian vernacular architecture through the use of local materials like brick and concrete and a geometric façade that acts as a filter for sunlight and ventilation. In a piece on the campus and the architecture, writer Sidin Vadukut, also an IIM-A alumnus, writes "Louis Kahn's campus is its own initiation ceremony. Make sense of this first, Kahn seems to be saying, before you make sense of balance sheets, market segmentation and the IS-LM model."
J

Jama Masjid was built in the 1400s, during the reign of Ahmad Shah I, the founder of Ahmedabad. Interestingly, unlike other Islamic architecture, the Jama Masjid features a unique blend of Hindu, Islamic and Jain architectural elements. The carvings on the mosque's pillars feature motifs more popular in Hindu temples, such as the lotus and the tree of life. The walls around the courtyard are painted with large Arabic calligraphy. Check prayer timings before making plans, and when you visit, be mindful as it's an active site of worship — it's best to dress modestly and cover your head.
K
Kitlis (tea stalls), which dish out hot tea with 'maska bun', can be found at every street corner. You'll also notice that it's an inexplicable Gujarati quirk to flip certain food names — bun maska becomes maska bun, pav bhaji becomes bhaji pav.
The Kasturbhai Lalbhai Museum, housed in buildings that date back to the early 1900s and restored by RMA Architects led by Rahul Mehrotra, is home to a wonderful collection of Indian art, from Tibetan thangkas to Company School portraits. The museum's named after Kasturbhai Lalbhai, an industrialist who founded Arvind Mills in 1931 CE in response to Mahatma Gandhi's call for Swadeshi. It is slated to get its own museum dedicated to the indigo dye — the Arvind-Indigo Museum — in the city soon.
L
The Lalbhai Dalpathbhai Museum, more commonly referred to as the LD Museum, was designed by BV Doshi and comes highly recommended. You'll find exquisite miniature paintings, Chola sculptures, paintings and manuscripts that date back to 433 CE, and other treasures.
M
The menu never ends. Don't miss the traditional fare — head to Agashiye for the thali (the menu changes daily), and to Vishalla for a more rustic ambience (the latter also has a museum devoted to utensils). The parathas at Devarsh are wholesome — try the specials. Manek Chowk's street food is an experience — set aside your inhibitions and snack on strange inventions like 'Cadbury pizza', cheese-pineapple sandwiches, and 'Gwalior dosa' (an extremely buttery dosa). There's also Bhatiyar Galli, a narrow lane near Teen Darwaza in the Old City. Scoring a spot on the itineraries of most meat lovers, this is where you'll find Mughlai delicacies and famed 'bara handi' stalls serving meat from different parts of a goat or buffalo, slow-cooked in 12 separate pots, sunken into the ground. This is fuss-free food, high on flavour and easy on the pocket.
N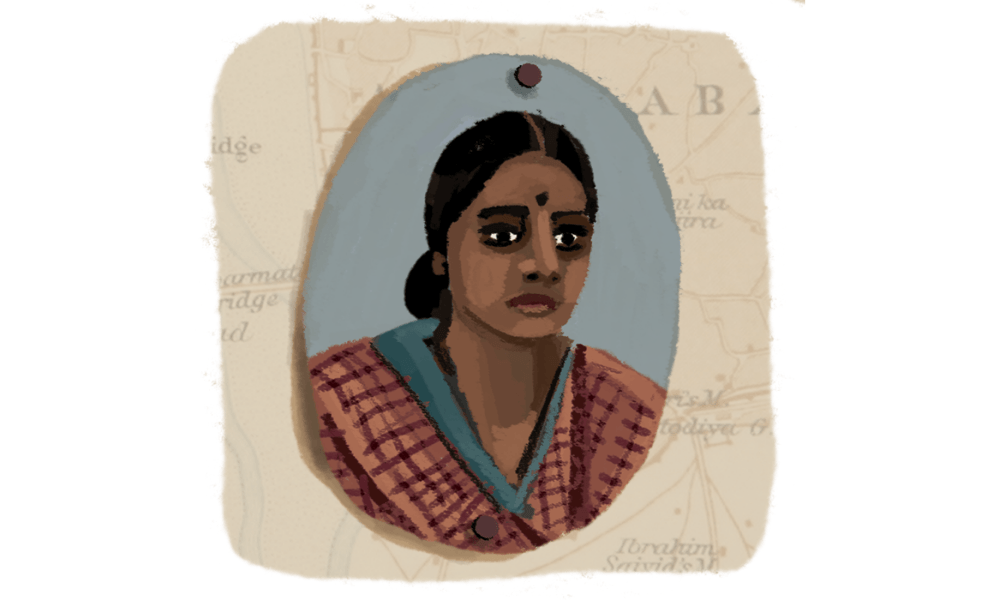 The National Institute of Design (NID) is the finest design school in the country. It was established in 1961, based on the landmark India Report submitted by American designers Charles and Ray Eames. Gautam and Gira Sarabhai (pictured above), the siblings from the esteemed Sarabhai family, played a major role in its establishment. "It's not only about the architecture, but the whole aura that NID has — it's a very creative, positive environment," says Solanki. He suggests visiting the campus, if only for the vibe. If you're visiting, stop by its design store, Nidus, which stocks products designed by NID alumni, and then for chai at Lalu's outside. (Side note: Lalu, who grew up outside NID, was encouraged by students to make a short film — he made his directorial debut in 2010.)
O
The options to shop are very many in Ahmedabad. Here's a handy round-up: Bandhej, a chain of stores, is known for its bandhani apparel. For assorted Indianwear, there's Vraj:bhoomi, whose studio visits are by appointment only, Shrujan (a not-for-profit that works with Kutchi craftswomen to encourage their craft of hand embroidery) and Seasons. Options stocks apparel, accessories and home décor brands from across India, including designers from Ahmedabad. Keri, we're told, is best for its stoles. Ahmedabad Trunk at the House of MG is a well-curated design shop for books, jewellery and textiles. When it comes to the home, Craftroots retails furnishings and accessories made via designer-artisan collaborations. Those interested in ceramics may want to visit Mati, and for antique furniture options, Boho Homes. Shop for paper made from cotton scraps and handmade soap at the Kalam Kush Handmade Paper Factory, within walking distance of the Sabarmati Ashram. (The city's also renowned for its textiles — scroll down to 'T' for more.)
P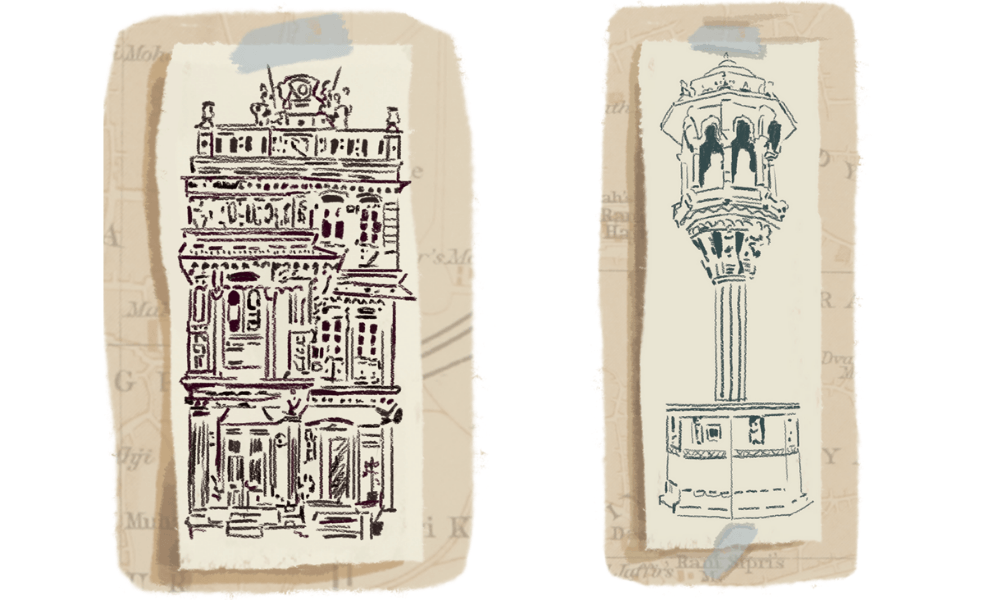 The pols — Ahmedabad's heritage neighbourhoods — burst with colour and culture, and are intriguing for anyone interested in history or urban planning. It's a good idea to opt for a heritage walk around these parts. "A walk in the Old City is essential," says Mohanty. "I think it just gives anyone who's seeking inspiration, colour, poetry and people a lot to hold because it's so vibrant. It's a brilliant space for everyone to seek some understanding of design." You'll notice tall chabutras (bird feeders) at every other corner. Dating back centuries, these neighbourhoods were built to encourage co-habitation and harmonious coexistence, with cultural nuance reflected in the architecture too. In recent years, a handful of the old havelis have been restored to their former glory as heritage hotels.
Q
Queue up for shows at Natarani theatre — the brainchild of acclaimed classical dancer Mrinalini Sarabhai — for plays, music and dance performances. For a more laid-back experience, Ahmedabad also has a drive-in theatre, Sunset, where new films are screened.
R
Raw Collaborative. The design event, currently prepping for its third edition, brings together the best in contemporary design from around the country. It finds home in the Mill Owners' Association Building, an iconic structure designed by Le Corbusier, for a few days each year. Read more here.
S
Some more sights to see: Sarkhej Roza, an expansive Indo-Saracenic architectural complex, about 7km out of Ahmedabad; the ornate jaalis at the Sidi Saiyyed Mosque; the medieval Rani Sipri's Mosque; the Sanskar Kendra museum, another building designed by Le Corbusier; and the Tagore Memorial Theatre, designed by BV Doshi.
T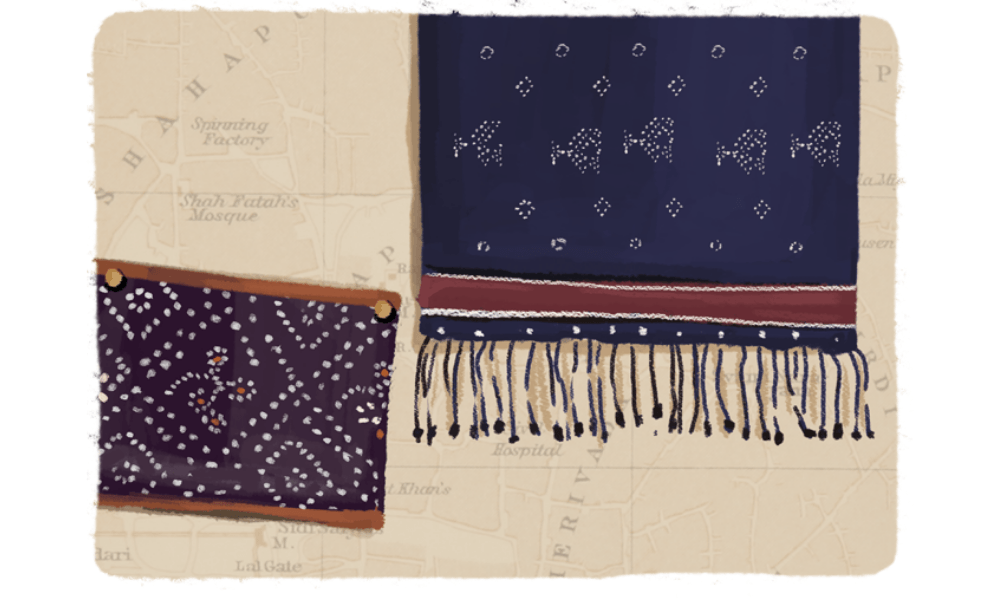 Textiles make for the best take-aways. Choose from numerous Gujarati weaves, prints and fabrics — bandhani, Mashru silks, tangaliya weaves, patola weaves from Patan and Rajkot, and Ajrakh fabric. Gamthiwala, near Ellis Bridge, is a good place to choose from a range of textiles to take home.
U
It was a landmark moment in 2017 when UNESCO gave the Old City of Ahmedabad World Heritage status, making it the first Indian city to receive it.
V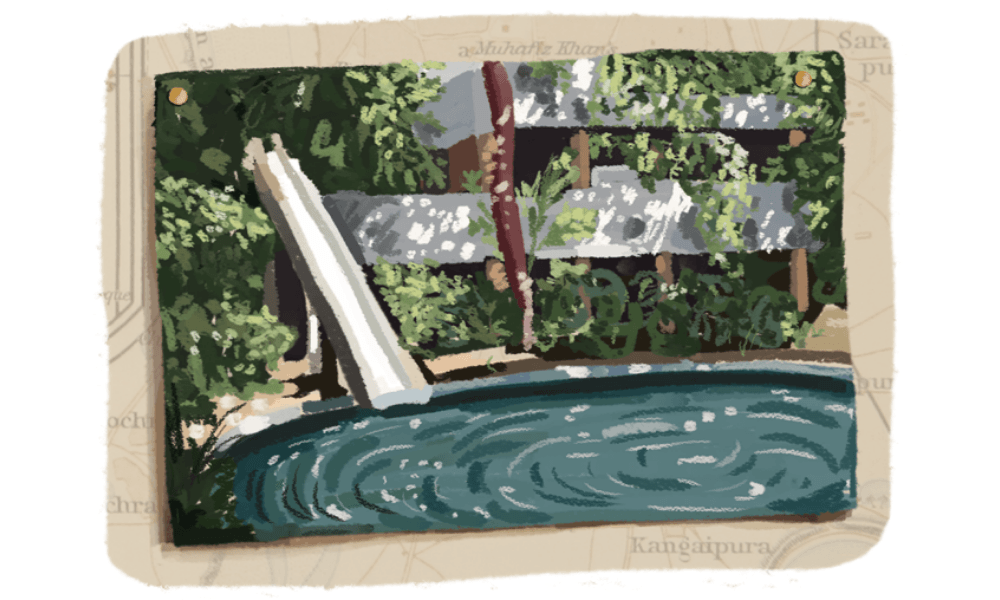 Villa Sarabhai, the gorgeous Modernist villa that's home for the Sarabhai family, was designed by Le Corbusier. The house features a roof garden and is surrounded by grounds that are "purposely unruly", so as to seem like a forest.
W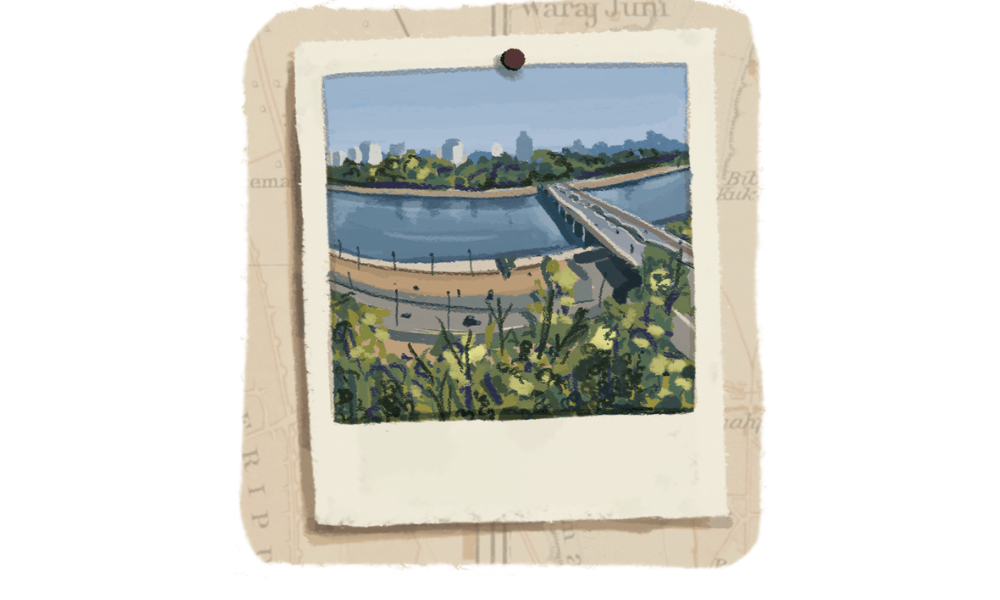 Those looking for watering holes in Ahmedabad will be disappointed — Gujarat is a dry state. Perhaps, you may want to head to the (literal) water to unwind. The Sabarmati Riverfront comes highly recommended and is a favourite for many locals — go on a leisurely morning walk, rent a bicycle or just sit by the tranquil waters of the river. There's also the placid Kankaria Lake, which was constructed in 1451 CE.
(PS: If you're not a resident of Gujarat, you can get your hands on alcohol. You can apply in advance for a liquor permit online here, or get one when you're in the city.)
X
If you made it this far, send us a postcard! We'd love to hear from you. xoxo.
Y
Y is for yum and yielding to temptation. We've been told that Ahmedabad swears by its ice cream. Given that temperatures in the city can rise as high as 50º Celsius during the summer, this makes complete sense. There are multiple options to choose from too: Huber & Holly allows you to customise your ice cream by adding from their extensive range of toppings. Melt In has delicious gelato. Asharfi Kulfi is an institution in itself and has outlets all around the city. Shah recommends trying Niruben Desai's home-made ice creams. "Enjoy the cool breeze on her porch as you try out flavours like saunf, rose and fresh fruits like chikoo and custard apple under a tree," she says. In the summer, look out for the ice gola stalls at Judges Bungalow and Sindhu Bhavan — another favourite among locals. These often stay open late into the night.
Z
Zzzzs. Get a taste of the city's rich history by checking into heritage hotels. The House of MG, once the family home of the Mangaldas family, is now a luxurious heritage hotel. A handful of century-old havelis in the pols have been turned into cosy boutique hotels too — like French Haveli and Baghban Haveli. Mani Mansion, the restored home of Manibhai, a well-known Gujarati businessman and social worker, is another option. Divan's Bungalow is a portal into a previous era — this was once the home of the Divan of Radhanpur, and, most recently, the home of renowned architect IM Kadri.
Map
Raw Collaborative 3 takes over Ahmedabad from November 28 to December 1, 2019. To attend, register now (₹350 for one day, and ₹850 for all four days).