ReefWatch Marine Conservation is a non-profit organisation working towards research and conservation of coral reefs. Nayantara Jain's lessons about the marine ecosystem are largely the result of the time she spent by the sea and in the ocean over the years. She then went on to study marine biology and conservation at the Scripps Institution of Oceanography in San Diego. Here, she tells us about why it's delightful to familiarise people with the ocean and the surprises it offers, her work in the Andamans, and the books she finds compelling.
What are you currently reading? Is there a work of writing you frequently revisit?
I'm currently reading Kraken: The Curious, Exciting, and Slightly Disturbing Science of Squid by Wendy Williams and All the Light We Cannot See by Anthony Doerr. I usually read 1-2 non-fiction books simultaneously and also like to read fiction alongside.
One book I keep returning to is Your Inner Fish: A Journey into the 3.5-Billion-Year History of the Human Body by Neil Shubin. It is about the evolution of humankind and mammals, from the time life originated in the sea. I am drawn towards books that focus on how the earth and its many species evolved, especially when they aren't particularly written for an audience who have an existing understanding of science but just for a curious reader. I've also enjoyed Land of the Seven Rivers: A Brief History of India's Geography by Sanjeev Sanyal and books by Yuval Noah Harari. While working in conservation, one is constantly dealing with several small battles, and while these are important, I think it is equally necessary to visit works that remind you of things that have happened and will happen.
Do you remember the first time you ventured underwater? How would you describe the experience?
I have been drawn to the ocean since I was a little child. When I was six years old, we lived in coastal Karwar in northern Karnataka for about two years, and I spent a lot of time on the beach or running into the sea. Though I must say the first time I literally went underwater was not deliberate — I was a kid and was almost about to drown, spinning around in the water. I remember the experience vividly, not as a fearful one but a magical one.
On a more serious note, I was 16 or 17 the first time I went scuba diving in the Maldives in absolutely crystal-clear water. I saw some beautiful sharks swim past and was blown away.
What does a typical day on the island look like for you?
I usually wake up early, by six o'clock, and after breakfast we load up our boat and go diving. The first half of the day is spent under water, comprising about two dives of 90-odd minutes each. Our work revolves around coral reef restoration and observing and monitoring the coral structures, or collecting fragments to attach to reef structures. After lunch, I take a nap, and this is followed by uploading data and writing about what we worked on during the day. Sometimes there is work to do with education and awareness programmes or an ongoing project with the locals or with children that keeps me occupied. In the Andamans, the sun sets pretty early, so the rule is that our work ends at sunset. I then sit with my team over coffee, or maybe do yoga.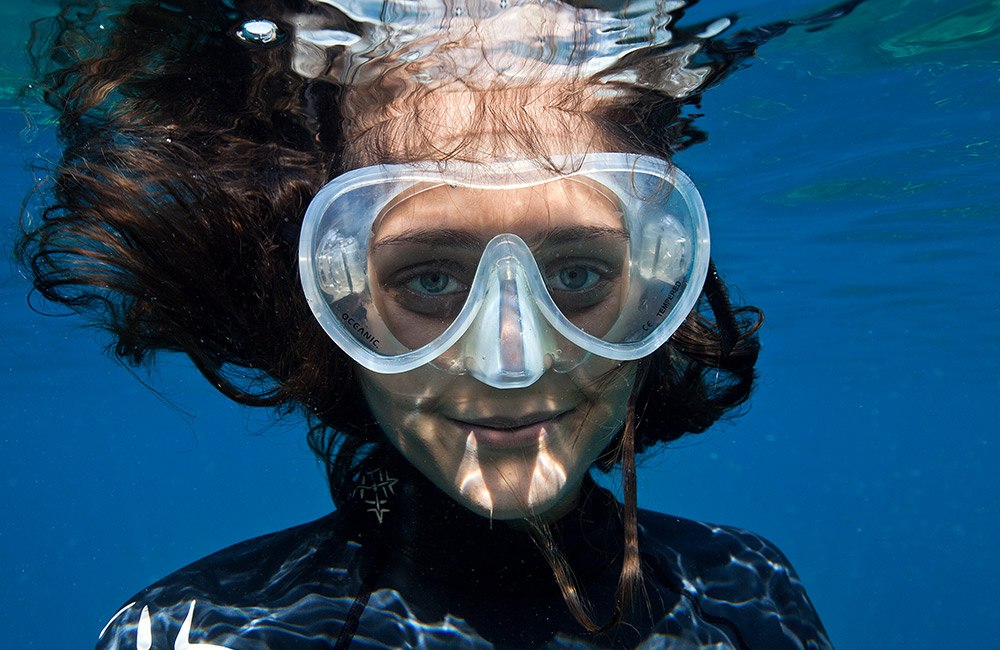 What is the most rewarding part of your work at ReefWatch Marine Conservation?
I find all my on-ground work extremely rewarding, be it working with kids or ecosystem restoration. What can at times be frustrating is the work that goes behind the scenes, including fund-raising and dealing with bureaucracy.
What made you decide that being a diving instructor wasn't enough, and that you felt the need to be a part of marine conservation too? For those who are keen on working proactively towards conservation, where does one begin?
As a diving instructor, you tend to experience the same stretch of the ocean over and over again, and this creates a close, almost personal association with the way things are changing on the ocean floor. We keep hearing about frightening facts and data about how the marine ecosystem is threatened but when you're in the water, you actually see the transformation, and it is only then that the reality hits home. Once this struck me, being just a diving instructor didn't seem enough, even though taking someone into the ocean and introducing them to life under water is pretty rewarding in itself.
I think working towards marine conservation depends on the person's age. For students, I'd suggest studying a particular subject such as zoology or marine biology really well and then pursue a career path in that direction. An interdisciplinary approach also helps — you could be an engineer or a designer or a story-teller and if you're passionate about how you want to make a difference, there are always ways to make the best of your existing skillset. One could approach organisations doing good work towards marine conservation so as to contribute to their many activities. One could also volunteer, and here it is necessary to devote a good amount of time to train and know the basics, and then combine this knowledge with your skills to help articulate the organisation's vision.
Do you think it is possible to instil in someone a sense of pride and love, or even plain curiosity to begin with, for the ocean and its many wonders? How would you persuade armchair explorers to discover the topography of the ocean floor?
It's absolutely possible! If I didn't believe [that] it is, I perhaps wouldn't be doing what I do. I didn't start off working in marine conservation; I was a scuba diver and fell in love with the ocean, and this instilled within me a drive to protect it. Different people react differently, so seeing photos of life underwater, or hearing their many stories can create genuine interest. Moreover, I think it is the details about the bodies of marine animals that intrigue a lot of people. Just a few days ago I met a friend whose six-year-old son has never seen an octopus but is completely fascinated by the creature, by the fact that it has three hearts, or that its brain is all over its tentacles.
You've also been documenting the oral history of the fisherfolk in the village of Chidiyatapu in the Andaman Islands. Could you tell us more about it?
There are fascinating stories from the fishing community that help us understand how the village has changed over the years. There was no electricity in Chidiyatapu two decades ago, and cellphone reception has also just reached here, since about two years. The fisherfolk have witnessed things transform over a period of time. For instance, while I haven't seen a single shark here, a few decades ago, the fishermen would be too scared to pull out fish from the nets as the smell of these fish would then attract sharks.
In the wake of the much-debated coastal road project in Bombay, city-dwellers are only just discovering a wealth of marine life via walks led by experts, despite living along the coast for years. How does one create awareness about the extant diversity of the marine ecosystem, even that which is right in our backyard?
One way to introduce people to marine life in their cities is surely by talking them on walks along the coast. At the same time, it is essential to ensure that these spots along the coast or on the beach are clean, safe, and accessible. A lot of people interested in exploring might recoil at the thought of having to walk through plastic and dirt. So if this is tackled from a civic point of view, spending time discovering creatures is of course a much more captivating proposition than say, walking through a mall.
If you were to put together a list of songs ― one that perhaps is evocative of the ocean — what are three names that would most definitely feature on it?
Ocean Eyes by Billie Eilish; Sunsets for Somebody Else by Jack Johnson; and Sittin' on the Dock of the Bay by Otis Redding.
Do you have a favourite dive site, so to speak? One that you keep returning to?
One of my favourite dive-sites is Corruption Rock in Chidiyatapu [in the Andamans] along the Macpherson Strait. It is located very close to the site where the organisation's office is. During high tide you can only see the top of the rocks. This patch attracts a lot of exciting marine life — I've seen a giant green sea turtle, eagle rays, and schools of barracuda here. I am always fortunate to spot something new each time I dive here.